Slovakia has some of the most beautiful places in the world and being off the beaten path it is a very budget-friendly location at the same time. In this free travel guide I give you tips on how to visit Slovakia's most beautiful castle in Bojnice and share the best locations to photograph this hidden gem. It looks like right out of a Disney movie. Read on to learn how to get there!

YouTube-Video
My photo/video equipment
I was using a Sony a6500 but nowadays I would buy a Sony a6600 for travelling (because of the selfie screen that is good for vlogging). Here is a list of my equipment (I was using prime lenses exclusively, maybe I will change to zoom lenses soon, esp. for photography):
GoPro 8 (amazon.de)
GoPro 8 (amazon.com)
Sony a6600 with kit lens (amazon.de)
Sony a6600 with kit lens (amazon.com)
Sigma 16mm (amazon.de)
Sigma 16mm (amazon.com)
Sony 35mm (amazon.de)
Sony 35mm (amazon.com)
DJI Mavic Air(amazon.de)
DJI Mavic Air (amazon.com)
DJI Mavic Air (amazon.co.uk)
Best time to visit
Slovakia is cold in winter so the main seasons when people are visiting are summer, spring and autumn. Bojnice is a destination that is mainly visited by Slovak tourists so prices for accommodation and food are low.
We went there in November which is off-season. There were almost no tourists anymore and we still had nice weather. If weather is good it is possible to visit during the whole year. Just note that the falcon show might be out of service in winter, also the outdoor swimming area is closed (but you can still go to the spa).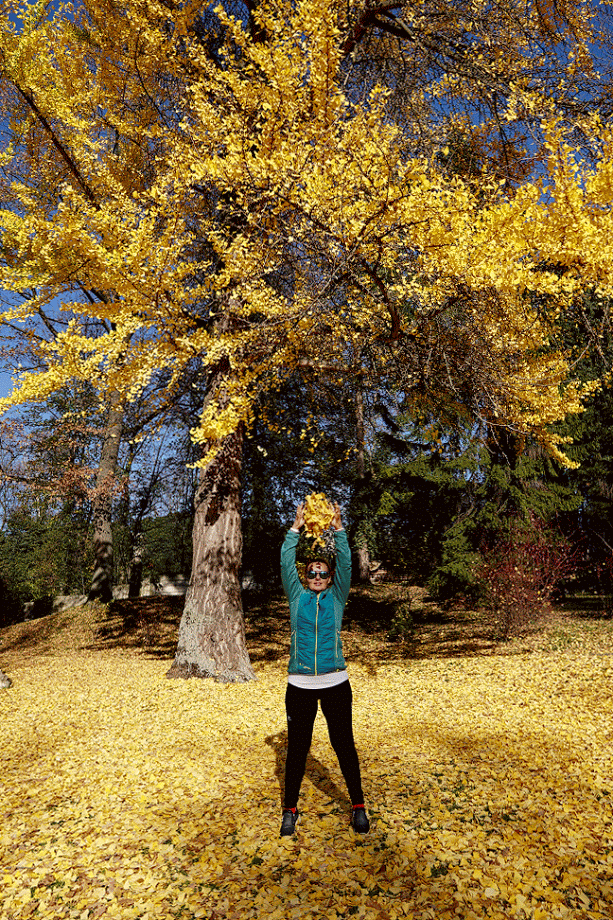 Getting there
We came from Austria so we first went to Bratislava (Euregio train 16 Euros for roundtrip valid for 4 days or even cheaper if you have ÖBB Vorteilscard).
If you are going by car you can first go to Trenčín and immediately before entering the city turn right and follow the road through the mountains until Bojnice.
If you are going with public transport your first option is to take the fast train which goes to the high Tatras and stops in Trenčín as well. There you have to change to a bus that goes to Prievidza. From there you can take another bus to the nearby town of Bojnice (or walk ca. 30 minutes).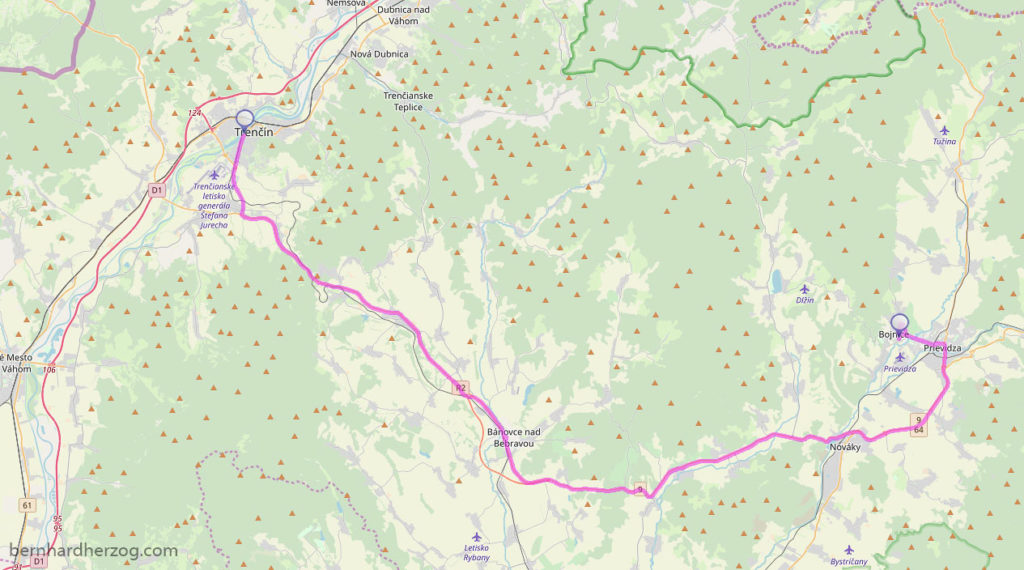 Or you take a slower train from Bratislava that goes to Prievidza directly (second option).
Since we first visited Trenčín anyways we took the fast train to Trenčín and then the bus (on the next day). Just be careful the buses in front of the train station in Trenčín are local buses, to go to Prievidiza you have to cross the road and there you will find a bigger bus terminal. For the way back we took the slower direct train from Prievidiza to Bratislava.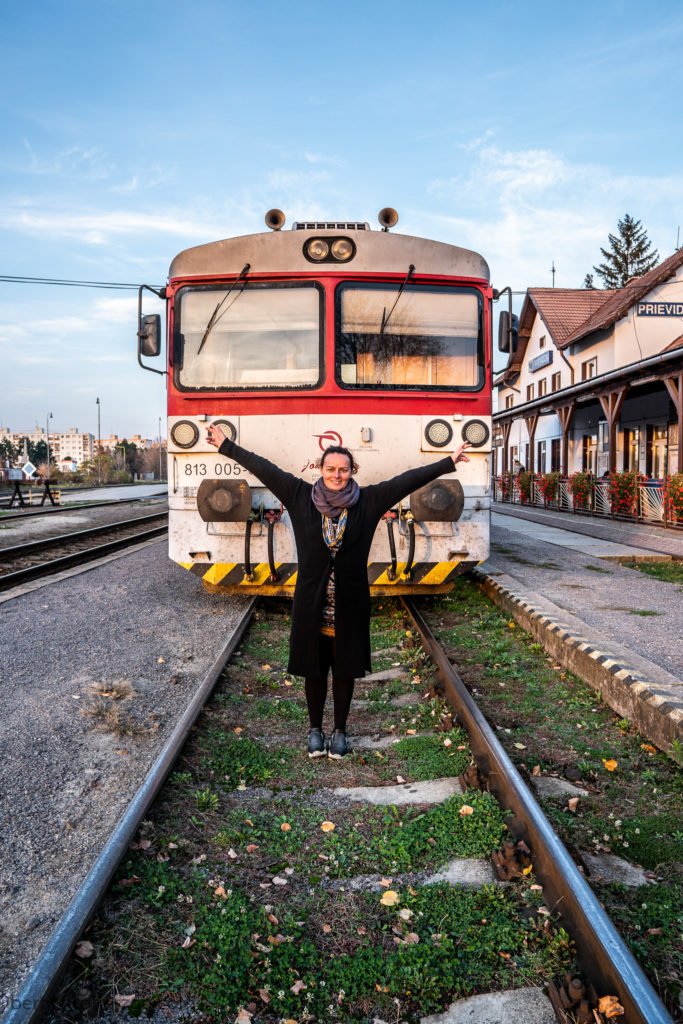 You can check this website for bus times and this website for train times.
Accommodation
Bojnice is a small city. There is a big alley for pedestrians (Hurbanovo námestie) with some restaurants eventually leading to the castle park.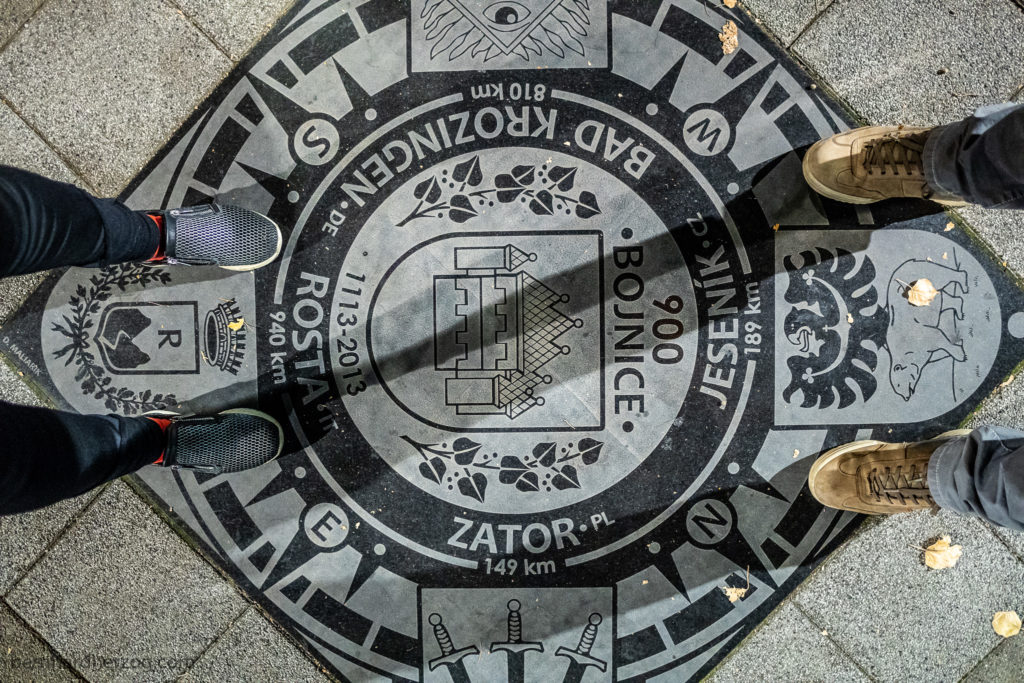 BTW the tourist office was closed when we visited (one more reason to write a guide like this).
Downstairs from this area there are many weekend houses with gardens. This is where we stayed.
We stayed in Penzión Kastelán. This accomodation was a very good value. We had a nice room. There was a also a well-equipped kitchen and a pavillon in the garden for sitting. I can highly recommend it!
We booked through booking.com which is our partner. Please make your booking through here to support our free travel guide at no extra cost for you:
(function(d, sc, u) {
var s = d.createElement(sc), p = d.getElementsByTagName(sc)[0];
s.type = 'text/javascript';
s.async = true;
s.src = u + '?v=' + (+new Date());
p.parentNode.insertBefore(s,p);
})(document, 'script', '//aff.bstatic.com/static/affiliate_base/js/flexiproduct.js');
Eat
We were eating at Bojnická reštaurácia. They had a lunch menue for a very reasonable price (around 5 Euros including water and soup).
This was the meat option: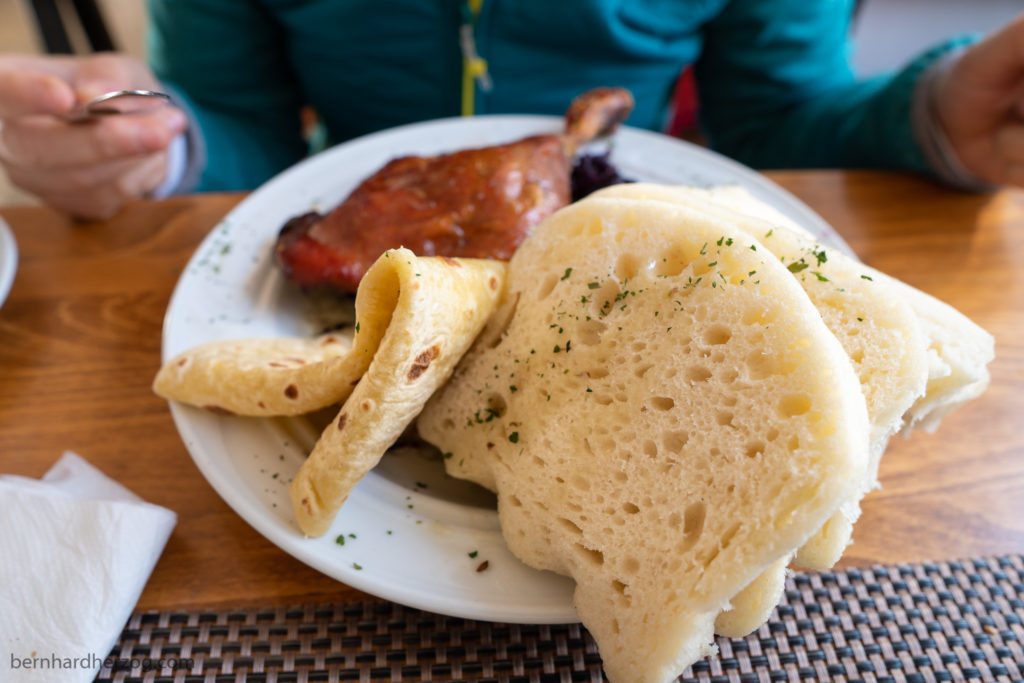 The waiter (who was very friendly) could not translate this bread-like side dish but it is the same kind of bread that is used to make dumplings ("Knödel" in german).
They had an excellent Greek salad (vegetarian option):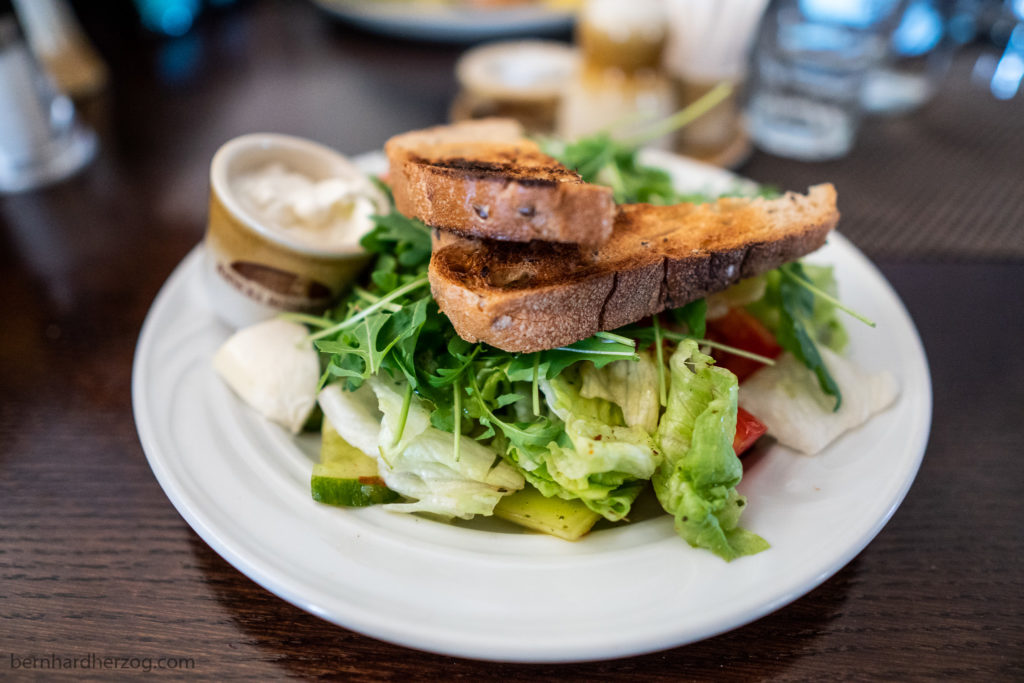 The next day we came again because it was so good. Very nicely decorated inside: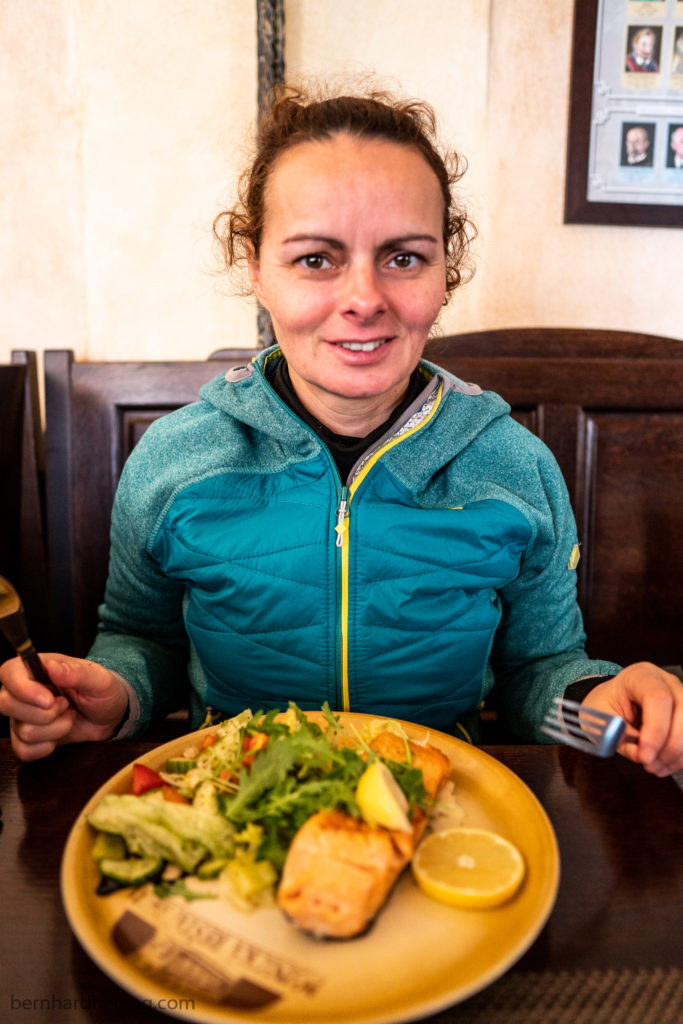 Next to the castle there are many shops where you can buy oblates with various tastes. This is very typical and makes for a very good gift.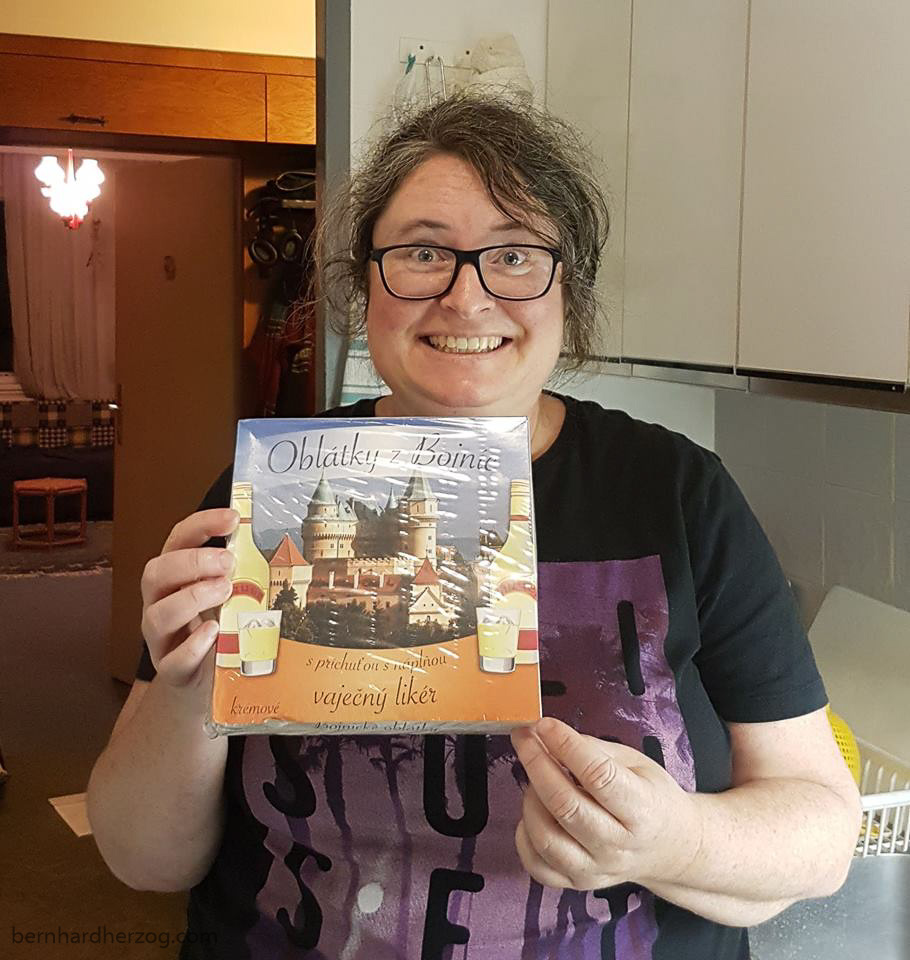 Top 5 things to do in Bojnice
1. Visit the castle and park
The main attraction is the castle of course.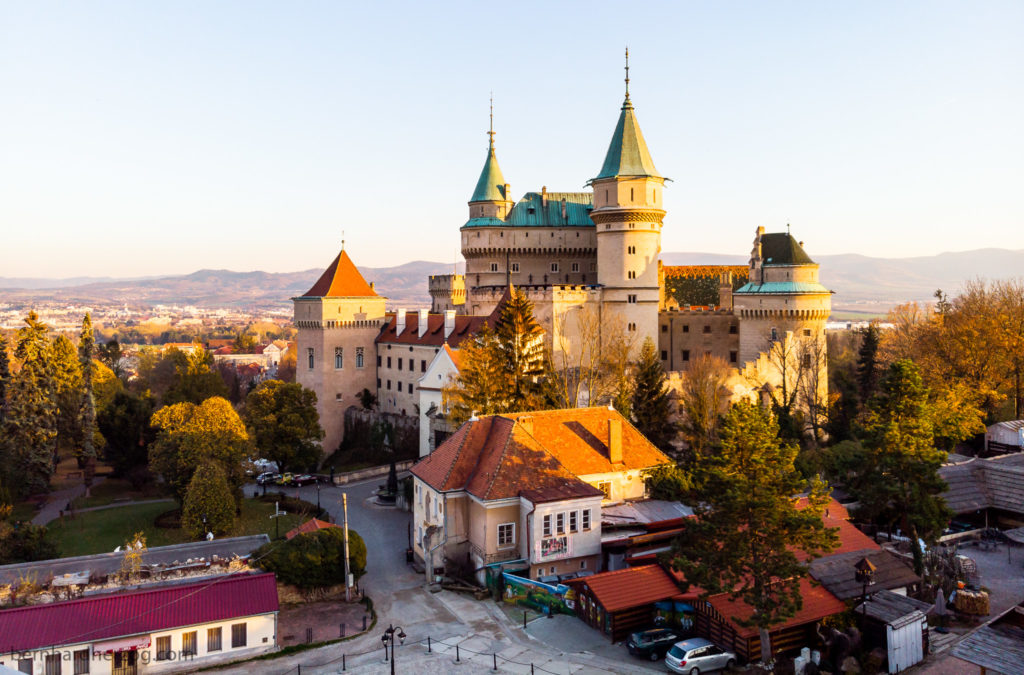 Surrounding it is a very nice park. Especially in autumn the colors of the trees are amazing.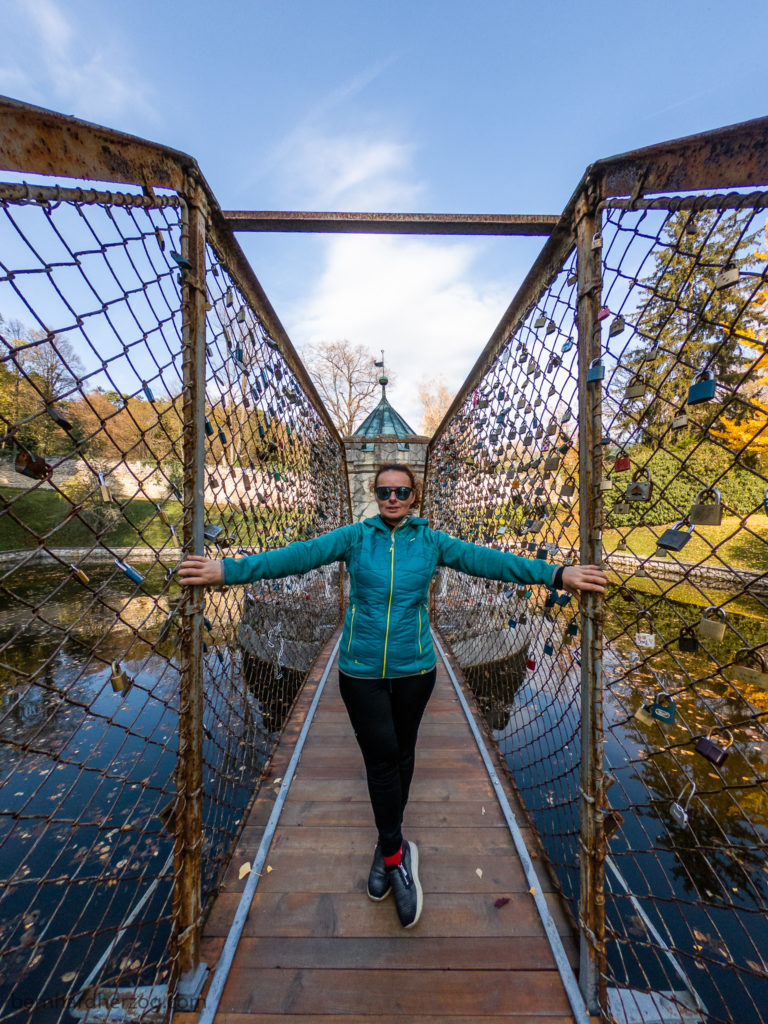 The castle grounds can be visited only with a guided tour in Slovak. But you receive a small booklet in your language. Note: You have to pay extra if you want to take pictures and even more if you want to make a video.
It is definitely worth to go inside. The paintings and treasures are one of a kind. I have seen many castles where they just put random stuff inside but this one is different.
2. See the falcon show
Right next to the castle entrance there is an area to see falcons. Unfortunately this area was closed when we visited (because of winter). But if it is open it is something really interesting.
3. Bojnice Zoo
The entrance to the zoo is also near the castle entrance.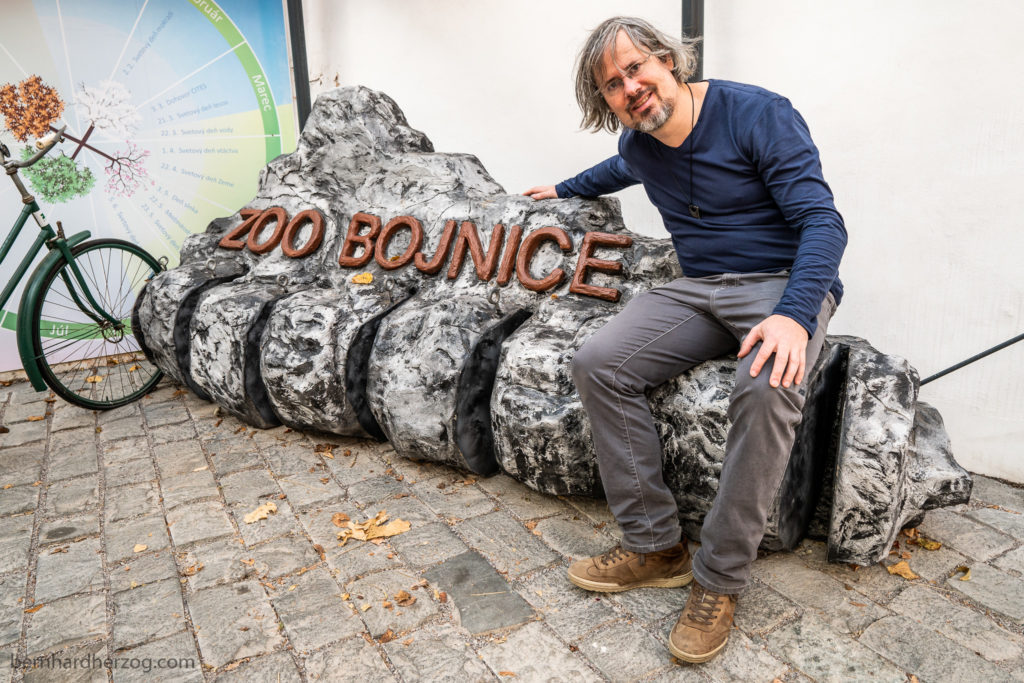 It stretches up the hill and if you are visiting with children this is a must do.
4. Bojnice Spa (Kupele Bojnice / LD Mier) and public swimming pool
Bojnice has a very nice spa with some indoor pools and one outdoor pool. It is a little bit away from the center but you can walk there.
There is a nice footpath that starts behind the parking lot (left side behind the castle). Only thing that was strange that when we returned this way the door was closed and we had to climb over the fence (?). Very strange.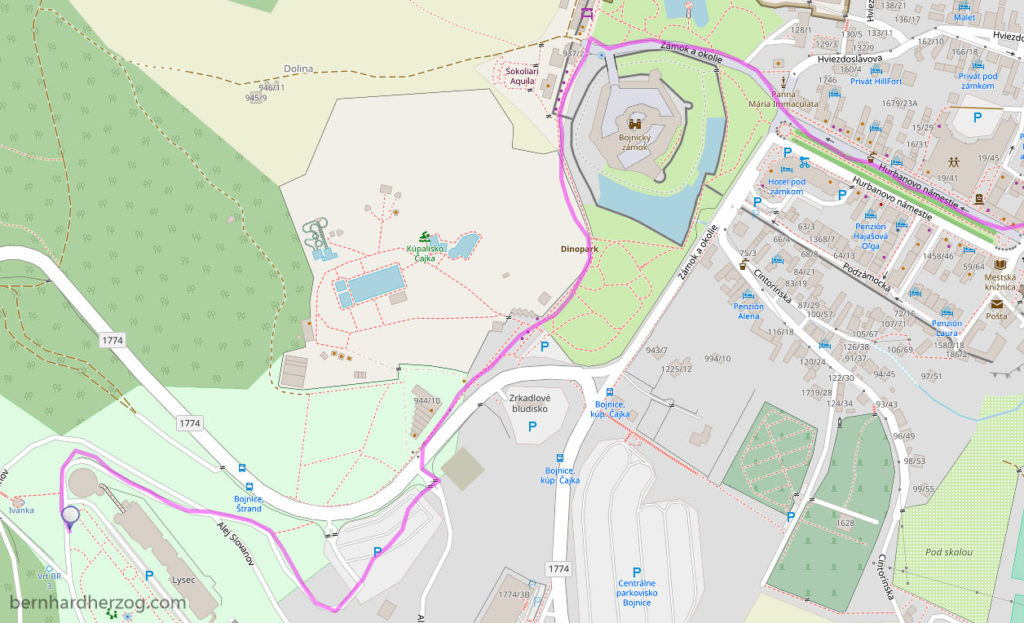 To go there you first go through the castle park passing by the public swimming pool. This one was not in operation in November of course.
5. Walk to treetop footpath/viewpoint (Vyhliadková veža)
There is an amazing lookout tower on top of the hill behind the castle. Entry was 8 Euros (2018).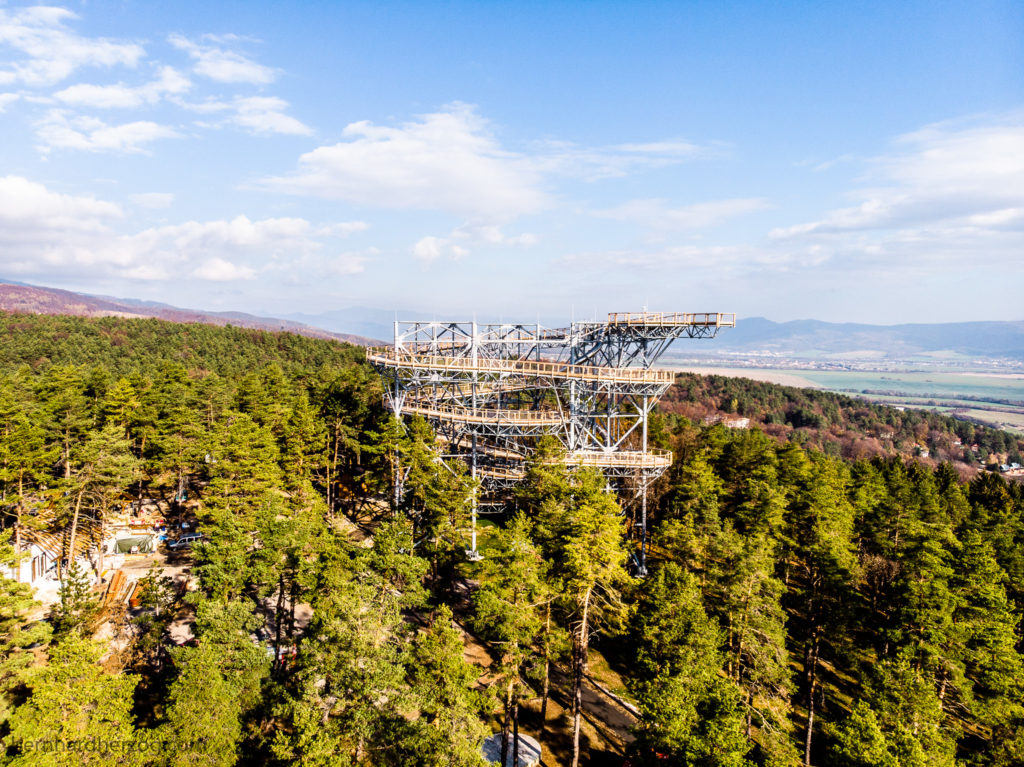 We went there going straight up the hill behind the castle (passing by the falconry area and then going little bit right following the fence of the zoo later).
This path is a little bit rough sometimes but more or less ok with normal shoes. Be aware of mountain bikers! Not recommended for going down.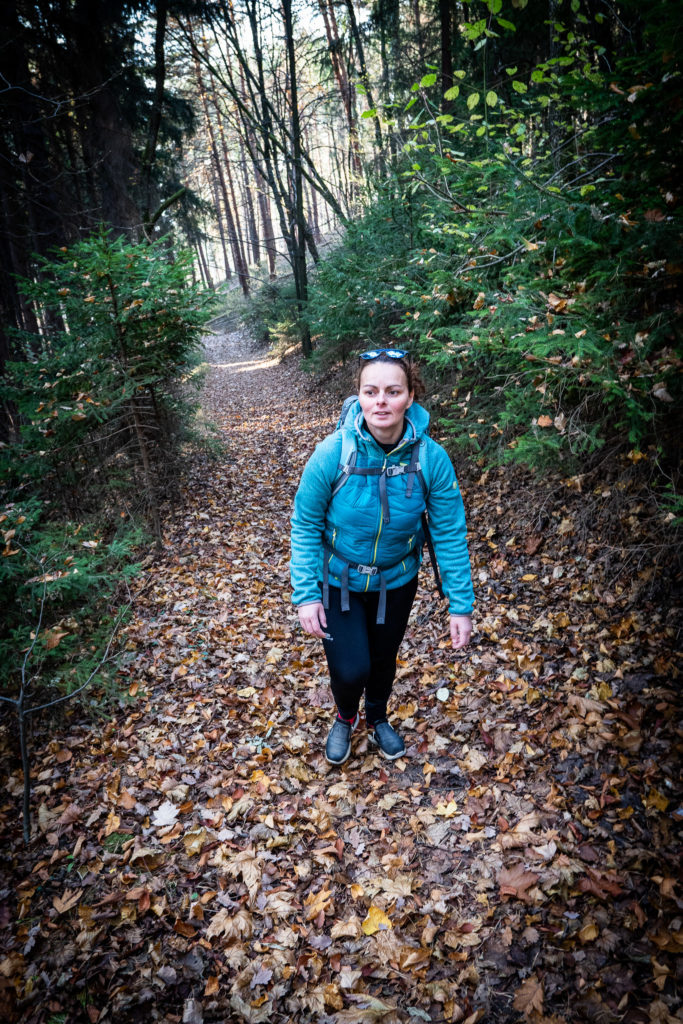 There is actually a nice footpath that we used for going down (it starts near the Spa but you don't have to go all the way there). Here is a GPS map of our journey: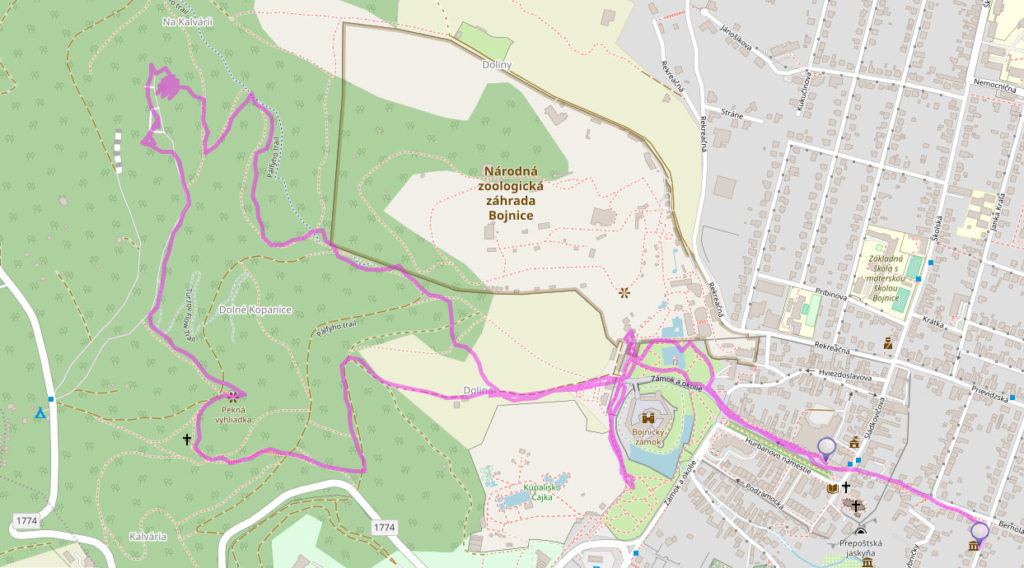 (If you have a car you can also drive to the campsite you can see to the left on the map but the walk from the castle is quite nice.)
The treetop footpath features a nice slide. Unfortunately it was not in operation because they need someone to supervise it but there were just 2 people at the cash desk (not enough visitors I guess in November).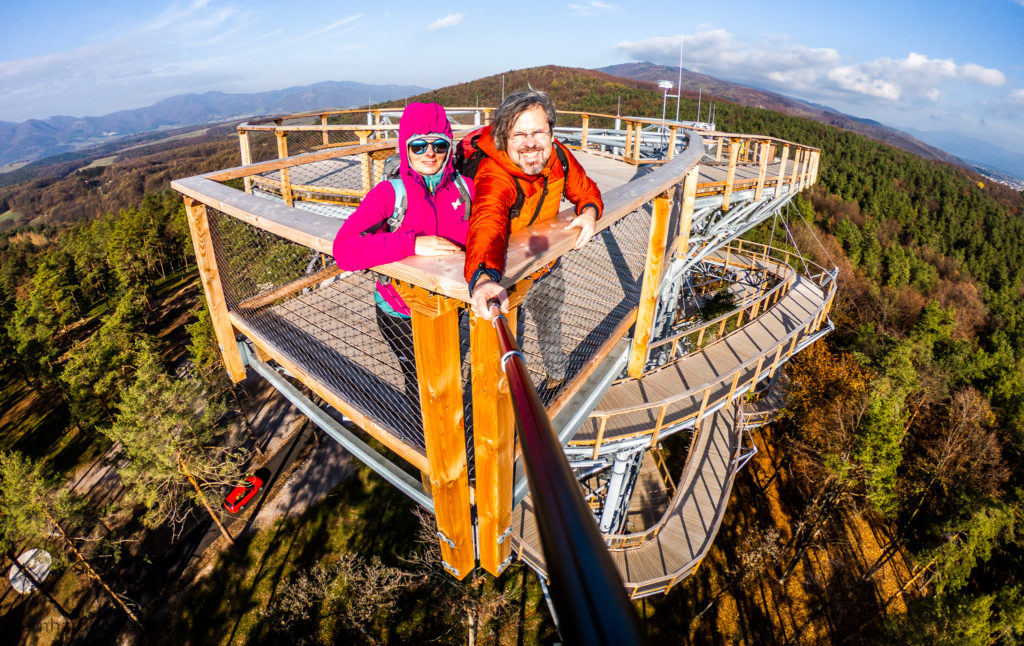 But there is a nice tunnel made of ropes that is a lot of fun: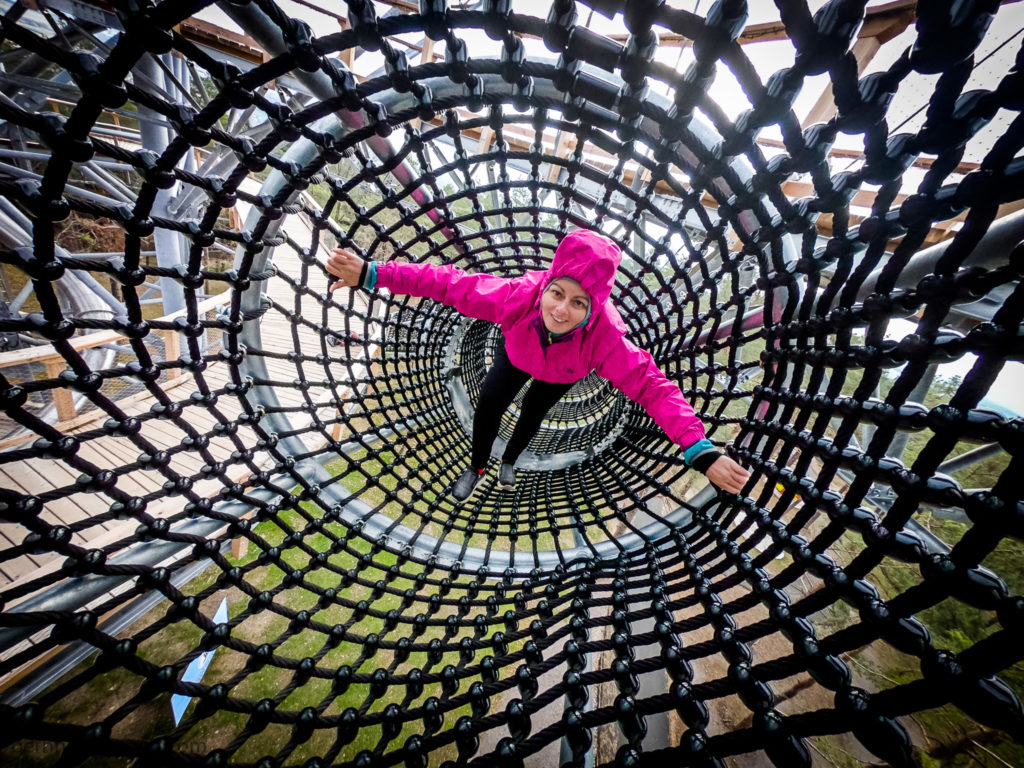 Downstairs from the treetop path there are some mushroom houses you can visit and go inside. This is mainly for children but it is very funny anyways.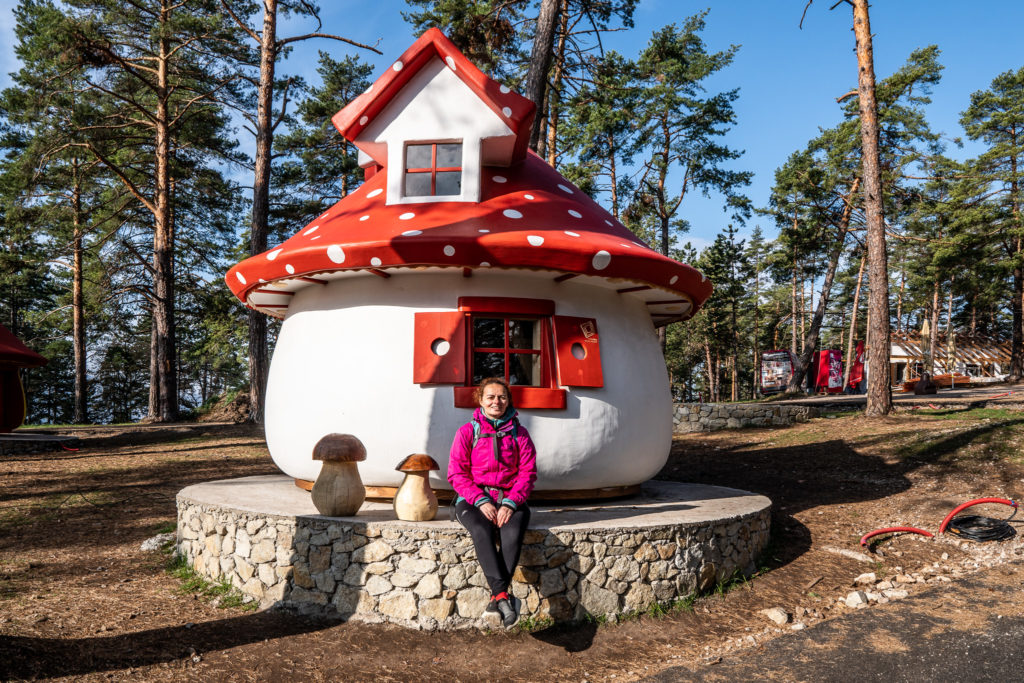 When we went down we visited a viewpoint from where you can see the castle in the distance.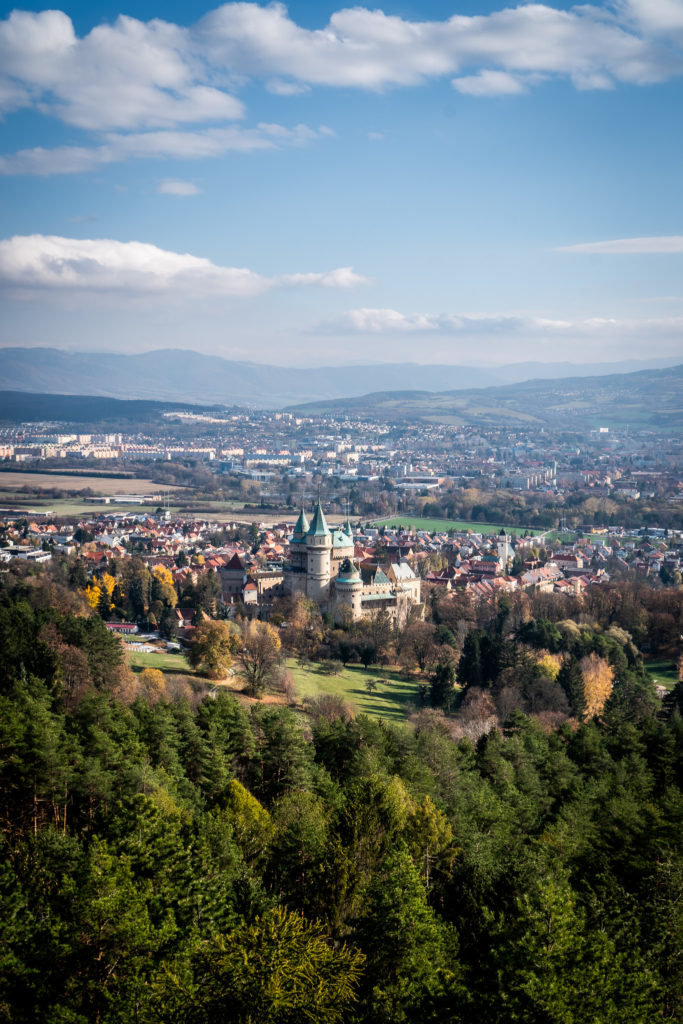 This viewpoint was also closed (there was a fence around it). Again very strange but this seems to be a common theme in this area.
Maybe it is because this forest is private but if you know anything about it please post in the comments below, I would appreciate it.
Ethical statement
Sharing a location that is not so well known brings responsibility. If you go to Slovakia I ask you to be respectful and friendly to the local people. Don't fly around with your drone and make noise when there are people. When I go somewhere I am kind of an ambassador of my country. I also promote sustainable tourism, i.e. not staying in huge hotels ("Hotelburgen") that destroy the landscape and the place for the locals. Having said that Bojnice is far from being there and for example having tours only in Slovak is for me a hint that Slovak people want to keep it that way. Thank you!
Conclusion
Bojnice castle is one of the most beautiful castles in the world and the most beautiful castle of Slovakia. It looks like right out of a Disney movie.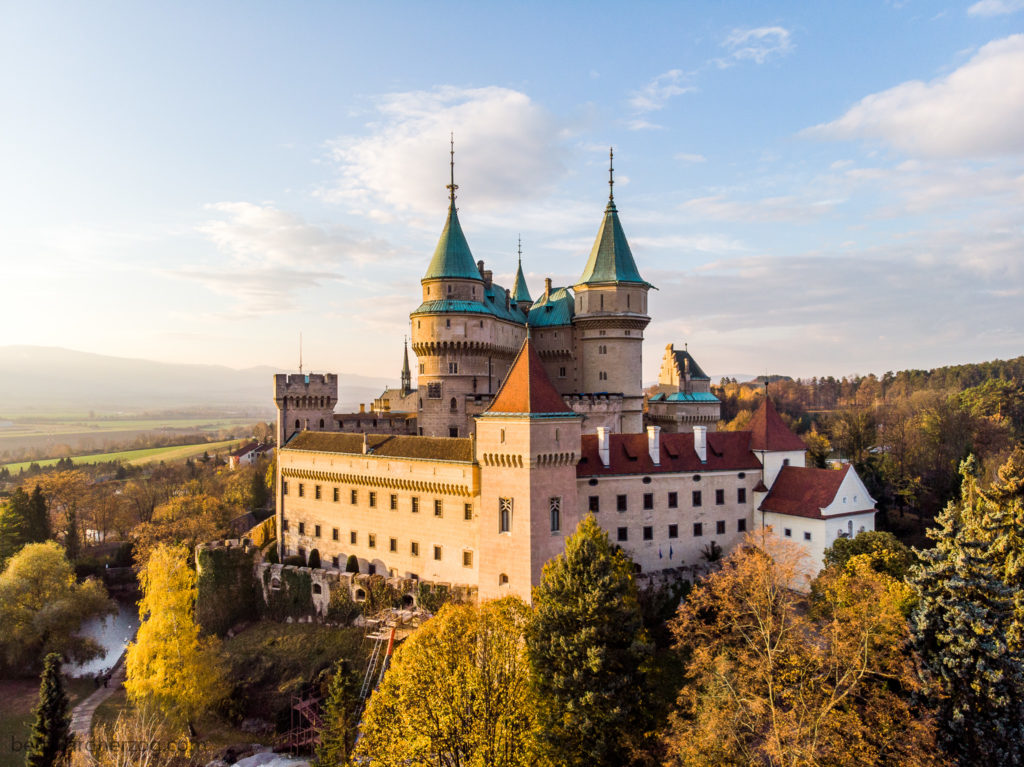 I can highly recommend going there. What do you think about the castle and town? Did you visit it already or are you planning your stay? Please post in the comments below! Also if you have any question or comment don't hesitate.
Please support our free guide by booking your accommodation through booking.com at no extra cost for you using the form below. THANK YOU!
(function(d, sc, u) {
var s = d.createElement(sc), p = d.getElementsByTagName(sc)[0];
s.type = 'text/javascript';
s.async = true;
s.src = u + '?v=' + (+new Date());
p.parentNode.insertBefore(s,p);
})(document, 'script', '//aff.bstatic.com/static/affiliate_base/js/flexiproduct.js');
Here you can rent a car for your trip from our partners at Rentalcars.com: Rentalcars.com Car Hire – Search, Compare & Save
Recommended camera equipment for photo, video & travelling (AMAZON):
Sony a6600 Sony a6400 (cheaper) Sony a6100 (Budget-Option for 4K) Sigma 16mm 1.4 Sony 35mm 1.8 Samyang 12mm 2.0 Feelworld Master MA7 Smaller monitor Rode VideoMicro Rode Wiress Go II Mini Tripod Travel Tripod Small LED-Light Light #1 (powerful) Light #2 (Bi-Color) Softbox for this light Light tent/box DJI Osmo Action GoPro 9 GoPro MAX Invisible Selfie Stick Mavic Mini 2 drone Mavic Air 2
for photo and video:
Fuji XT-4 Fuji Telezoom Entry level camera (Canon)
*Affiliate Links. From everything you buy I will receive a small kickback that helps me maintain my channel. THANK YOU for your support!