Today I want to write about our visit of the Slovak city of Trenčín. Maybe this is helpful for you if you plan to visit this area. Trenčín is a city that is alongside the train track from Bratislava to the high Tatras. The castle above the city is very nice. But I think the real star is the old town square below it, an ideal place to make beautiful photographs of the castle. Therefore the title "Pearl of Povazie" is well deserved. Please read on learn how to get there.
YouTube-Video
My photo/video equipment
I was using a Sony a6500 but nowadays I would buy a Sony a6600 for travelling (because of the selfie screen that is good for vlogging). Here is a list of my equipment (I was using prime lenses exclusively, maybe I will change to zoom lenses soon, esp. for photography):
GoPro 8 (amazon.de)
GoPro 8 (amazon.com)
Sony a6600 with kit lens (amazon.de)
Sony a6600 with kit lens (amazon.com)
Sigma 16mm (amazon.de)
Sigma 16mm (amazon.com)
Sony 35mm (amazon.de)
Sony 35mm (amazon.com)
DJI Mavic Air(amazon.de)
DJI Mavic Air (amazon.com)
DJI Mavic Air (amazon.co.uk)
Best time to visit
In winter it can get cold so the best time to visit is Spring, Summer and Autumn. We visited in November because weather was really nice but we were also lucky. Of course if you like snow you can go there in winter. Note that between October and April the castle closes earlier (opening times between 9:00-16:30). In summer it is open until 7 pm (as of 2018).
Getting there
We visited Trenčín before visiting Bojnice castle (which is highly recommended as well, read our travel guide here).
Public Transport: We came from Bratislava via train. The train connection is really good because it is the fast train going to the High Tatras and Košice (second largest city in Slovakia).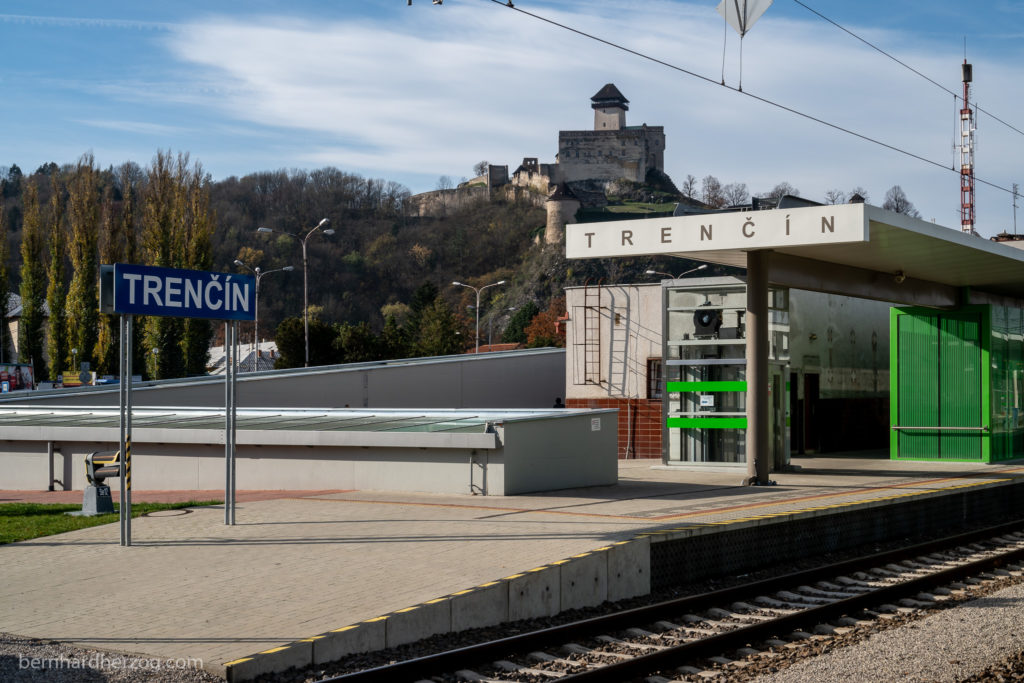 We arrived in Bratislava from Vienna. From Vienna you can buy an Euregio ticket to Bratislava (16 Euros for roundtrip valid for 4 days or even cheaper if you have ÖBB Vorteilscard).
You can check this website for train times.
If you are going by car there is a good road going from Bratislava to Trenčín.
Here you can rent a car for your trip from our partners at Rentalcars.com: Rentalcars.com Car Hire – Search, Compare & Save
Accommodation
We stayed in Pri Parku Pension very near to the train station. This was actually a very funny place: It was a small castle in itself with a bar with gambling machines downstairs and the entrance to the pension is in the back.
The room we had on the ground floor was amazingly big. There was also a shared kitchen and a shared bathroom. Note that this place has a little bit the feel (and smell) of a hostel but the location is perfect when you arrive via train. It was really cheap. I can highly recommend it.
To continue to the old town center you have to go through a park (hence the name Pri Parku). It is a 10-15 minutes walk.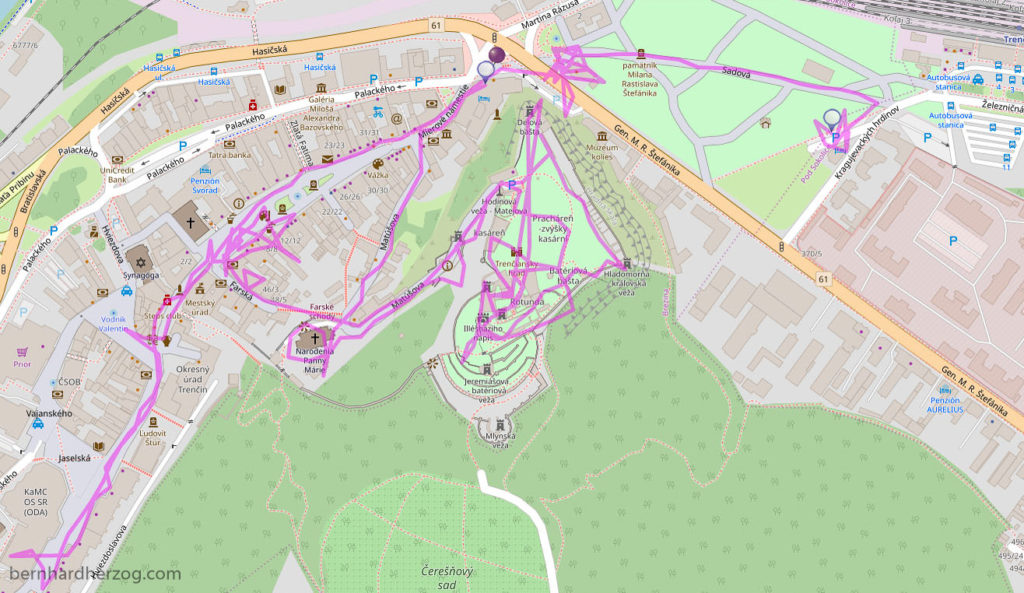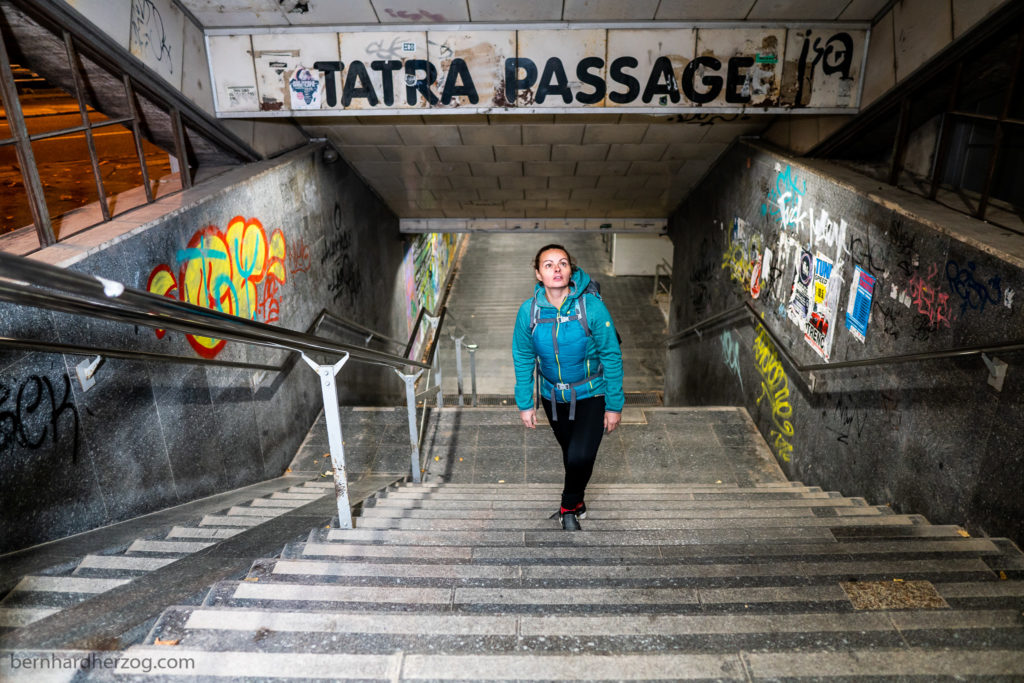 If you want to book please use this link to our partner booking.com or the form below. This way you can support this free travel guide and our website at no additional cost for you. Thank you!
(function(d, sc, u) {
var s = d.createElement(sc), p = d.getElementsByTagName(sc)[0];
s.type = 'text/javascript';
s.async = true;
s.src = u + '?v=' + (+new Date());
p.parentNode.insertBefore(s,p);
})(document, 'script', '//aff.bstatic.com/static/affiliate_base/js/flexiproduct.js');
Eat
If you go to the old town center you will immediately see (or smell) the pizza place because almost everybody is running around with a slice of pizza in their hands.
If you want to eat more healthy there is a place called "Mak palacinkáreň" where you can get pancakes. Select what they put on it: if you choose sweet it will not be as healthy again of course. It is on the main square but the entrance is a little bit hidden in a hallway going south.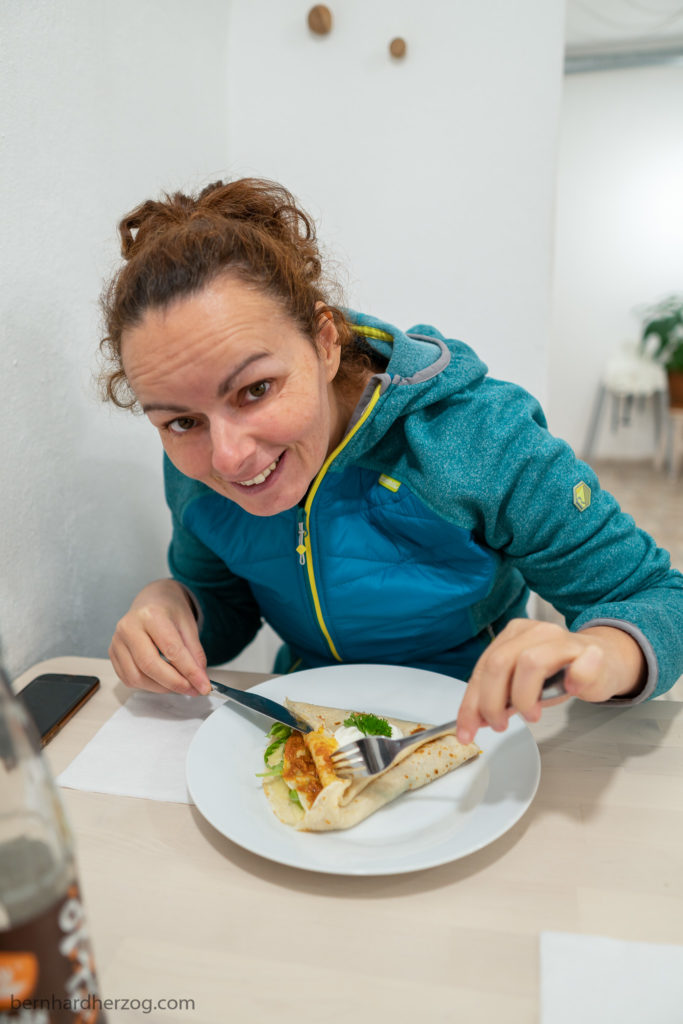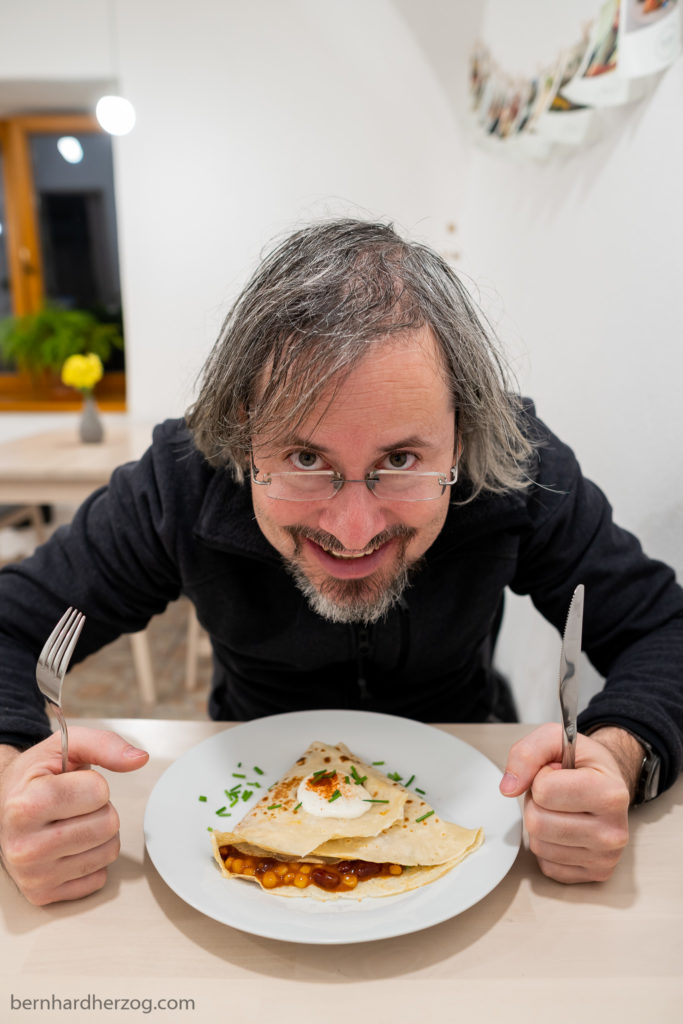 There is also a COOP supermarket if you go in the direction of the main street (in a street parallel to the pedestrian square/street). You can buy some (at least for us) exotic food there – for example the cheese that looks like Spaghetti.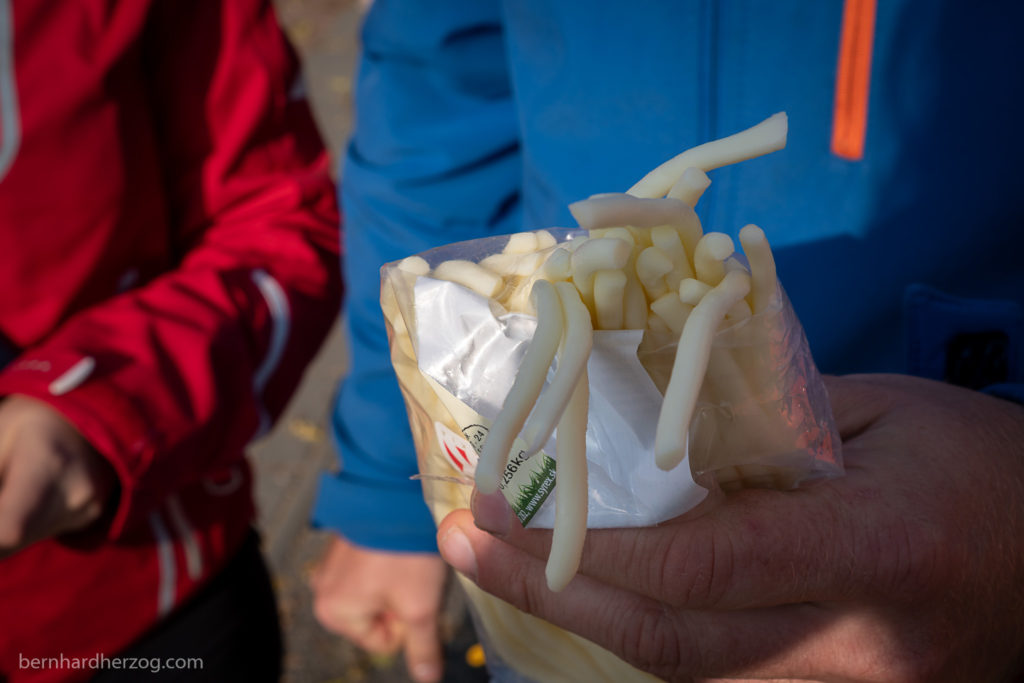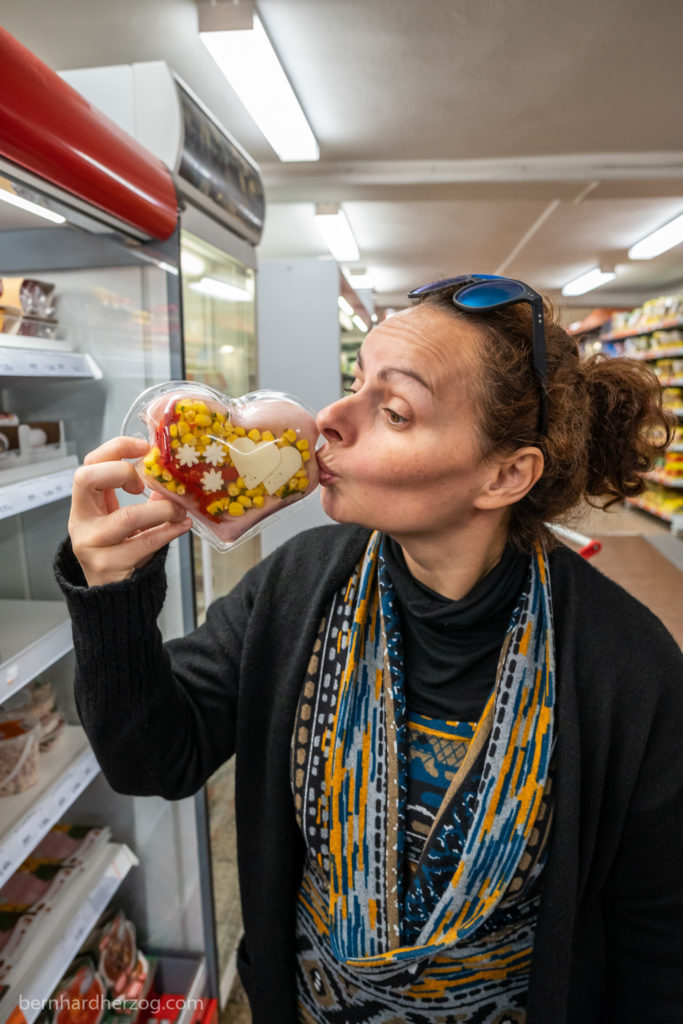 Top 5 things to do in Trenčín
1. Trenčín Castle
Trenčín castle is beautiful.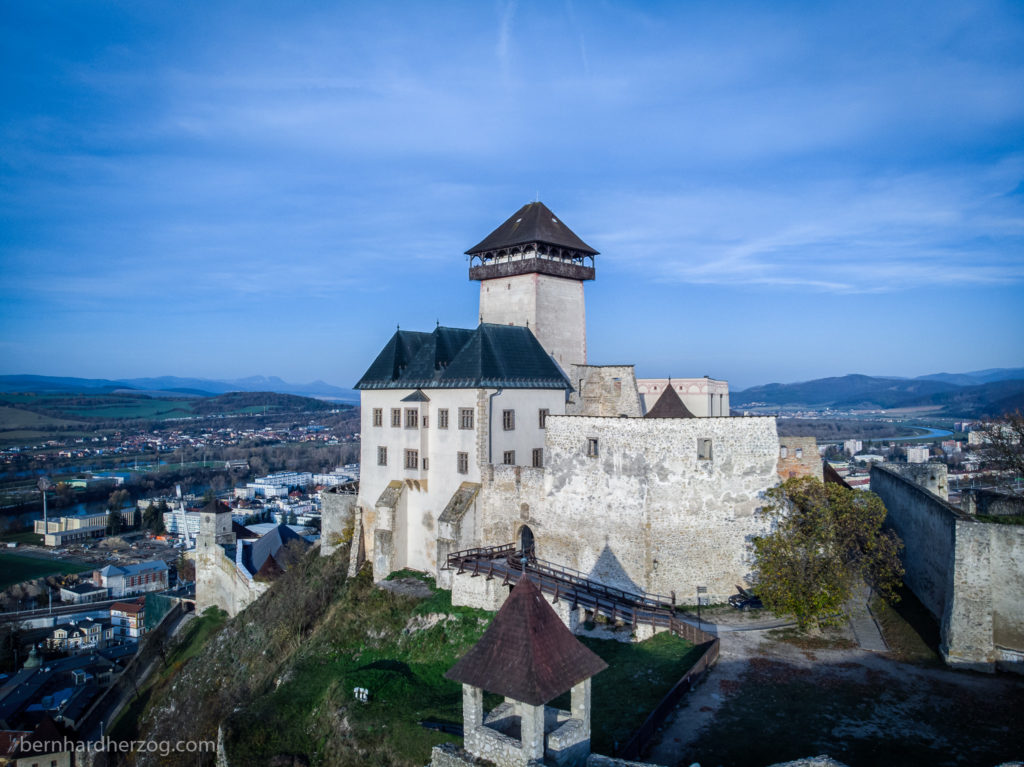 To walk there it is a little bit steep but it is more near than it seems.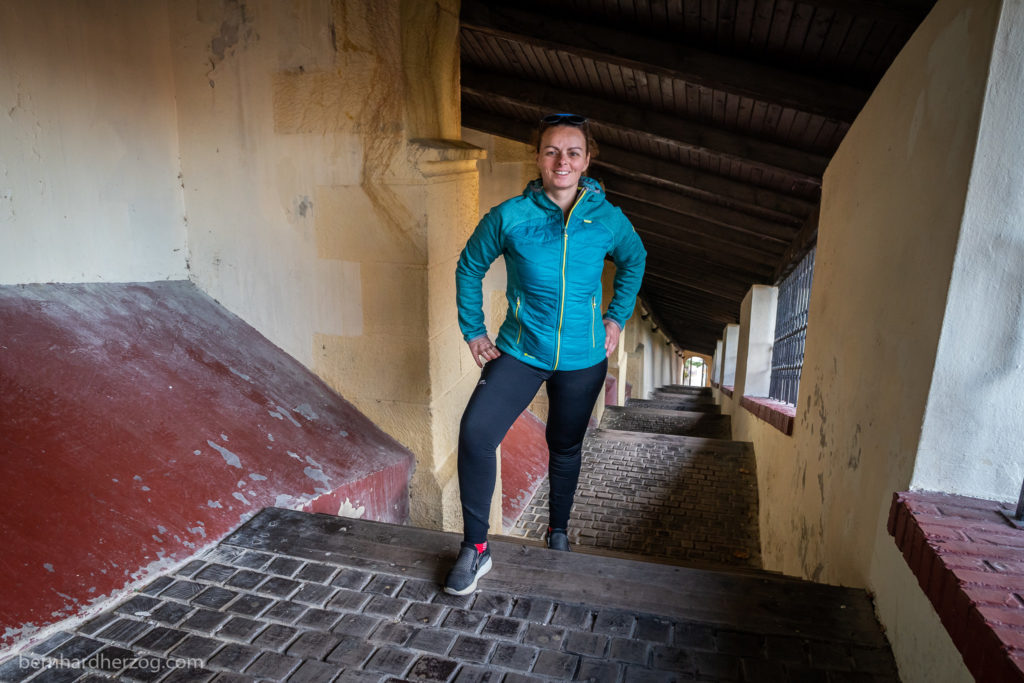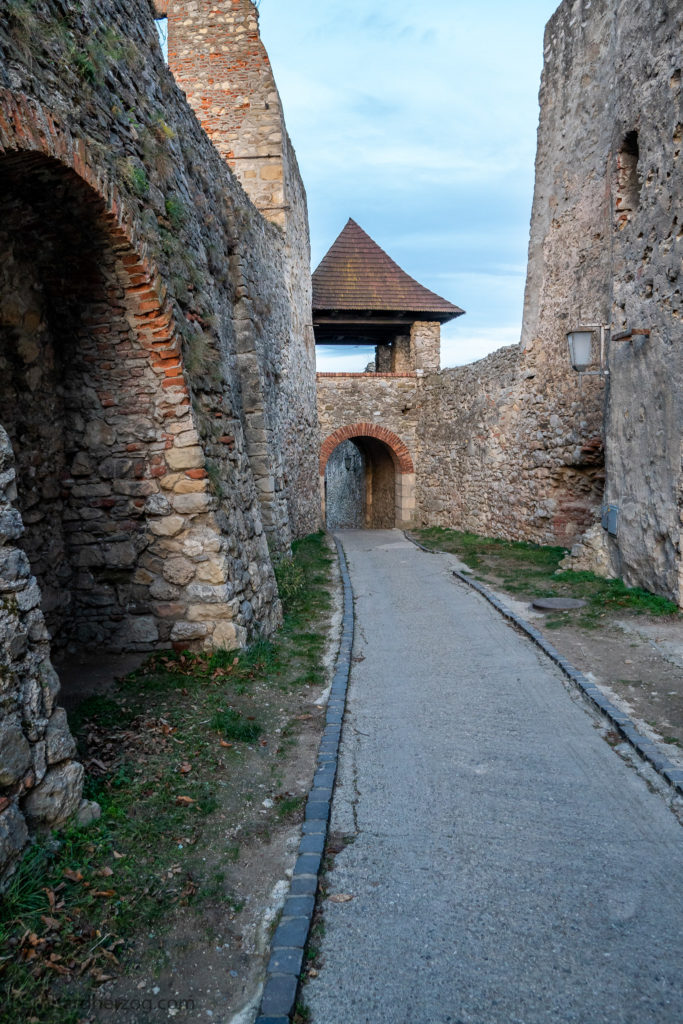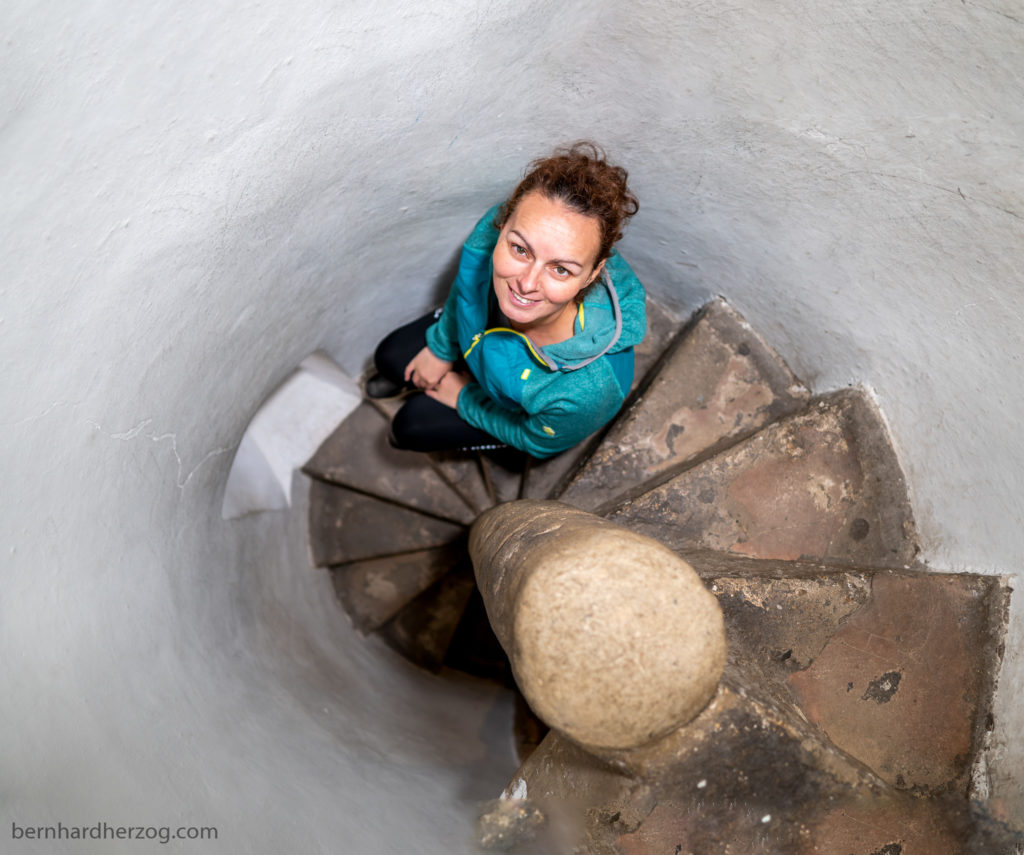 The highlight is a tower sporting a magnificent view over the city.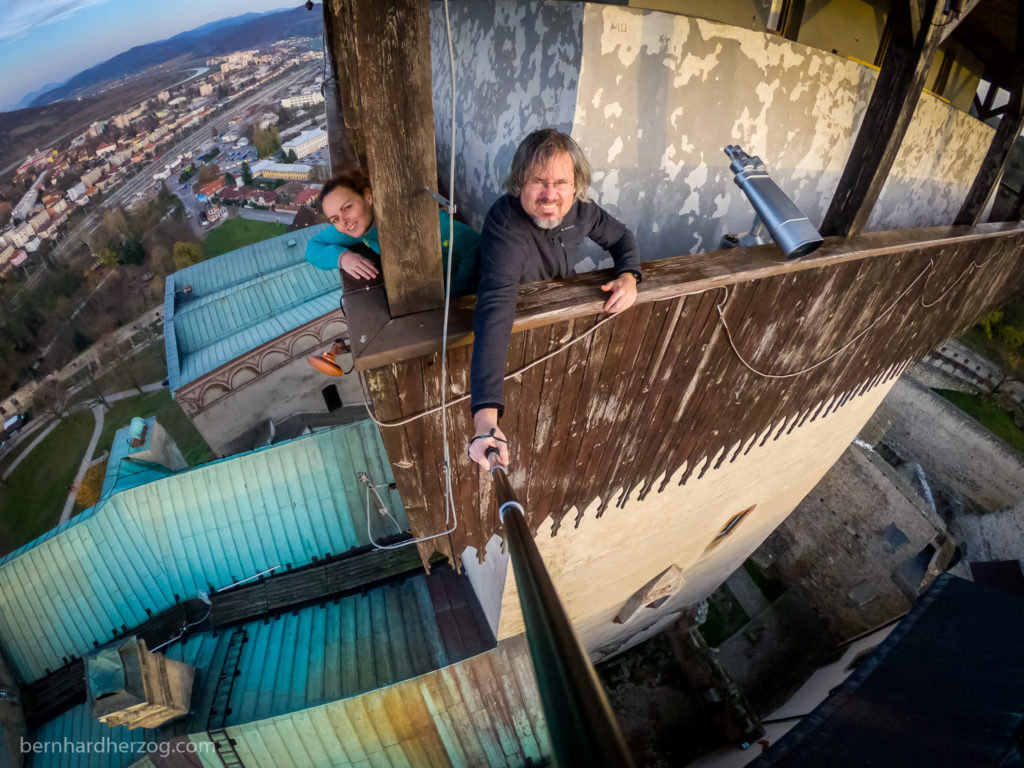 There you will also see that the old city center is beautiful but the other parts are not so much.
2. Main square (Hviezdoslavova)
I think the main square is the real star of the town.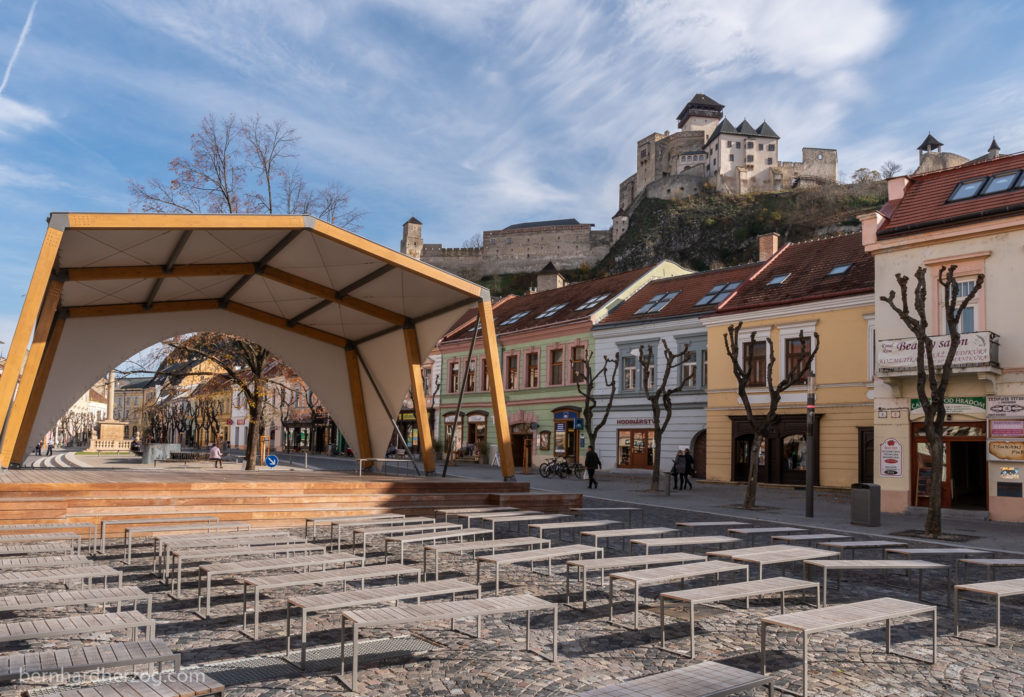 It is a pedestrian zone and a very chill place to hang around, eat out in a restaurant or just to sit there and admire the view to the castle.
3. City tower (Mestská brána)
This tower is at the western exit of the city square.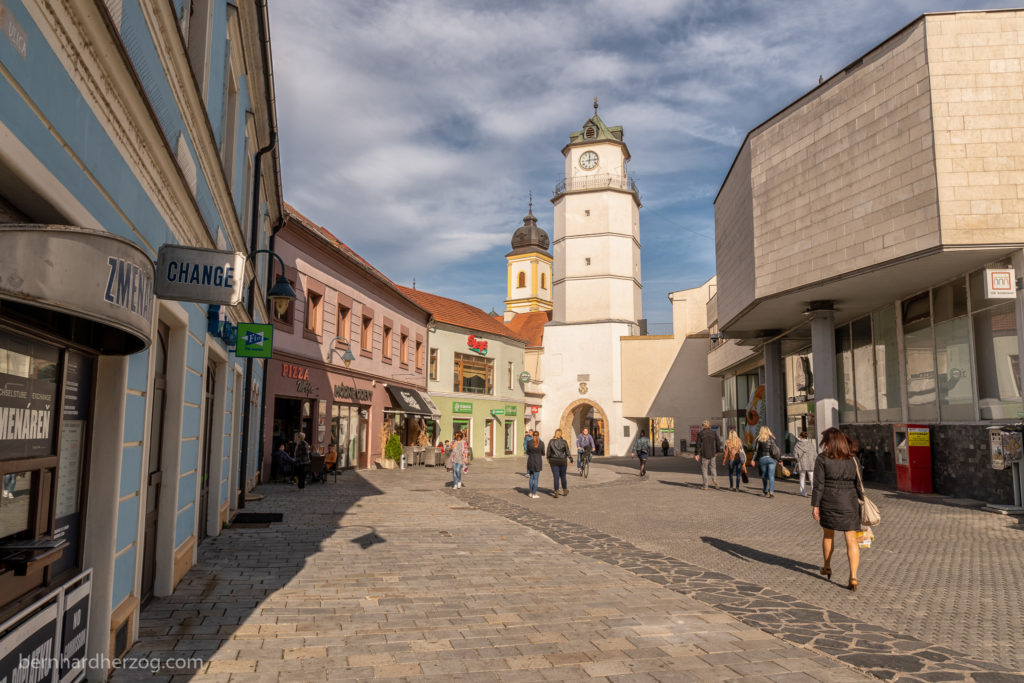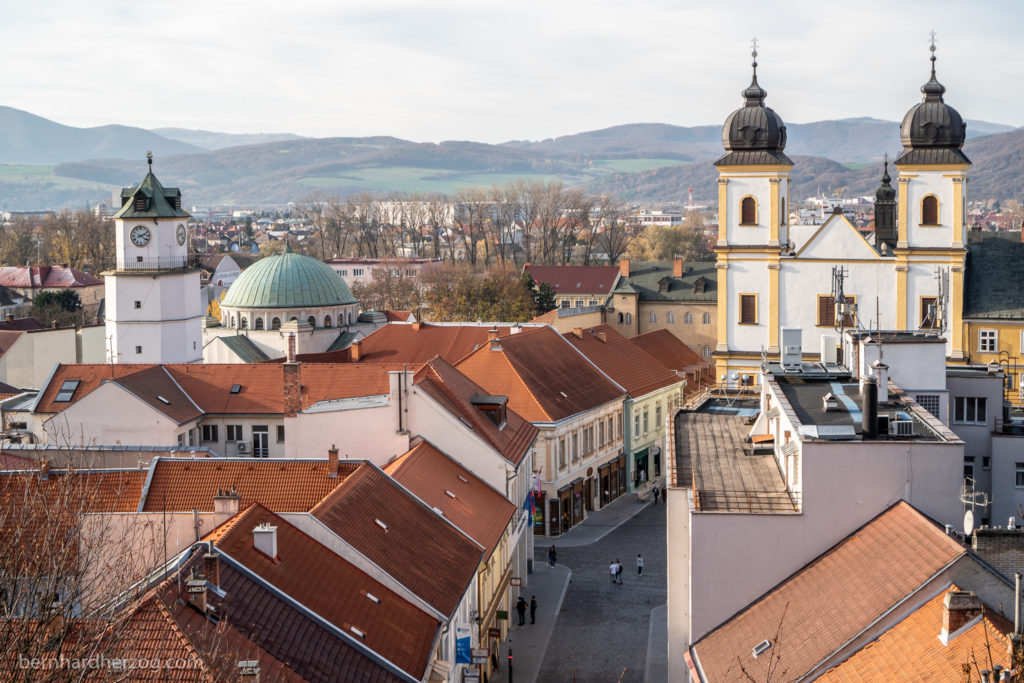 You can visit it and go up. A word of warning though: It closes early so be there on time.
BTW: If you leave the main square through this exit you will come into an area with more shops, bars and cafés. There is also a very ugly (?) building you can see in the upper left corner of the following picture.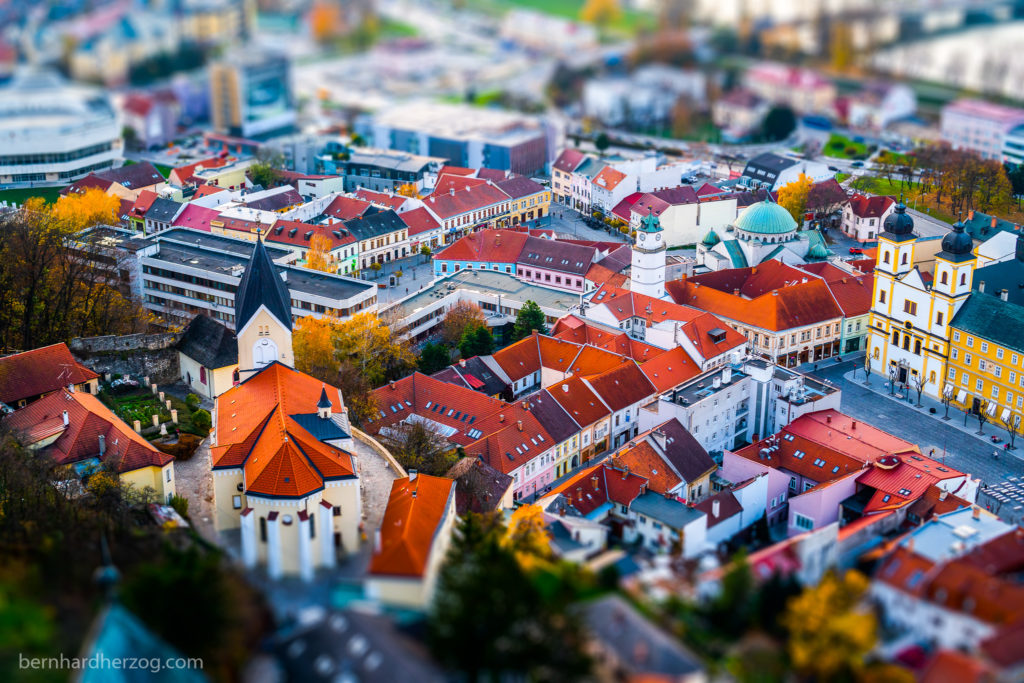 I asked and it seemingly used to be a military building. (If you know more about this building PLEASE post in the comments below I would greatly appreciate it.)
4. Synagoge
The Synagoge is beautiful and there is a nice square in front of it.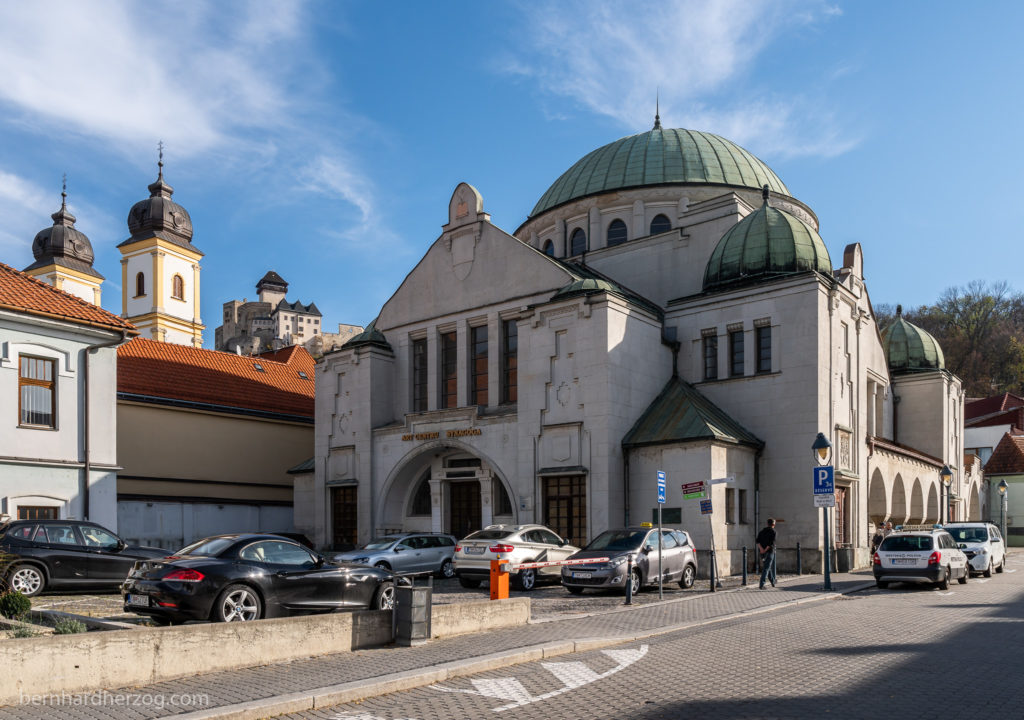 5. Fontána vodníka
There is a nice square with a funny fountain with a man crawling out of it in front of the synagoge. (In winter they did some repair on it so we did not snap a picture.)
Ethical statement
I usually include an ethical statement into my travel guides especially if the place that I am visiting is a poorer place than the country that I am from.
In Trenčín the old town center is really beautiful but in other parts it is clear to see that there is not enough money, part due because of the communist past. When I am traveling I am kind of an ambassador of my country and that is why I promote to be respectful and friendly to local people.
What I am showing you here is a non-touristy but still very beautiful place. That is why I ask you to be nice to local people, shop owners, restaurant waiters etc. So that they form a good opinion about foreign tourists. This makes it easier for the tourists that will come after you. Thank you!
Conclusion
I really liked Trenčín. The castle is nice but I did not expect that I liked the main old town square so much. It is a place of great tranquility and I now understand why this place is called the Pearl of Povazie and Slovakia.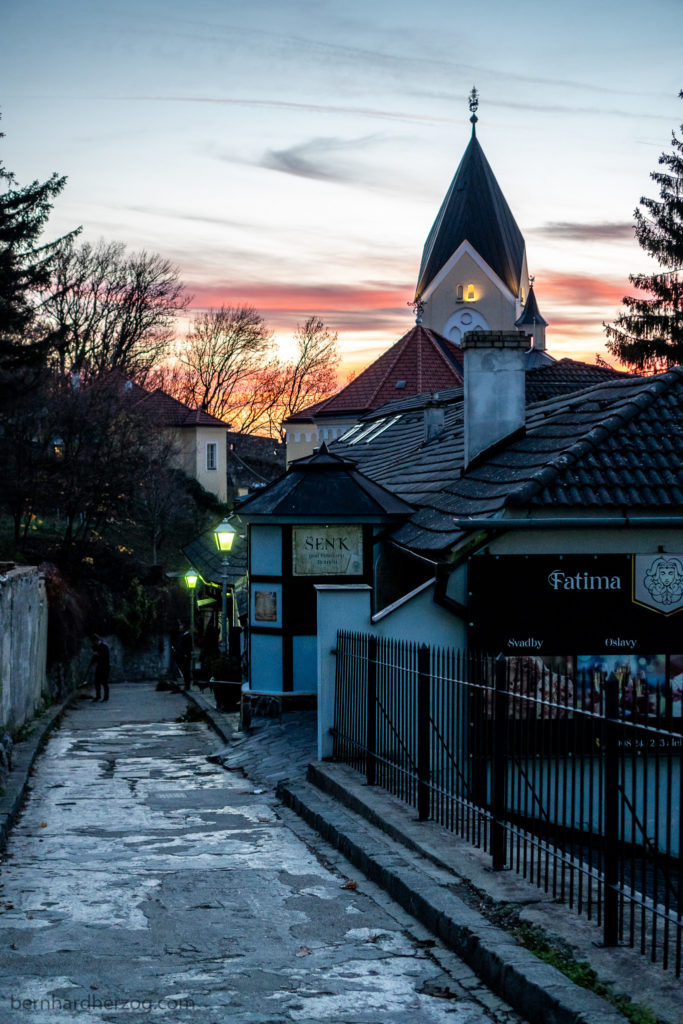 I also recommend that you continue to Bojnice castle (read my travel guide here) afterwards, the most beautiful castle of Slovakia.
What do you think about Trenčín? Did you visit it already or are you planning your stay? Please post in the comments below! Also if you have any question or comment don't hesitate.
Please support our free guide by booking your accommodation through booking.com at no extra cost for you using the form below. THANK YOU!
(function(d, sc, u) {
var s = d.createElement(sc), p = d.getElementsByTagName(sc)[0];
s.type = 'text/javascript';
s.async = true;
s.src = u + '?v=' + (+new Date());
p.parentNode.insertBefore(s,p);
})(document, 'script', '//aff.bstatic.com/static/affiliate_base/js/flexiproduct.js');
Here you can rent a car for your trip from our partners at Rentalcars.com: Rentalcars.com Car Hire – Search, Compare & Save
Recommended camera equipment for photo, video & travelling (AMAZON):
Sony a6600 Sony a6400 (cheaper) Sony a6100 (Budget-Option for 4K) Sigma 16mm 1.4 Sony 35mm 1.8 Samyang 12mm 2.0 Feelworld Master MA7 Smaller monitor Rode VideoMicro Rode Wiress Go II Mini Tripod Travel Tripod Small LED-Light Light #1 (powerful) Light #2 (Bi-Color) Softbox for this light Light tent/box DJI Osmo Action GoPro 9 GoPro MAX Invisible Selfie Stick Mavic Mini 2 drone Mavic Air 2
for photo and video:
Fuji XT-4 Fuji Telezoom Entry level camera (Canon)
*Affiliate Links. From everything you buy I will receive a small kickback that helps me maintain my channel. THANK YOU for your support!