Today I have something very special for testing, the foldable E-Bike Fiido D4S from China. I always wanted to buy an E-Bike, but what held me back was the high price. The D4S costs a mere 600 Euros. Let's see if this bike is any good!
Try an e-bike and you will never go back
My girlfriend and I were on holidays in Carinthia (Austria)
renting E-Bikes. With that experience it is difficult to go back to normal bikes now.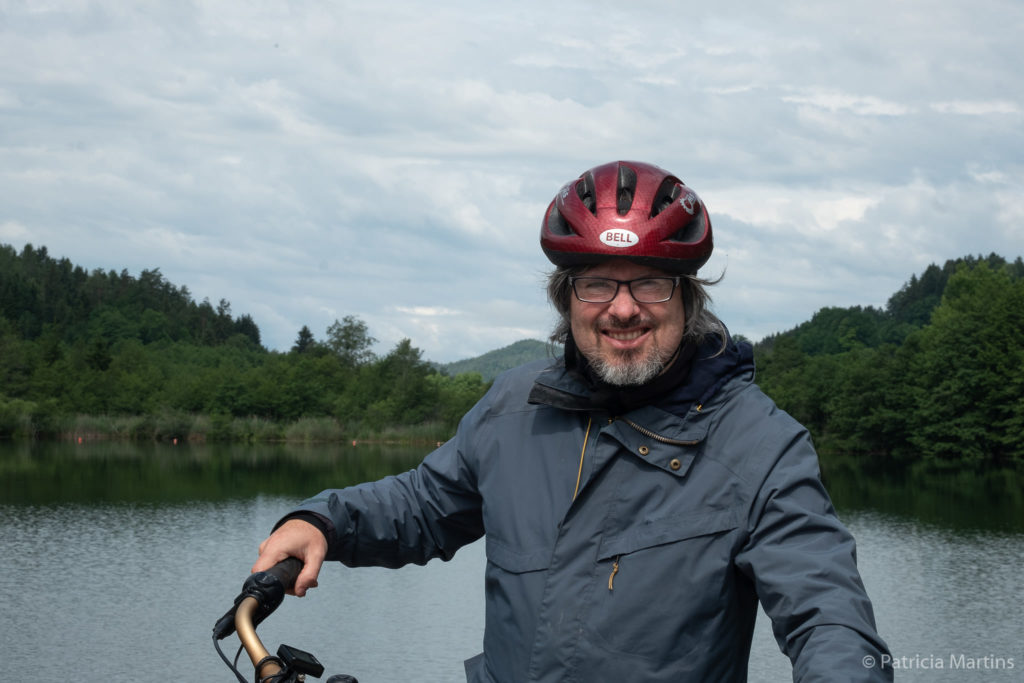 I always wanted to buy an E-Bike, but what held me back was the high price. The D4S costs a mere 600 Euros and for renting the E-Bikes in Carinthia we already paid ca. 140 Euros per person for 4-5 days. And when looking around in Vienna foldable bikes are already very trendy.
I use a Burley Travoy Bicycle Trailer, and for that an E-Bike should be the perfect match.
Of course it does not make much sense when one person in the family has an e-bike and the others don't, that's why I ordered one bike for testing and if it is any good I will order more E-Bikes for the rest of the family.
Actually I wanted to give it to my father, he is 80 years old and of course I don't want him to have an accident right out of the bat. Also my sister is interested.
Anyways now I will test the foldable E-Bike and see if it is any good…
Video
In German with English subtitles:
Updates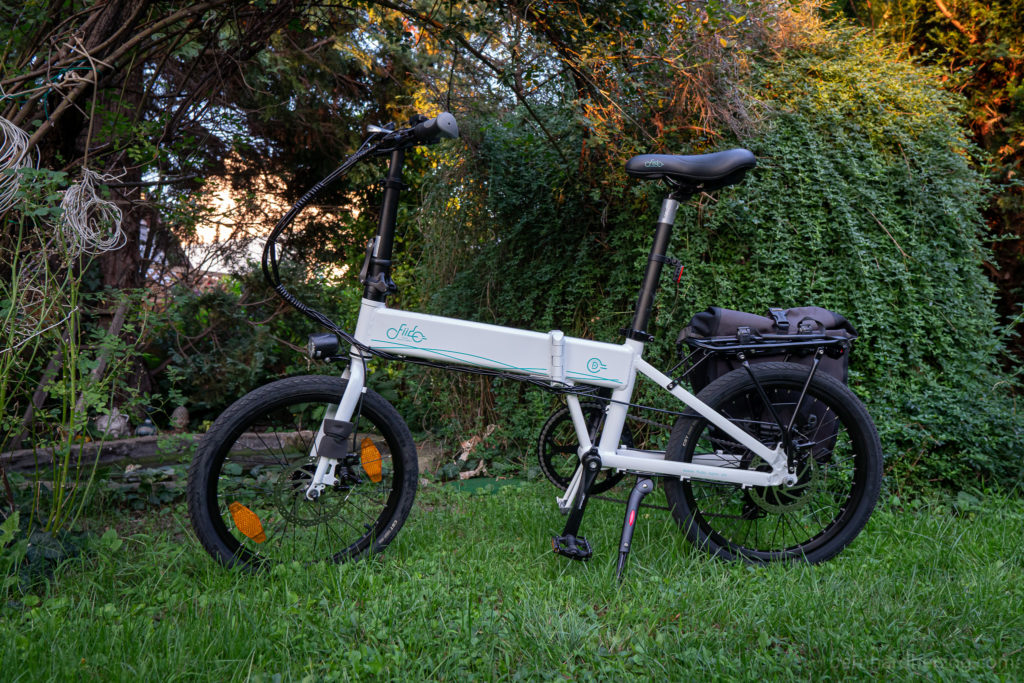 Unboxing
The E-Bike comes folded and well protected in a (very heavy) cardboard box.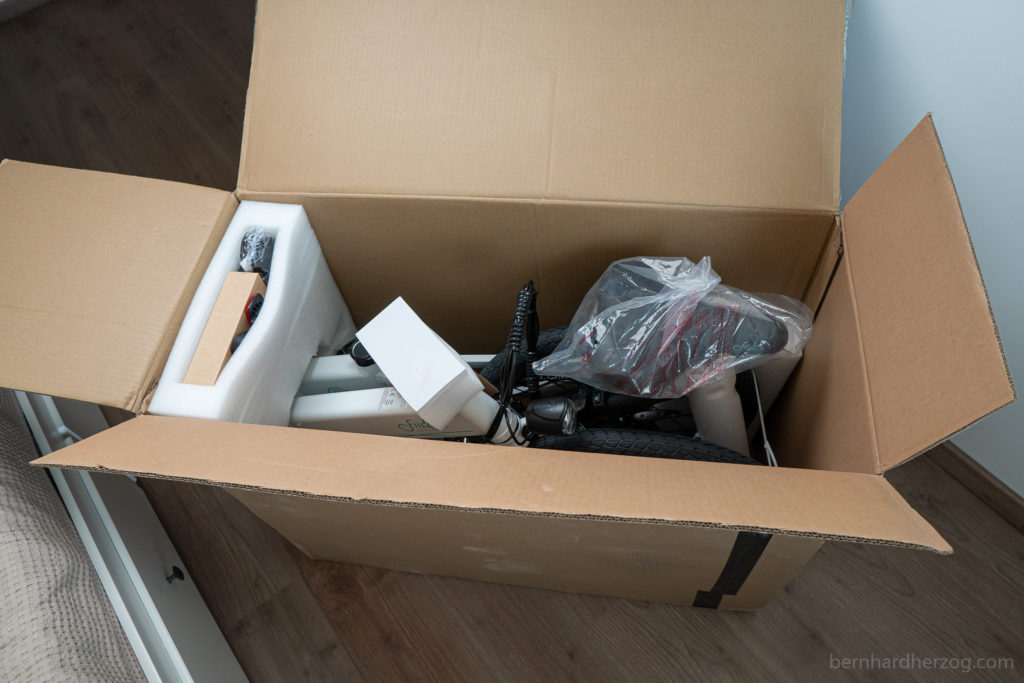 In the box there is a reflector, the pedals, and a box with the charger and tools. Next to the bike there is the saddle.
I immediately noticed the weight, esp. when I tried to pull the E-Bike out of the box. Still the D4S does not have any supension, that's why the weight does not exceed 18,5 kg. Actually this was a reason for me to buy this bike. I want to travel mostly to cities (with the train) and I am not planning to ride offroad, so weight is more important for me.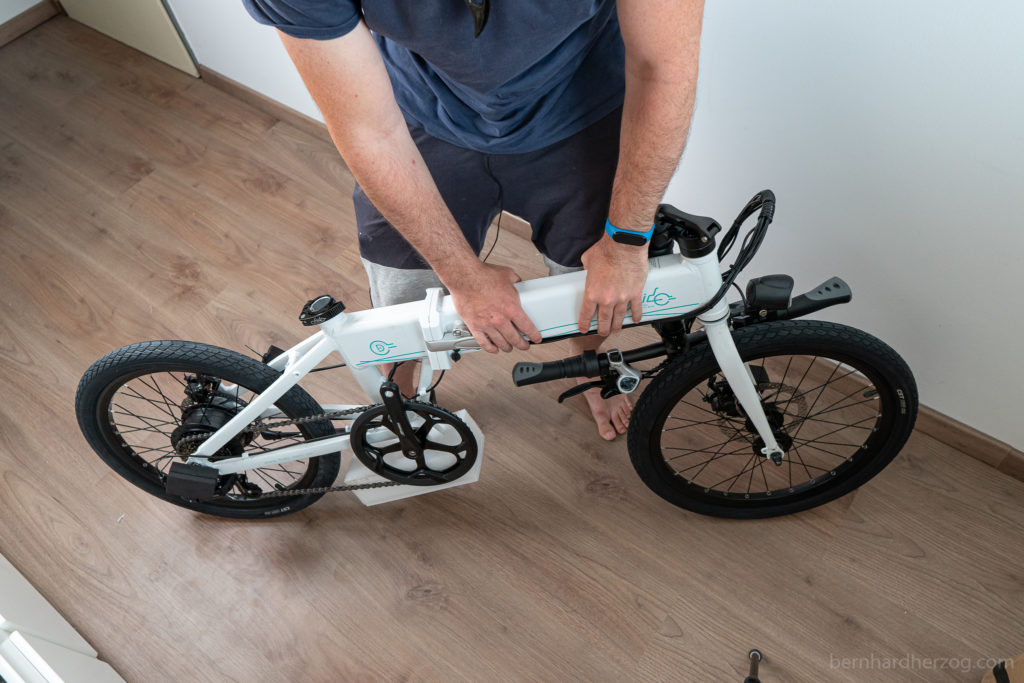 Frame and handlebar have to be unfolded, levers are used to fix both and there is an additional safety lever or ring.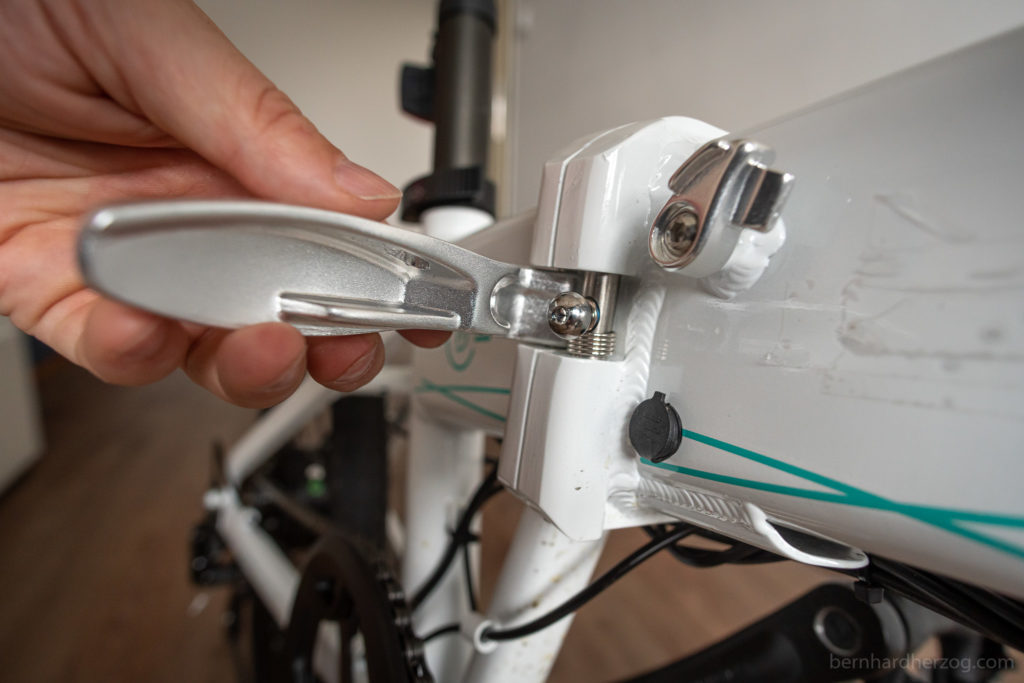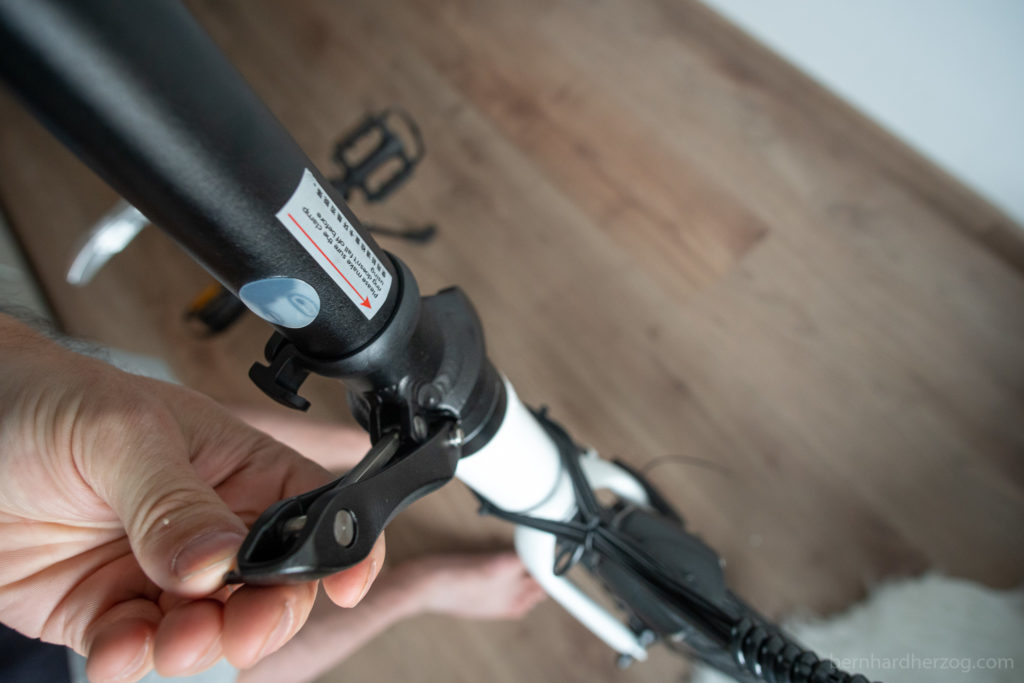 The bicycle is assembled very quickly. Luckily the necessary tools are already included.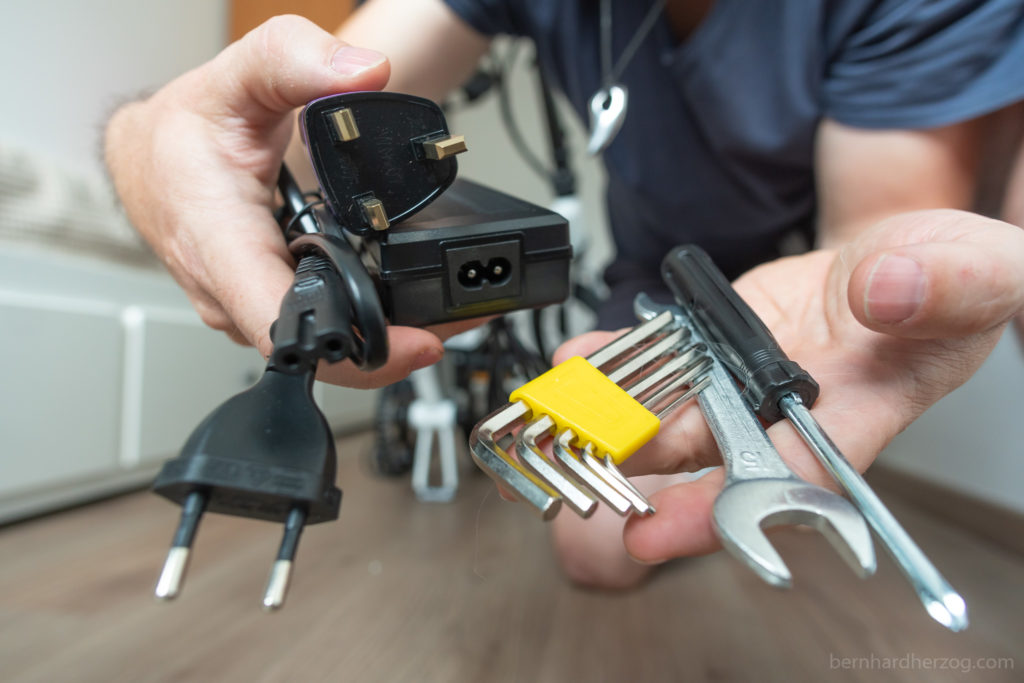 I ordered the bike in white because I think everybody has it in black and I think white looks fresh.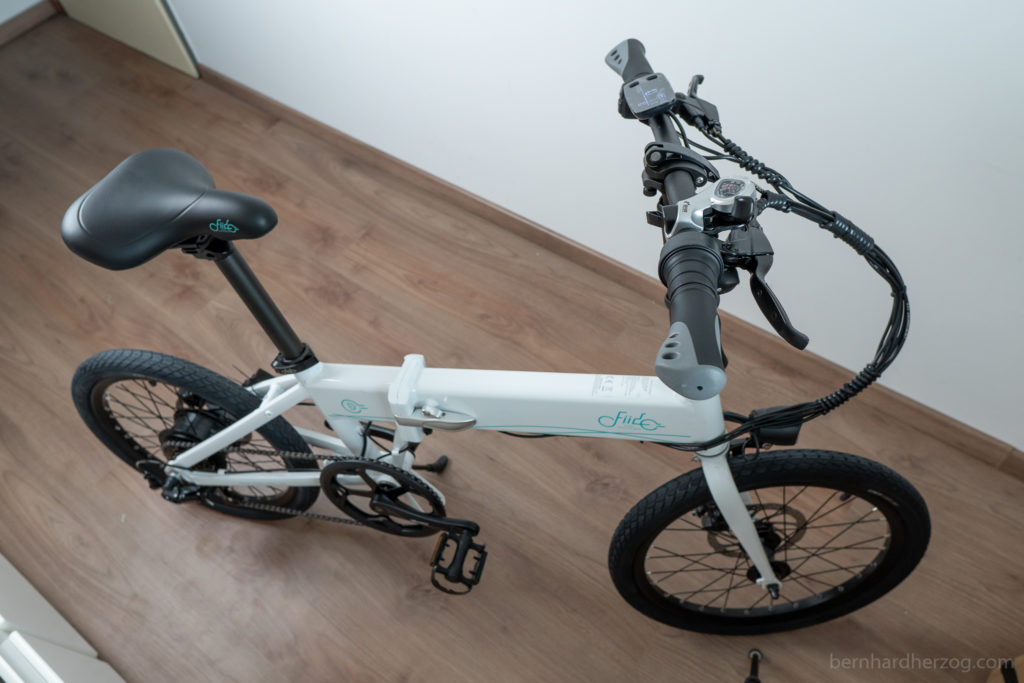 Fiido D4S (banggood EU) Fiido D4S (banggood US) Fiido D4S @ amazon.de Fiido M1 Pro Fiido D11 Burley Travoy Bike Trailer (includes Quick Hitch)
Features
Right out of the box the bike looks amazing.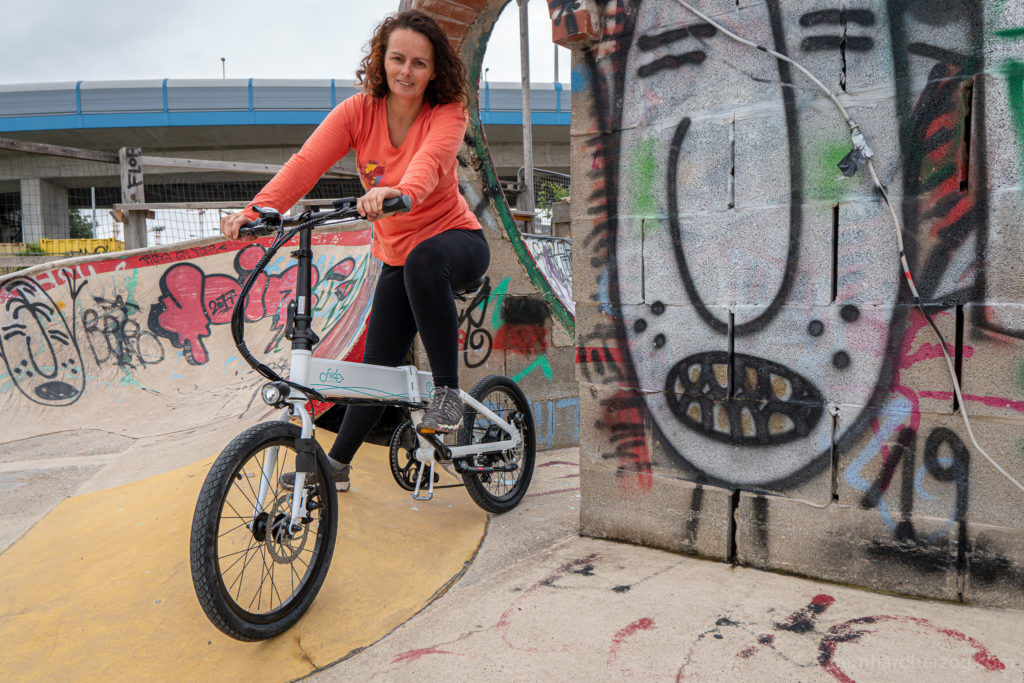 The saddle is very soft and big. Maybe this makes up a little bit for the missing suspension.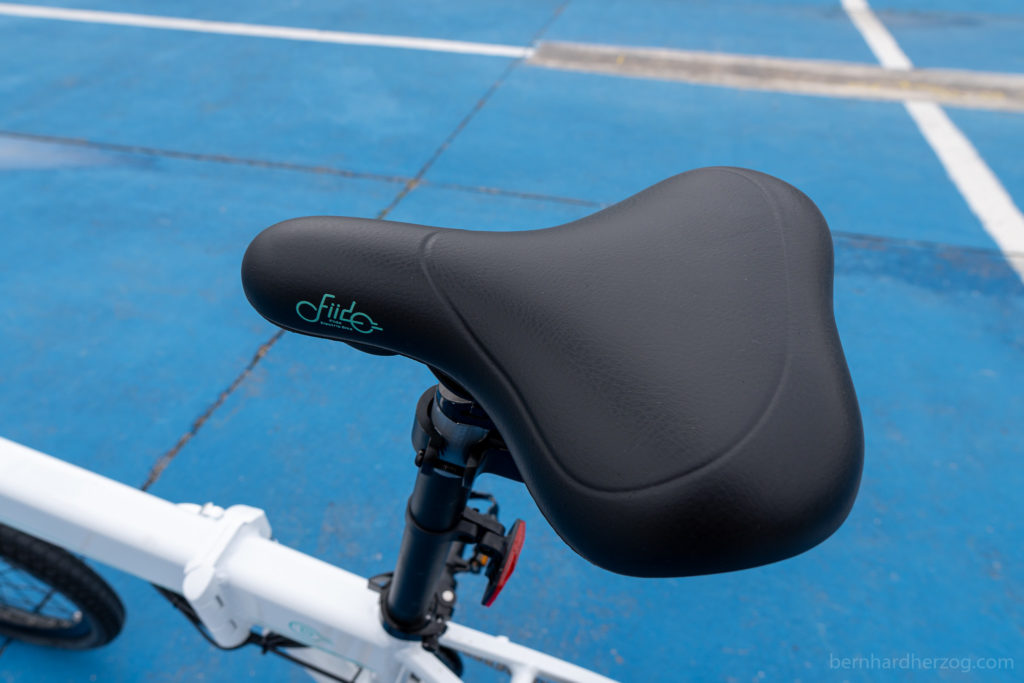 What I noticed is that the seatpost gets scratched easily when changing its height. This is annoying because several members of the family want to use the same bike maybe and therefore needs to change the height.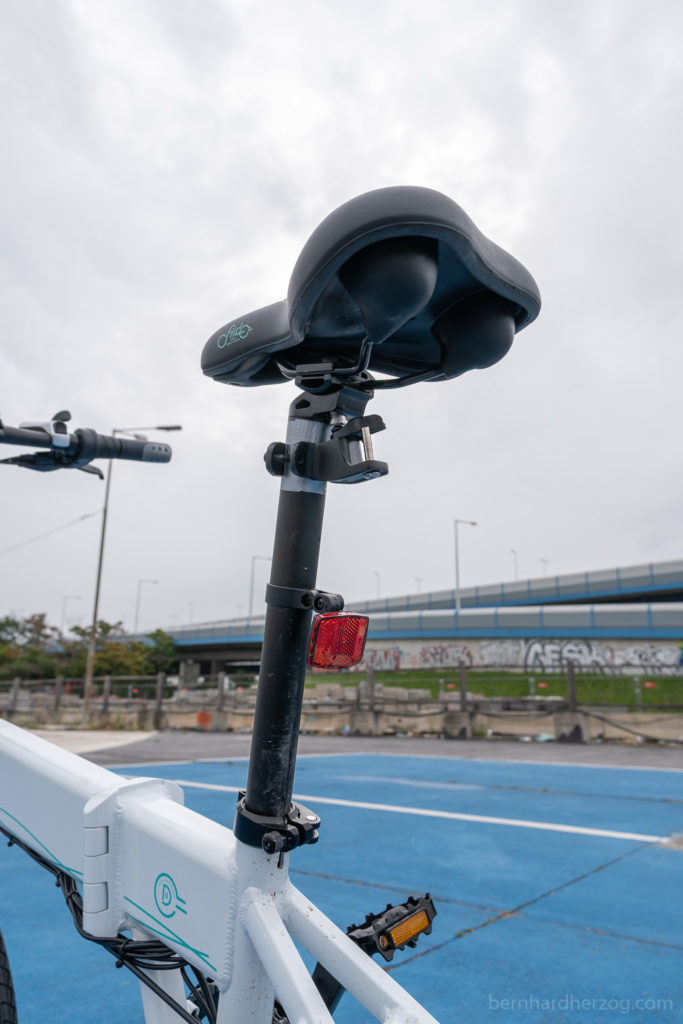 It is possible to extend the seatpost and handlebar for very tall people.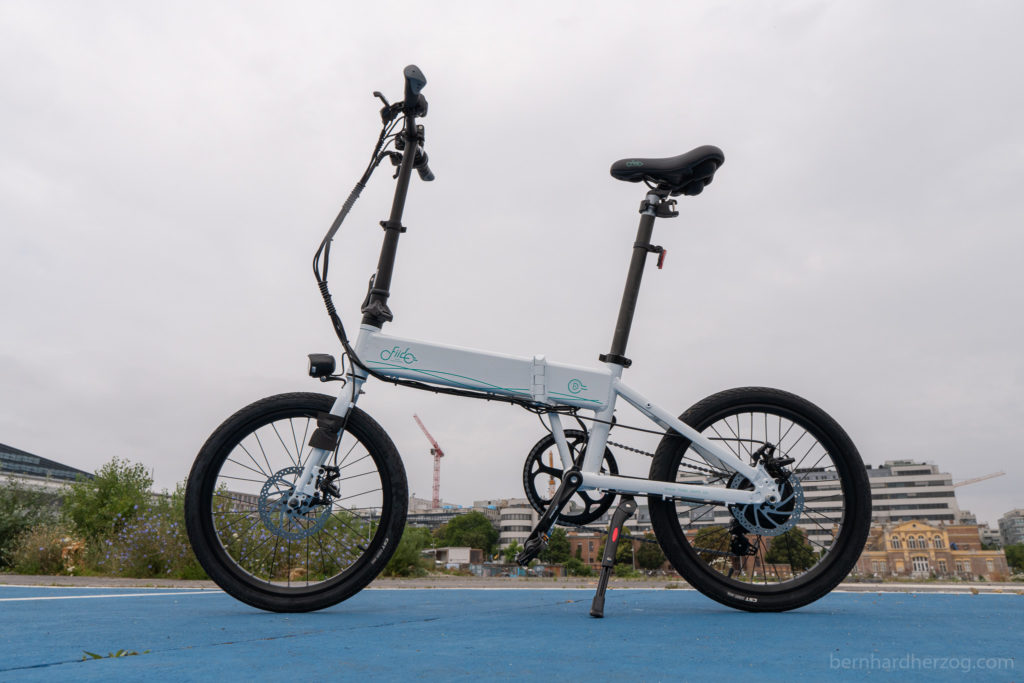 The D4S has larger tires compared to its predecessor which had just 16 inch tires (the D2S). Because of the 20 inch tires it is possible to use the bike for longer trips as well and it makes more sense for me. But of course the bike is larger because of that.
There is an LCD display for speed, distance and mode (the previous model did not have a graphical display). There are three levels to set the maximum speed until which the motor stops supporting (max. is 25 km/h).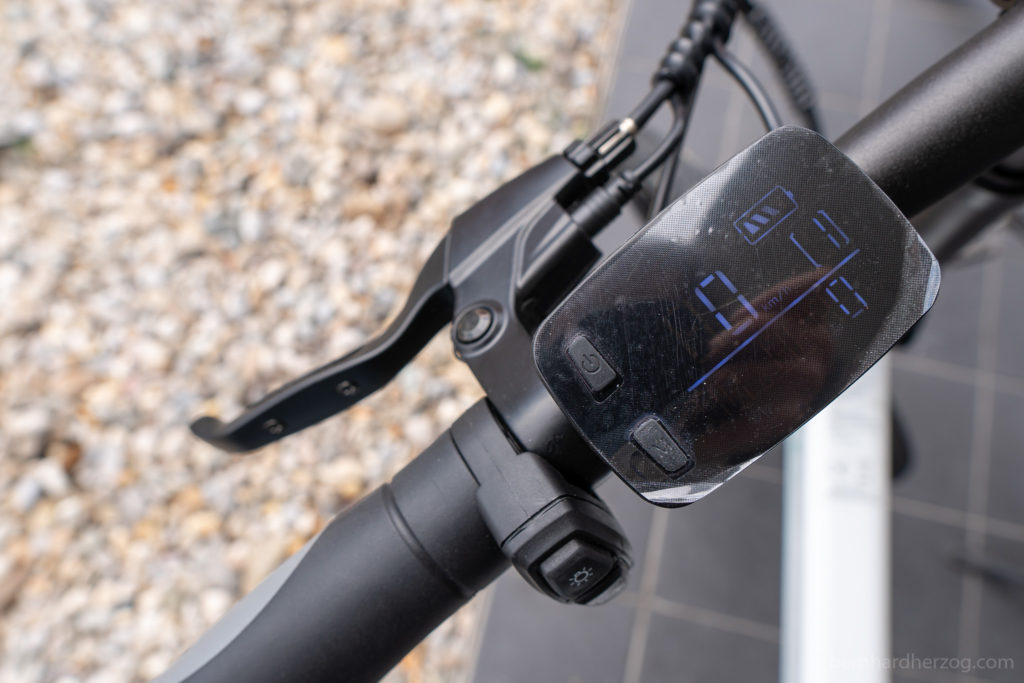 Immediately I tried to set the bike to 35 km/h (as adverties by YouTube influencers on launch) and it really worked. I was not sure if this will work with the bike I got (if it is the same controller or whatnot).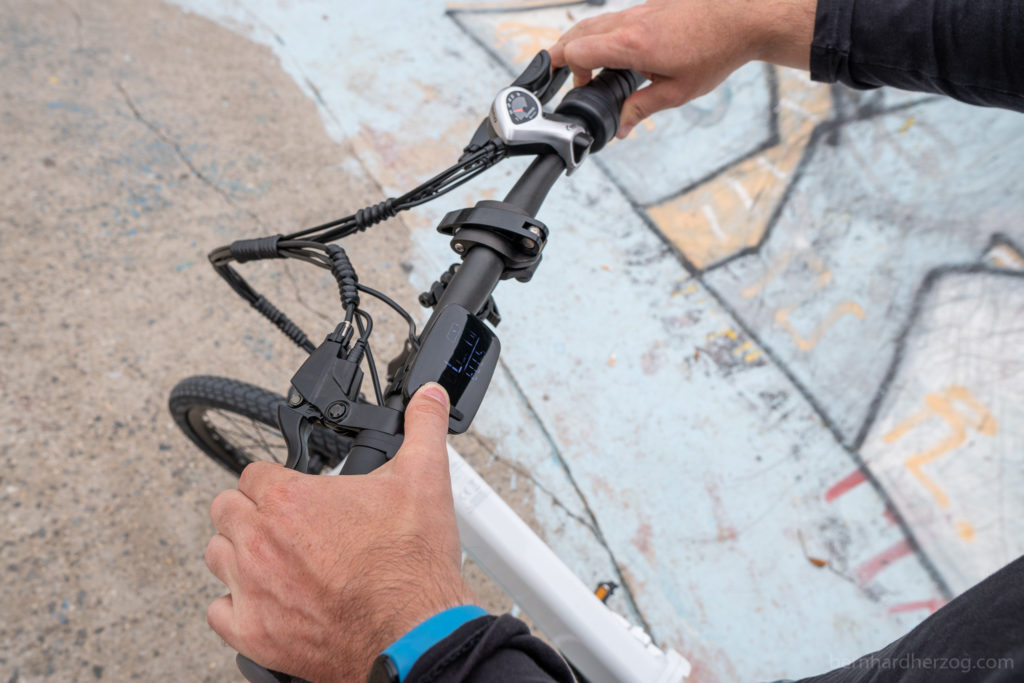 It actually worked, now I can accelerate the bike to 35 km/h. Of course this is illegal in most EU countries (also in Austria, at least it is allowed to use a throttle instead of pedalling).
There are 6 gears.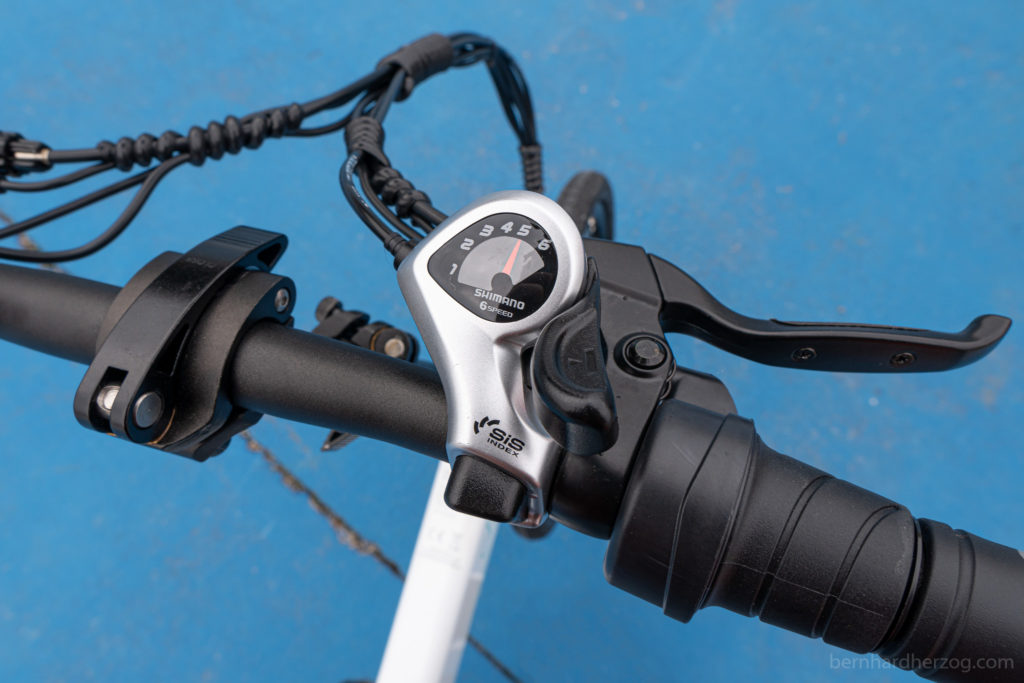 Then there are even disc brakes, but just mechanical ones.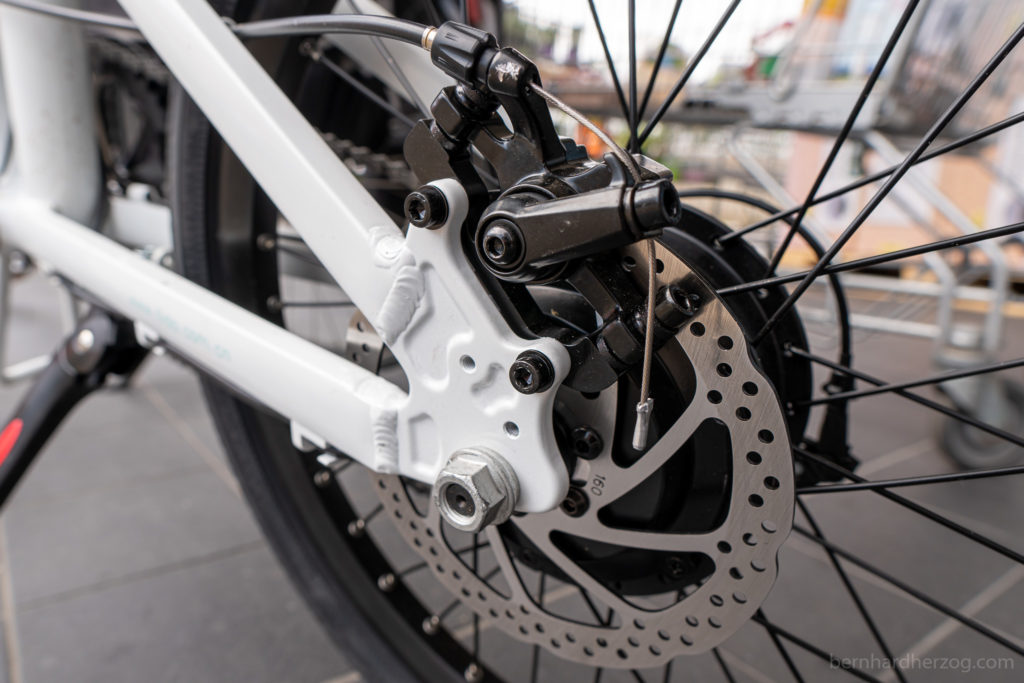 The horn is really loud (maybe not allowed in your country IDK).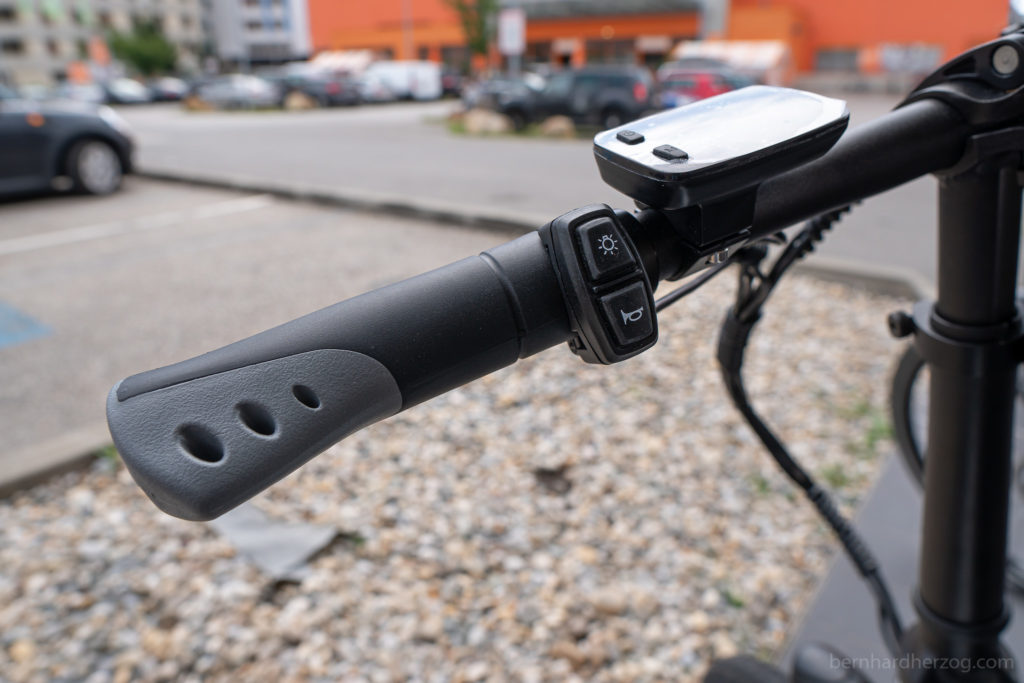 There is a light but unfortunately just in front.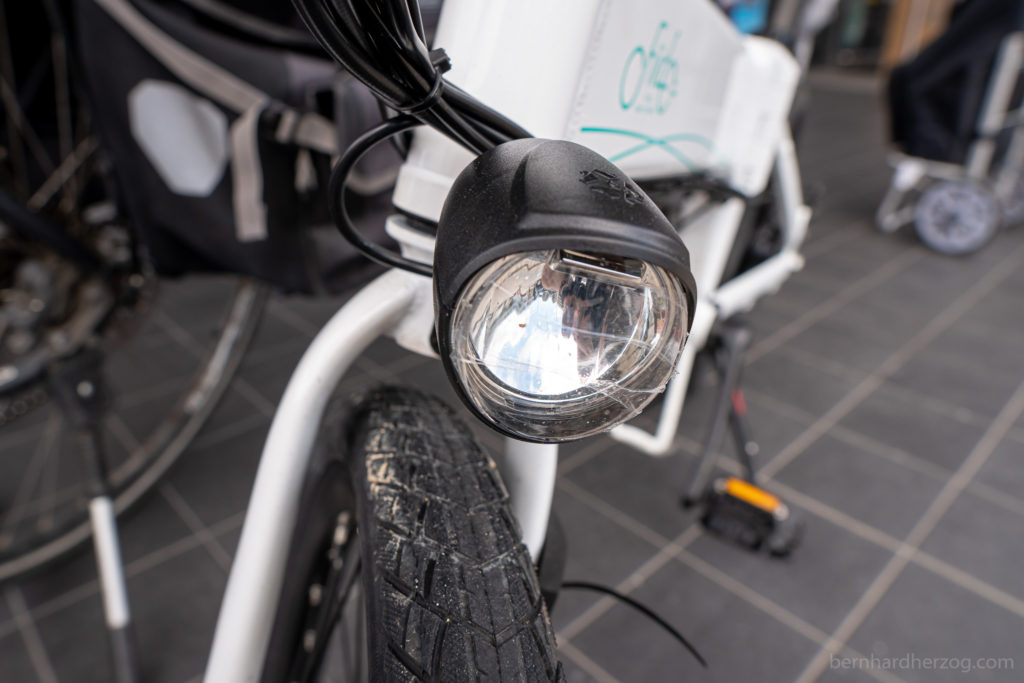 The stand is very stable, unfortunately when opening it makes a sound like a gong.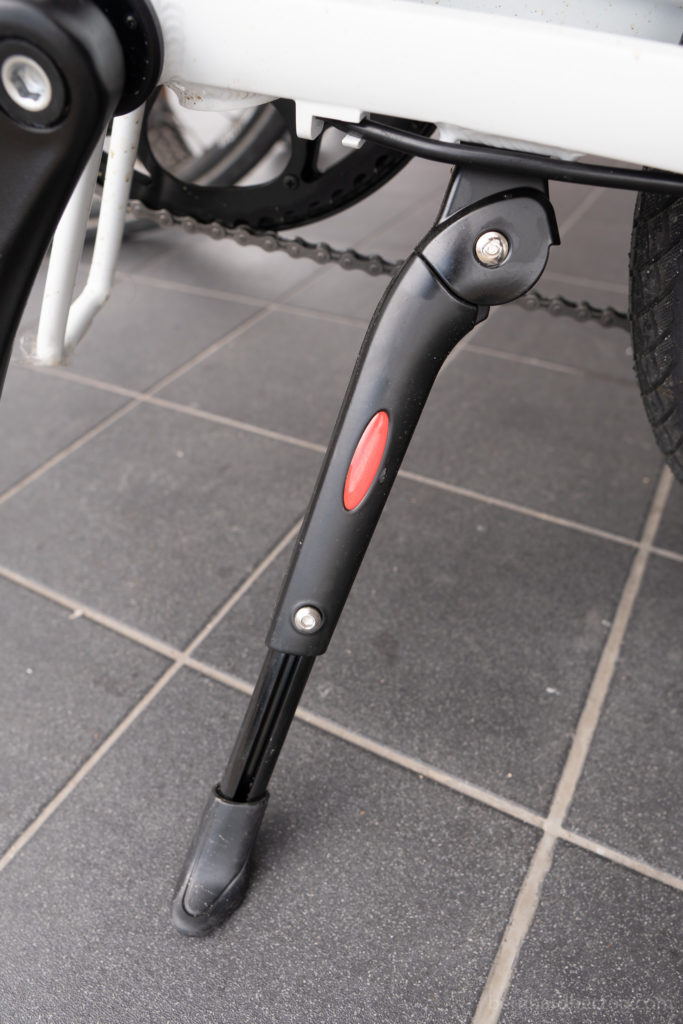 The battery is non-removable, i.e it is necessary to bring the whole bike to a power outlet. It is rated for 10.4 Ah and 80 km distance. But when using the 35 km/h mode this is unrealistic of course (esp. when using the throttle for starting).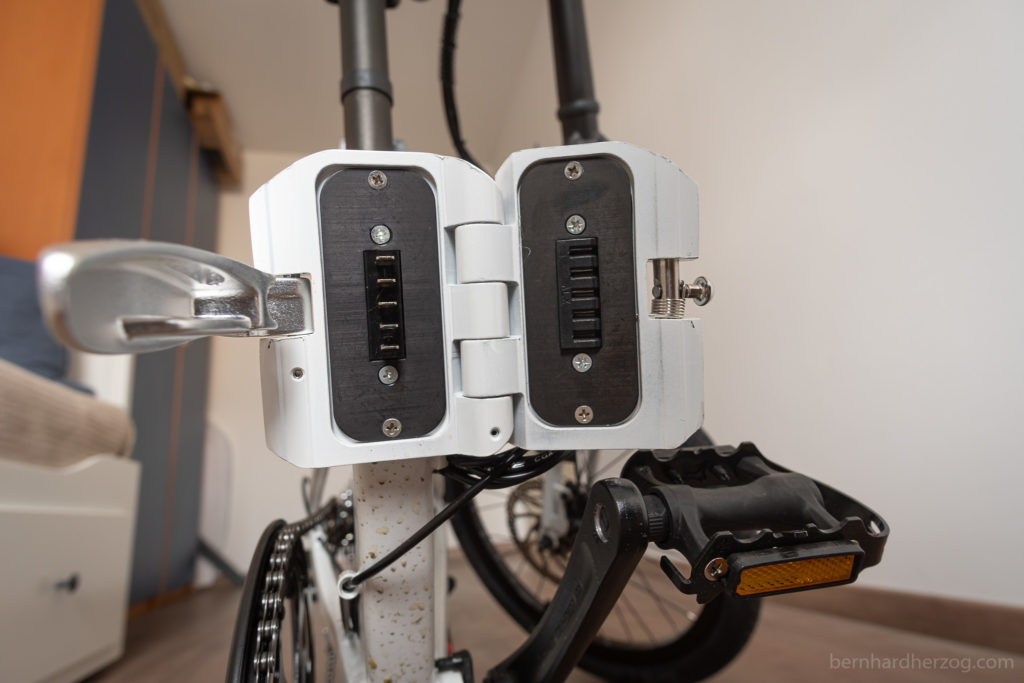 Fiido D4S (banggood EU) Fiido D4S (banggood US) Fiido D4S @ amazon.de Fiido M1 Pro Fiido D11 Burley Travoy Bike Trailer (includes Quick Hitch)
Review of the Fiido D4S
I will test the E-Bike now, esp. if it fulfills all the requirements of all members of my family.
Transport (in the elevator or in the train/in public transport)
I live in the 4th floor so I want to see if I can fit the bike into the elevator. Also for public transport it might be necessary to fold the bike so that I don't have to pay extra for the bike.
Also as I said the battery is non-removable, that's why I have to charge the E-Bike in my appartment. But because it can be folded it will not take too much space.
And also I would be afraid that it gets stolen when I leave it downstairs or in the storage room.
It is relatively easy to carry the bike down the stairs, because it is not too heavy.
It fits into the escalator no problem, actually there is plenty of space for more people.
When you are living on the ground floor it is much easier but still there may be times when it is necessary to store away the e-bike somewhere for it to be safe.
Also with public transport there should be no problems with this foldable e-bike.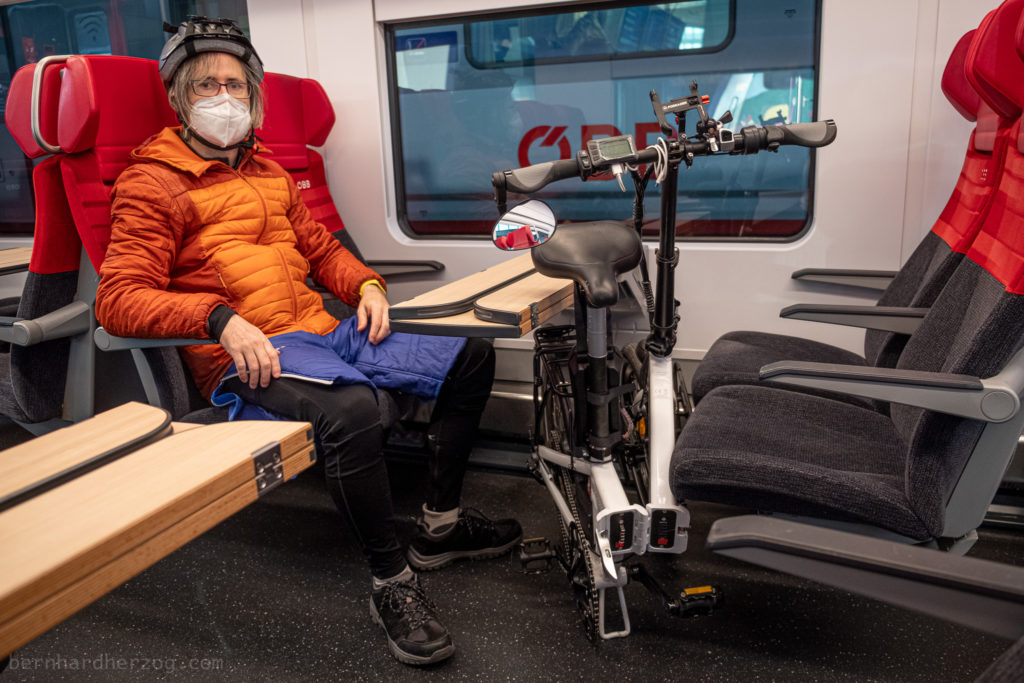 "Moped"-Mode
Now I want to show you this moped-mode or this twist grip aka throttle.
This is esp. important for my sister, because she lives in Upper Austria and she does not use her current bike to go to work simply because there are some hills she would have to tackle to get there.
That's why I want to test if the Fiido D4S workes well on inclines.
When starting the engine only kicks in after 2-3 turns of the pedals. Depending on which mode you are in there is a maximum speed until when the engine helps. This is independent on how fast you pedal. For example in mode 1 it is ca. 15 km/h, in mode 2 it is ca. 18 km/h and only in mode 3 it reaches the maximum speed of 25 km/h. (It also seems to depend on how charged up the batteries are.)
But you can help when starting by using the throttle.
This is also helpful when starting on an incline or when you have a higher gear. (This works even better if the weight of the rider is low.) Actually it is possible to go up smaller inclines with just this acceleration grip.
If this is illegal in your countries (Germany or Italy for example) then it is advisable to maybe put black tape on the throttle grip so that nobody can suspect you that you are using it.
For my father this "Moped-Mode" could be an advantage, because for example he could put the saddle very low so he can get onto the bike easier. Unfortunately it is not so easy to get on the bike because of the entrance which is not as low as with a Scooter for example, but he could board the bike from behind.
Using a Bike Rack or Trailer (Burley Travoy)
One disadvantage is that this e-bike does not come with a bike rack or with fenders. But it is easy to mount your own (see the first chapter about the modifications I did).
I own a Burley Travoy Bicyle Trailer. I use it for groceries or for example to carry my camera equipment, for larger items so to speak.
For an e-bike this trailer is perfect because you will feel the weight of the trailer on inclines at latest.
Because the tires of the D4S are small there is enough clearance for the trailer so it does not touch the back tire at all. With normal E-Bikes this would be a potential problem.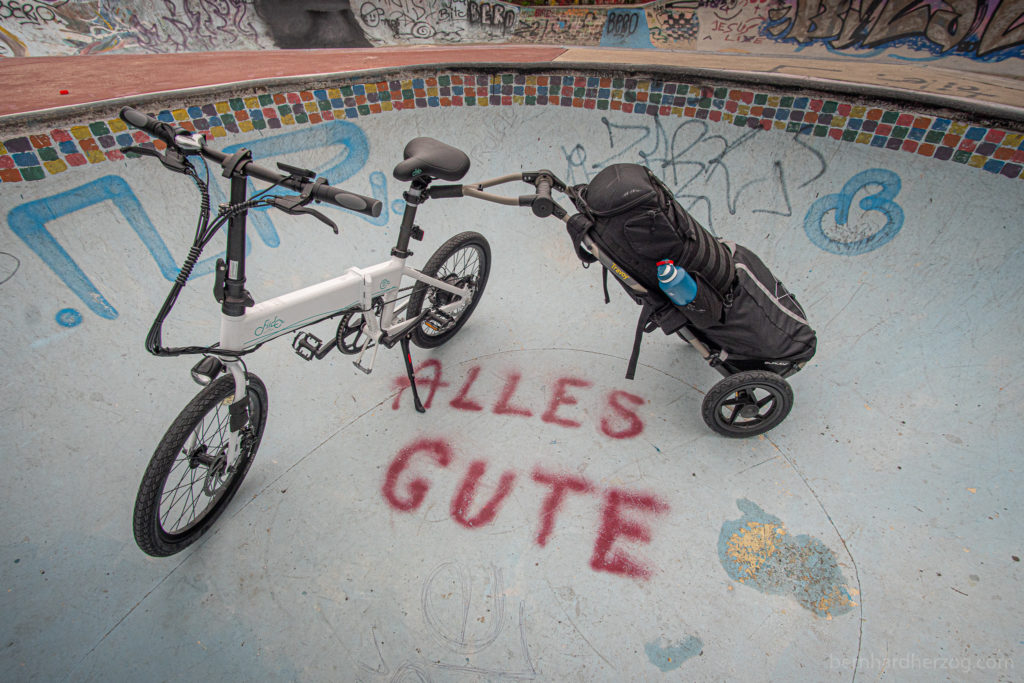 I still have the old version of the Travoy. With the new version there is a quick hitch which is nice when switching bicycles.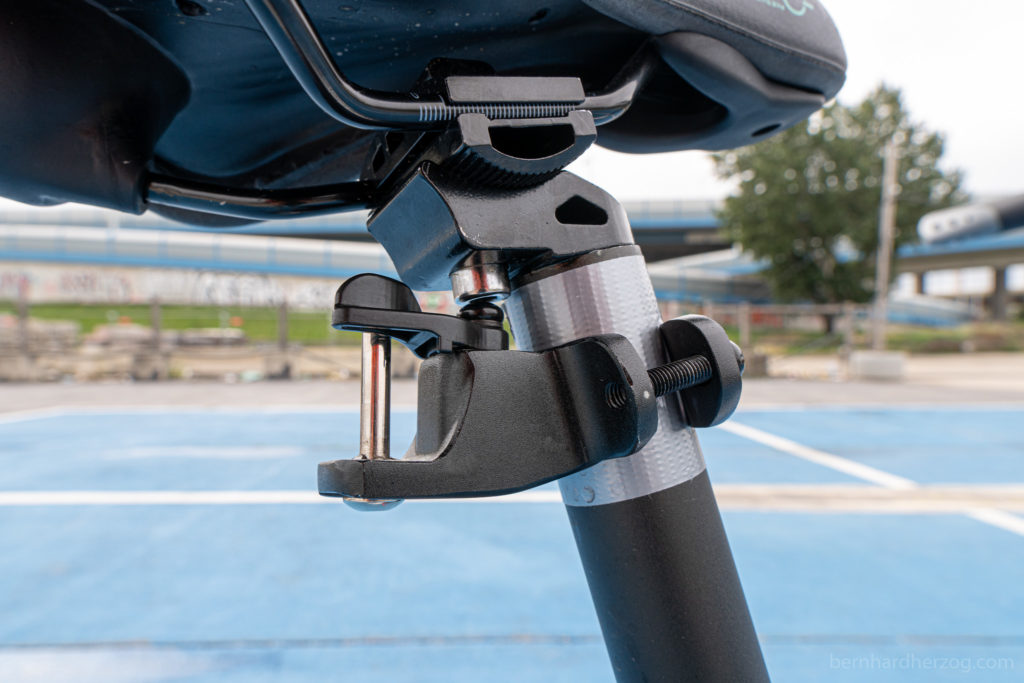 With the trailer I can go up to 30 km/h on flat roads and on small inclines up to 29 km/h.
Fiido D4S (banggood EU) Fiido D4S (banggood US) Fiido D4S @ amazon.de Fiido M1 Pro Fiido D11 Burley Travoy Bike Trailer (includes Quick Hitch)
Product Support
A major disadvantage of all bikes from China and also the Fiido Bike is that when there is a problem you have to deal with it yourself, because you cannot send the bike back to China.
Luckily there is a Facebook group where owners exchange ideas and you can also learn how to improve your bike.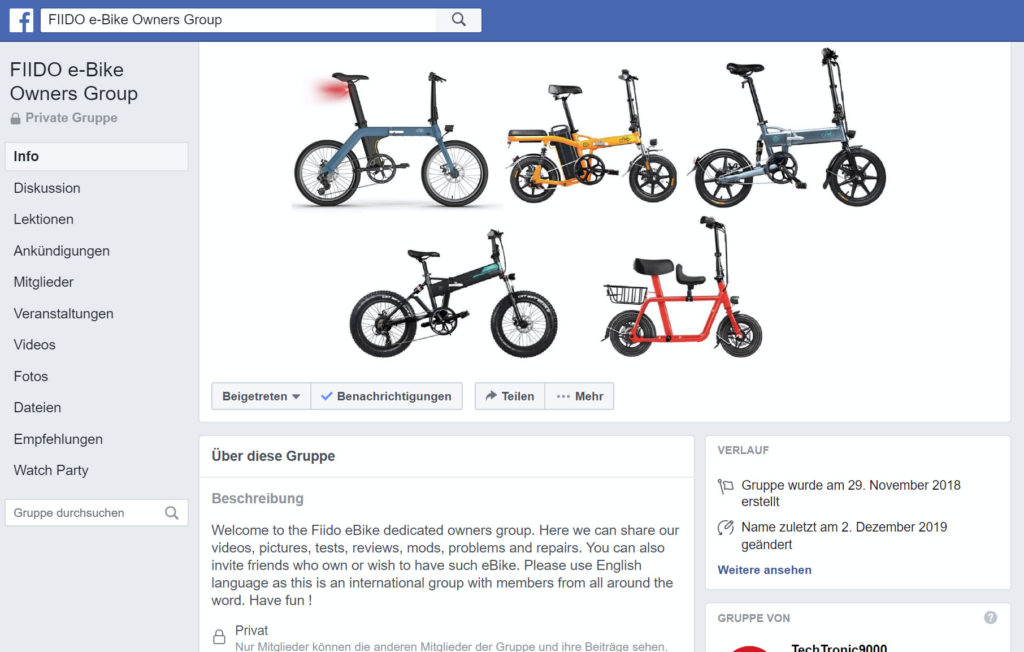 So some smart users turned the problem – that there is no support for a product – into a solution in that owners are helping each other with their knowledge.
For me I prefer this way because I like to solve problems myself if possible. But maybe I was also lucky because until now nothing did break. (Some people were not so lucky and received their bike already with some problems.)
Fiido D4S (banggood EU) Fiido D4S (banggood US) Fiido D4S @ amazon.de Fiido M1 Pro Fiido D11 Burley Travoy Bike Trailer (includes Quick Hitch)
Conclusion
So what is my conclusion about this e-bike? I think it is an absolute dream and it is does not come as a surprise that everybody in my family now wants a bike like this.
One big disadvantage (esp. when comparing to E-Bikes from Bosch?) is that there is no torque sensor. I.e. after 2-3 turns of the pedals the engine kicks in and supports you, but no matter how fast you are pedalling. Maybe this could be a problem for my father because the bike accelerates relatively fast.
One way to deal with this is to shortly pull the brakes and the engine will stop accelerating. Or you switch the mode from mode 3 to 2 or 1, then the maximum speed until when there is support of the engine is lower.
To better understand this it is maybe good to know that Chinese E-Bikes are actually like Scooters (with the possibility to pedal). So having a thumb throttle is maybe actually an advantage. (But Fiido is planning a version with a torque sensor… so let's see if this will actually be an advantage…)
Anyways the bike looks great and I am happy that I ordered it in white, this looks absolutely fresh.
What does not look so nice is that the cables are visible below the frame. They cheated on the product picture because there the cables are not visible (Photoshop?). Maybe this is actually an advantage when it is necessary to repair something. When the cables would be inside the frame any bike repair would turn into a nightmare.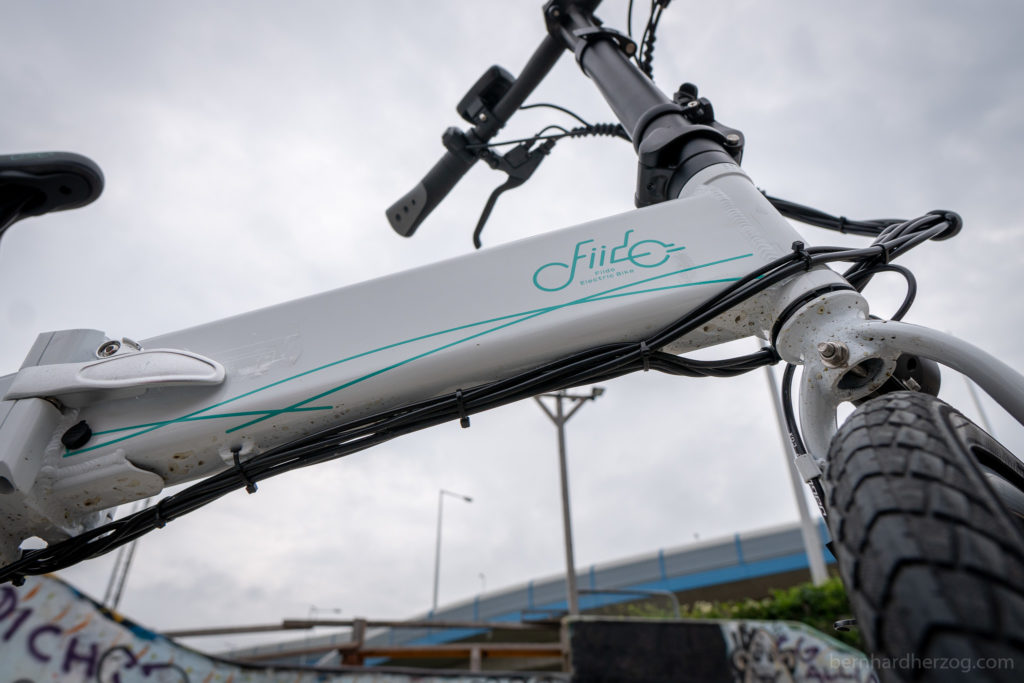 And then there is something about the bike being "ultra-light" on the product page. The bike is not too heavy because there is no suspension, but it is not really ultra-light.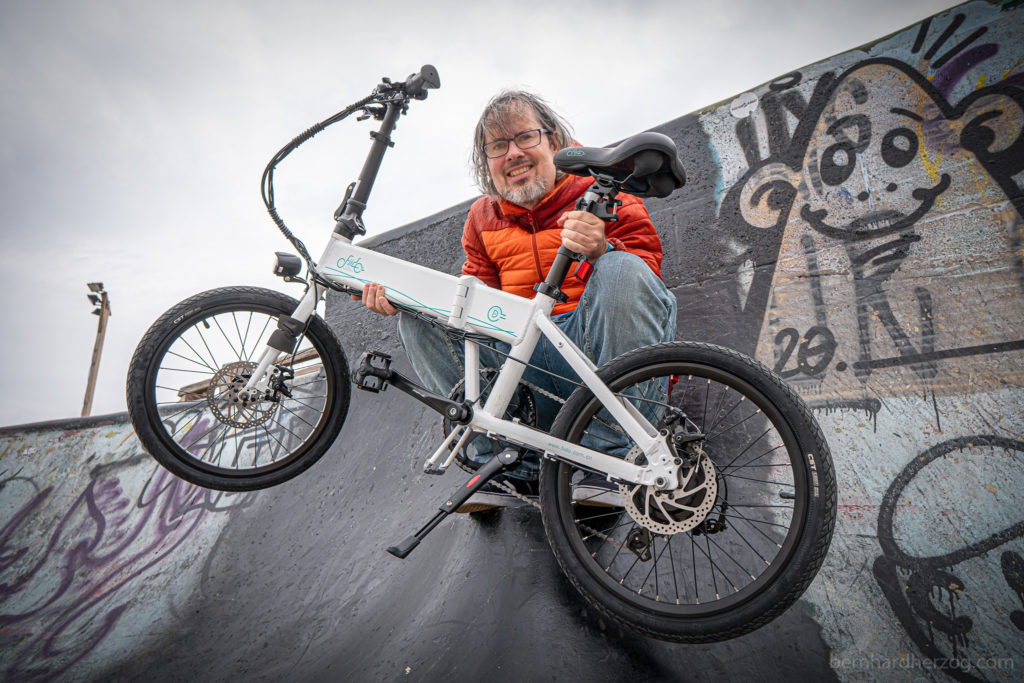 Here are some more disadvantages:
the battery is non-removable (only with tools), i.e. I have to carry the bike to the charging port
Front-Lights only, in the back I have to buy them myself (but these battery-powered red blinking LEDs last forever so not a big problem)
no USB-Charging port for my smartphone on the display
seatpost is scratched quickly when changing the height
when opening the stand the disc brake makes a sound like a gong (better open it carefully)
Lever for securing the frame can leave scratches (better use tape to protect it)
brakes make squeaky noise
In spite of these "small problems" I think the Fiido D4S is actually brilliant. It is possible to accelerate it to 35 km/h, what other bike can do that? The tires are relatively big – 20 inch – and it is possible to use the bike for longer trips because of that. The saddle is very comfortable and the bike is very stable for a foldable bike.
I can highly recommend this e-bike when you can live without a torque sensor, but I think it is easy to adapt because there is the advantage of having this throttle. You will arrive at your destination very quickly and that's what counts.
If you have the chance to get it, better be quick because at least the price seems to be going up because the demand is high and it is always out of stock. Actually right now it already costs 700 Euros 🙂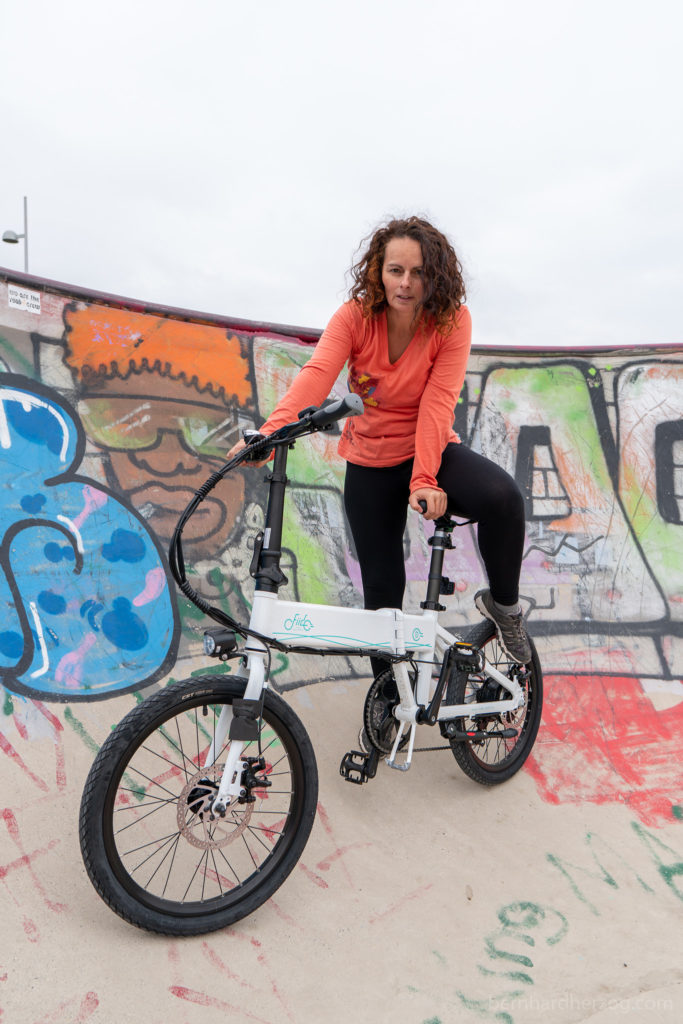 I hope my review was helpful for your buying decision. Please also make sure to check out my new blog post about all the upgrades I did to the bike after my initial review! If you have any questions or comments please don't hesitate to post in the comments! CU next time!! Bye!!!
Fiido D4S (banggood EU) Fiido D4S (banggood US) Fiido D4S @ amazon.de Fiido M1 Pro Fiido D11 Burley Travoy Bike Trailer (includes Quick Hitch)
Recommended camera equipment for photo, video & travelling (AMAZON):
Sony a6600 Sony a6400 (cheaper) Sony a6100 (Budget-Option for 4K) Sigma 16mm 1.4 Sony 35mm 1.8 Samyang 12mm 2.0 Feelworld Master MA7 Smaller monitor Rode VideoMicro Rode Wiress Go II Mini Tripod Travel Tripod Small LED-Light Light #1 (powerful) Light #2 (Bi-Color) Softbox for this light Light tent/box DJI Osmo Action GoPro 9 GoPro MAX Invisible Selfie Stick Mavic Mini 2 drone Mavic Air 2
for photo and video:
Fuji XT-4 Fuji Telezoom Entry level camera (Canon)
*Affiliate Links. From everything you buy I will receive a small kickback that helps me maintain my channel. THANK YOU for your support!