For our trip to Greece we wanted to do a mix of sightseeing in the city, hiking in nature and visiting islands for swimming. We are happy that we were able to do almost everything that we have planned. This is especially true because of a strike in Athens and of the ferry boats on our last day. We were really lucky. Read on to learn about our itinerary and experiences in Greece.
Day 1 and 2: Athens
Athens was especially interesting to me because of the current political situation. I think the huge banner "Immigrants welcome, tourists go home" when going to the Athen's airport says a lot about the current problem. There are lots of refugees literally stranded in Greece but they don't want to stay there because Greece has many economical problems. On the other hand tourists don't want to go to Turkey and also going to a poorer country has some advantages (prices are usually cheaper). So the greek people might not be so happy about rich people coming to their country, the same people that put so hard measures on the greek economy. On the other hand Greece really needs the tourist's money. What would the Greek people say when the refugees would want to stay and the tourists would not want to come?
Acropolis, Monastiraki, Plaka and Anafiotika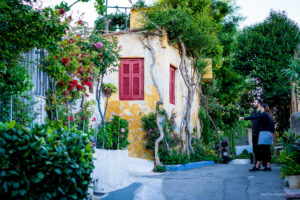 At first we visited the more touristy side of Athens, i.e. the area around the Acropolis. Even though it was not high season yet we were pestered by a lot of people who tried to get our money. There are also a lot of pickpockets in this area but luckily nothing happened to us. But beside that the neighborhoods in this area are gorgeous, i.e. Monastiraki, Plaka and Anafiotika. But as I said it was really difficult to enjoy this area. (We also wanted to go to Lycabettus Hill, but decided not to go because it would take us too much time.)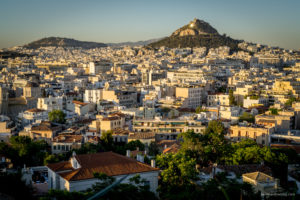 The "real" Athens: Exarchia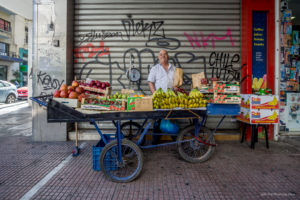 On the next day we visited the "real" Athens, the areas where the greek live. First we went to Exarchia. This is an area with a lot of graffiti and it is more left-winged. I guess it is also endangered to become a hipster area and of beeing gentrified. At Platia Exarchion there are many banners with political messages (against facism, for Kurdistan, etc.) but I did not spot any refugees there. This place used to be a place where refugees meet in the evening and many people used to give them shelter in occupied houses in this area.
Many THANKS to the Expats in Athens (Greece) Facebook group for the help translating the banners: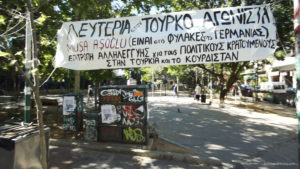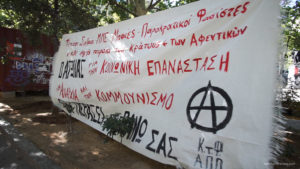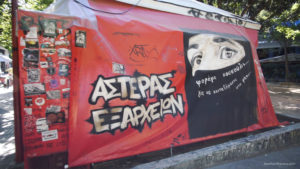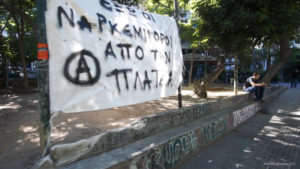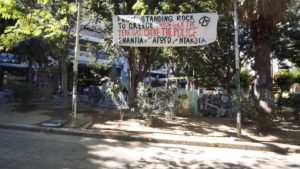 Hilton hotel and running man statue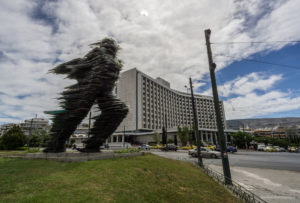 Next we went to the Hilton hotel. It has an awesome statue in front of it. It is a running man which is made out of razor sharp glass panels. It looks like he is moving or frozen in his motion. We wondered how this is constructed. (Some glass was already lying on the ground.)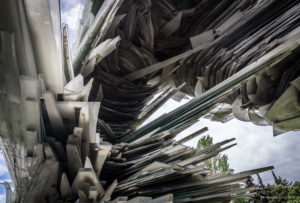 Piräus and Stavros Niarchos Cultural Center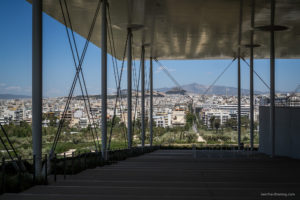 Next we went to Piräus harbour. After that we took the tram (starts one train stop back from Piräus) to go to Stavros Niarchos Cultural Center. This was suggested to us by a woman working in the old national library in Athens. They were about to move all the books to this new place. It was a really good idea to go there, it is amazing and has a great 360 view of Athens and the harbour. There was also an exhibition of Renzo Piano, the architect of this building and an EU Event taking place there when we arrived. Seeing that I am really happy that Greece is still in the EU and has not been kicked out. I wondered how Greece can afford such a gigantic building, but probably it is EU money. (There is a nice park and a canal but unfortunately we had to go back to catch the train, which we almost missed because we were so stunned by the beauty of Stavros).
We also wanted to go to the Glyphada Pharmacy, an amazing Pharmacy with special architecture. It has Braille letters on it's front which serve as windows. Unfortunately we did not have time to go there.
Lucky: Strike in Athens just on our last day
We returned to Athens on our last day of our trip with the aeroplane from Skiathos. We were really lucky because there was a 4 hour strike of the flight controllers and a 24 hour strike of the airport metros and suburban trains. Lucky because our first flight from Skiathos to Athens was just moved to an earlier time and the latter flight from Athens to Vienna postponed to a later time. Many flights were cancelled. Also there was a ferry strike starting around this time but luckily our ferry rides were already finished. We already had booked all our accommodations and flights beforehand so we would have had a lot of problems if there had been a strike during our trip. I knew that this could happen but it is good that we were not really affected.
Olympic Sports Complex: Agora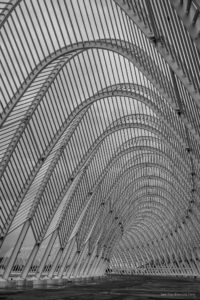 We wanted to go to the Olympic Sports Complex to see the Agora by Santiago Calatrava. But there were too many people waiting at the bus stop because of the metro strike. But later when the airport strike had began the bus was almost empty so we managed to get there and return in time. The Sports Complex is a run down place but at the same time this made it special. We also managed to visit the nearby mall and bought some spices to bring back home (They were dirt cheap there compared to the prices on the islands.)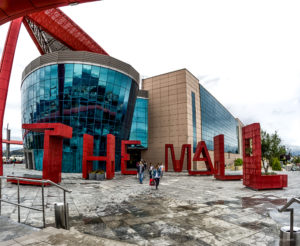 Recommended camera equipment for photo, video & travelling (AMAZON):
Sony a6600 Sony a6400 (cheaper) Sony a6100 (Budget-Option for 4K) Sigma 16mm 1.4 Sony 35mm 1.8 Samyang 12mm 2.0 Feelworld Master MA7 Smaller monitor Rode VideoMicro Rode Wiress Go II Mini Tripod Travel Tripod Small LED-Light Light #1 (powerful) Light #2 (Bi-Color) Softbox for this light Light tent/box DJI Osmo Action GoPro 9 GoPro MAX Invisible Selfie Stick Mavic Mini 2 drone Mavic Air 2
for photo and video:
Fuji XT-4 Fuji Telezoom Entry level camera (Canon)
*Affiliate Links. From everything you buy I will receive a small kickback that helps me maintain my channel. THANK YOU for your support!