Meteora is an amazing place in the middle of Greece. We went there from Athens to do some hiking before we headed to the Sporade islands.

Day 3 and 4: Meteora
We have spent some time deciding between Kalambaka and Kastraki for staying. But staying at Kalambaka was a good decision because there is the train station and also it is a bigger and more interesting town. The train ride from Athens is very long. Also we had to change in Palaeofarsalos and this train was late (happens a lot in Greece) but this is another story… The train ride was beautiful though – alongside some snow-capped mountains.
On the first day we did a hike from Kalambaka. We went to the tourist information first – the people there are very nice. Basically we just had to go north and leave the town following a well made path to go to the Holy Trinity Monastery. We did a small mistake because we took the left path at an intersection (a big rock) because we thought it is more interesting. It was but actually this path leads to Rosannou (hiking shoes recommended). Soon we recognized our mistake and returned to the other path.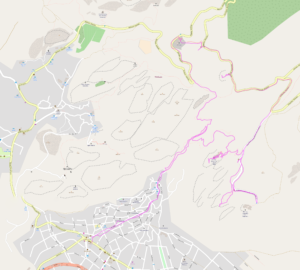 BTW the monasteries are not open on all days and they have different opening times. Also there are buses from Kalambaka. They go to Kastraki first and then follow the road up to Grand Meteora and finish at St. Stephanou. You can get all this information at the tourist information.

Arriving at the Holy Trinity Monastery we were stunned by the view to Kalambaka. We were literally standing above the city. This is where some shots for the James Bond movie "For Eyes Only" were made, now I understand why.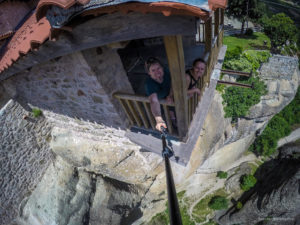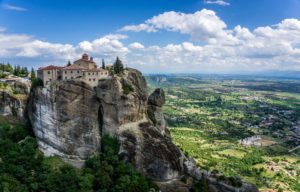 Then we continued to St. Stephanou. We stopped a car but actually it was really near. Hitchhiking is very easy because there are many tourists in this area with cars. (Actually on the next day some people even stopped when they saw us walking on the road and asked us if we need a ride…). Instead of going into the monastery we went to a rock opposite to it. This is highly recommended because from there I took my best photo of Meteora.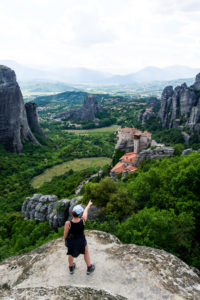 Then we continued walking on the road. There are some very nice viewpoints next to the road. They are perfect to watch the sunset, but we did not want to wait for hours. Soon there was a marked path down to Rosannou (the monastery was closed on that day).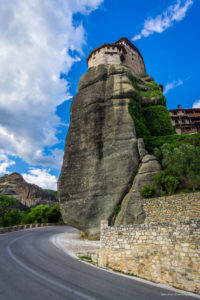 After the monastery we followed the road and where the road turns we went into the forest and basically took the path we had wrongly taken in the morning back to Kalambaka. We enjoyed our dinner on the main square with a view to Meteora. Very good service (Meteora restaurant across the road of the fountain). I should write a good review on TripAdvisor for them… (totally different to the touristy parts of Athens and Skiathos island where the waiters are very bored and impolite)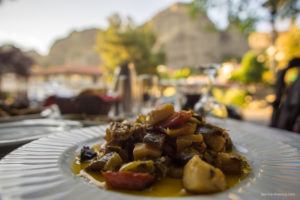 On our second day we went to Kastraki. The plan was to go to the biggest (and highest) of the monasteries, the Grand Meteora. The walk on the road to Kastraki is a little bit boring. At the first opportunity we turned right to "Old Habitat" to make it more interesting. We ended up above Kastraki with a nice view. There were some caves too, obviously they were used to shelter animals in winter. There I spotted the first turtle. This was AMAZING, I was searching all day for them on the first day.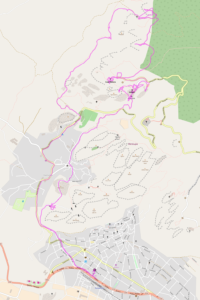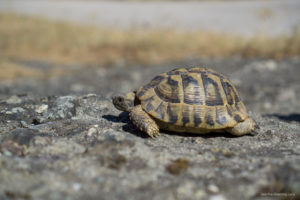 The hiking path goes on a paved side road which later turns into a dirt-and-gravel road. There is a smaller monastery there but nobody visits it (?) so we did neither. We had to cross the main road next to a stream and the path went up to the rocks. There we found a place with lots of turtles! How amazing was that! Next to the path is the dragon cave. It has some climbing routes but we just climbed into it, it was a good adventure. After a while we came to an intersection. We turned right to go to Varlaam first. We payed the 3 Euros to go inside and were not disappointed.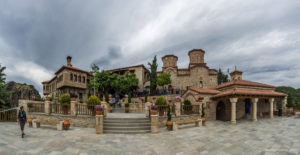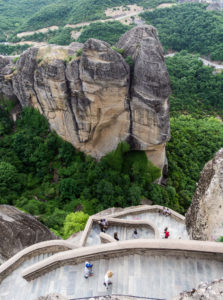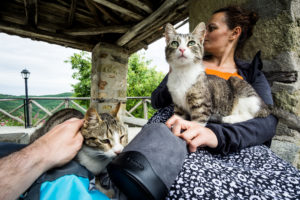 Next we walked on the road to arrive at the Grand Meteora. It was already 4pm so we had to hurry a little bit (it closed at 5). There is a nice viewpoint before the monastery where we made a break. The Grand Meteora was good but my favorite is still the Holy Trinity because of the view to Kalambaka. From Grand Meteora we had a view to Kastraki which is more distant and not so big.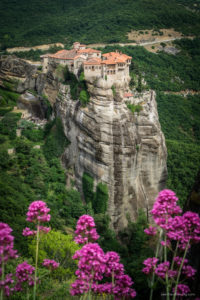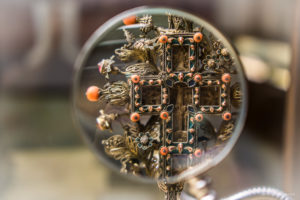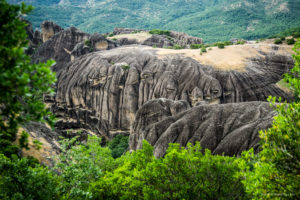 Then we had to decide if we wanted to go back with the bus (it was almost 5pm and this was the last bus) or walk down. On the map we saw an interesting path which goes backcountry around the Meteora rocks and eventually ends in Kastraki as well. It was risky but it was worth it, the path was very good and went away from the tourist crowd. We were alone and there were amazing rock formations. There was even a small monastery in the mountain (but it was closed). After going over some rocks and some nice detours to some viewpoints it went next to the rock trough some magical forests. The view to the river and the mountains in the distance was stunning. A very good decision.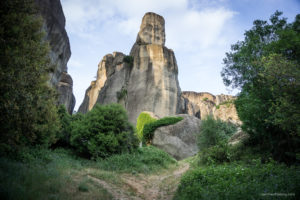 The path took a turn back between the rocks. We passed by some rocks which are recommended for climbing and even saw some climbers (on Doupiani). Walking next to the road in Kastraki to Kalambaka was a little bit boring again but we made it and all in all it was a great hike. We did not even use the bus.
Recommended camera equipment for photo, video & travelling (AMAZON):
Sony a6600 Sony a6400 (cheaper) Sony a6100 (Budget-Option for 4K) Sigma 16mm 1.4 Sony 35mm 1.8 Samyang 12mm 2.0 Feelworld Master MA7 Smaller monitor Rode VideoMicro Rode Wiress Go II Mini Tripod Travel Tripod Small LED-Light Light #1 (powerful) Light #2 (Bi-Color) Softbox for this light Light tent/box DJI Osmo Action GoPro 9 GoPro MAX Invisible Selfie Stick Mavic Mini 2 drone Mavic Air 2
for photo and video:
Fuji XT-4 Fuji Telezoom Entry level camera (Canon)
*Affiliate Links. From everything you buy I will receive a small kickback that helps me maintain my channel. THANK YOU for your support!