Today I am testing a monopod, the Moman M65. I always wanted to have a monopod to support the weight of my heavy gimbal setup and also to have a more stable footage for example when hiking. I already have a 3-legged-tripod but with a monopod I think I am much quicker and more flexible when I am doing run-and-gun filming, for example when I am travelling with a group of people. So I was very happy that Moman sent it to me for review. Please read on to see if it can help me and you in making better pictures and videos.
Video Review
Carry heavy setups, have more stable footage, be more flexible
My first idea why I need a monopod was that if I use my heavy gimbal setup with an on-camera monitor I could rest it on the ground using a monopod and it will be much easier to film for a longer period of time.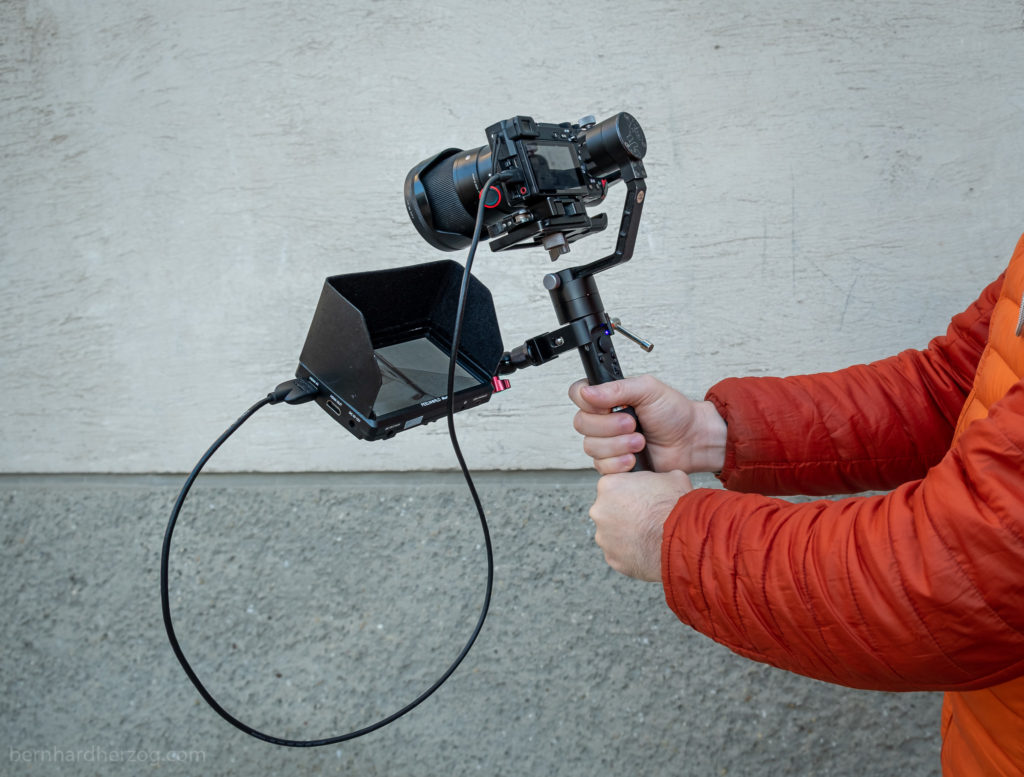 Of course it can also be useful for wildlife photography when using big heavy tele lenses for example.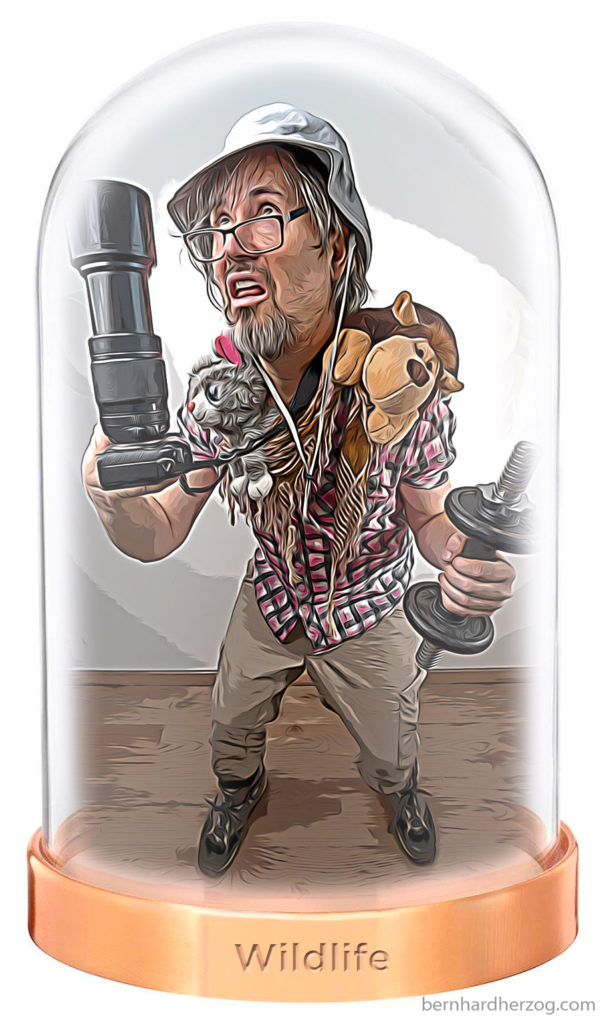 Another idea was to get more stable footage compared to filming handheld. Maybe I could even be able to use the monopod as a tripod for my smartphone if I don't extend it too much. The Moman M65 monopod has a small tripod base. It could be useful for example when filming interviews or for longer exposure photography in the evening.
I do a lot of run-and-gun filming, for example when I am travelling. But the problem is that esp. when I am in a group of people they will not wait for me, so I better be quick.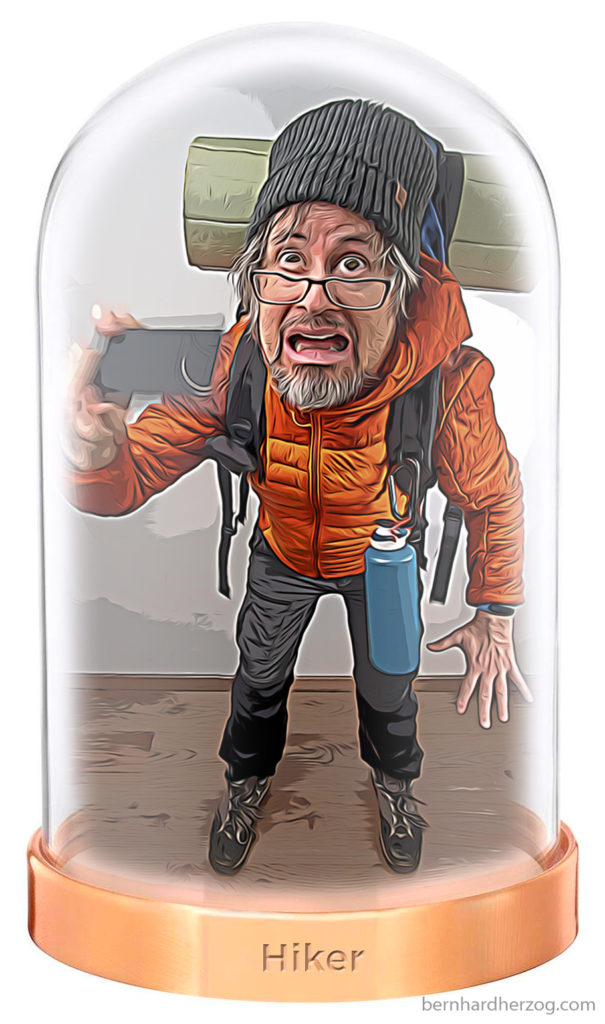 Using a 3-legged tripod is much too slow and not always allowed. That's why I think a monopod is much better. This is also why sport reporters often use a monopod because it is so much quicker.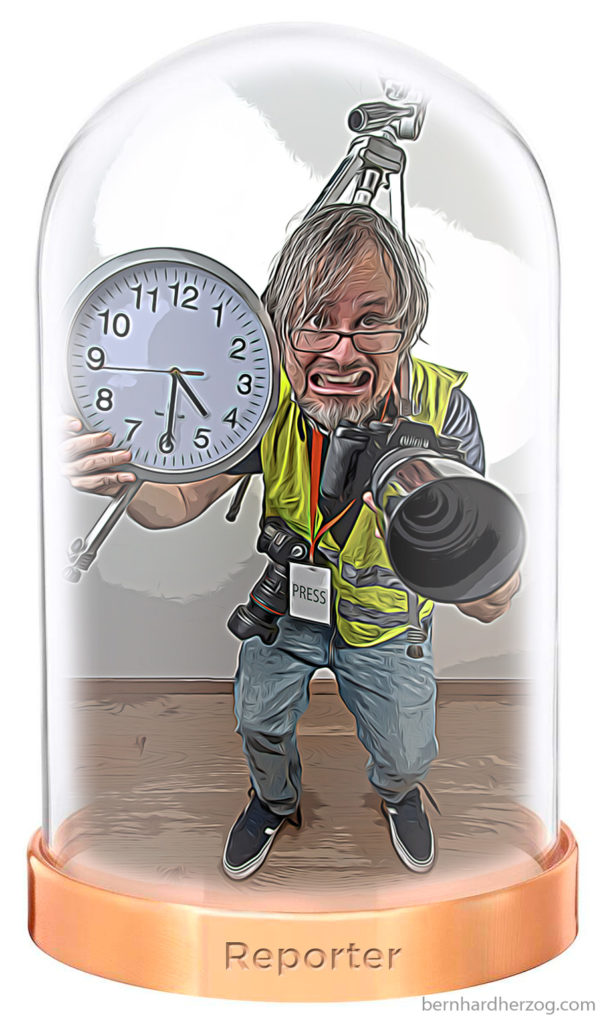 Unboxing
The monopod comes in a long box.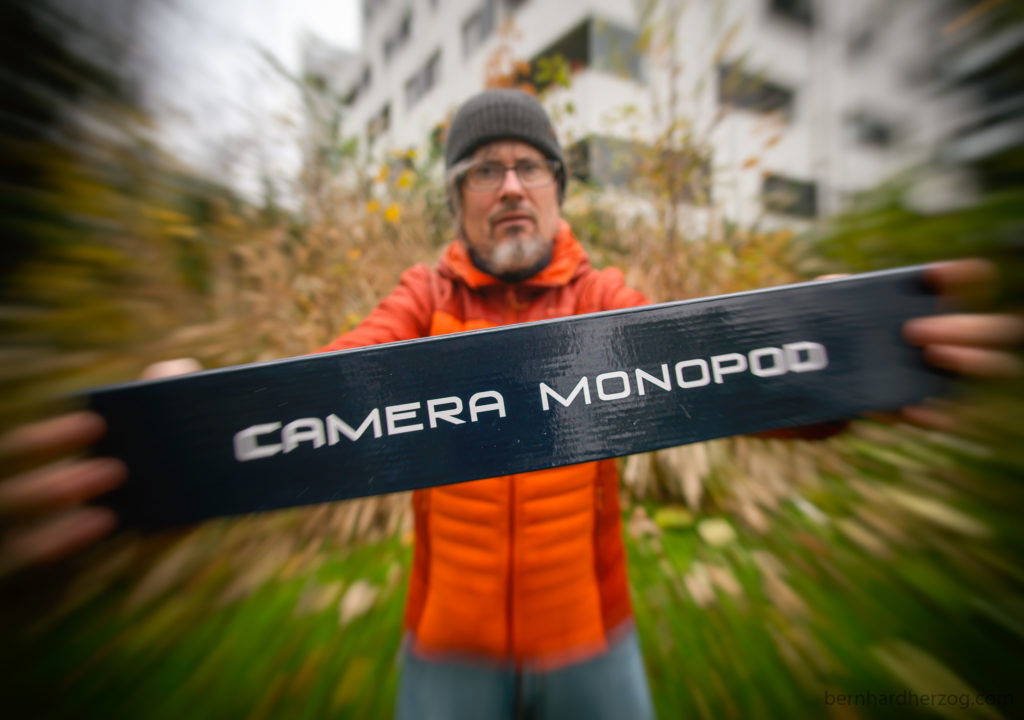 The monopod is in a protective Neoprene sleeve.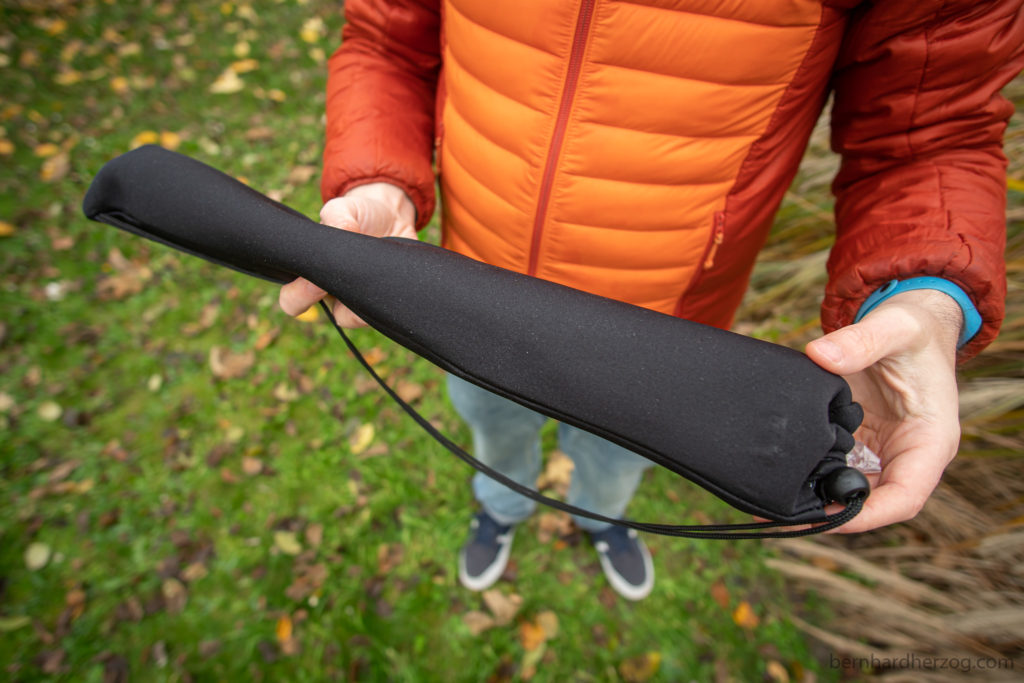 In addition there is rubber foot, a metal spike and an allen key.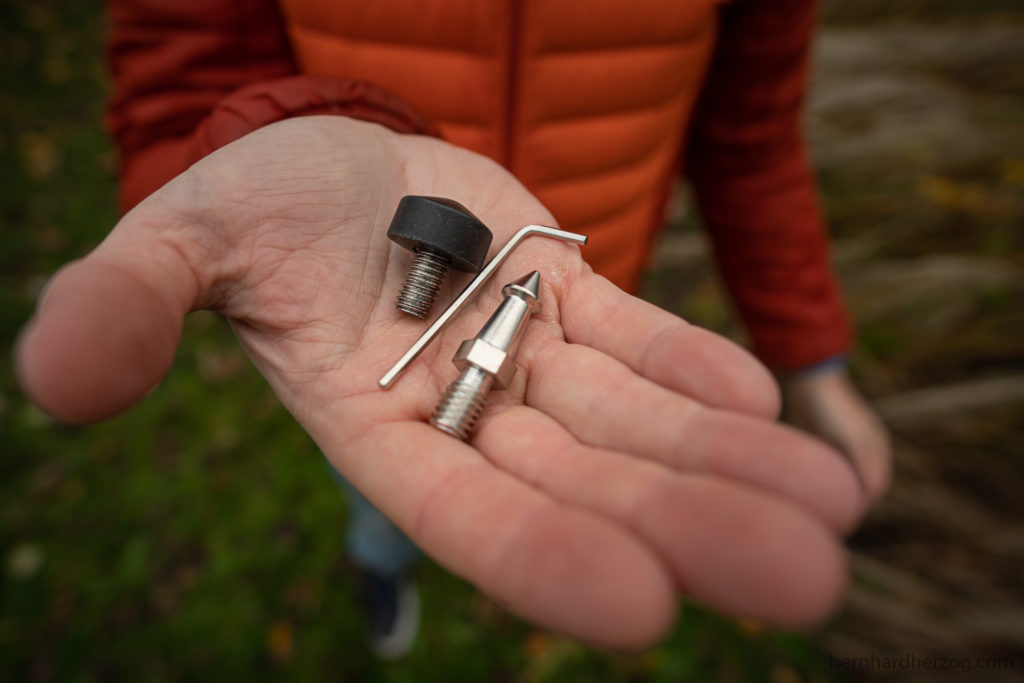 These can be used instead of the tripod base that is already mounted on the monopod.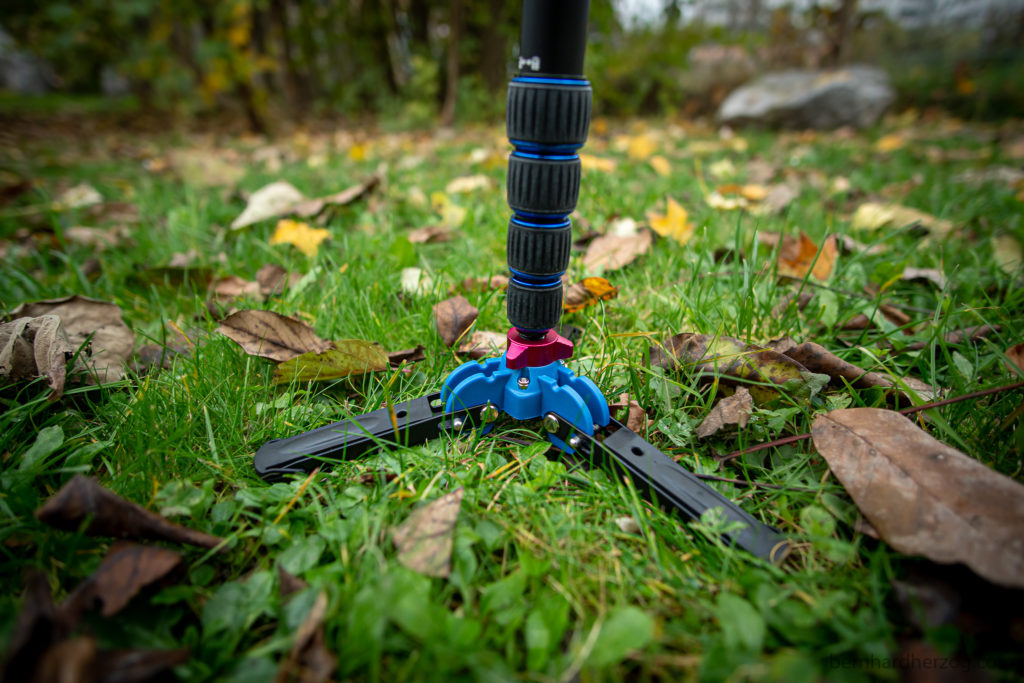 The base is spring-loaded so it can be folded for transport.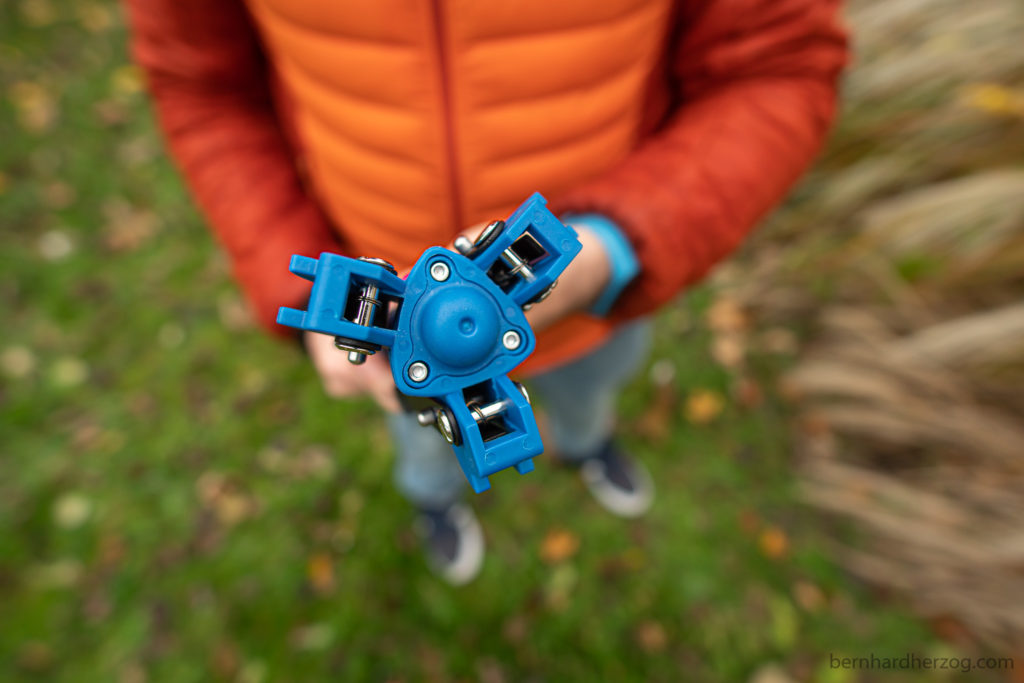 There is also a hand strap. So the monopod can be used as a walking stick but I think it is also to secure the monopod around your arm, so when it falls you can catch it.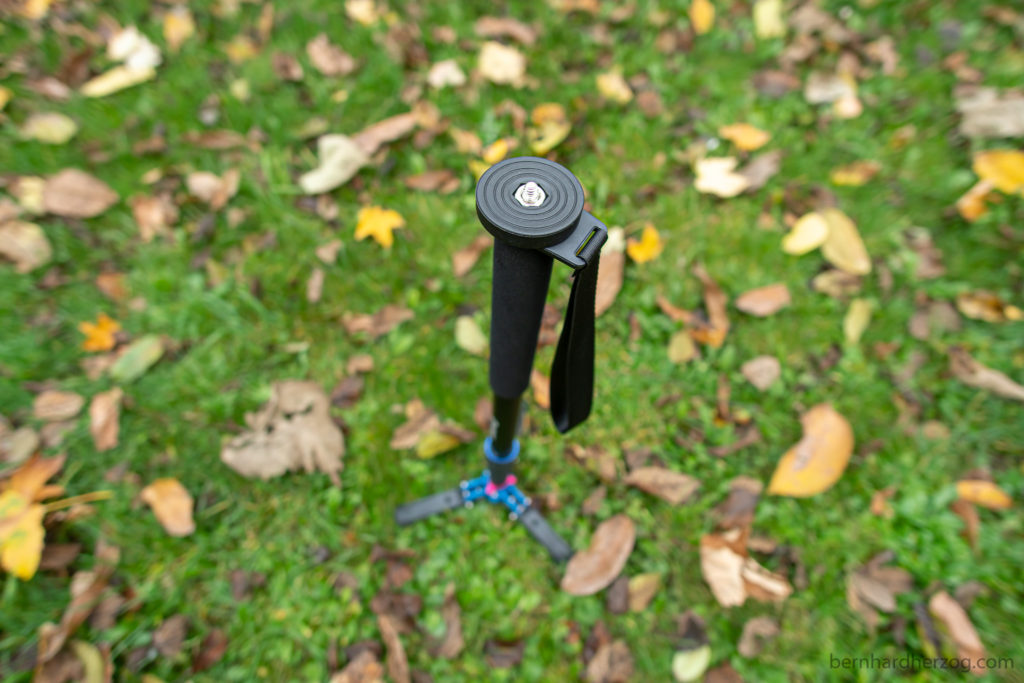 Basic usage
There is a ball head in the base that can be unlocked.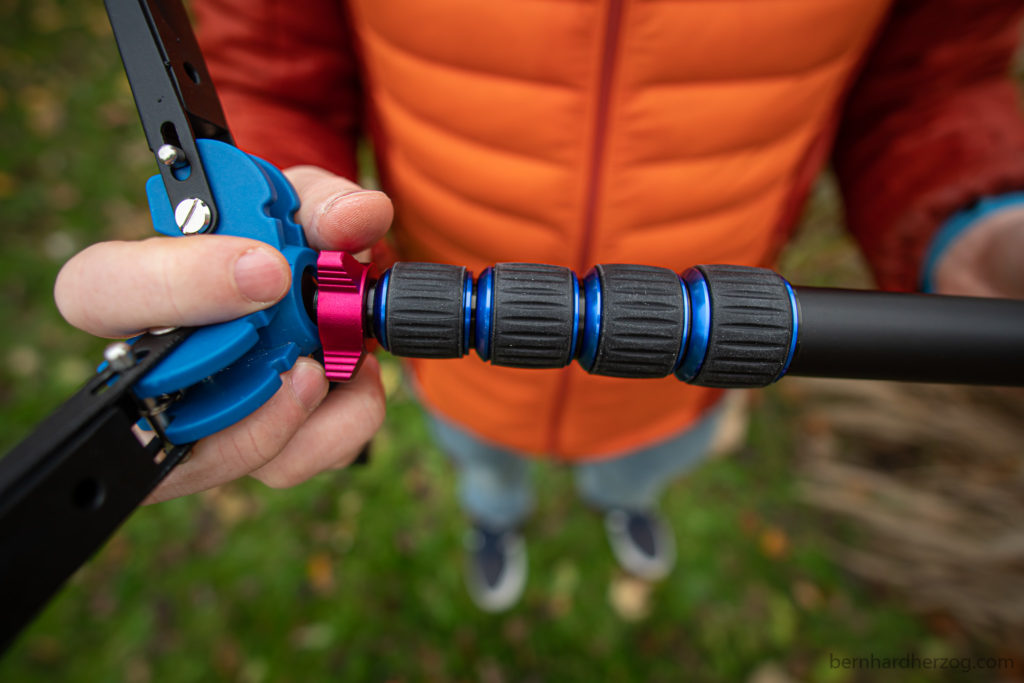 Then the monopod can be adjusted when opening the red screw.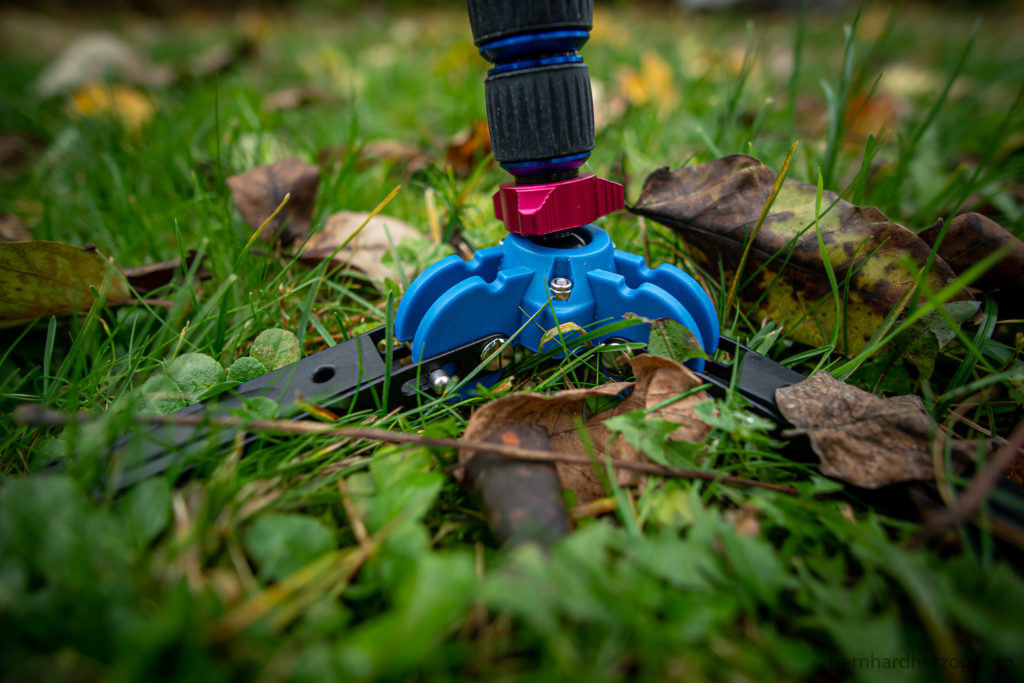 Changing the angle works best when you put one feet on the base so that it cannot move or lift up.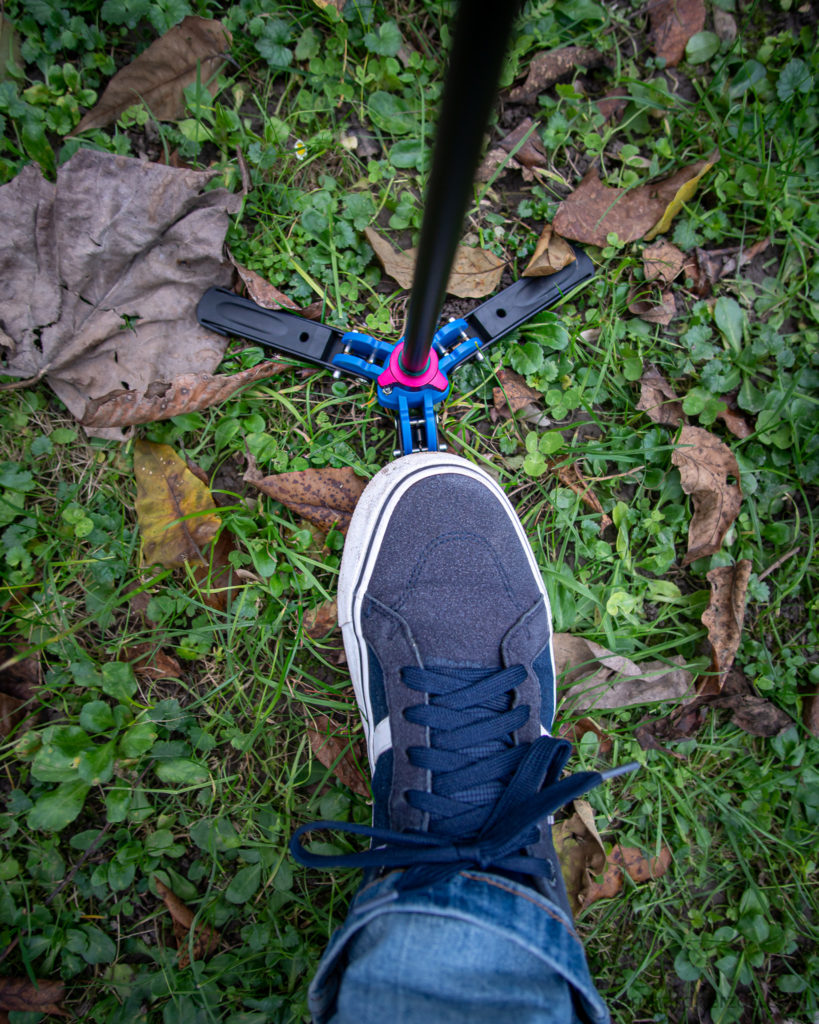 The mounting plate at the top can be unscrewed to change from a 1/4 inch to a 3/8 inch screw. This is to put a ballhead instead of a camera for example.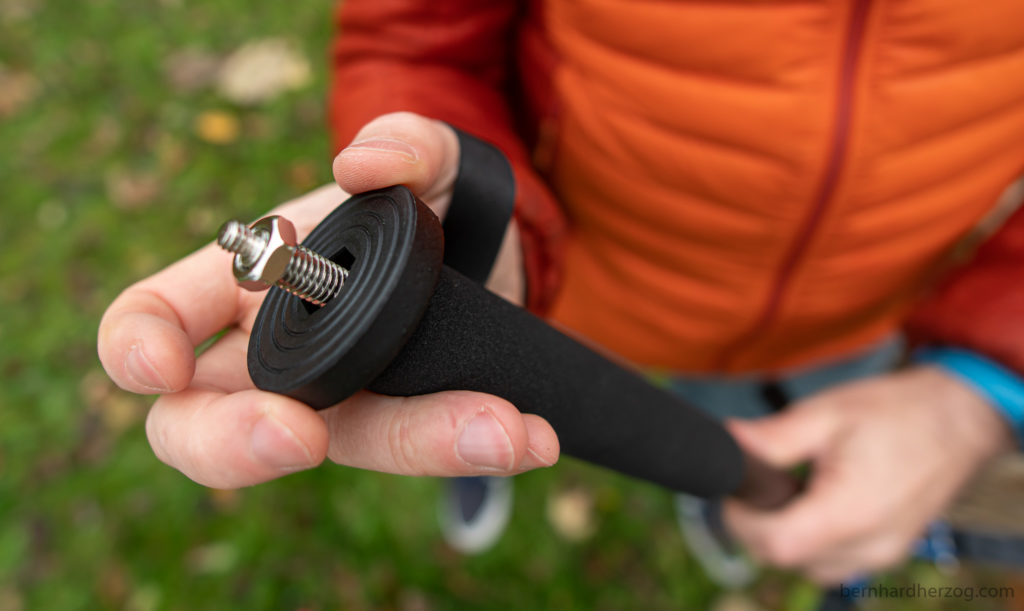 I put a ballhead on the monopod so that I can better angle it.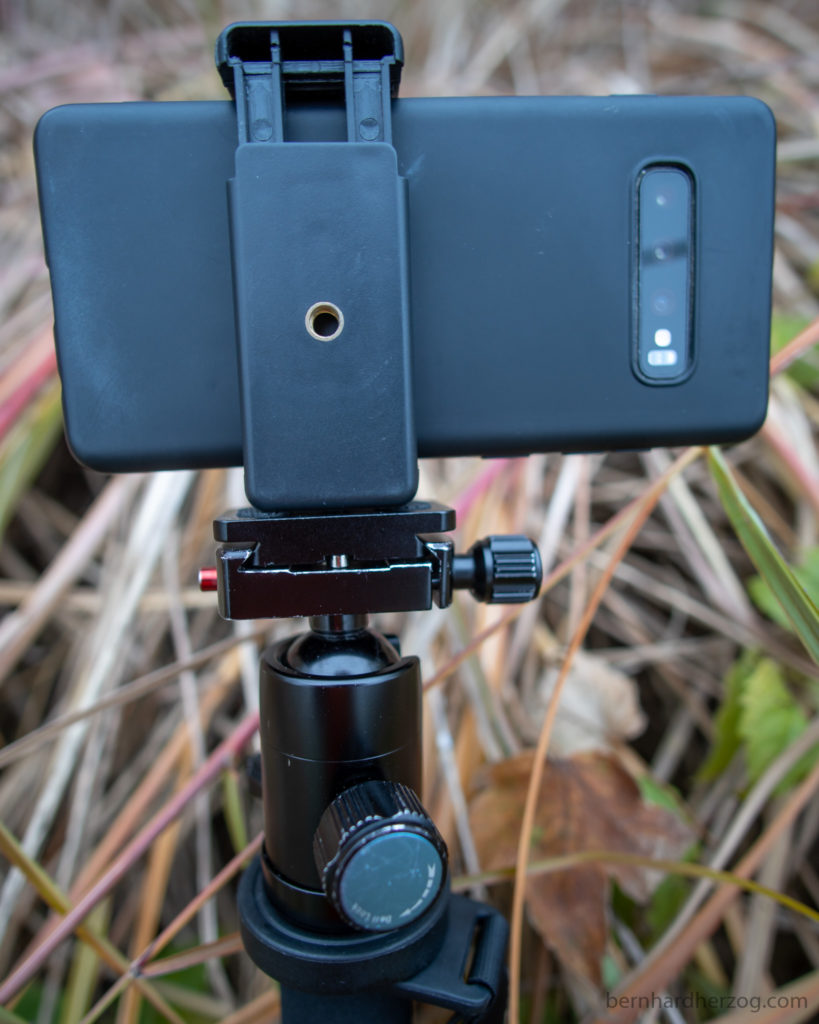 The monopod is 65 inch (165 cm) which is almost my height (178 cm).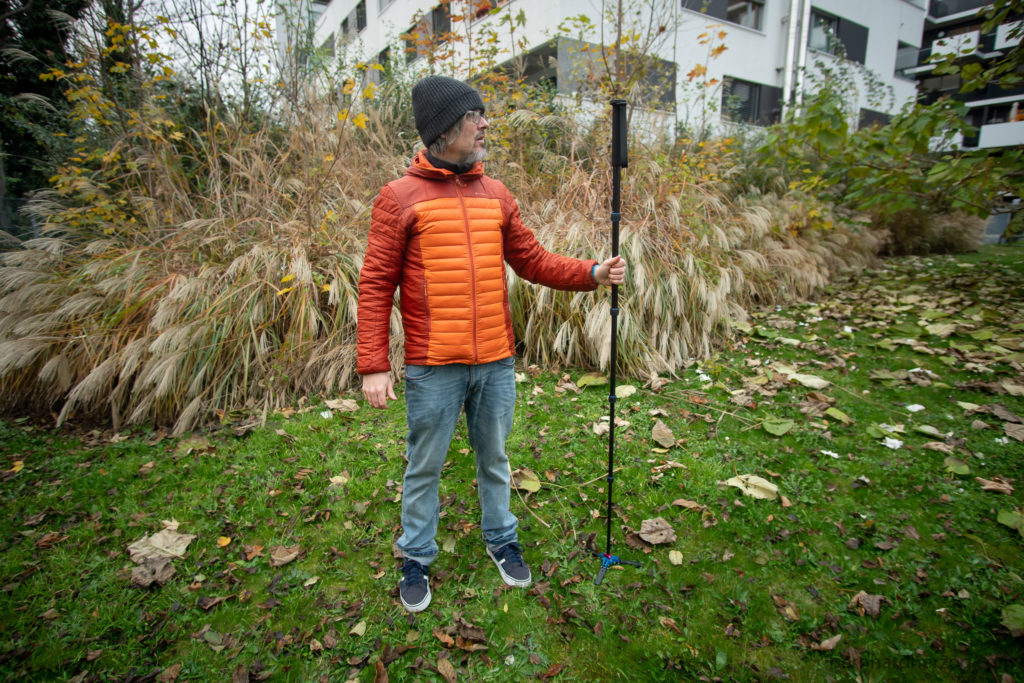 This is good because the lowest section is very thin so it is good to collapse this section so that the monopod is more stable. Then I can still comfortably look through the camera.
Test 1: Weight – with my heavy gimbal setup
Handholding my gimbal setup is very difficult so I put it on the monopod to see if it is easier to hold: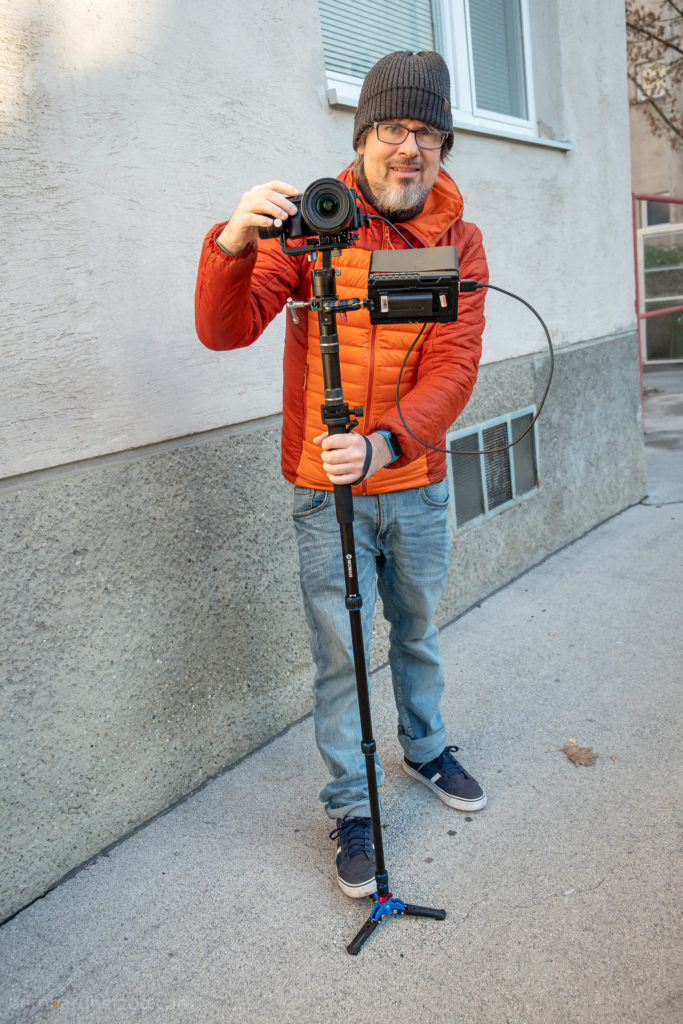 It was much easier to use my gimbal that way. I used a quick release clamp on the monopod so that I can quickly remove the gimbal when necessary, for example for moving shots.
It is also possible to do cool high and low shots using the Monopod.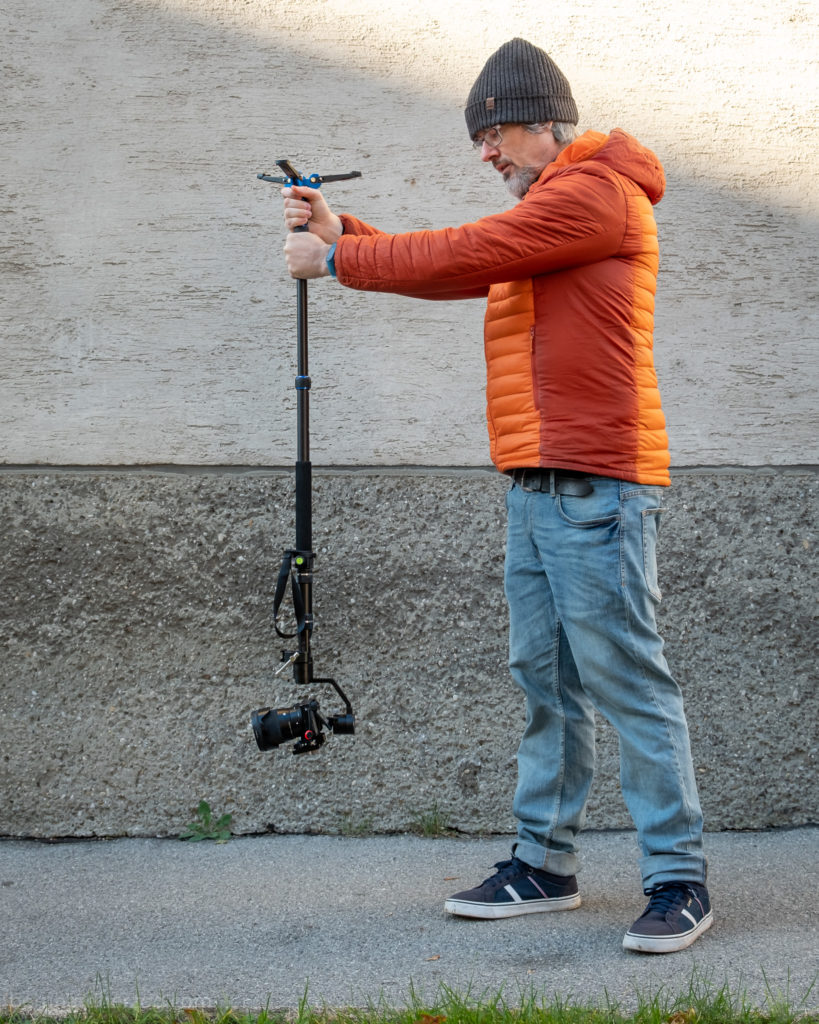 Test 2: Stability – with my Smartphone
I filmed with my smartphone without the monopod and then with the monopod: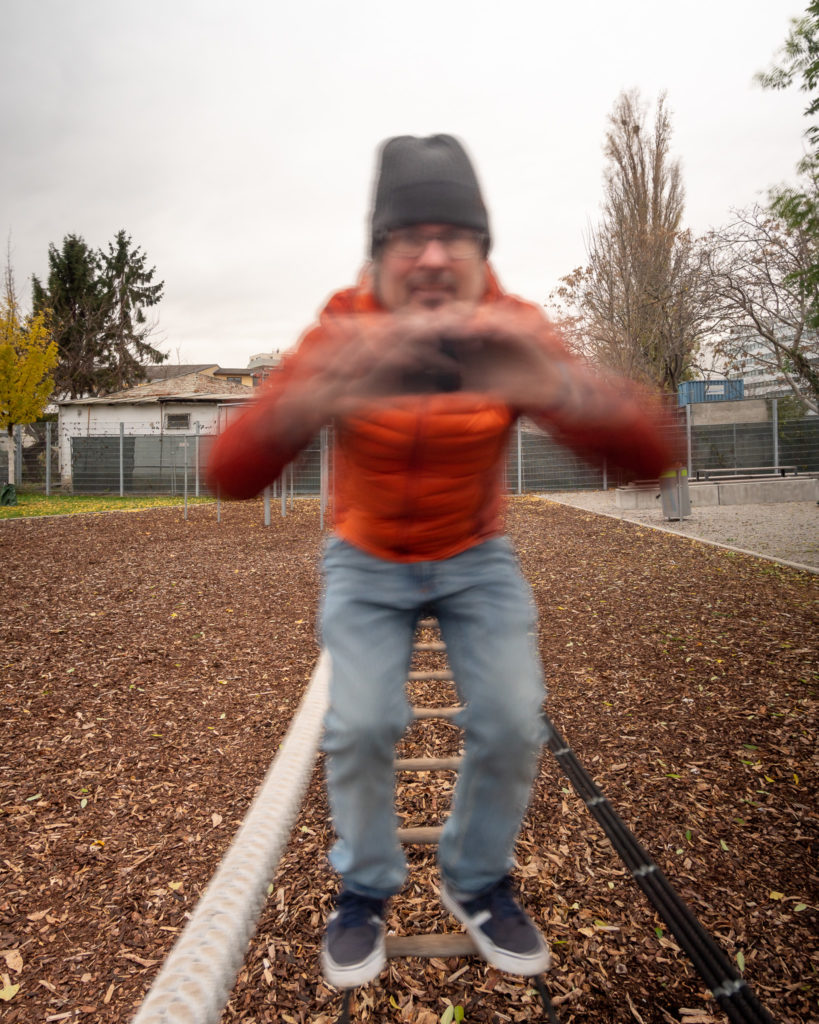 With the monopod the video was much more stable.
You can use the monopod as a selfie stick as well.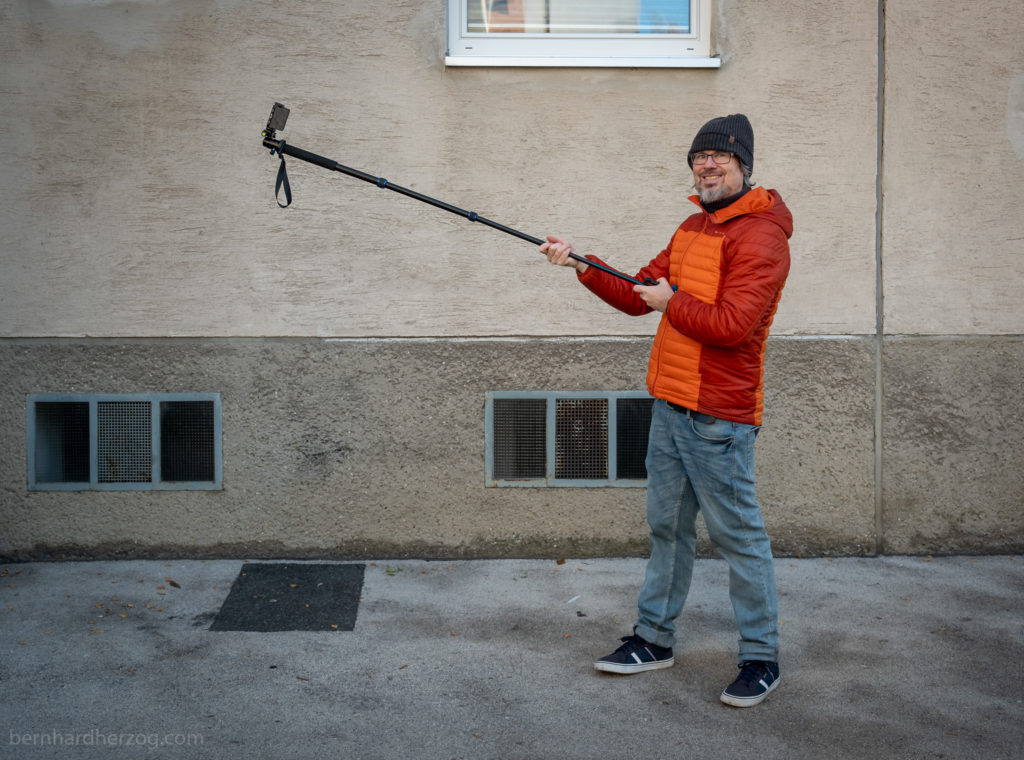 Test 3: Monopod as a tripod
Using a monopod is much more versatile than using a tripod, but usually you have to hold the monopod so it does not fall (use the hand strap).
I tested the monopod as a tripod at home.
It worked nicely when not extended too far. For example for my webcam setup I can put it behind my monitor, it is longer than my tabletop tripod, stable enough and fits in spaces where a tripod would not.
Note: like with the selfie stick you could also use the monopod reversed and it will be more stable (not so top-heavy).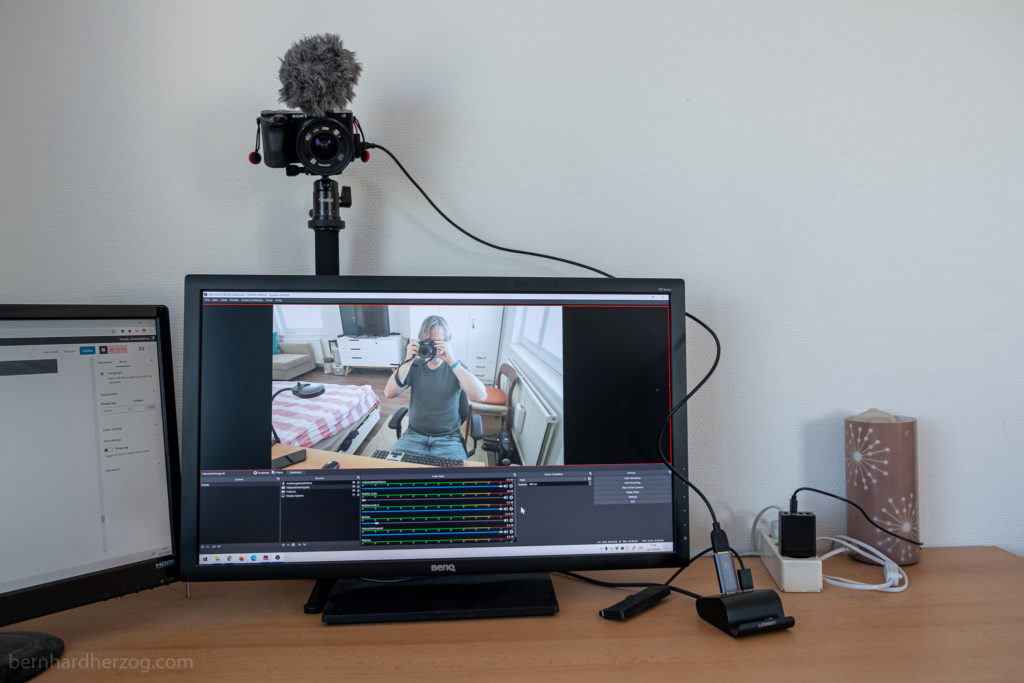 Outdoors in windy conditions where the ground is not completely flat I would not leave a monopod unattended.
But there is a trick: You can put a ballhead on the monopod base and use it as a mini tripod.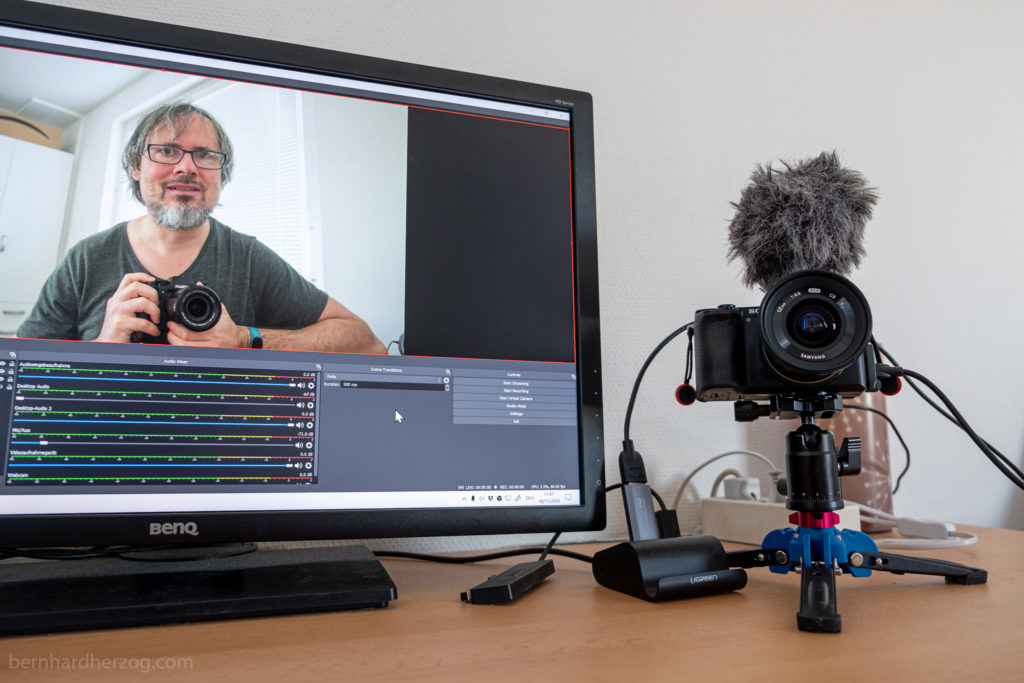 You can get very low using this setup, even lower than it is usually possible using a traditional tabletop mini tripod!
Conclusion
What is my conclusion?
First of all what I noticed already when opening the package is that the monopod is of very high quality.
It is longer than I expected which is good.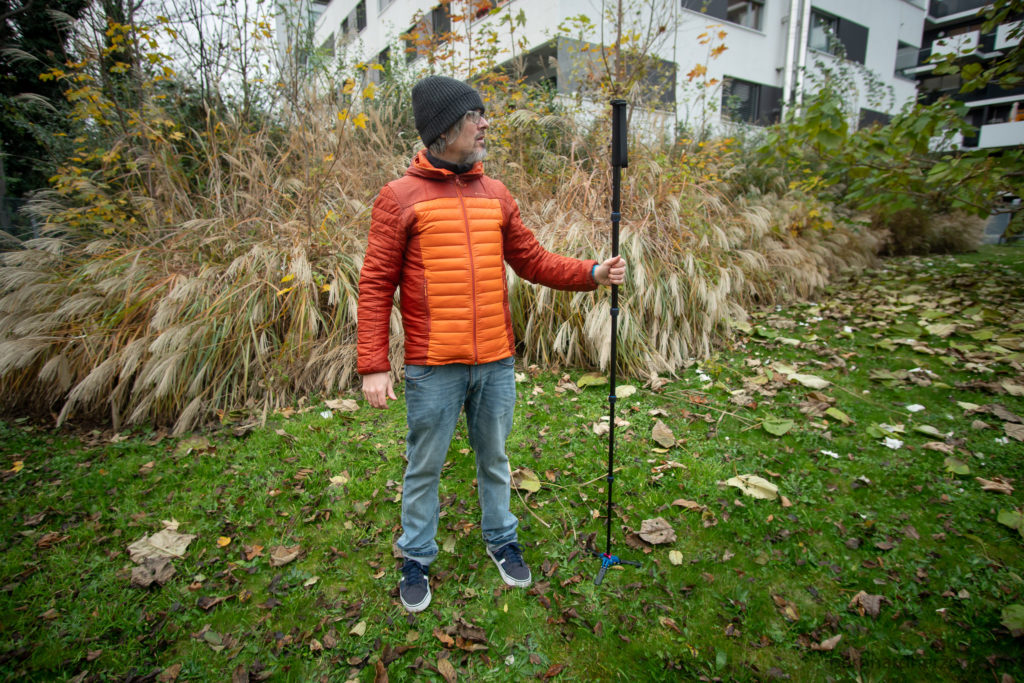 I like the twist locks on the monopod sections, they are faster to operate than flip locks. But one disadvantage of this is because both the base and the mounting plate are screwed on, you have to be careful when changing the height that you don't unscrew them.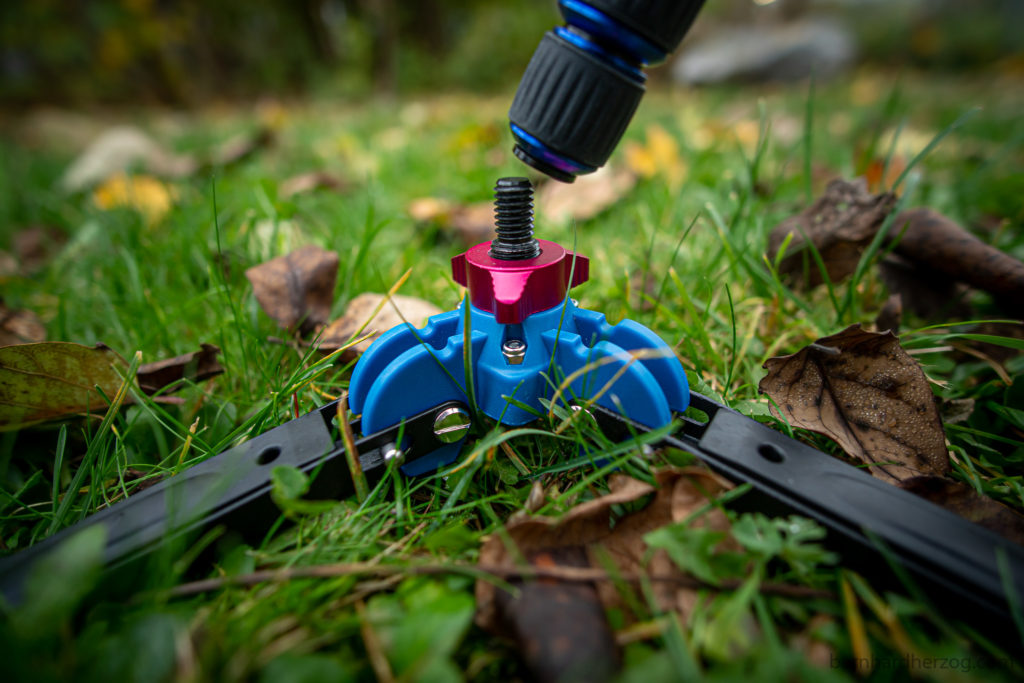 The monopod is versatile. It makes it easier to use heavy equipment, to get stable footage and it is more flexible than with a 3-legged tripod.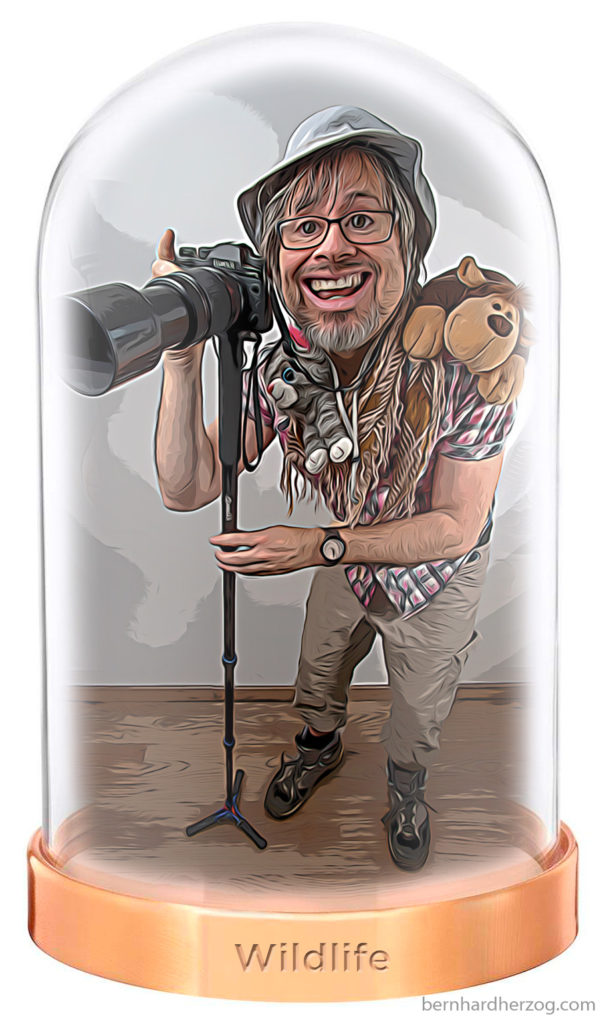 Compared to a tripod: Of course a tripod is better for long exposure photography or when you want to leave the camera unattended. But you can use the monopod as a tabletop tripod if it is not extended too far. A monopod is more lightweight, therefore easier to take with you and cheaper.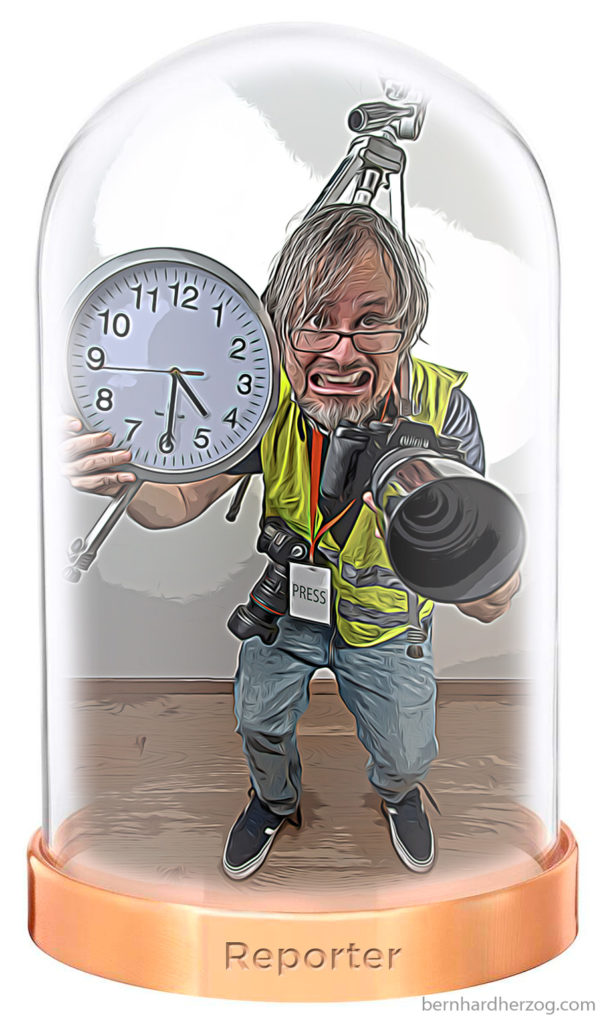 For the price the Moman M65 monopod is very good, I like it a lot. It is a simple tool that I can recommend.
If you have any questions or comments please don't hesitate to post below. CU next time, bye!
Moman M65 Monopod Tripod @ moman Moman M65 Monopod @ amazon.com Moman M65 Monopod @ amazon.de Moman M65 Monopod @ amazon.fr Photography Ballhead @ amazon.de Video Ballhead @ amazon.com
Recommended camera equipment for photo, video & travelling (AMAZON):
Sony a6600 Sony a6400 (cheaper) Sony a6100 (Budget-Option for 4K) Sigma 16mm 1.4 Sony 35mm 1.8 Samyang 12mm 2.0 Feelworld Master MA7 Smaller monitor Rode VideoMicro Rode Wiress Go II Mini Tripod Travel Tripod Small LED-Light Light #1 (powerful) Light #2 (Bi-Color) Softbox for this light Light tent/box DJI Osmo Action GoPro 9 GoPro MAX Invisible Selfie Stick Mavic Mini 2 drone Mavic Air 2
for photo and video:
Fuji XT-4 Fuji Telezoom Entry level camera (Canon)
*Affiliate Links. From everything you buy I will receive a small kickback that helps me maintain my channel. THANK YOU for your support!