Today I am testing the Moman MA6 Lavalier Microphone. Moman sent it to me for review. What's special about this microphone? First of all it can automatically detect which device is connected. This is pratical for me because I want to pair it both with my smartphone and my camera. Then it has a 6m long cable, so I can still have high quality audio when I am further away from the camera. Please read on to see the results of my review!
Video
Unboxing
The microphone comes in this nice package: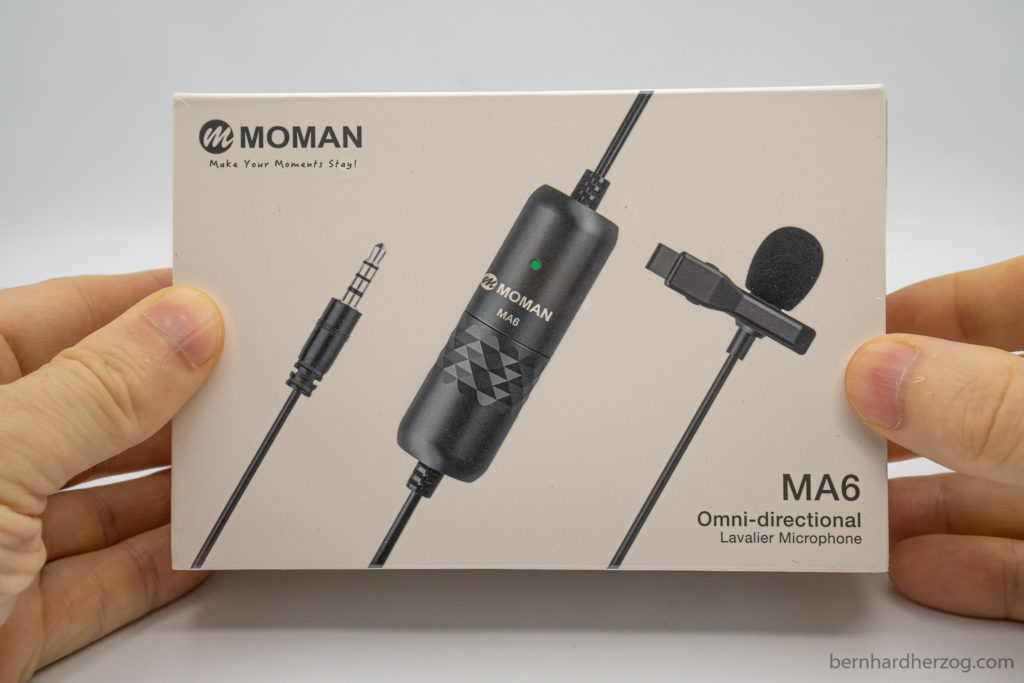 Here you can see the main features of the microphone: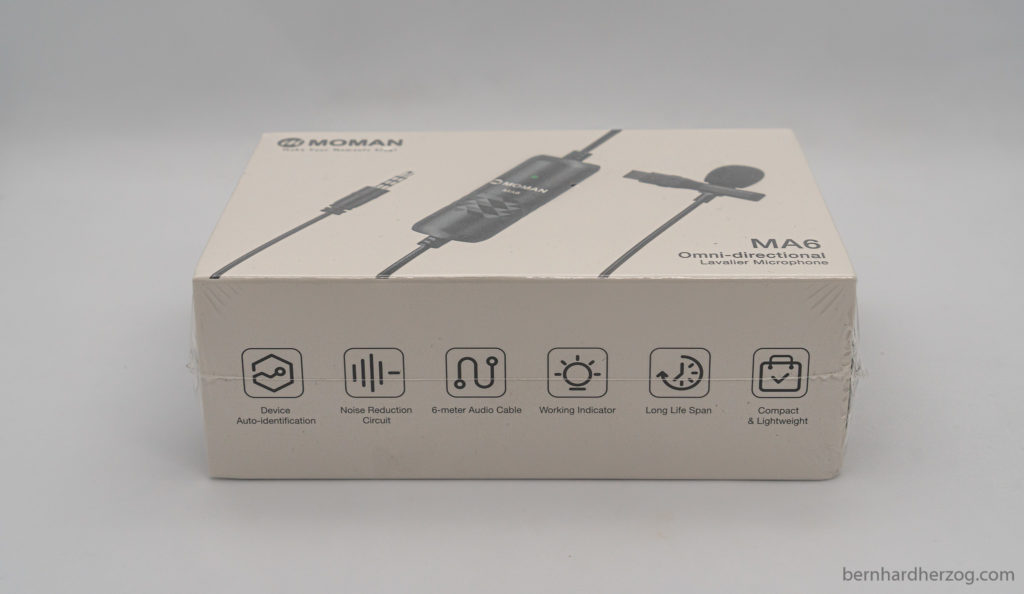 The box contains a small user manual:
The microphone is well protected in this nice hard shell case: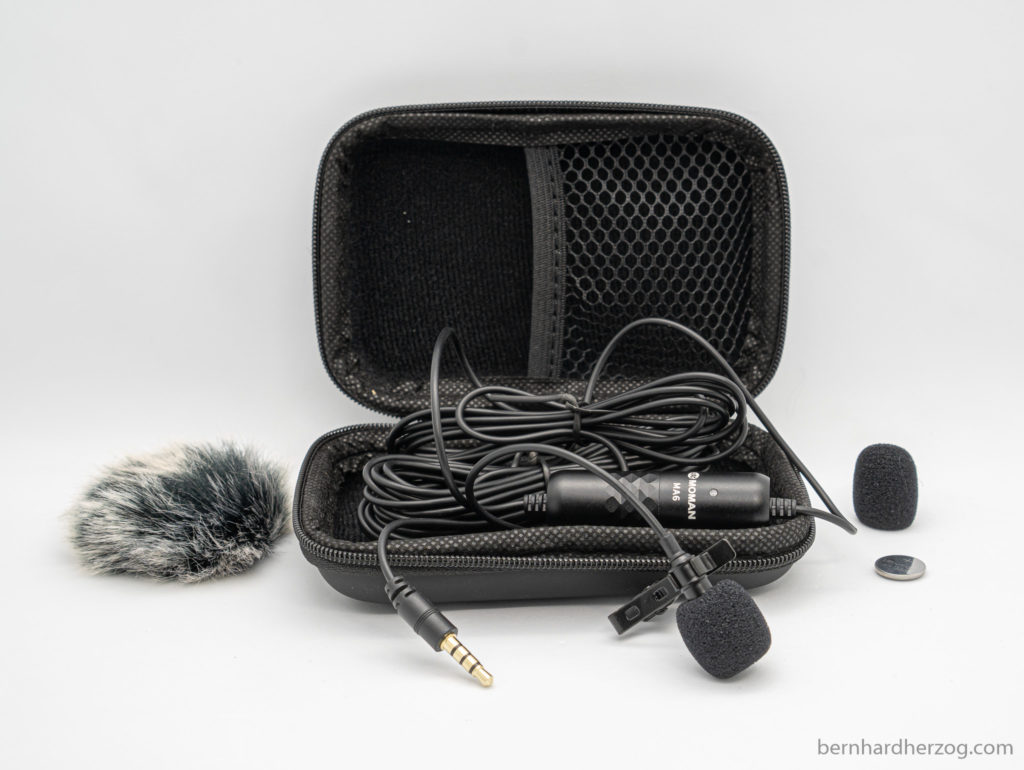 The microphone has a small foam windscreen but for filming outside there is also a furry wind muff.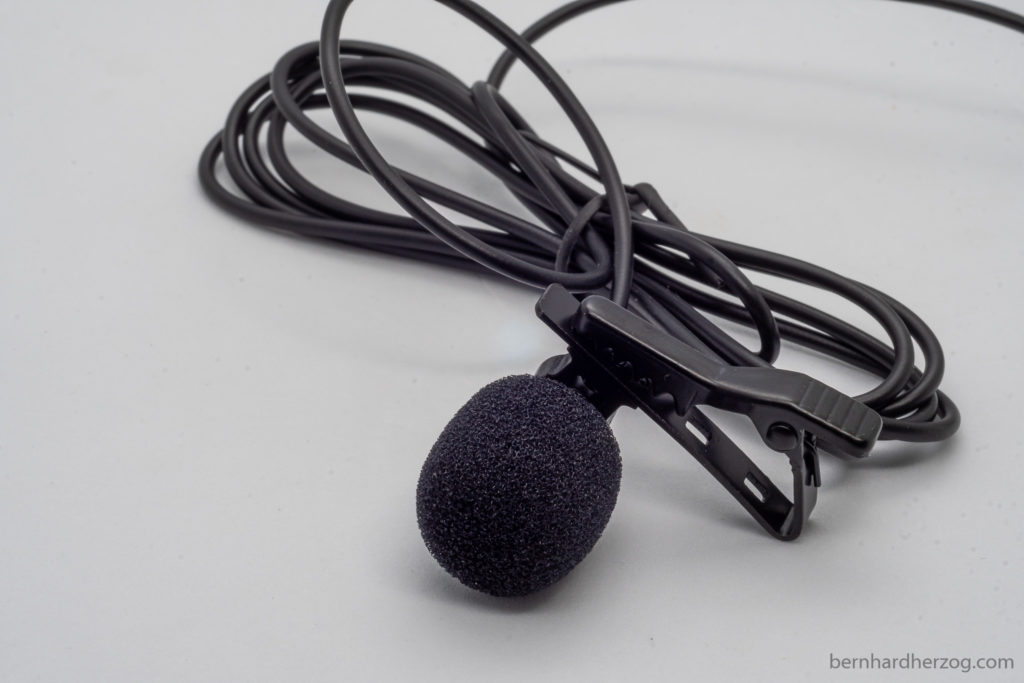 I know the microphone capsule from other microphones and usually the audio quality from this kind of microphone is very good.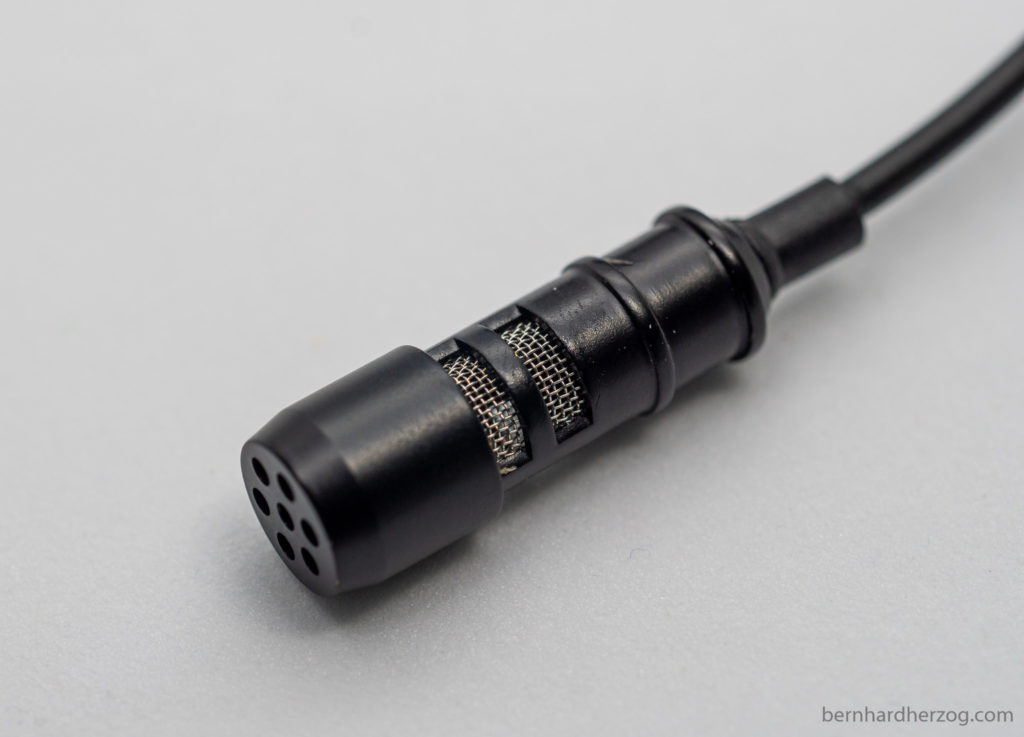 TRS vs. TRRS
What's special about this microphone is that it can automatically detect which device it is attached to. I want to use it both for my smartphone (TRRS connection, i.e. Tip-Ring-Ring-Sleeve) and my camera (TRS connection, i.e. Tip-Ring-Sleeve).
I don't need a TRS- or TRRS-adapter which is a big advantage for me. (For newer Smartphones that don't have an 3,5 mm audio jack you will still need an adapter, i.e. Type-C for Android and Apple's Lightning for iPhone).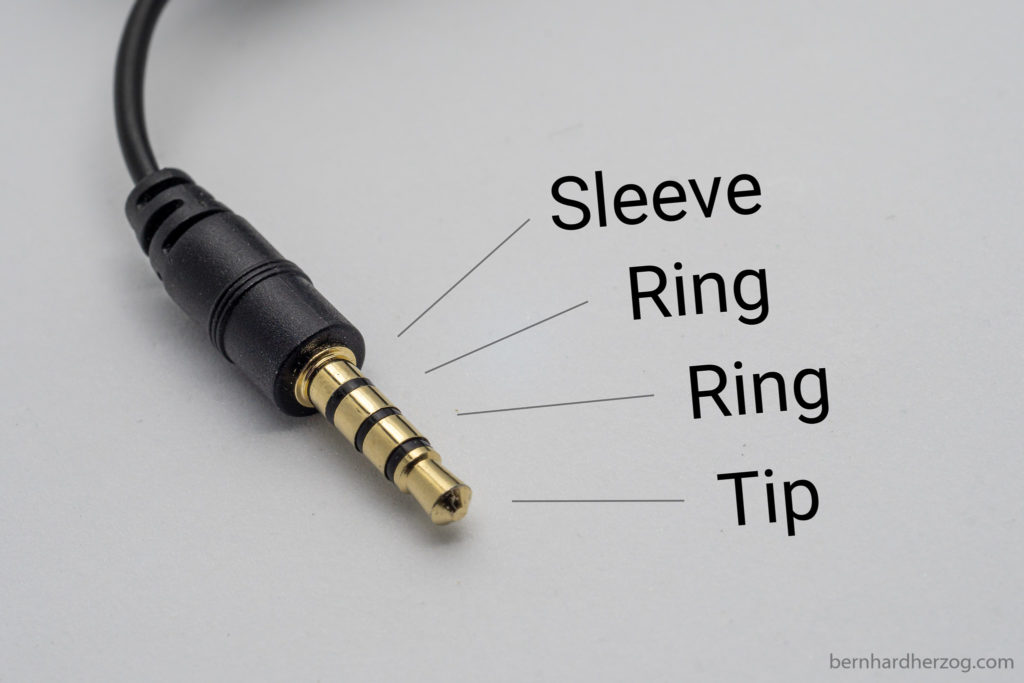 Installation
This is the battery included: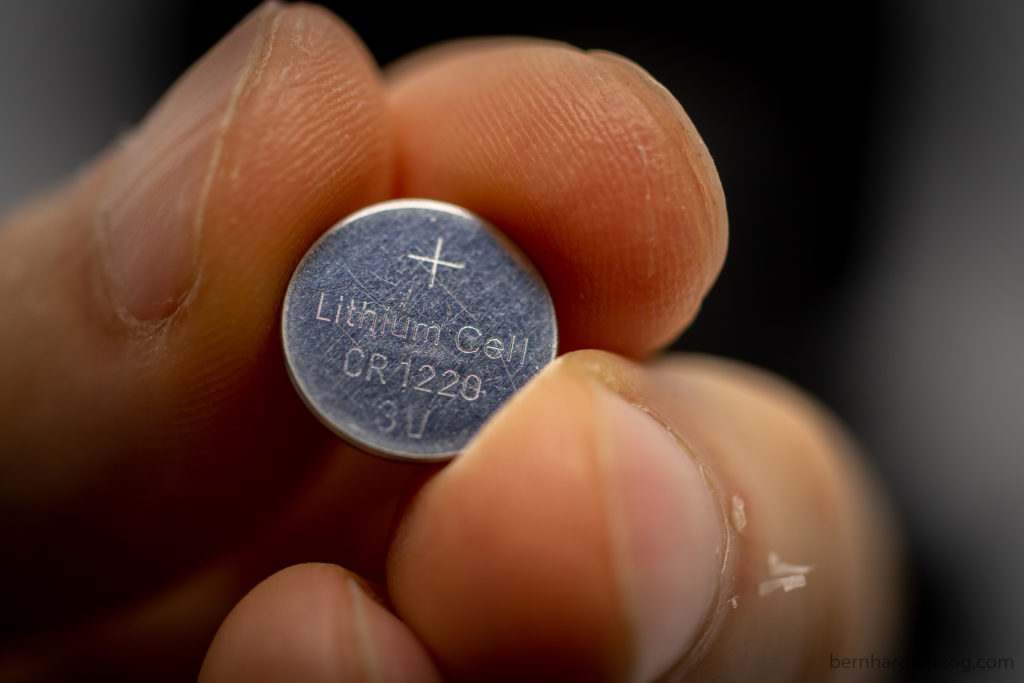 I had to install it so that the microphone can detect the device it is connected to.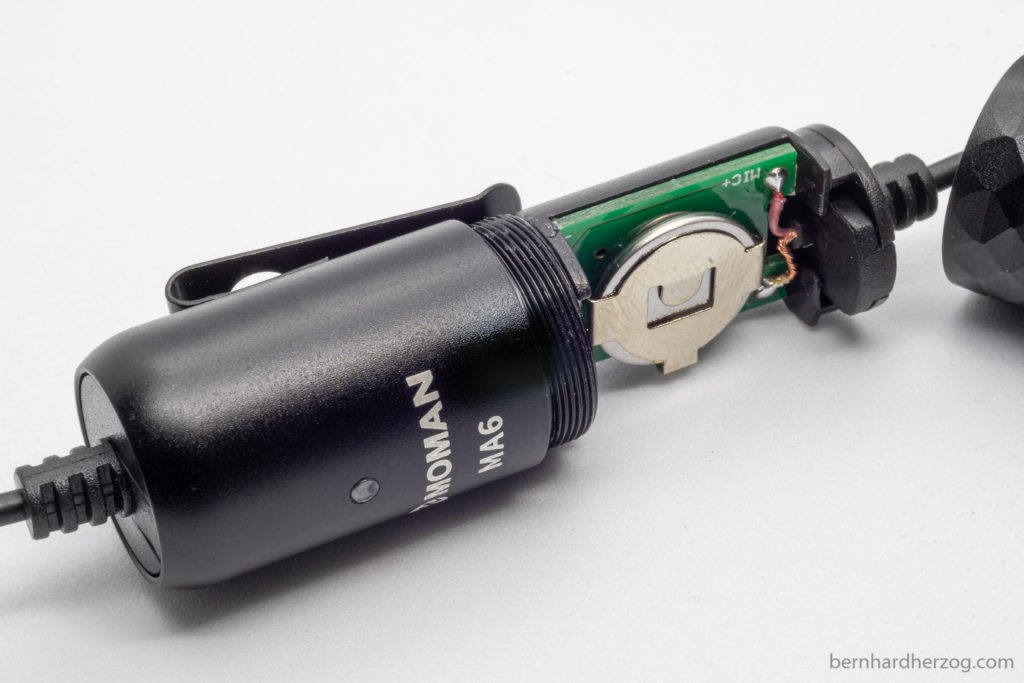 The green LED indicates that a device is connected.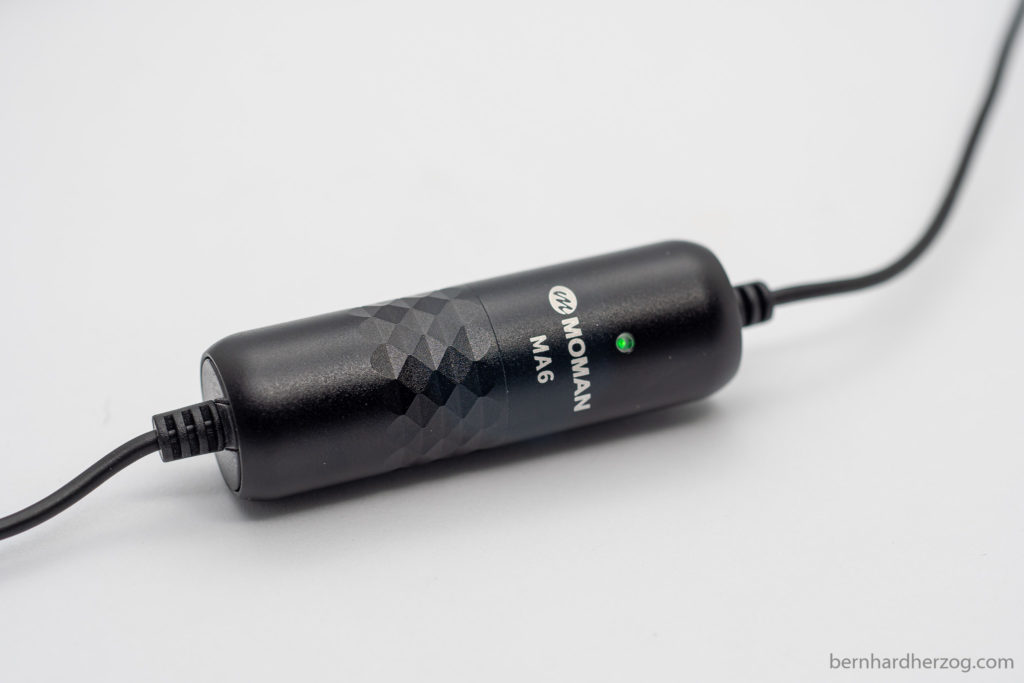 Testing with 5 devices
I will now test the auto detect feature and the sound quality on 5 devices: A camera (TRS input), my smartphone (TRRS), an audio recorder (TRS), my GoPro (TRS) and a laptop (TRRS).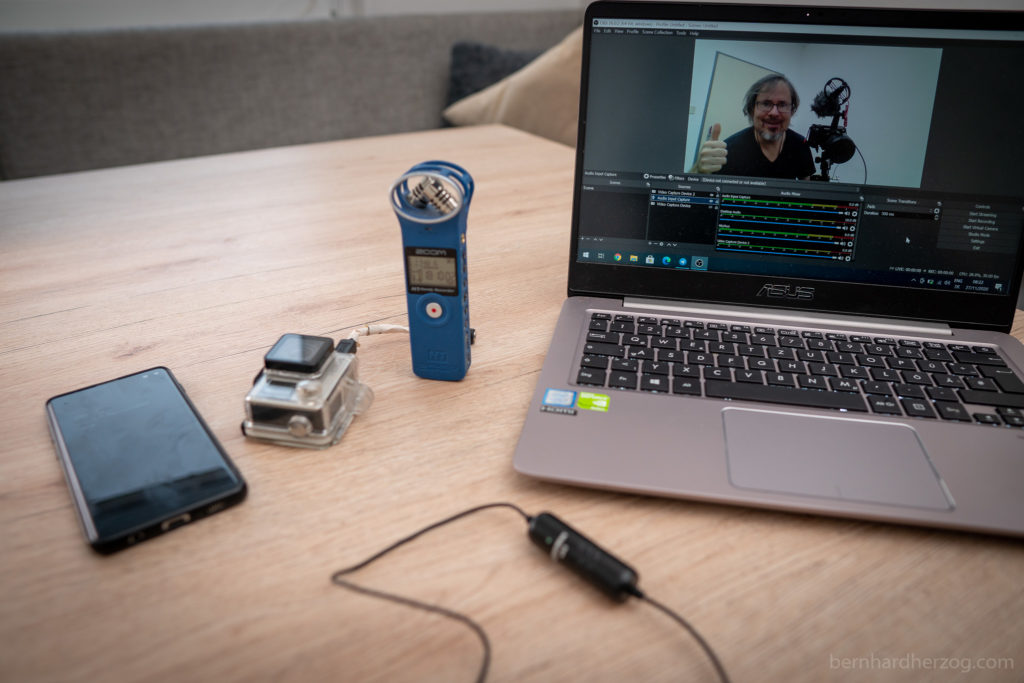 1. Camera (Sony a6500)
On my Sony a6500 camera the microphone worked well. I had the recording level on 15, it is the same level I use for my on-camera microphone (but I should better used 10 because when speaking loud it can clip). The lav mic is useful, because I can have it closer to my mouth when I am more far way from the camera and it will improve the audio quality. But it is omni-directional so I don't have to point it directly to my mouth.
2. Smartphone (Samsung Galaxy s10+)
My smartphone also works well.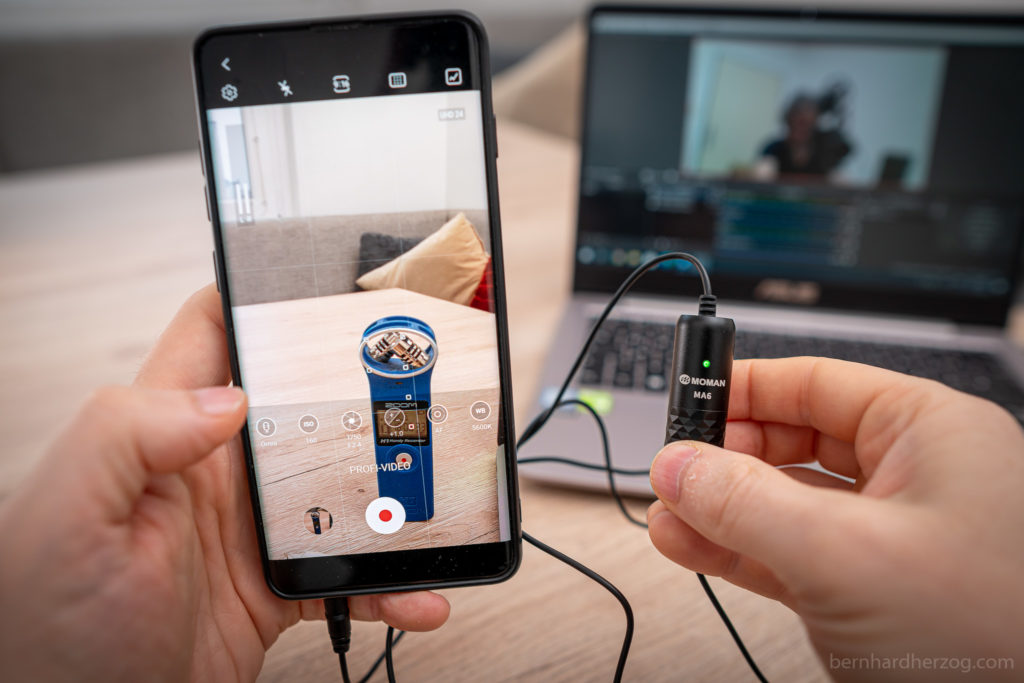 I have a Samsung s10+ which still has a 3,5mm jack.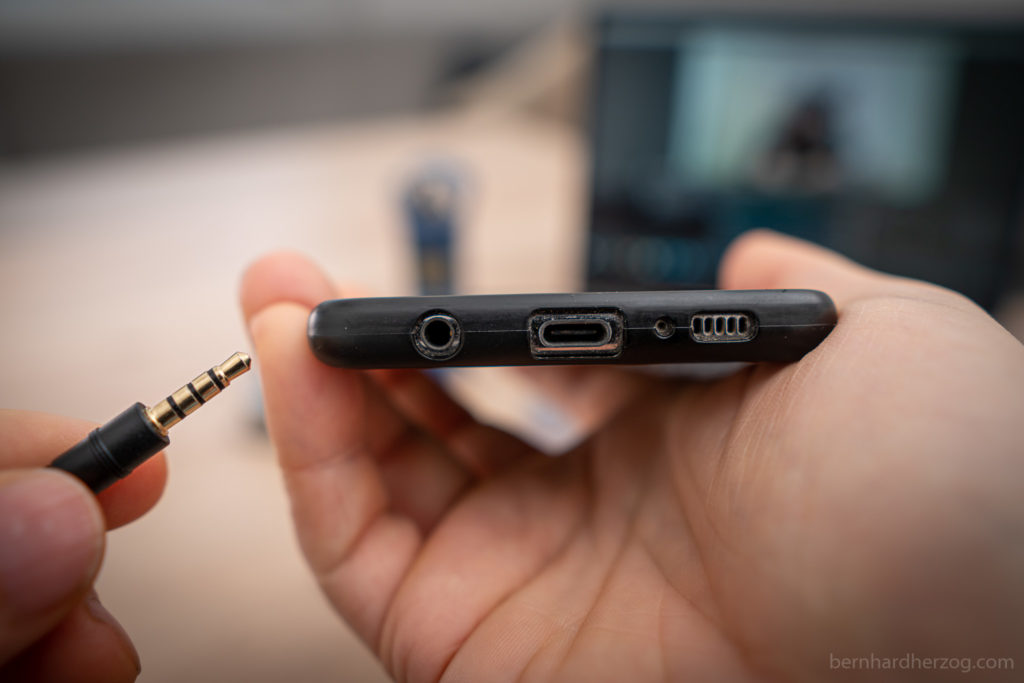 For newer smartphones an adapter might be required (for example for the iPhone of my girlfriend). The audio gain is automatic so this time I did not set any levels. I will also use the smartphone for the distance test (next chapter).
3. GoPro
For the GoPro you will need an adapter to be able to connect a microphone. I still have the GoPro 4 which has a short adapter cable for the USB-Port. For the GoPro 8 and 9 there are media mods that have a 3,5mm mic jack.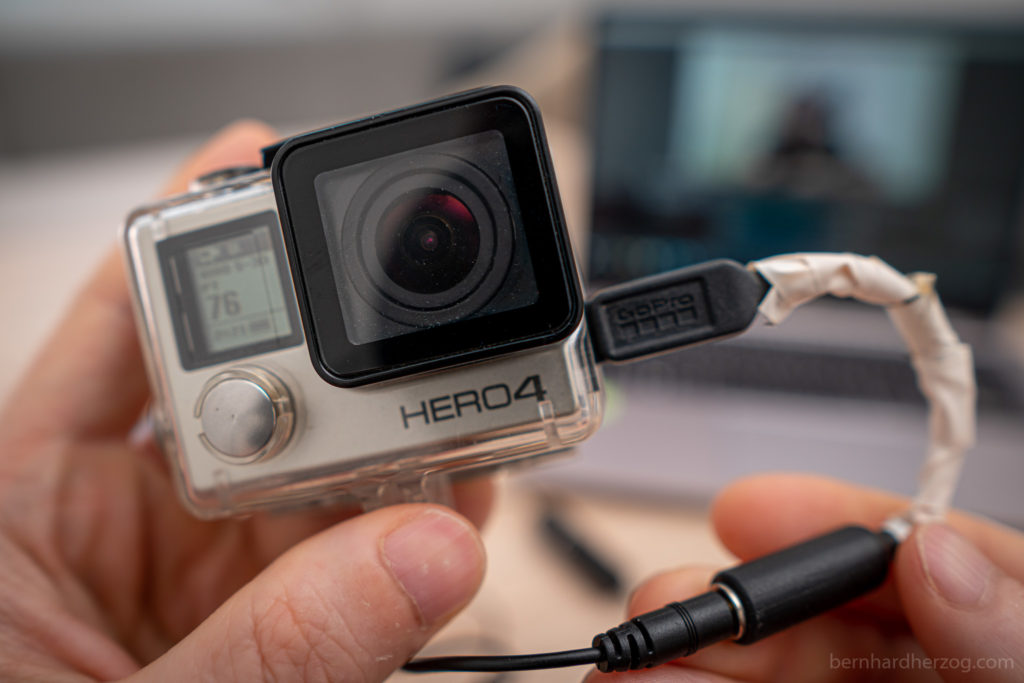 4. Audio Recorder (Zoom H1)
The audio recorder did also work. I noticed that the mic was not so loud so I had to use a higher setting than I usually use for my other lav mics. I use my audio recorder to record voiceovers or also for recording my voice and I sync it later to my video (but connecting the lav mic to my camera is definitely less work).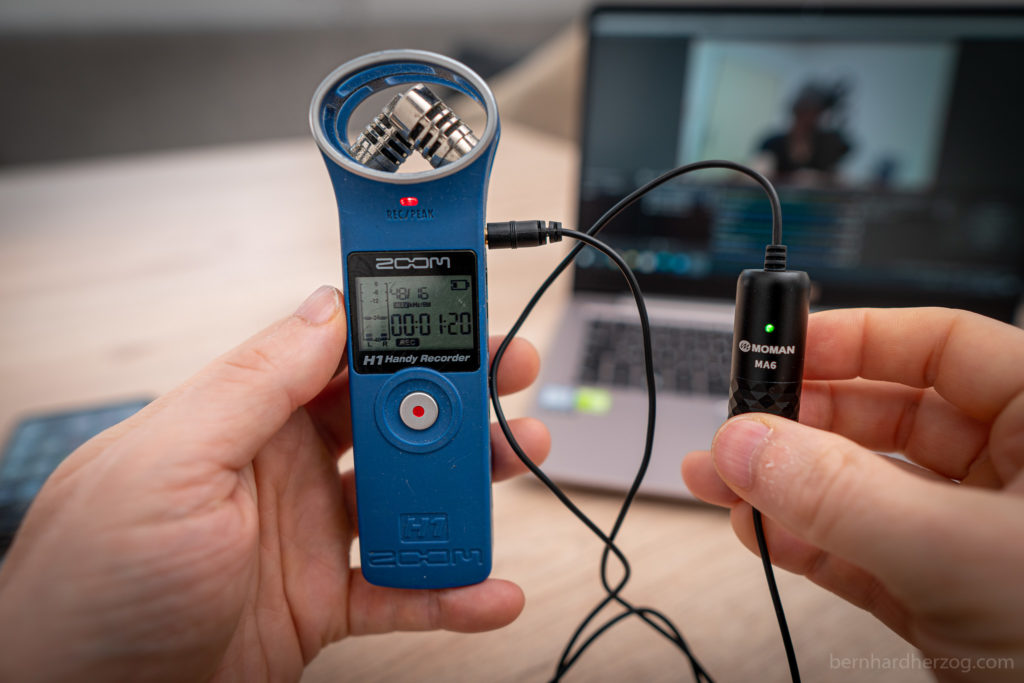 5. Laptop
Last but not least I connected the microphone to a laptop. It was also detected. I can use it for Zoom calls and for live streaming using OBS for example.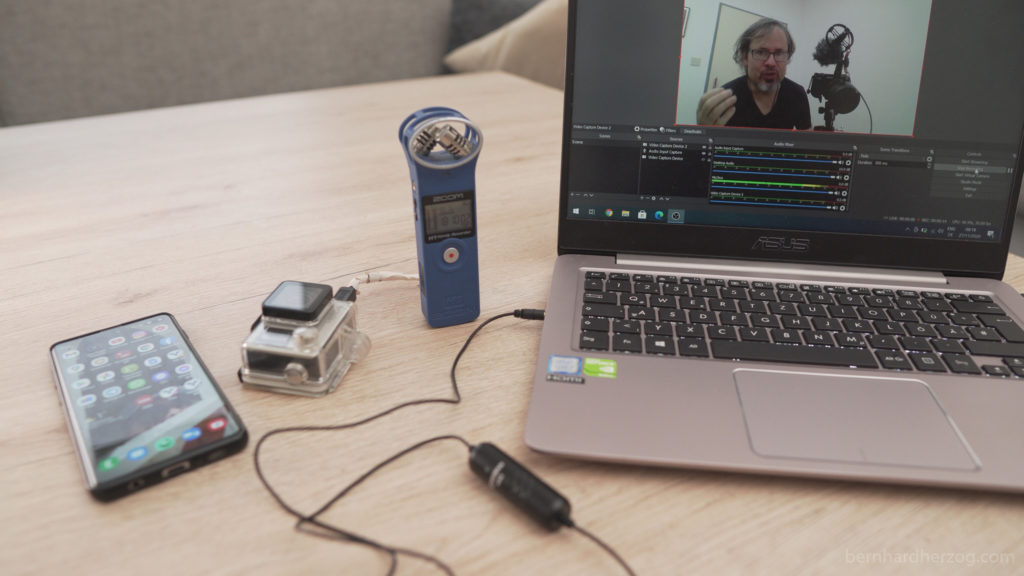 If you get noise you can put a noise filter because the laptops sometimes introduce noise in the audio. This is because the small microphones do not have a pre-amp. And the pre-amp of the laptop is not always perfect. The bigger USB microphones have an internal pre-amp and are better but I don't have one and they are much more expensive of course.

Also if you can hear interferences it is most likely some electronics like AC adapters near the microphone causing it. What helps is to power your devices from battery if you suspect an AC adapter could be the culprit.
Outside this is usually not an issue except for the phone signal, so I usually put it into flight mode when recording with an external microphone.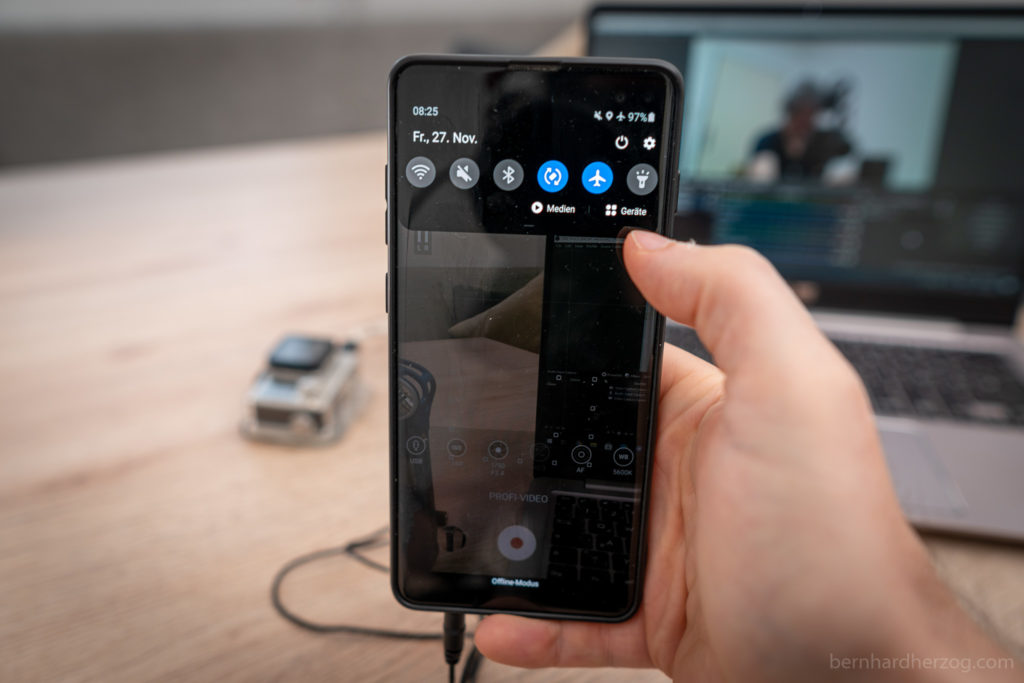 Distance test
I used the included wind muff on the mic to avoid wind noise when filming the distance test outside.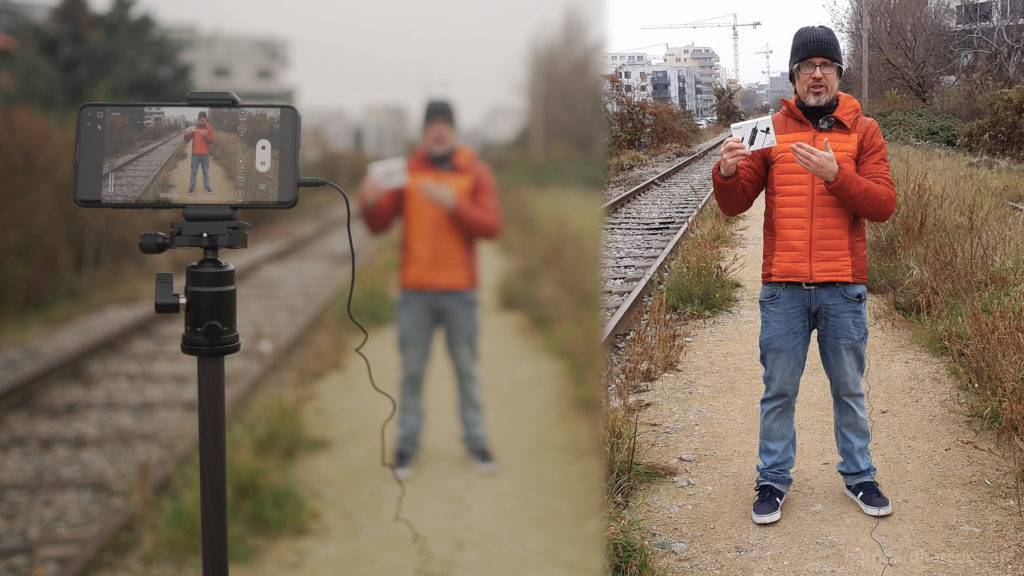 The cable is 6m long, ca. 1m was required to hide the mic under my shirt. So I had ca. 5m left to go back. This is a very nice range and it is also possible to get full body shots (depending on the lens you use of course).
Conclusion
So what is my conclusion?
The microphone worked nicely with all my devices. For times when a device might not be detected you could also buy a TRRS to TRS-Adapter, but for me it was not necessary. Also you might need adapters for Lighting or USB-C, if you use newer iPhones or Android phones. I.e. for phones that do not have a 3,5mm audio jack.

The microphone is of high quality and I like the sound. If you get noise in your audio you can also add a denoiser, but I did have to use it. Except for the GoPro 4, because usually I get a slight hissing sound with it no matter which external mic I use.
The cable is very long. This is an advantage when filming more far away from the camera. Also it makes it easier to hide the cable then.
For times when you don't need the cable to be so long be careful not to create a tangled mess. So better hold on to the twist ties the microphone came with.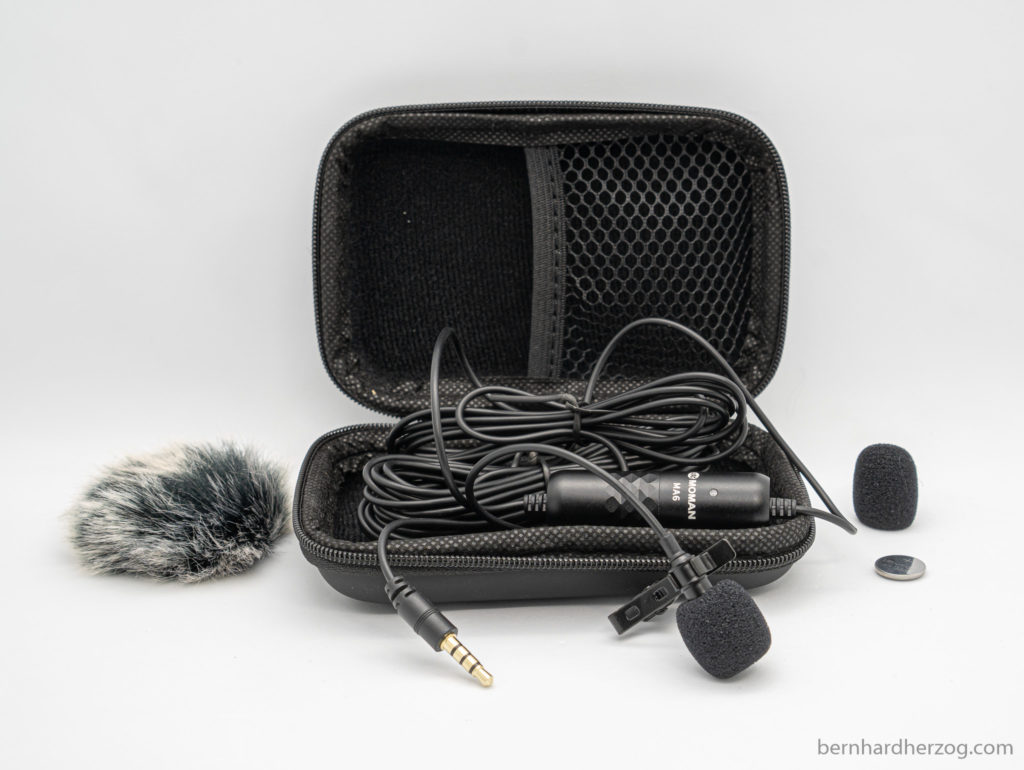 Also the hard shell case is very useful to keep everything tidy and is good for transport.
All in all I think this microphone is a very good budget option and it will be very useful for me.
If you have any questions or comments please don't hesitate to post below. CU next time, bye!
Moman MA6 Lav Mic @ Moman Moman MA6 (amazon.de) Headphone/Mic Adapter for newer iPhones (amazon.com) Headphone/Mic Adapter for newer Android phones TRRS to TRS Adapter
Recommended camera equipment for photo, video & travelling (AMAZON):
Sony a6600 Sony a6400 (cheaper) Sony a6100 (Budget-Option for 4K) Sigma 16mm 1.4 Sony 35mm 1.8 Samyang 12mm 2.0 Feelworld Master MA7 Smaller monitor Rode VideoMicro Rode Wiress Go II Mini Tripod Travel Tripod Small LED-Light Light #1 (powerful) Light #2 (Bi-Color) Softbox for this light Light tent/box DJI Osmo Action GoPro 9 GoPro MAX Invisible Selfie Stick Mavic Mini 2 drone Mavic Air 2
for photo and video:
Fuji XT-4 Fuji Telezoom Entry level camera (Canon)
*Affiliate Links. From everything you buy I will receive a small kickback that helps me maintain my channel. THANK YOU for your support!