The Samyang 12mm F2.0 is an ultra-wide angle lens. I use it already since April 2017 and I like it a lot because it creates unusual angles. Beside that I can achieve a shallow depth of field because of the F2.0 aperture. This works esp. well for close-ups, then I can blur the background really well. Unfortunately the lens is manual focus only and it is not stabilized. I still manage to get amazing photos and videos with it. I want to show you how.
(Es gibt eine deutsche Version dieses Artikels, gerne hier klicken!)
Video
Characteristics of an ultra-wide angle lens
The lens is an ultra-wide angle lens. With these kind of lenses I like that it is really easy to create leading lines. For example the lines of buildings or streets or also the railings that lead the viewer's eyes to my subject.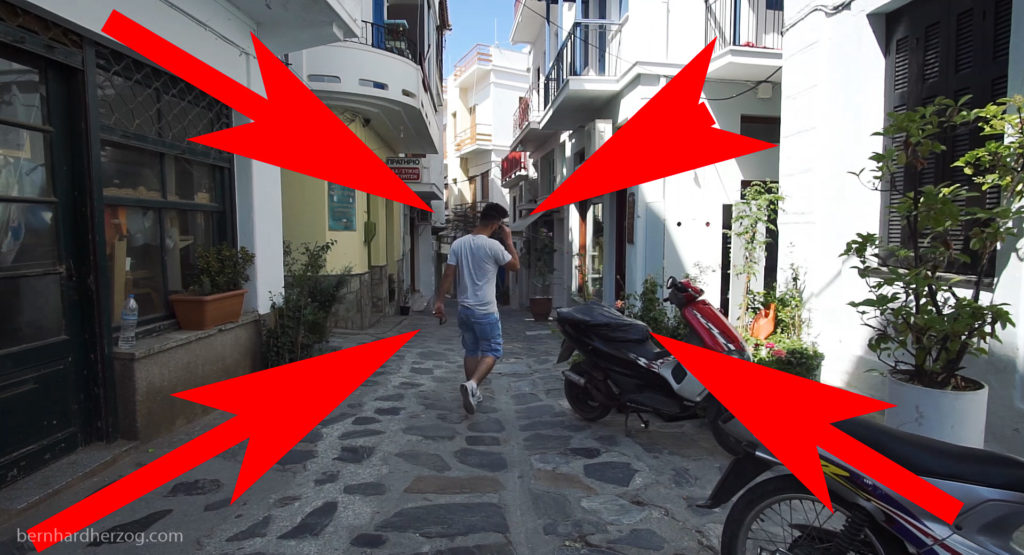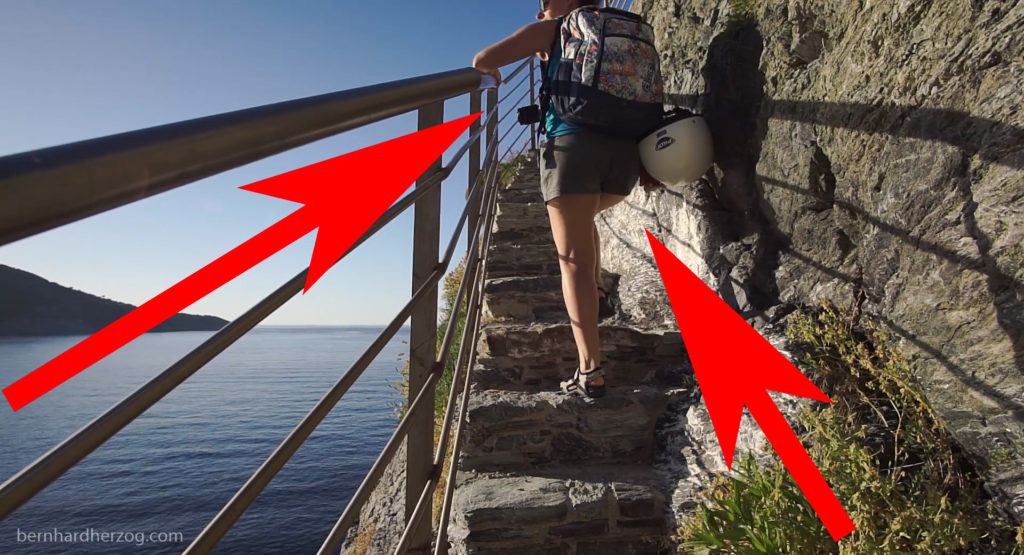 A good example is the B-Roll of my video from our holidays in Greece:
With an ultra-wide angle lens I always try to have something close to the lens. If not the picture will look flat and one-dimensional, because with wide-angle lenses everything seems to be more far away than it actually is (esp. when comparing it to telephoto lenses, the latter is compressing the distance and makes everything look more close).
Samyang 12mm F2.0 @ amazon.de Samyang 12mm F2.0 @ amazon.com Samyang 12mm F2.0 @ amazon.co.uk Samyang 12mm F2.0 @ amazon.fr Samyang 12mm F2.0 @ amazon.it
Testing the Samyang Lens
Unfortunately the Samyang lens is manual focus only and there is no lens stabilization. But it weighs only 245g so it is easy to take with you on trips and to balance it on a gimbal. When using lenses that have autofocus (like the Sigma 16mm 1.4) oftentimes the autofocus can be heard in the audio, the Samyang on the other hand is completely silent because of the manual focus.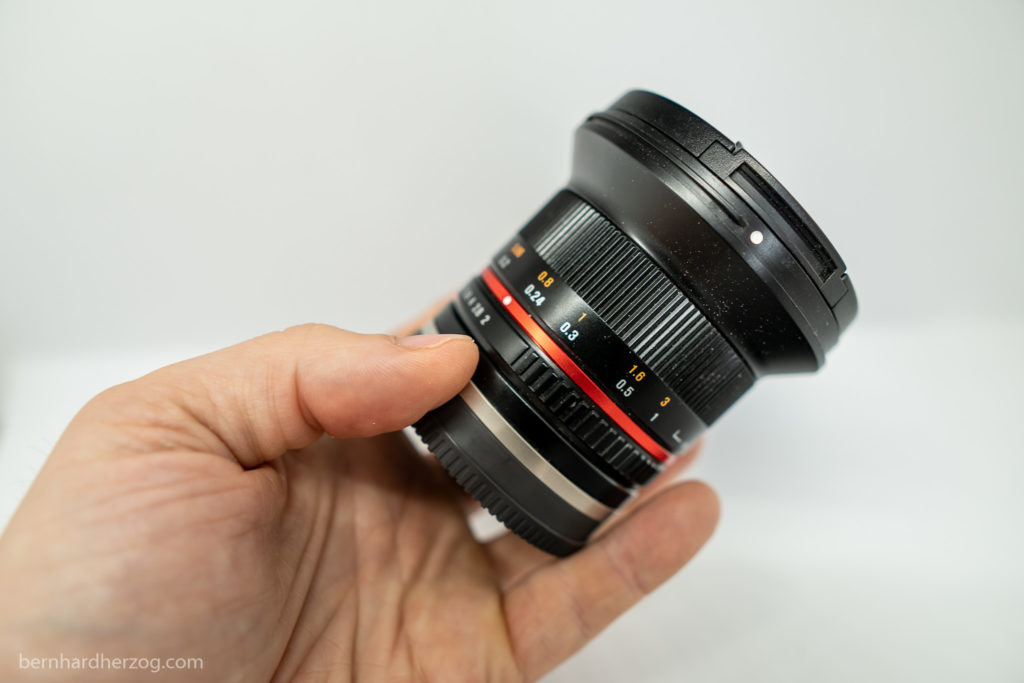 When opening up the aperture it is possible to create a shallow depth of field (to some degree). It is easier when the subject is close to the lens.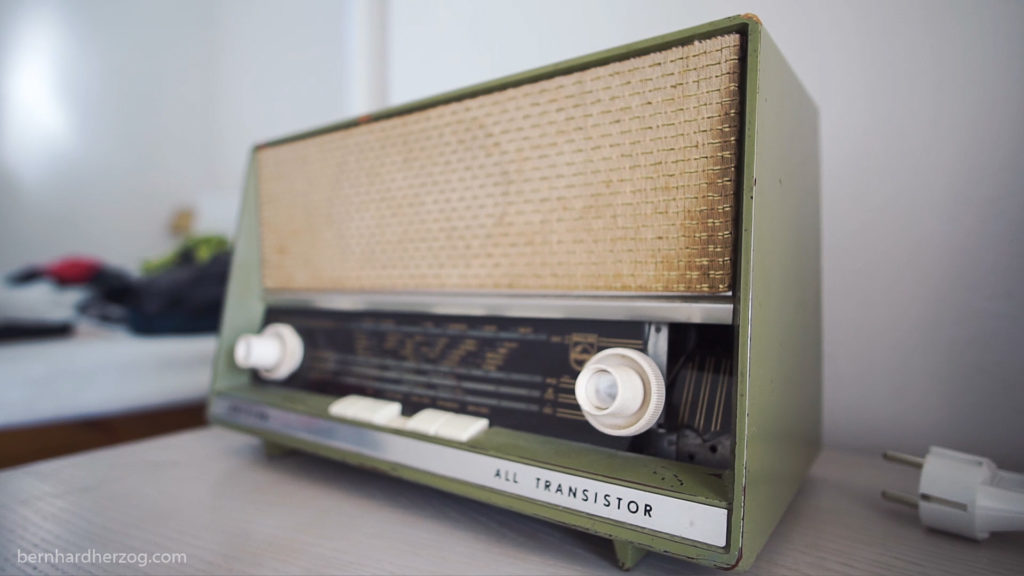 When closing the aperture the lens creates 6-sided sun stars. This is a matter of taste. I like it (but more for video than for photography).
I always recommend to use the included lens hood, because with an ultra-wide angle lens the sun can quickly reflect in the lens ("light leaking").
If you like this you can create it on purpose of course, for example to create a transition in your video.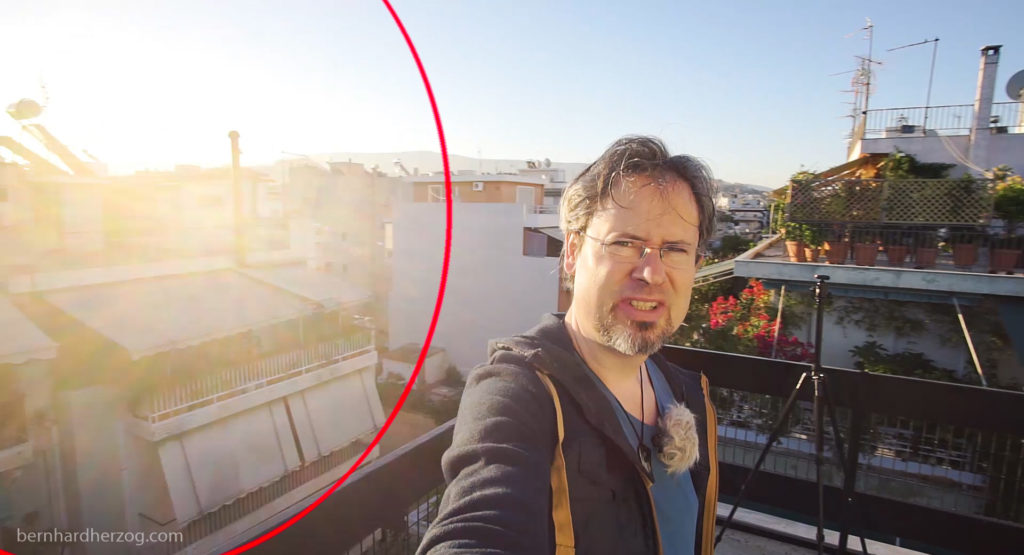 I also use this lens to vlogging. But this is not easy at all. You can see some examples at the end of my video about Greece. For me the 12mm are the perfect focal length (it is an equivalent to 18mm with full frame). Using an even wider lens looks strange to my eyes and it creates nausea. With less wide angle the coolness factor gets lost (for example with the Sigma 16mm 1.4).
How to focus and vlog
I like to close the aperture when using this lens. Then (almost) everything is in focus which is common for all wide angle lenses. When doing that I have to use other techniques to put the emphasis on my subject like for example leading lines. (But be careful, with a small aperture you will see every single dust particle on the sensor, so better clean your sensor before every shoot!)
The simplest method to focus is to turn on focus peaking in your camera so everything that is in focus will be outlined in a red color. In addition you can zoom into the picture (with the Sony a6500 this can be done by double-tapping on the screen or simply put the zoom function on a function key of your liking). When focusing something more far away you can simply put the lens on infinity.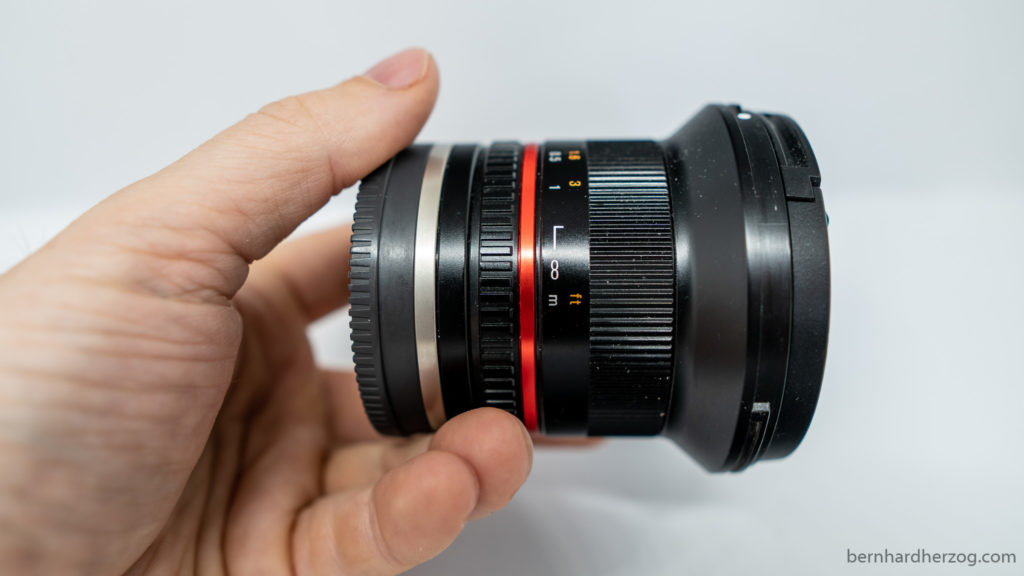 A more exact method when you have more time: Open the aperture all the way (to F2.0), then focus your subject and close the aperture again. I recommend this method because the area in focus is relatively large with an ultra-wide angle lens, but the sharpness in this area is not distributed evenly.
You can download an App (HyperFocal Pro) to your Smartphone to show the specific values and let it do the depth of field calculations.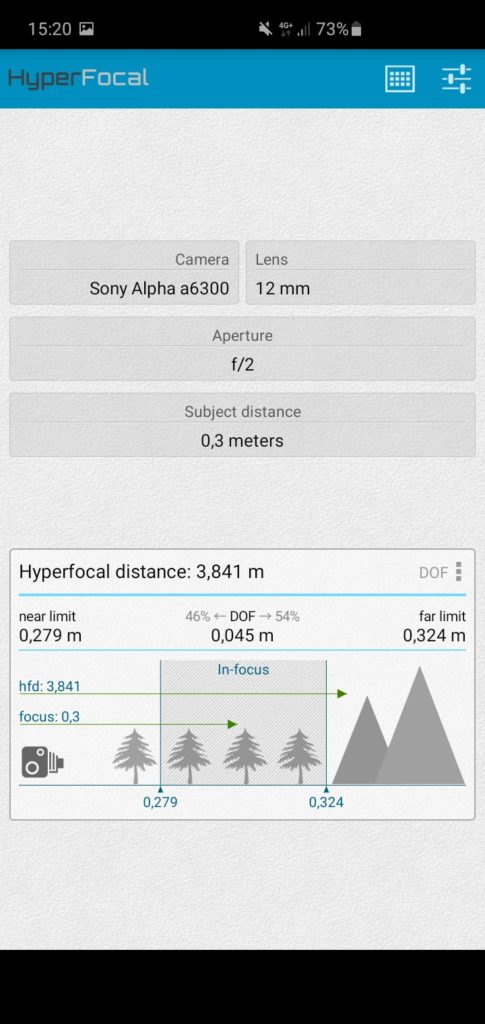 Here are some examples:
| Distance | in focus with F2 | in focus with F8 |
| --- | --- | --- |
| 0,3 m (for example when vlogging) | 0,279-0,324 m | 0,231-0,429 m |
| 0,6 m (vlogging with arms length) | 0,52-0,709 m | 0,372-1,556 m |
As you can see the area in focus with F2 for subjects that are close is very small. When your camera has a flip-up- or flip-out-screen you can use focus peaking to see what is in focus. If not you have to test and remember the correct setting on your lens (try it out before, for example using an external monitor).
There is also the term "hyperfocal distance". When focusing at this distance, everything until infinity will be in focus with acceptable sharpness:
| | | | | | | | |
| --- | --- | --- | --- | --- | --- | --- | --- |
| F2 | 3,841 m | F5.6 | 1,366 m | F8 | 0,969 m | F16 | 0,6 m |
I.e. when closing the aperture, with F8 from 1m and with F16 from 0,6m everything will be in focus.
More examples (August 2020)
Here you can see some more nice (?) example photos that I took after my trip to Greence using this lens: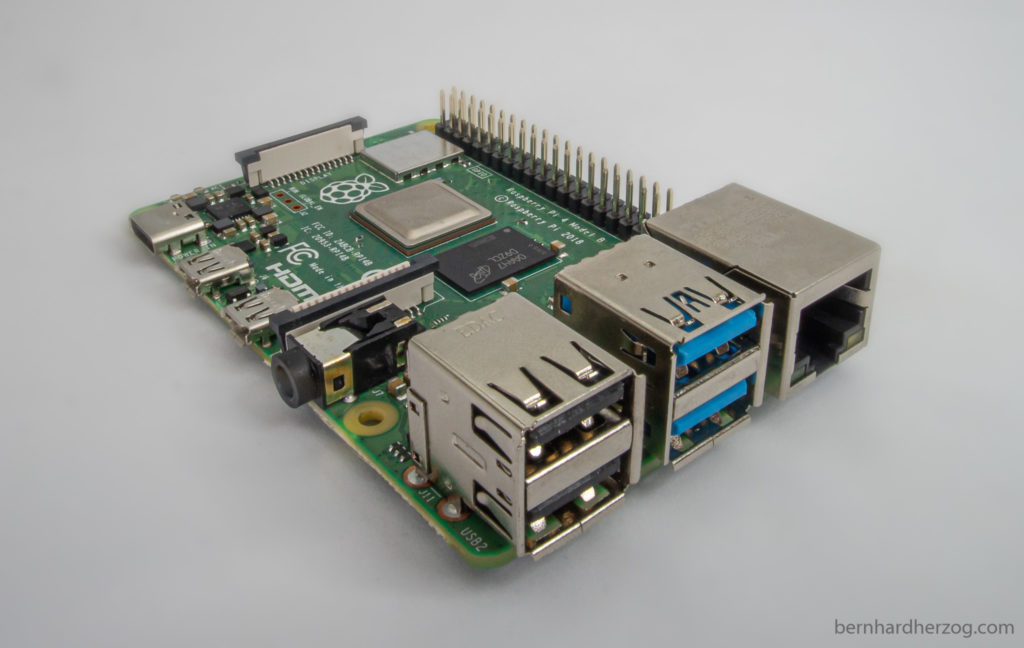 Conclusion and Rating
I am a big fan of this lens. Of course it would be nice to have a lens with this quality, size and weight with autofocus and stabilization, but this kind of lens simply does not exist.
About stabilization: it definitely helps to use a gimbal (like I did in my video) or a camera with sensor stabilization (like the a6500 or a6600).
Anyways I usually use this lens outside in broad daylight and then I close the aperture accordingly. I do not need autofocus in that case. You have to decide yourself if you want to have sun stars or a shallow depth of field.
All advantages and disadvantages in a nutshell:
Advantages:
lightweight
small
F2.0
ultra-wide angle
Minimum Focussing Distance of 20 cm
Neutral:
sunstar (matter of taste)
Disadvantages:
no autofocus
no Stabilization
The biggest competition for this lens with E-Mount is the Sony 10-18mm, the Sigma 16mm and the Laowa 9mm.
The Sony 10-18mm has autofocus and is stabilized, so it is much easier to use. But it is much more expensive and it is only F4. For me this means that if I put in the effort I can get better results with the Samyang – as long as I don't make a mistake when focussing.
The Sigma 16mm is a great lens with autofocus but th wow-effect is missing because it is not an ultra-wide.
The Laowa 9mm is a funny lens but for me it is too wide: When vlogging I think the viewers will get dizzy.
If my review was helpful for you please leave a comment! For what are you planning to use this lens?
Please buy from Amazon using the links I provided below. From everything you buy I will get a small kickback that helps me maintain my channel. Thank you for your support!
Samyang 12mm F2.0 @ amazon.de Samyang 12mm F2.0 @ amazon.com Samyang 12mm F2.0 @ amazon.co.uk Samyang 12mm F2.0 @ amazon.fr Samyang 12mm F2.0 @ amazon.it
Recommended camera equipment for photo, video & travelling (AMAZON):
Sony a6600 Sony a6400 (cheaper) Sony a6100 (Budget-Option for 4K) Sigma 16mm 1.4 Sony 35mm 1.8 Samyang 12mm 2.0 Feelworld Master MA7 Smaller monitor Rode VideoMicro Rode Wiress Go II Mini Tripod Travel Tripod Small LED-Light Light #1 (powerful) Light #2 (Bi-Color) Softbox for this light Light tent/box DJI Osmo Action GoPro 9 GoPro MAX Invisible Selfie Stick Mavic Mini 2 drone Mavic Air 2
for photo and video:
Fuji XT-4 Fuji Telezoom Entry level camera (Canon)
*Affiliate Links. From everything you buy I will receive a small kickback that helps me maintain my channel. THANK YOU for your support!