In January we wanted to escape the cold and dark Winter in Austria for 9 days. The cheapest available flight to the most southern destination was with Wizz Air to Eilat in Israel. We booked the flight back from Tel Aviv because spending one week in Eilat is boring. Usually we like to take nice photographs and I had the new GoPro Max 360 Action Camera for this trip. Read on to see if we were successful…
YouTube Video
My photo/video equipment & GoPro MAX experience
As the main camera for hiking through the canyons near Eilat and at the dead sea I used the new GoPro MAX 360 camera. When I bought this camera I was not so impressed (read my review in German here). But in Israel I was very happy with this camera because I think there is no camera to show the tight crevasses better than with this camera: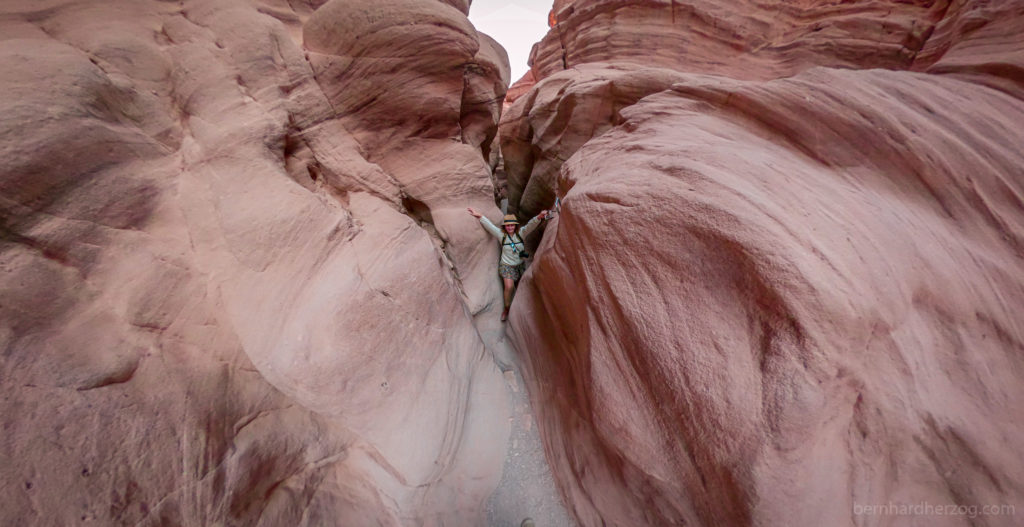 One thing with this camera is when using the tiny planet effect too much it can cause nausea for the viewer.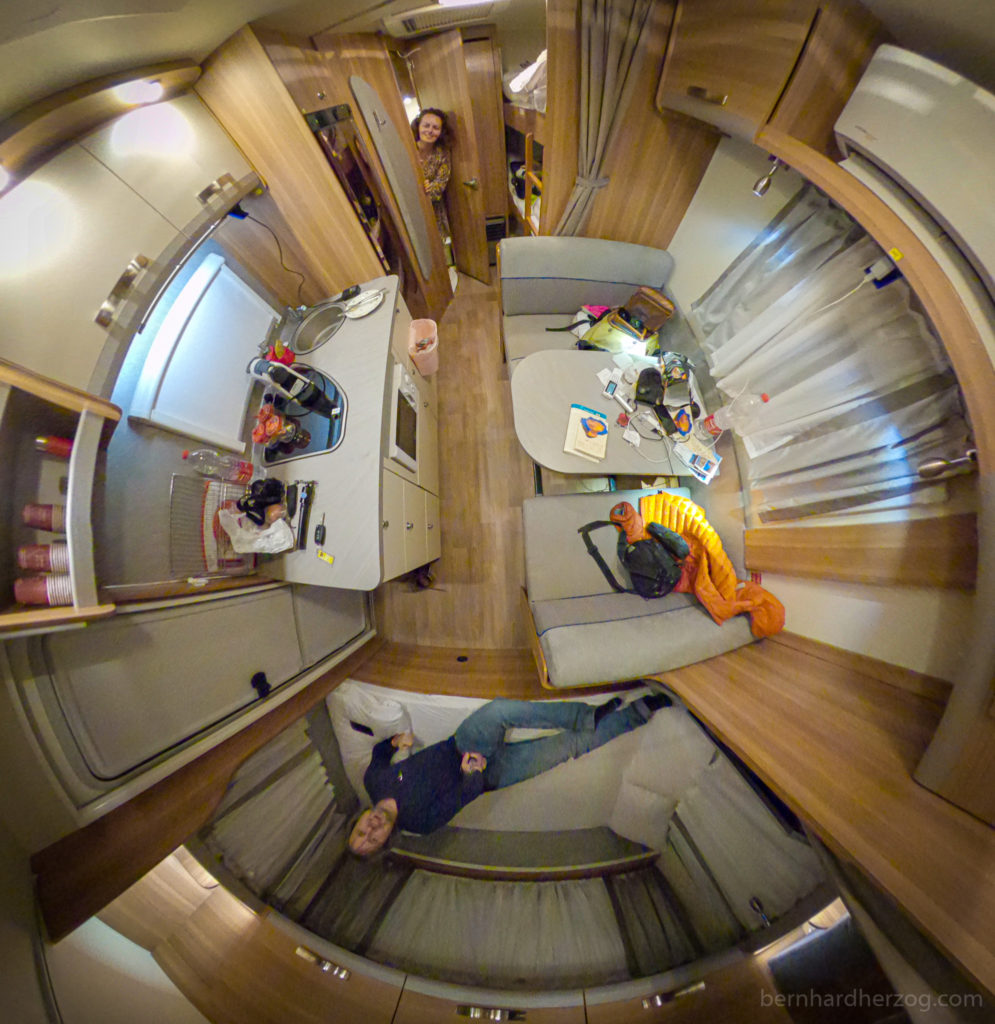 So what I would change next time is to use the camera only for action scenes and use my Sony a6500 more often (I would recommend the Sony a6600 as a travel camera if I were to buy a new one because the flippy screen is good for vlogging). A problem of the GoPro MAX (and any action camera) is that when there is strong light the pictures don't look good anymore: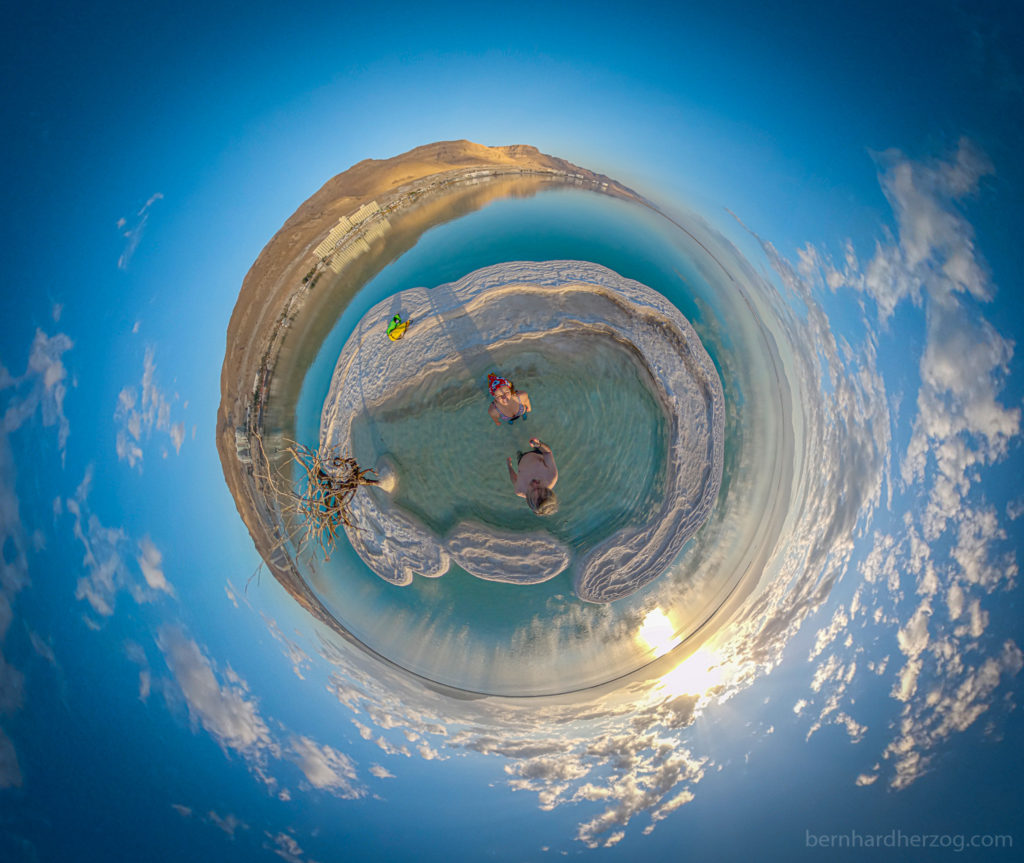 It is also very important to properly clean both lenses of the GoPro MAX. Because for example at Masada I had some greasy stuff on the lenses (I guess after going to the Dead Sea) and it shows in the video footage as some kind of haze. This is a disadvantage of a 360 camera: the lenses are really sensitive to damage (the additional protective lenses make the flaring worse so I did not use them).
For my Sony I exclusively use prime lenses but maybe I will switch to zoom lenses in the future, esp. for photography. With prime lenses I have to switch out lenses a lot, so I miss some shots. Also I get dust or small hair on the sensor quickly (have to bring my Rocket Air Blower to get rid of it). On the other hand prime lenses yield a better picture quality.
We used the Mavic Air drone in the nature away from the cities mostly. In Jerusalem I think it is too dangerous to fly a drone because the city was already attacked by armed drones in the past. In Tel Aviv there is a no fly zone at the beach because of the airport but from Jaffa it is still possible to fly (with a height limit of 60m).
GoPro MAX (amazon.de)
GoPro MAX (amazon.com)
Sony a6600 with kit lens (amazon.de)
Sony a6600 with kit lens (amazon.com)
Sigma 16mm (amazon.de)
Sigma 16mm (amazon.com)
DJI Mavic Air(amazon.de)
DJI Mavic Air (amazon.com)
Highlights of the trip
The sea was still warm in Eilat and it was possible to even swim there. There are many activities on this trip like watching Dolphins in Eilat (Red Sea), climbing in the Red Canyon and visiting Timna National Park, floating in the Dead Sea, going with the cable car to the Masada fortification, visiting Jerusalem which is sacred for the three main Abrahamic religions, travelling to Jericho with its Orthodox Monasteries which is in the West Bank and Tel Aviv with its gorgeous beaches.
Best time to visit Israel
January is the coldest month in Israel which does not mean that it is a bad time to go. Temperature is still moderate during the day when it is sunny and drops in the night so bring a warm jacket.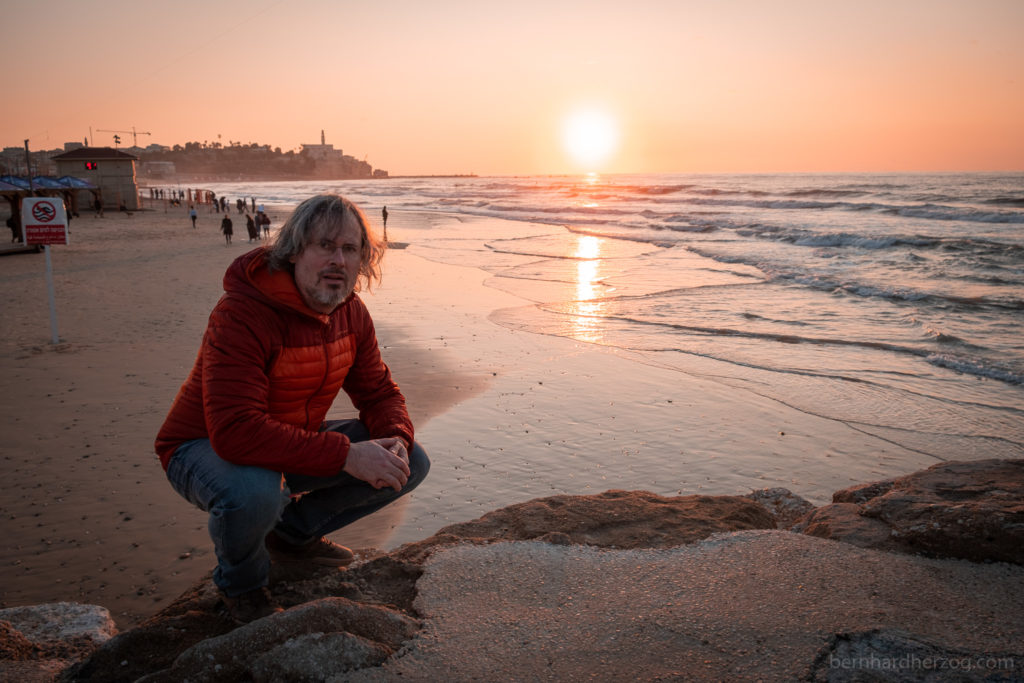 It can rain in Winter but usually not that much. It is still advisable to bring a rain jacket. We had some hard rain and wind in Jerusalem, actually even some people in Israel died because of that but this was an exception that did not happen for 50 years. Jerusalem is still more cold than Eilat or Tel Aviv.
In Summer it is extremely hot so for hiking Winter is the best time.
It is even possible to swim in the South in Eilat because the water temperature is still above 20° Celsius.
When it is sunny it is also ok to swim (or better float) in the dead sea in January.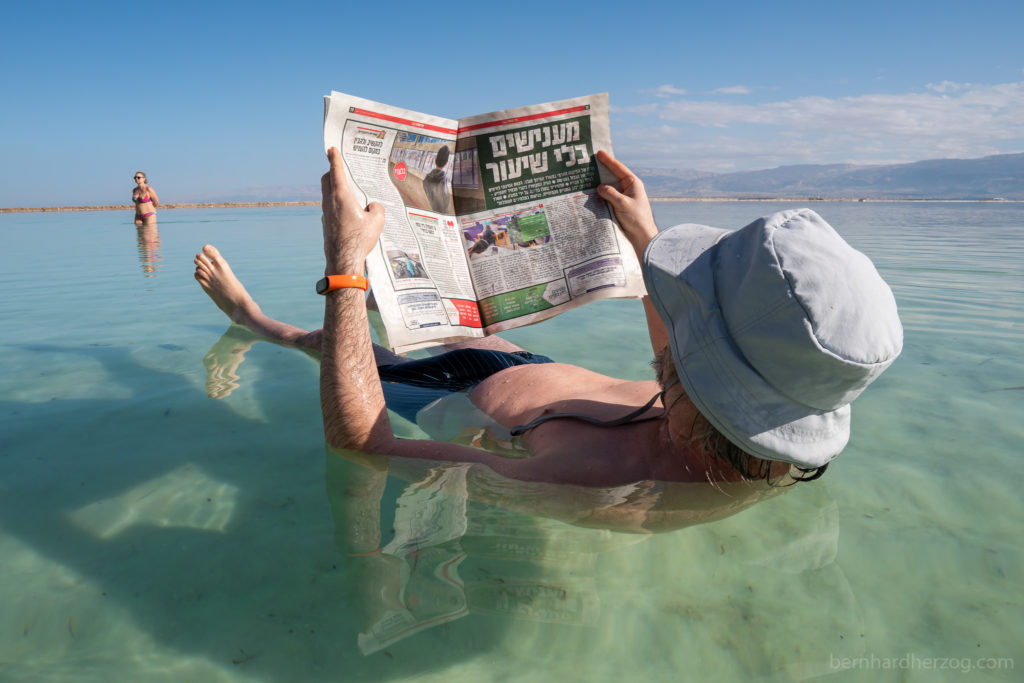 In Tel Aviv swimming is not allowed because of the strong currents, but people are surfing in neoprene suits.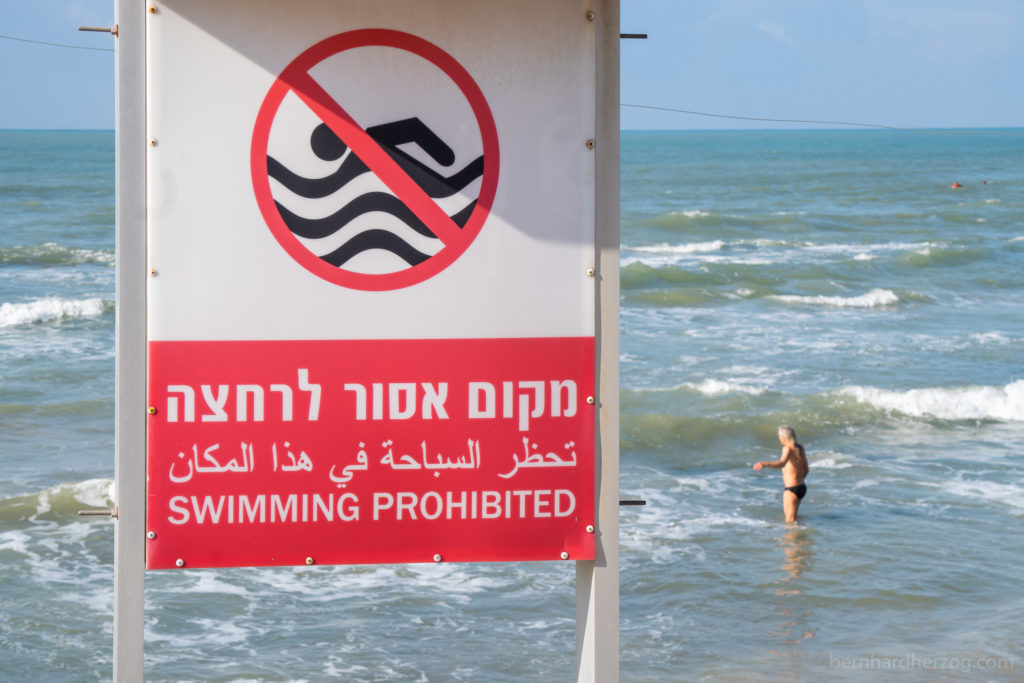 Fun Fact: If you want you can even ski in the north of Israel.
(Public) Transport in Israel and West Bank
Israel is a very developed not to say a high tech country. Public transport is very good except on Shabbat – read the next chapter about that.
There is a regular bus service from the south to the north and also a fast train connecting Jerusalem with Tel Aviv.
Because we wanted to visit Red Canyon and Timna Park we rented a car for Eilat. You can do everything with public transport but you need to walk more and especially for Timna Park it is very inconvenient not to have a car because the park is huge. It is highly recommended to book the car in advance to get the best price and also to make sure to actually get a car. (Please book from our partner rentalcars.com to support my blog.)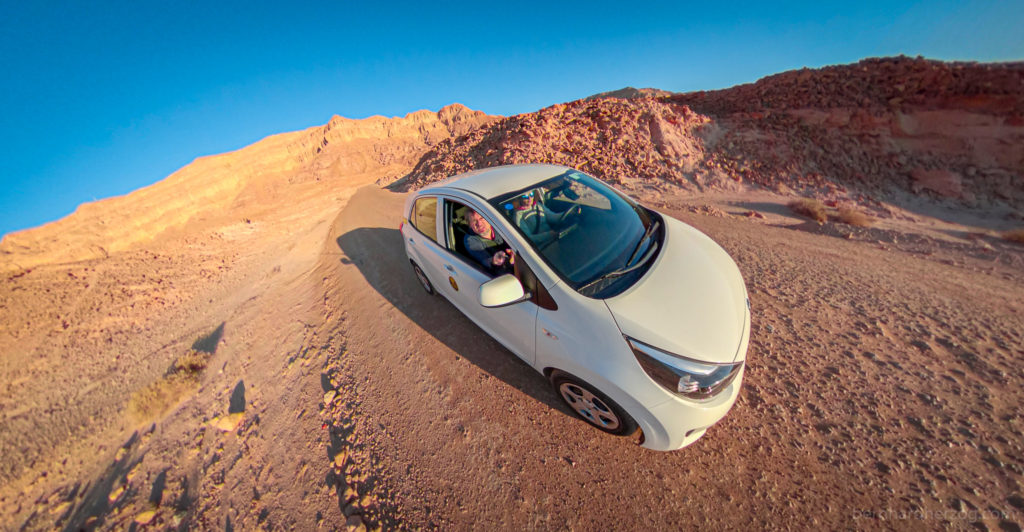 For the rest of the trip we used buses. Especially in Jerusalem and Tel Aviv traffic during rush hour is crazy and parking is expensive like in most big cities .
For Public Transport there is a chip card (Rav Kav Card) that you can reload with money (30 Shekel was minimum).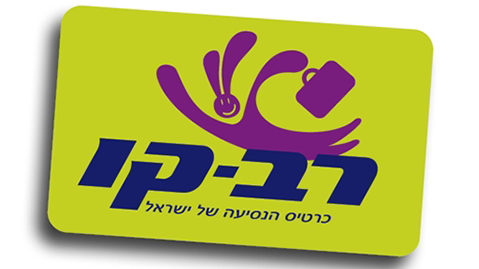 The card is free for tourists, you just have to find the office so you can get it (for example in Jerusalem Central Bus Station it is near platform 22). In the bus/tram you just hold it to the machine and you will see how much you have left. For trains you might have to still go to the ticket counter to load a ticket onto the card, but they will use the balance from your card.
In the West Bank it is a completely different story. There are buses going there but for example for Jericho you need to change to a shared taxi (Sherut). It is good to know how long the trip will take so that the drivers dont overcharge you, always ask the price before. Just know that the people there really need tourist money. Also the culture is different and usually they are very welcoming to guests. Google Maps will not work in the West Bank.
Shabbat
This is something we prepared for but still failed a little bit. We planned our trip so that we are in Tel Aviv when Shabbat begins and not travelling. On Shabbat there are no buses, trains and most supermarkets and restaurants are closed. Shabbat is from Friday evening to Saturday evening (usually at 6pm shops will open again). Actually we even had to take the bus to Tel Aviv on Friday morning because there was no train service on Friday at all.
As I said we prepared for Shabbat but we still wasted a lot of time finding a means of transport in Tel Aviv so almost the whole day was lost because we had to do a lot of walking.
Int the end we rented a bike in Tel Aviv using the public Tel-O-Fun Service. There are many stations and you can rent two bikes using just one credit card. It was more expensive on Shabbat (23 Shekels per day per person). If you return the bike before 30 minutes there are no extra cost. You can return the bike and immediately rent a new one.
Most problems we had when trying to rent an electric scooter. In Tel Aviv those are the preferred means of transport for the beach promenade. Renting a scooter is more expensive and you also need to have mobile Internet, otherwise you cannot unlock the scooter.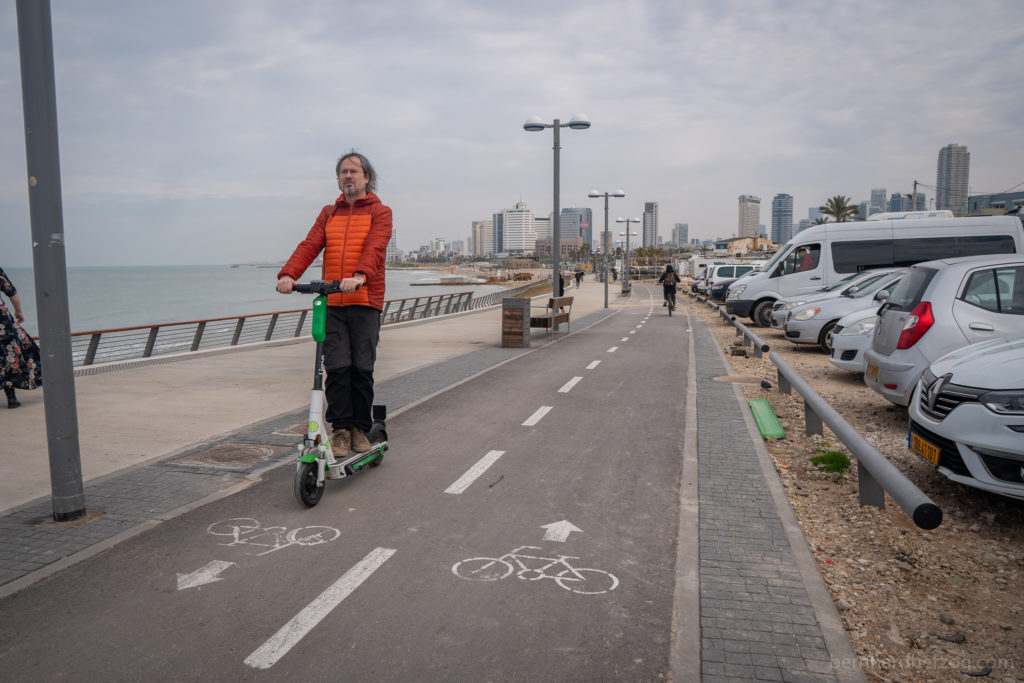 If you are two or more people it is better that everyone has a tourist SIM card but these are not cheap in Israel (we paid 80 Shekels for one SIM card). You cannot rent two scooters from one mobile phone.
Note that for renting a scooter you might be asked to photograph and send your driving license which is mandatory in Israel and to enter your Israeli phone number. Make sure your phone is charged (learn from our mistakes).
Israel is expensive!
Flying to Israel was not expensive but once there everything is more expensive. One might jump to the conclusion that is a culture thing but actually it is because of a mixture of high import taxes and the government protecting the local agriculture.
So when going to a bakery it can quickly happen that you spend 20 Euros. I recommend to ask the price for everything beforehand also for small things so that you can decide if you want to buy it and are not surprised afterwards. At markets and in the West Bank it is very common to haggle.
Is it dangerous to go to the West Bank?
If you are not an Israeli citizen it is not dangerous to go to the West Bank. For Israeli citizens there are big warning sign when entering a city.
Actually tourists are very welcome because the money is direly needed. Palestine is isolated to some degree because Israel built a wall. Keep in mind that the arabic culture is different. Because West Bank is more poor infrastructure is not so good, also you might pay higher prices because you are a tourist. Just make sure to ask the price beforehand and if it seems to high for your liking you can try to haggle in a respectful manner.
It is interesting that the bus from the dead sea goes through the West Bank and we also saw some Israelis near Jericho. There are some Israeli settlements in West Bank and also in East Jerusalem which is an ongoing dispute.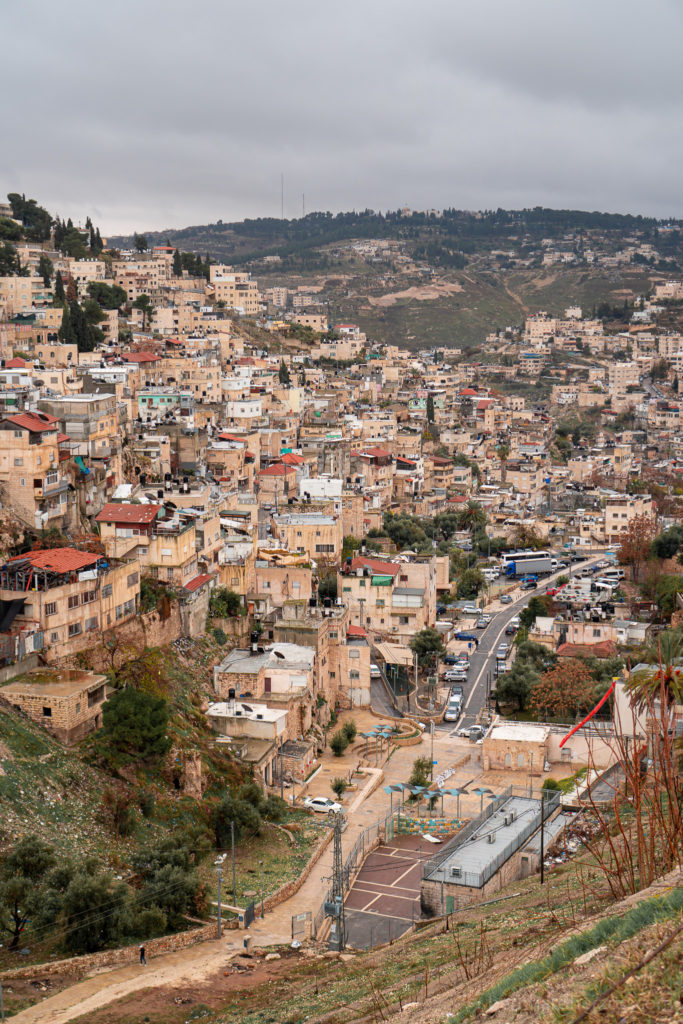 You will notice more Orthodox Jews in Jerusalem and a stronger separation between Arabs and Jews whereas in Tel Aviv everything is more mixed up and open minded. Obviously in Tel Aviv the problems are more far away.
Itinerary overview
Our main goal was to escape the cold Winter in central Europe. This was our main reason to go to Israel and that's why we went to the most southern point of Israel first.
Israel is shaped like a diamond and in the South (the Red Sea) it is very narrow, the border to both Egypt and Jordan is very close.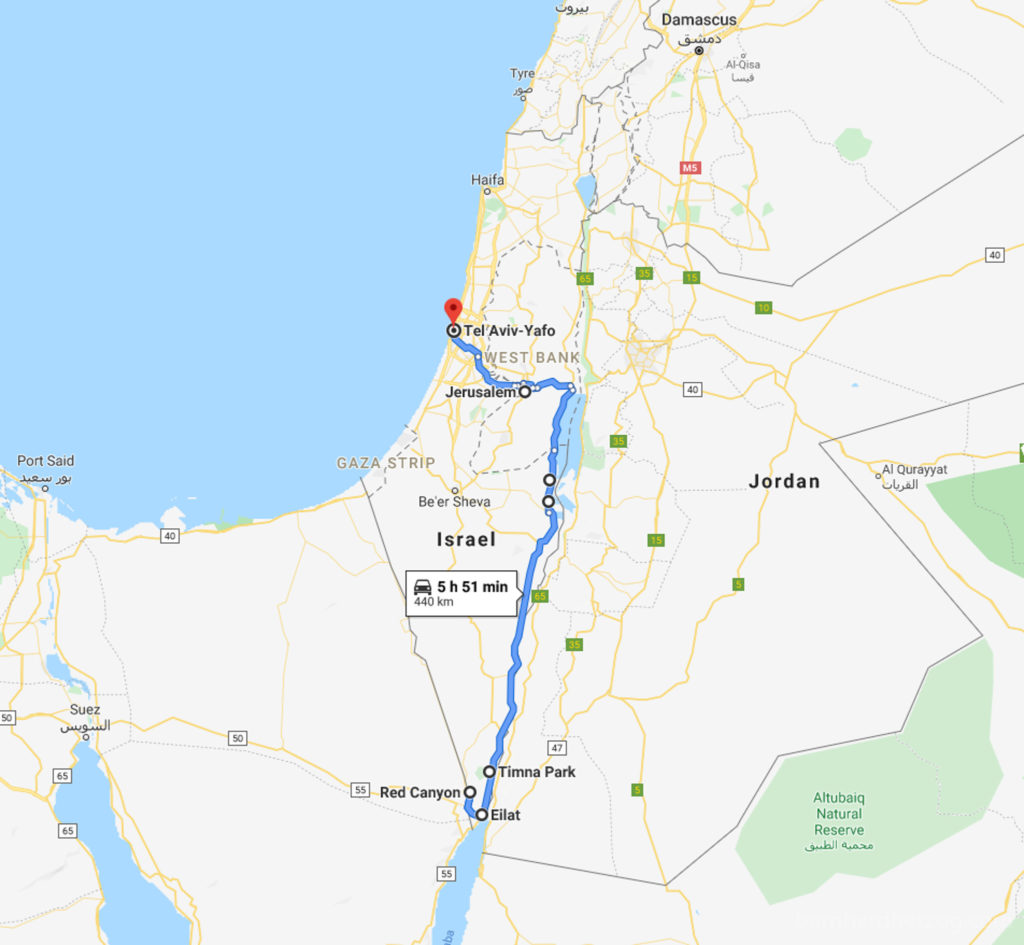 To open our itinerary in Google Maps: click here
Our itinerary (9 days):
Eilat – 2 nights (rented a car for 2 days)
Dead Sea and Masada – 1 night
Jerusalem – 3 nights
Jericho – day trip from Jerusalem
Tel Aviv – 2 nights
1. Eilat
Our first stop was in Eilat at the Red Sea.
Airport
It is not recommended to buy a SIM card or change money at the airport because it is more expensive there.
At the airport you will receive a paper slip to put into your passport which you should not loose. This is so that you can also visit Muslim countries because there is no permanent stamp in your passport.
You can buy a bus ticket to Eilat using your credit card at the ticket machine (normal Bankomat cards will not work).
In Eilat there is a big shopping mall where you can buy a tourist SIM card (Pelephone on the lower floor). Public WIFI is available here and there and sometimes in the bus but if you want to travel like we did without making reservations for everything it is highly recommended to have a SIM card.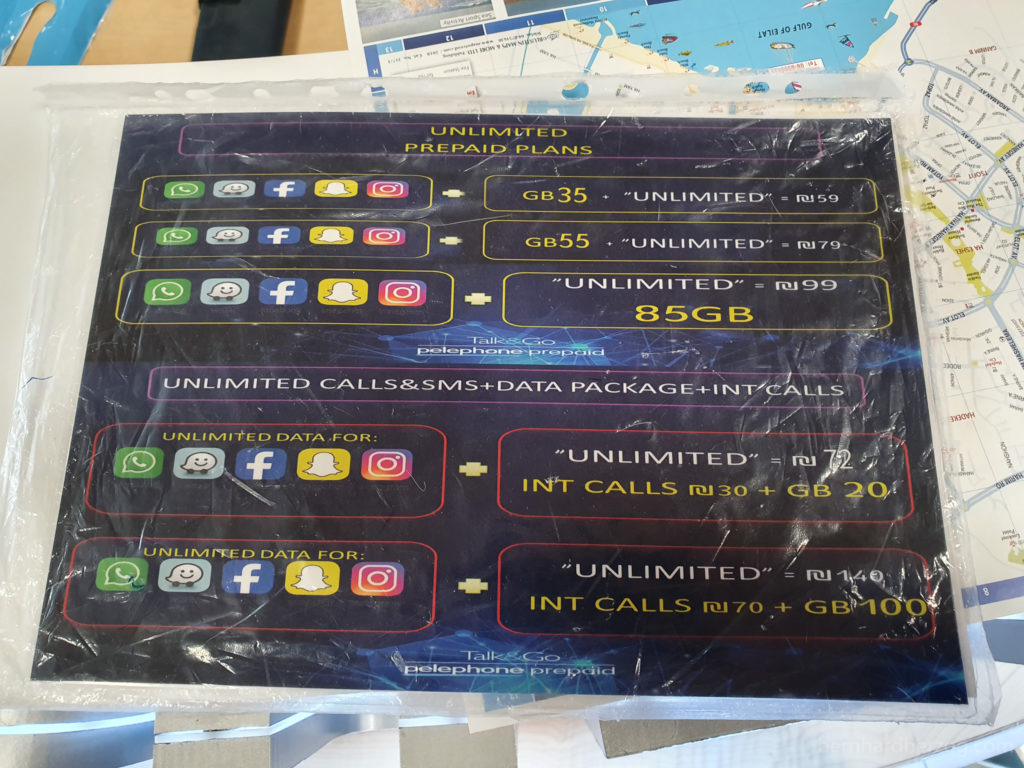 If you are arriving on Shabbat this shop will only open at 6pm on Saturday.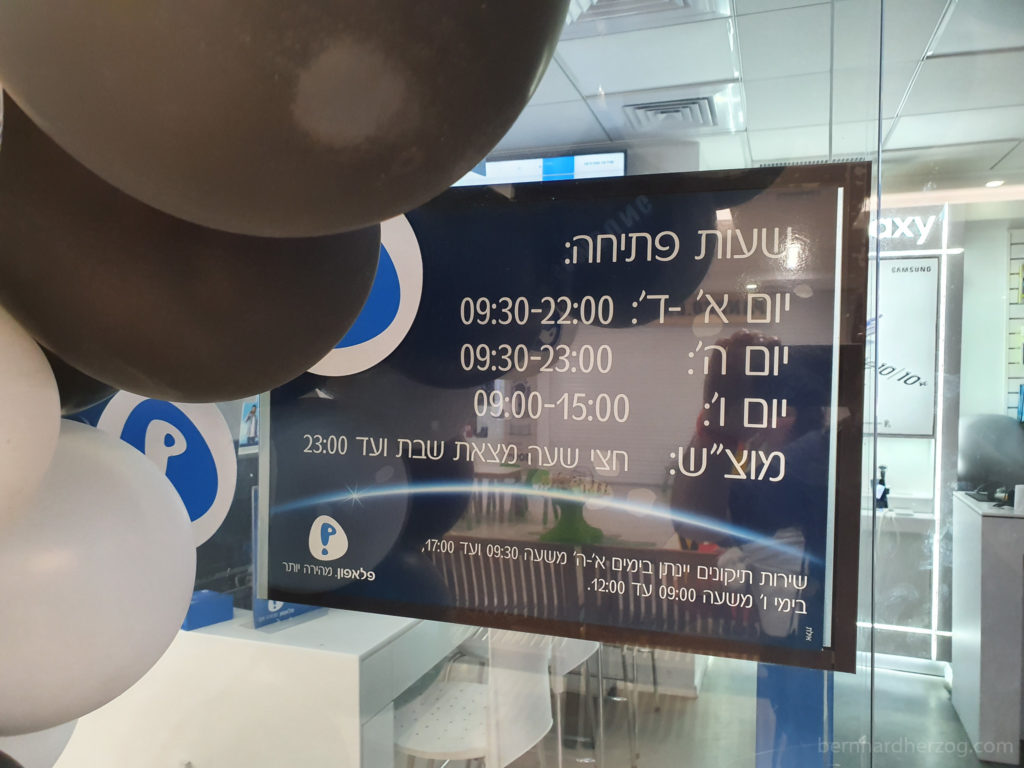 Note that there is also a big shopping mall in the north of Eilat. If you want to go shopping you might get better deals there.
There is a money exchange machine when you walk down the street from the central bus station.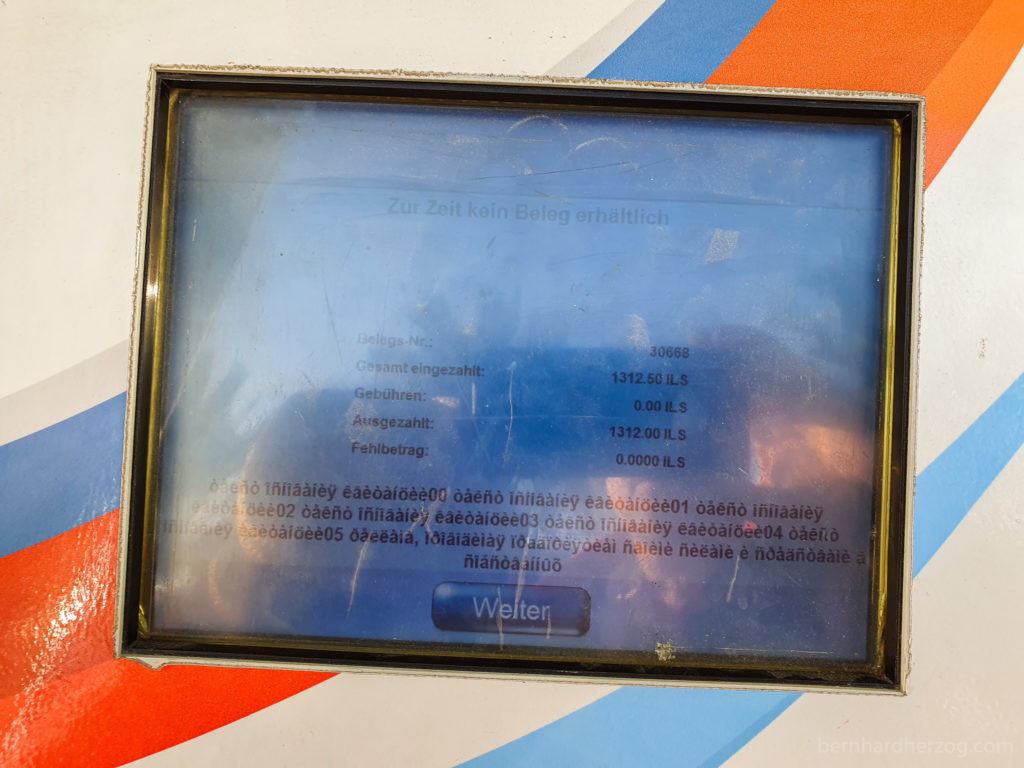 This also works on Shabbat and there was no commission.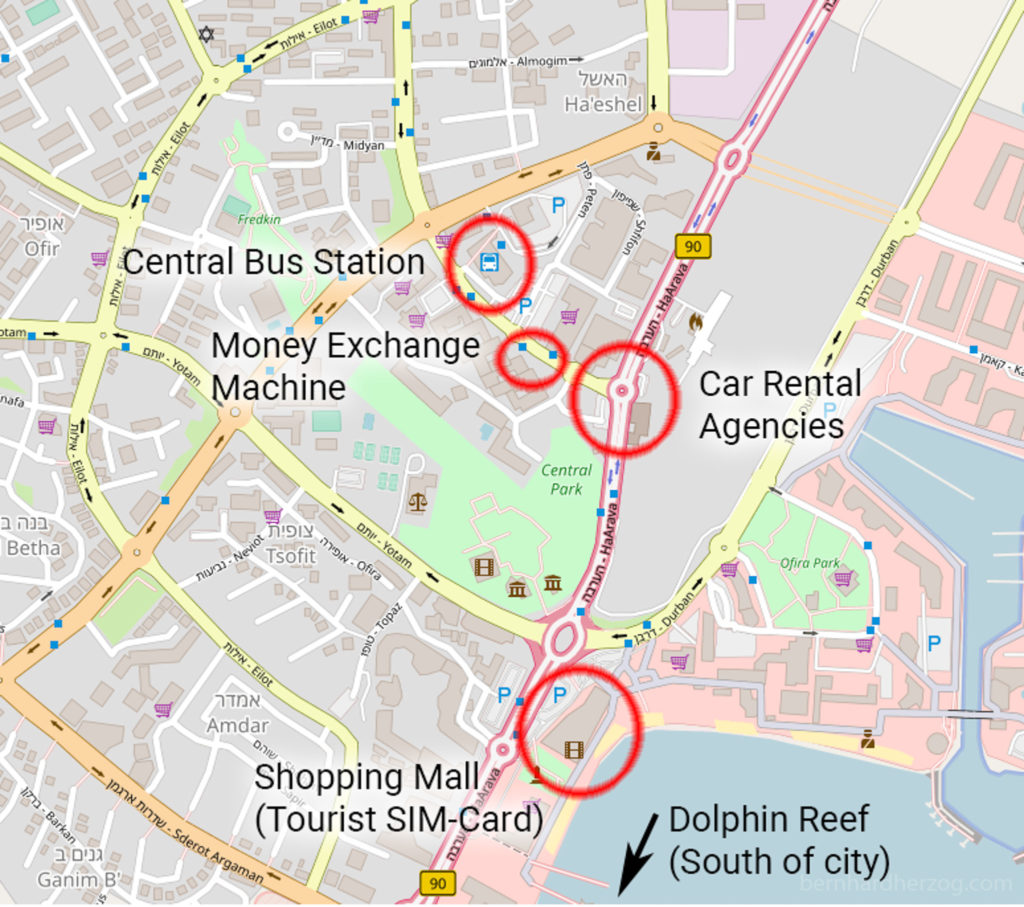 Dolphin Reef
The dolphin reef is the main tourist attraction in Eilat. It is south of Eilat on the left side of the bay (on the right side are all the big hotels), outside of the city. It can be reached easily with the local bus (if I am not wrong it even operates on Shabbat).
The entrance fee is 69 NIS (ca. 18 Euros). You have a beach there, a beautiful café, restaurants and can watch the dolphins (they come there on their free will but get food).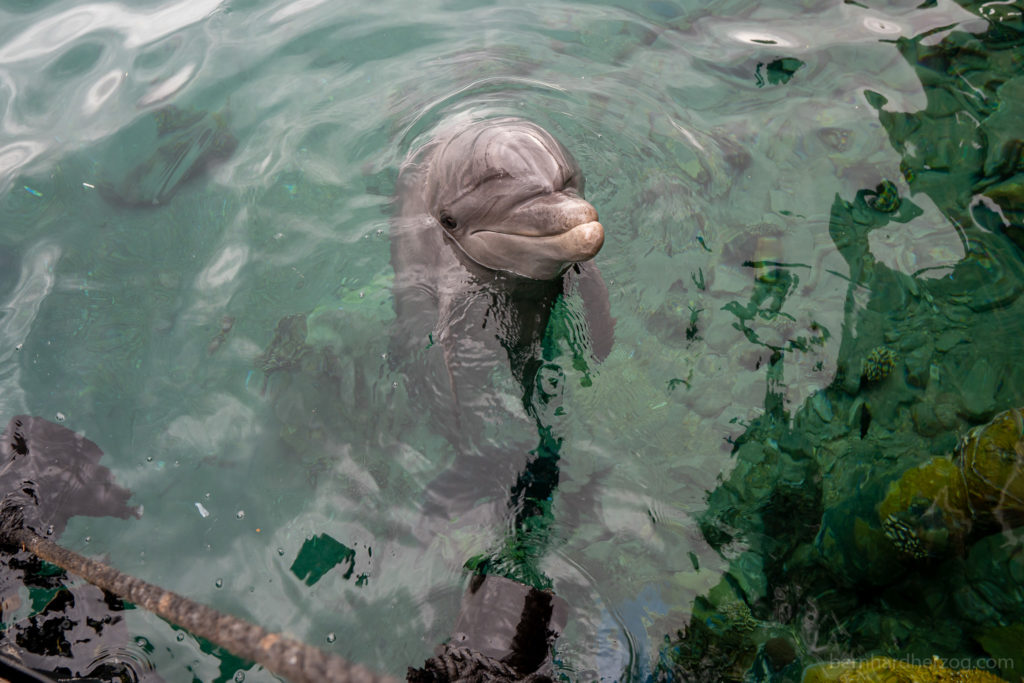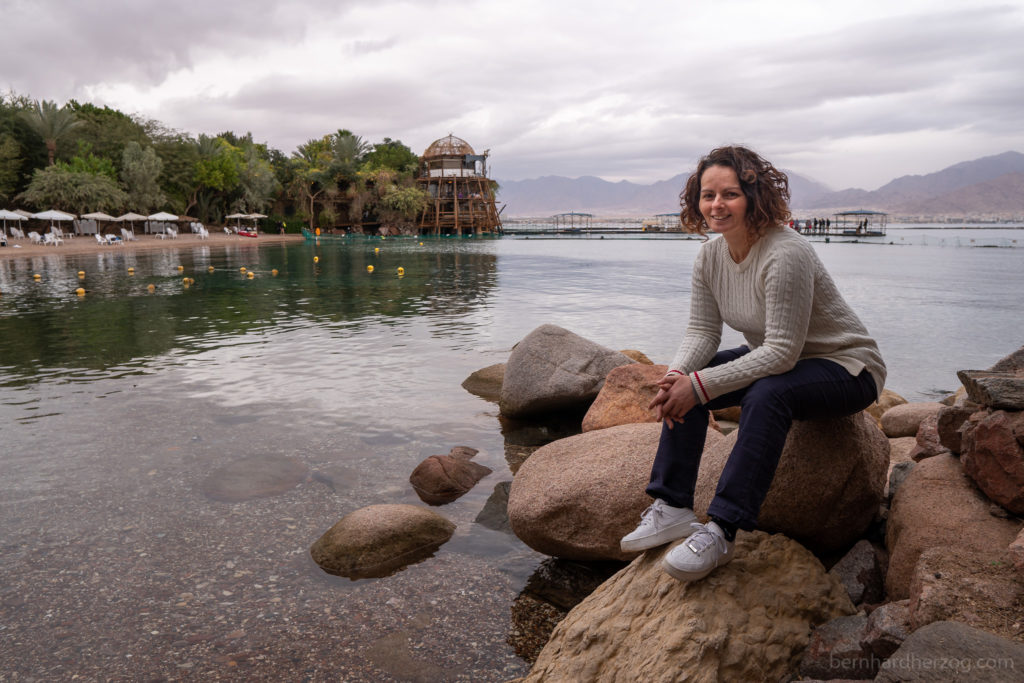 Actually when the temperature is below 20 degrees the ticket is also valid for the next day.
You can book snorkeling or diving with the dolphins but you have to book this in advance, because this is very popular. We did not get a free spot because we did not have a reservation. There was only one spot on the next day but we had other plans already.
There is another beach (Coral beach) further away which is also for pay. There should be a free beach even further away where you can do snorkeling in the corals as well.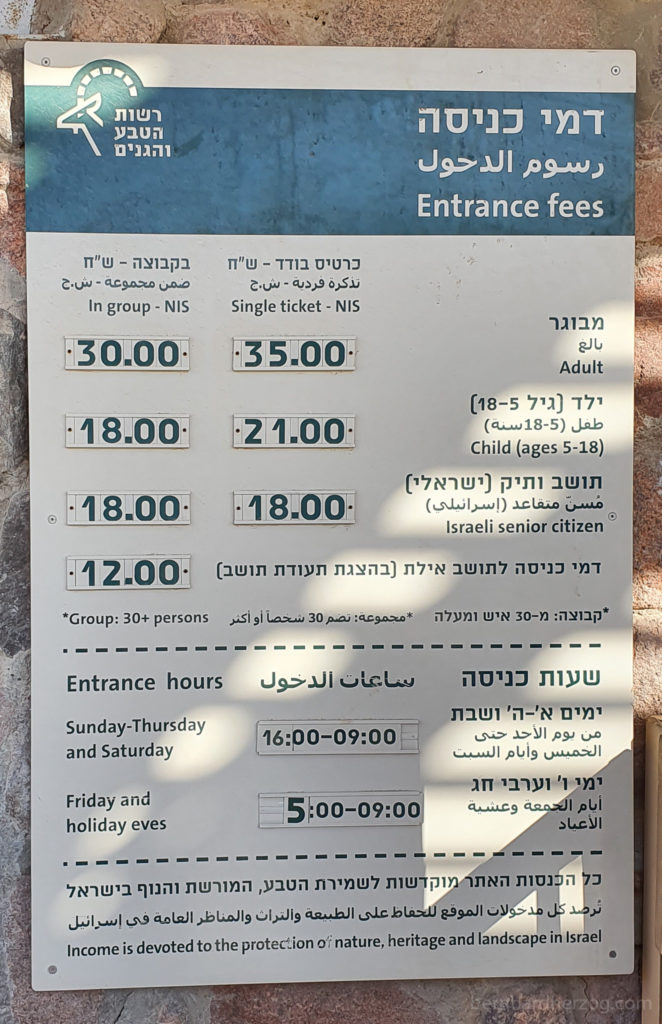 Red Canyon
You can go to Red Canyon with the bus but you have to walk a little bit more from the bus station which is on the main road. We rented a car so that we are more independent from the bus schedule.
You drive alongside the Egyptian border when going to Red Canyon.
This is interesting because you will see how small Israel gets at its southern tip. From the main road it is a very short drive (or walk) on a dirt road.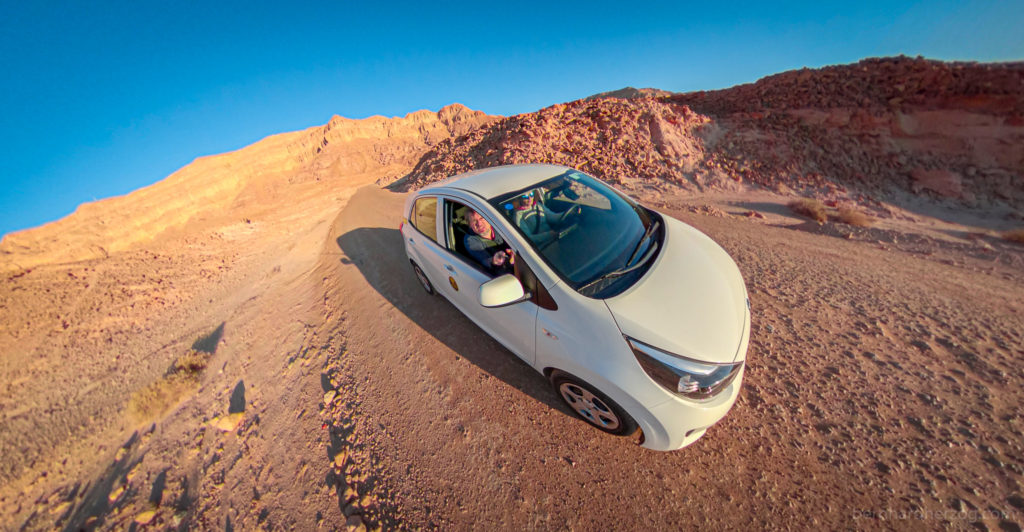 Red Canyon is a scenic area in the Negev desert and somewhat similar to the Grand Canyon.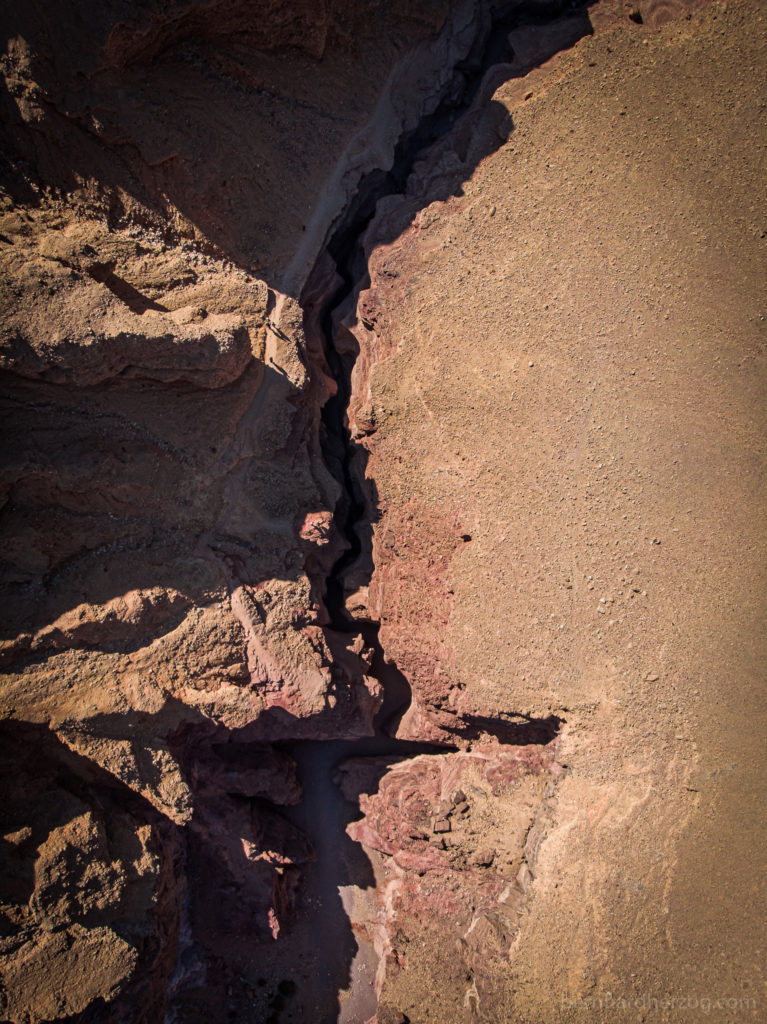 There are three different routes.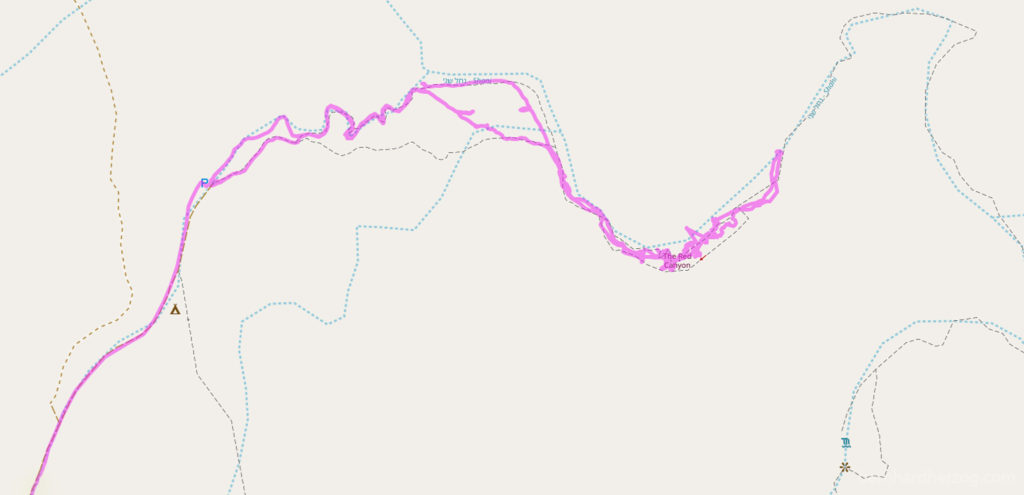 The green route goes directly through the canyon and has little bit of a via ferrata kind of climbing but it is not difficult.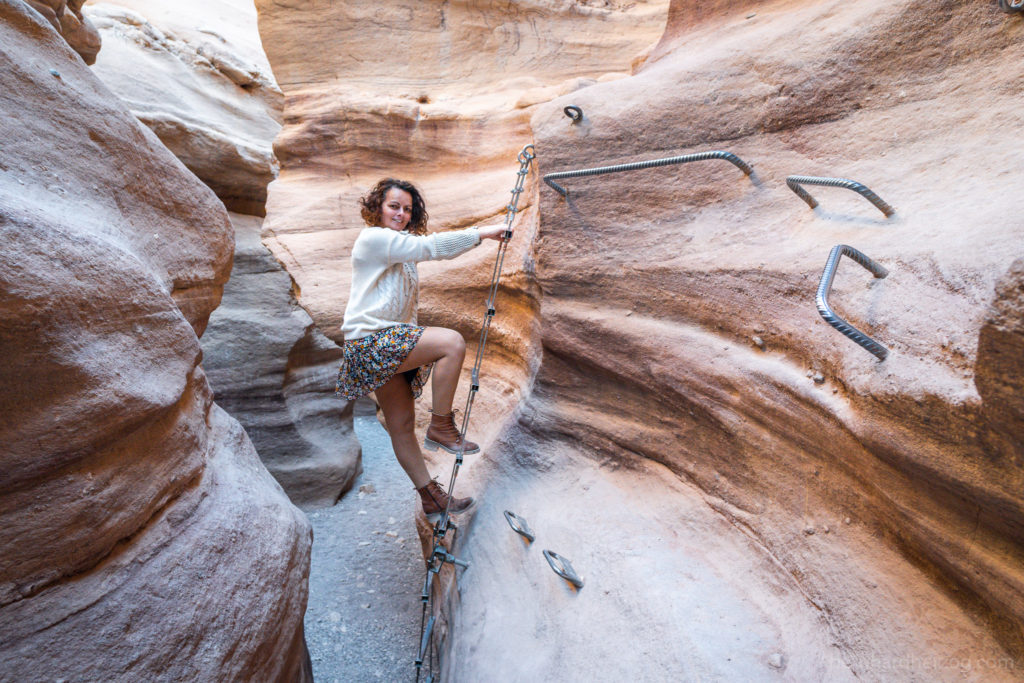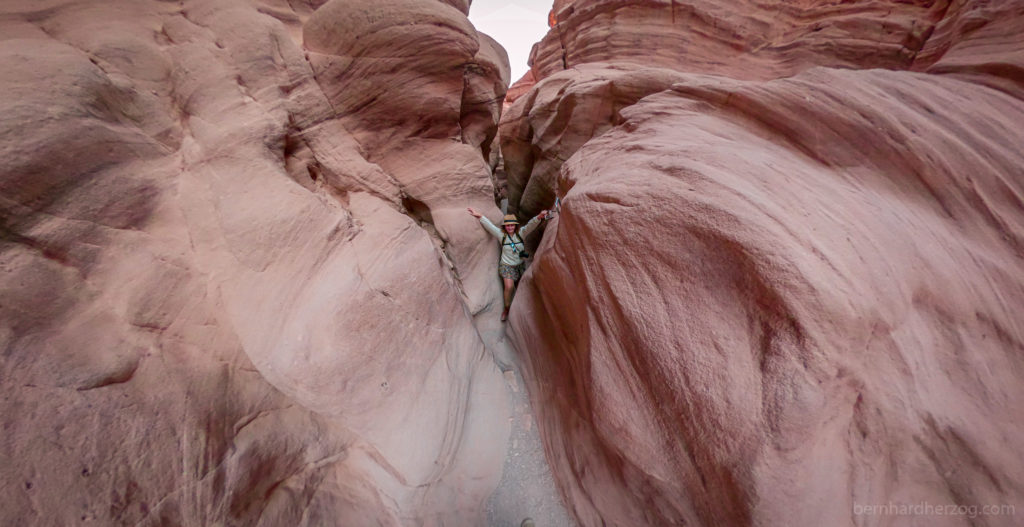 The black route is for going back.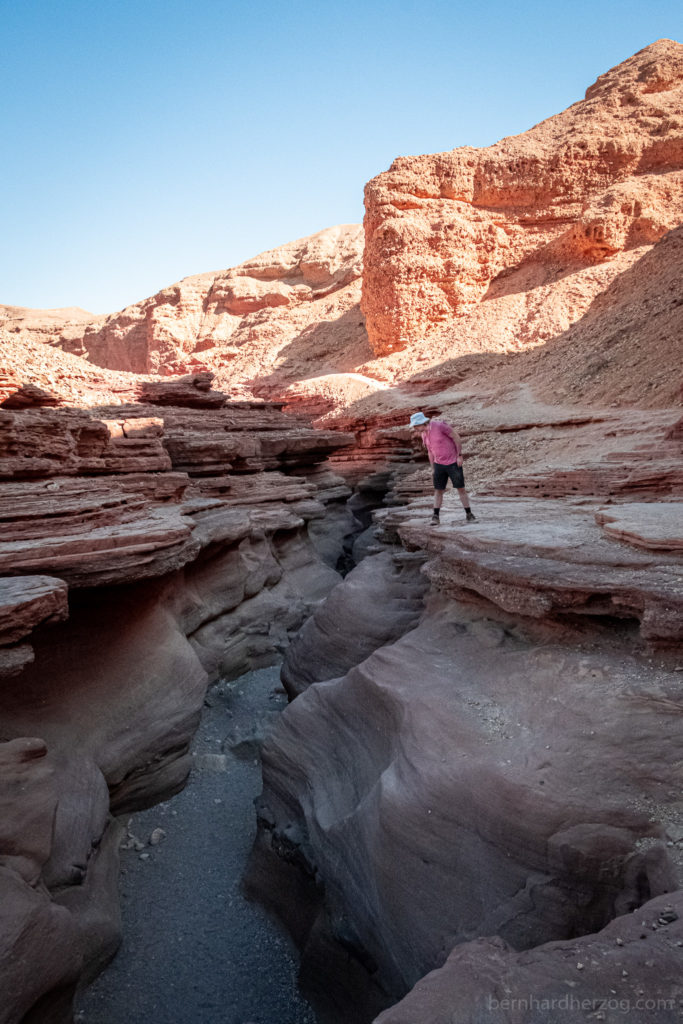 The blue route was not available when we visited.
The whole hike is not long I think it is not more than 2 hours with breaks maybe even less. You can continue further into the valley after the Red Canyon if you want but it is not as narrow and scenic anymore.
Timna Park
Timna Park is not so easy to go there with public transport and that's why we rented a car.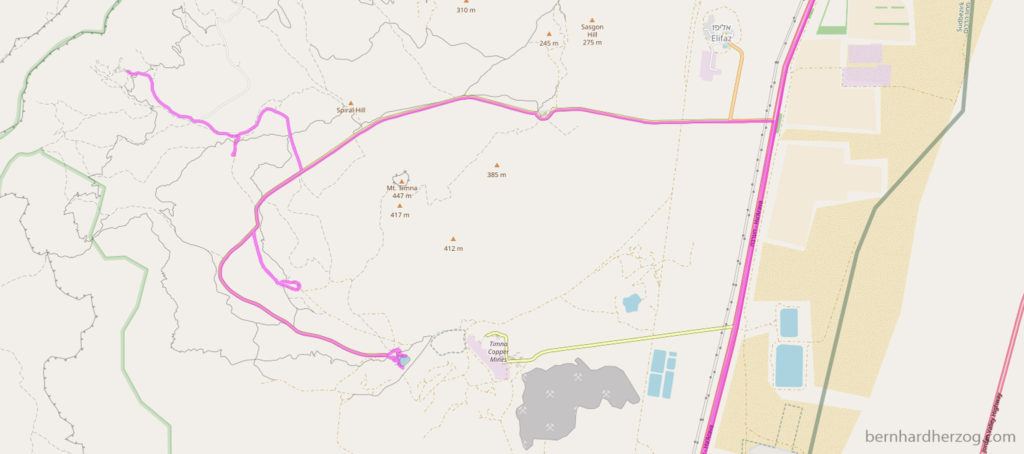 With public transport you would need to use the bus going to the dead sea and walk (or hitchhike) from the main road which takes a while until you reach the park entrance / reception. Also the park is huge and you would have to rent a bicycle (e-bikes are also available). Of course in summer there are maybe shuttle buses or you could book a tour but I think it is better to explore the park on your own.
The park is actually near the airport (on the other side of the valley) but there is no direct bus connection and also walking is difficult because there are many fences.
Going to the Park you drive along the border to Jordan this time. The road is very good almost like a autobahn (but speed limit is 90 km/h!). Don't make the mistake to follow the sign to "Timna", which is a copper mine before road to the park entrance / reception (we were not the only one to make the mistake to go there).
This is unfortunate, because next to the copper mine is the oasis and the restaurant with accomodations. But you cannot go inside from the Timna copper mines, you have to make a big detour to pay the entrance fee.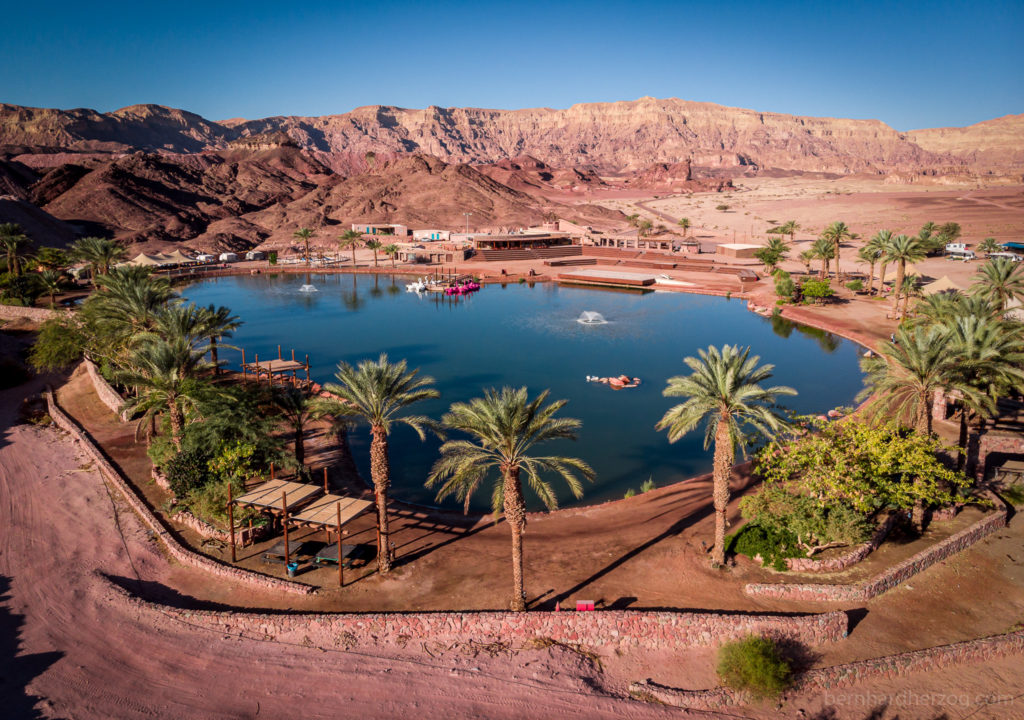 Our plan was to sleep in the park and rent a room or tent. This was because the park opens at 8am in the morning and closes at 4pm (in Winter) and we wanted to visit the park when nobody is there and get up very early to photograph.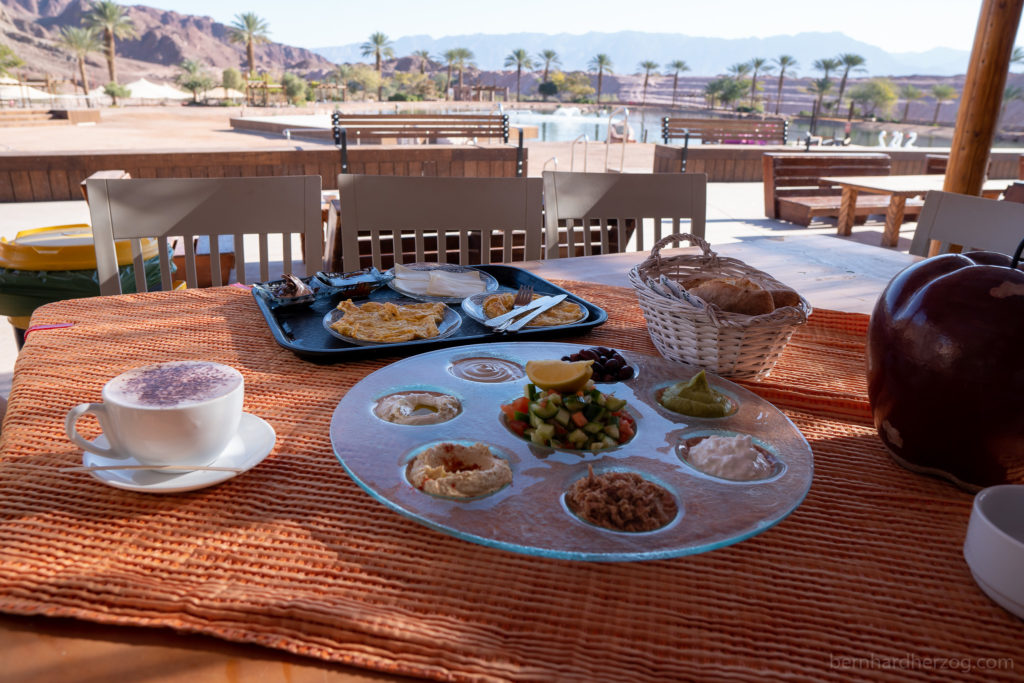 To make a reservation we would have to send our credit card details over E-Mail which we did not want to do because it is not safe. They told us they plan to support PayPal in the future. Fortunately there was still a caravan available for us.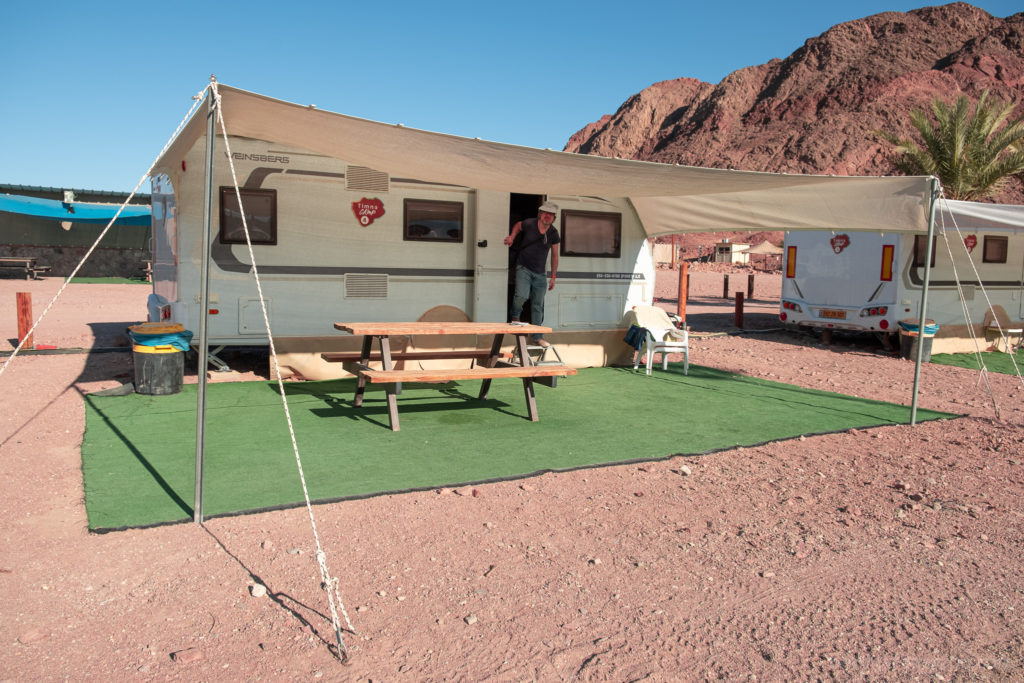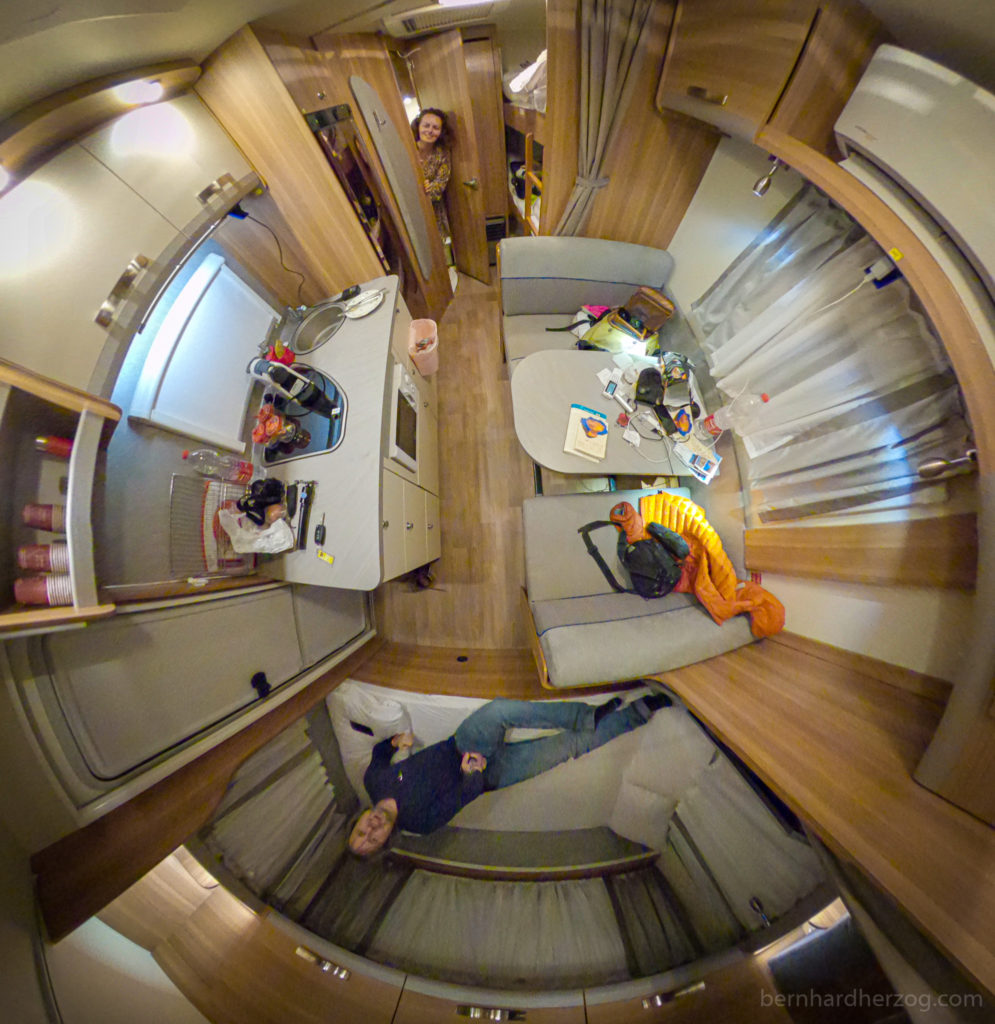 Renting a caravan/room/tent in the park is very expensive, but it is a once in a life experience (we payed 560 Shekel, i.e. 150 Euros with breakfast which was already a discounted price because they were repairing the rooms). The park is huge and very beautiful.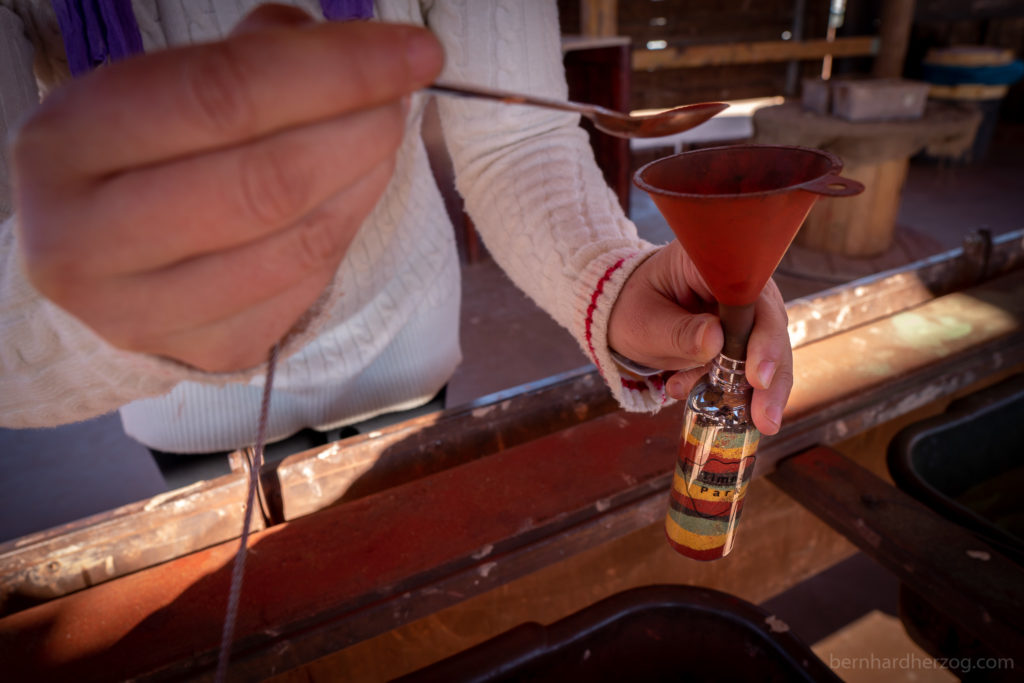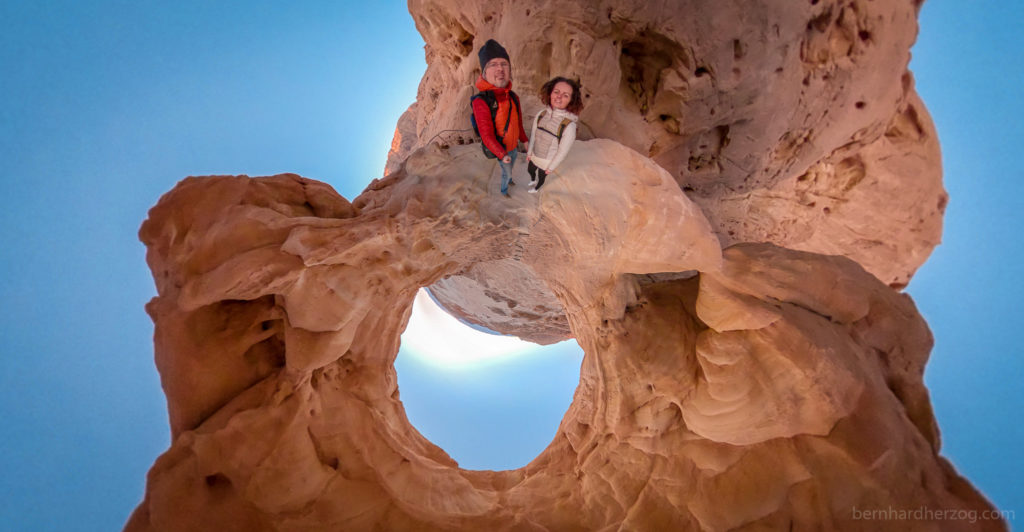 During the day it can get very hot in Summer so bring enough water (not so much of a problem during Winter).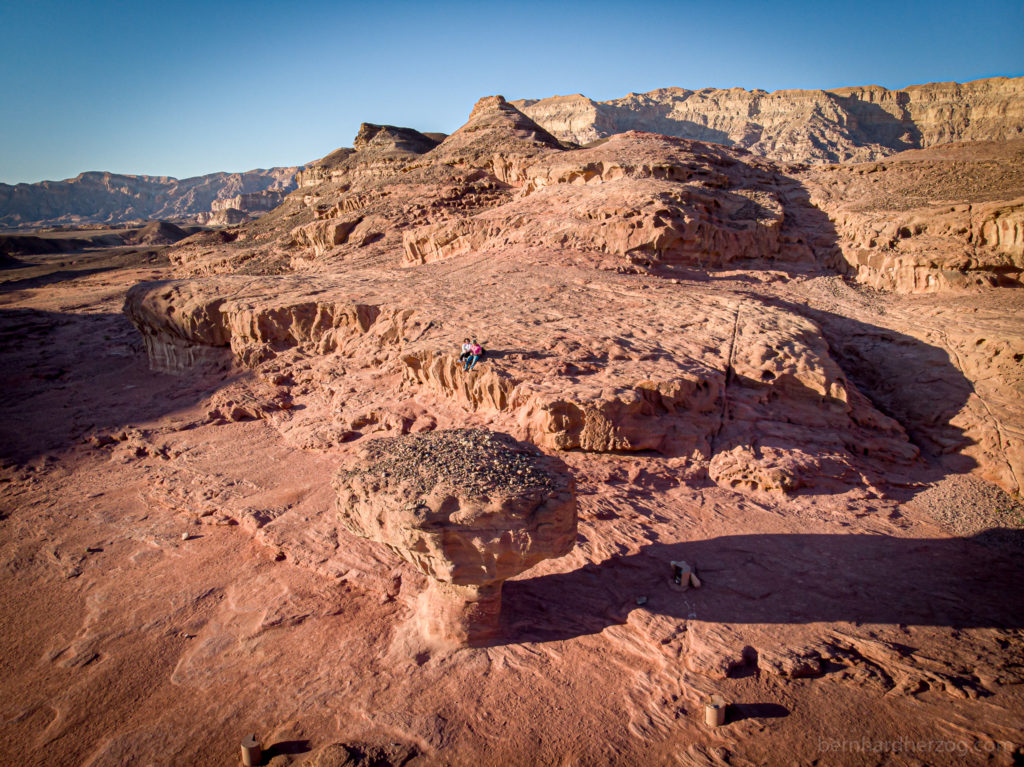 2. Dead Sea
After returning the car we went to the Dead Sea using the public bus. Google Maps works very well in Israel to see when the bus is coming and also if it is late.
There are not many resorts at the dead sea and usually they are very expensive. Basically we had the choice to go to Ein Bokek which is in the southern Dead Sea or En Gedi which is in the norther part.
The southern part is actually now an artifical lake, there is a canal from the northern lake that is opened to get new water. The southern part is more salty.
The northern part also has mud if you like that experience. The northern part has the problem of sink holes, i.e. holes opening in the ground making beaches inaccessible. That's why many beaches are closed and for example when you stay in the camp lodge you have to drive with a shuttle to a more far away beach.
Because we were using public transport and did not have so much time we decided to go to the southern lake to Ein Bokek. Ein Bokek is exclusively a tourist resort with big expensive hotel bunkers (we paid 460 Shekel = 123 Euros without breakfast in Hod Hotel). There is a mall but only with restaurants, it is not possible to buy groceries there.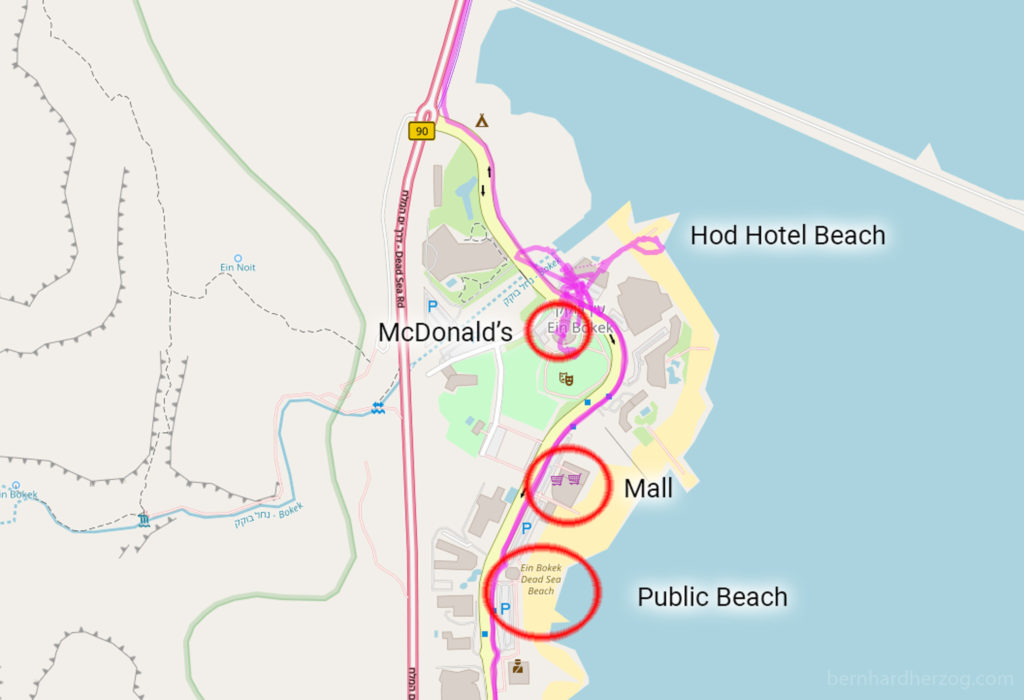 We finally went to the McDonalds in the middle of Ein Bokek and there is also a small Bistro where you actually see a price list before you buy (the restaurant in the shopping mall only has electronic tablets as menues). Forget the small supermarket in this building the prices are astronomical (only if you are starving).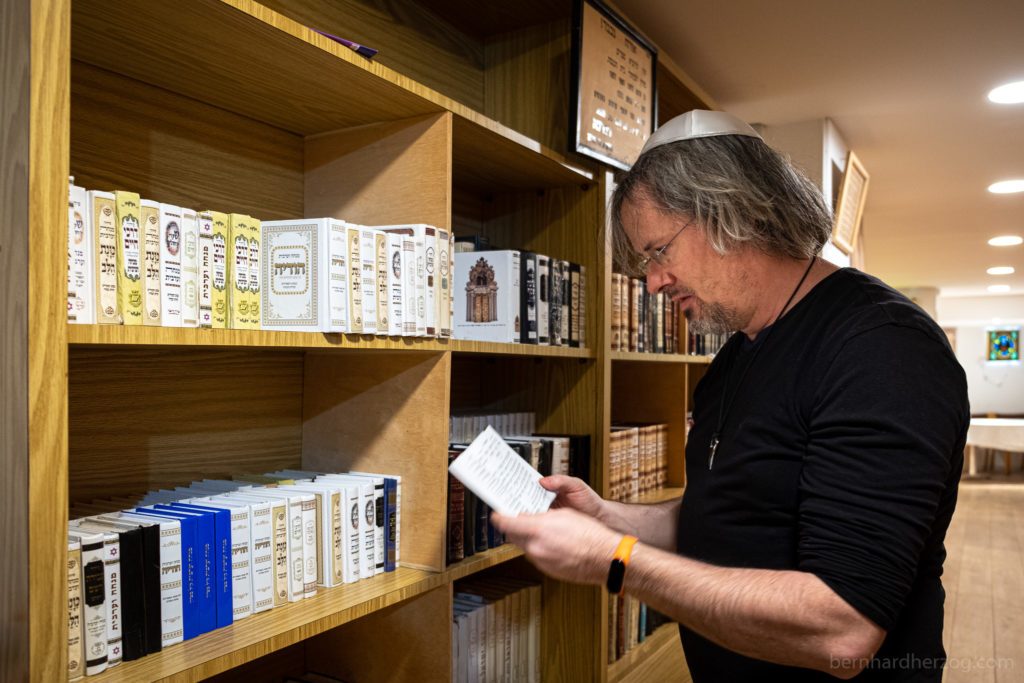 It is possible to sleep for much cheaper in a town like Neve Zohar but you have to bring your own food, there is no restaurant or supermarket at all and this is difficult if you don't have a car.
Ein Bokek
The main reason for us to go to Ein Bokek was because we wanted to visit the small salt island with the only tree in the dead sea. In our hotel we were able to rent bicycles (not very good ones, but they were working).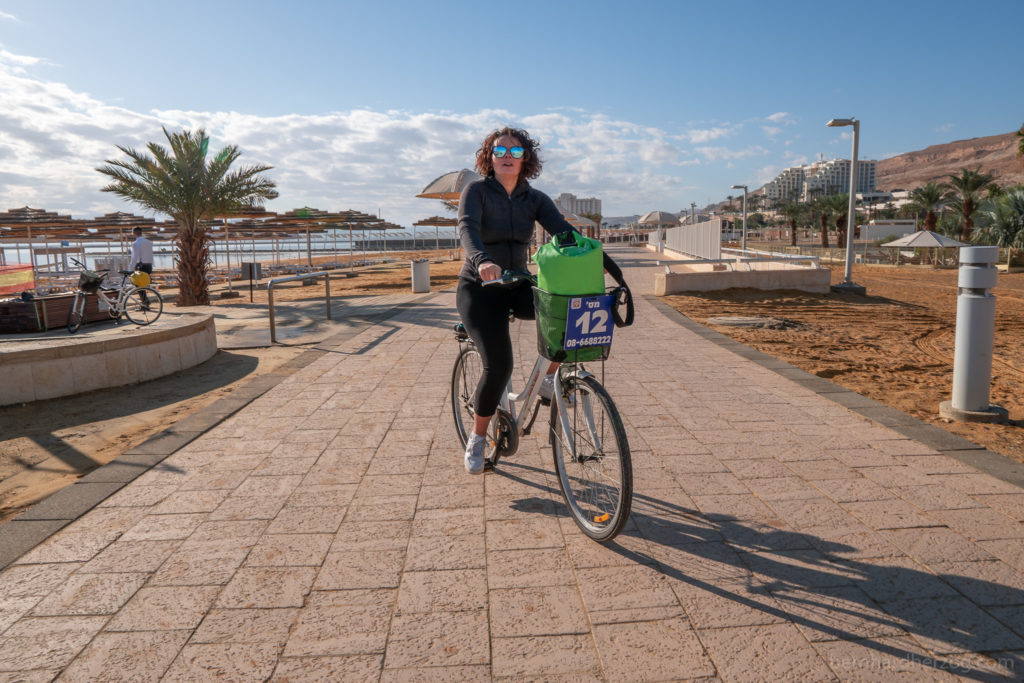 Every day a guy goes to this island to take care of the tree there.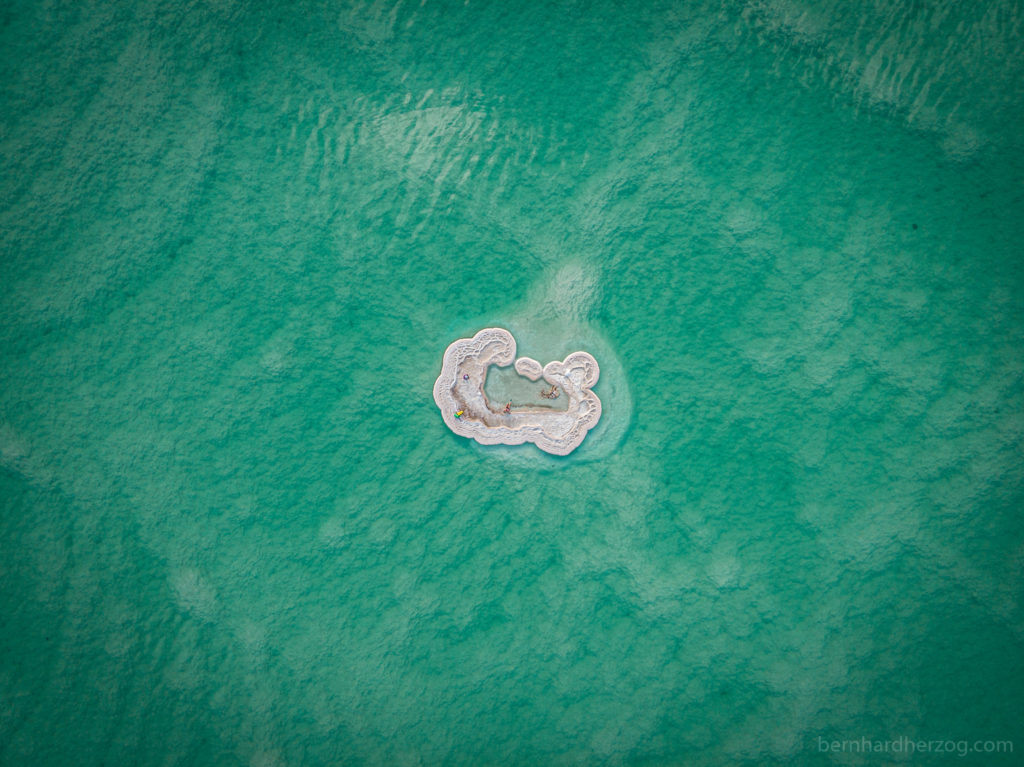 I recommend you to bring a waterproof bag to carry a towel your camera etc. Also bring water shoes or at least sandals because the salt is quite hard to stand on and can also be like gravel which is even more painful.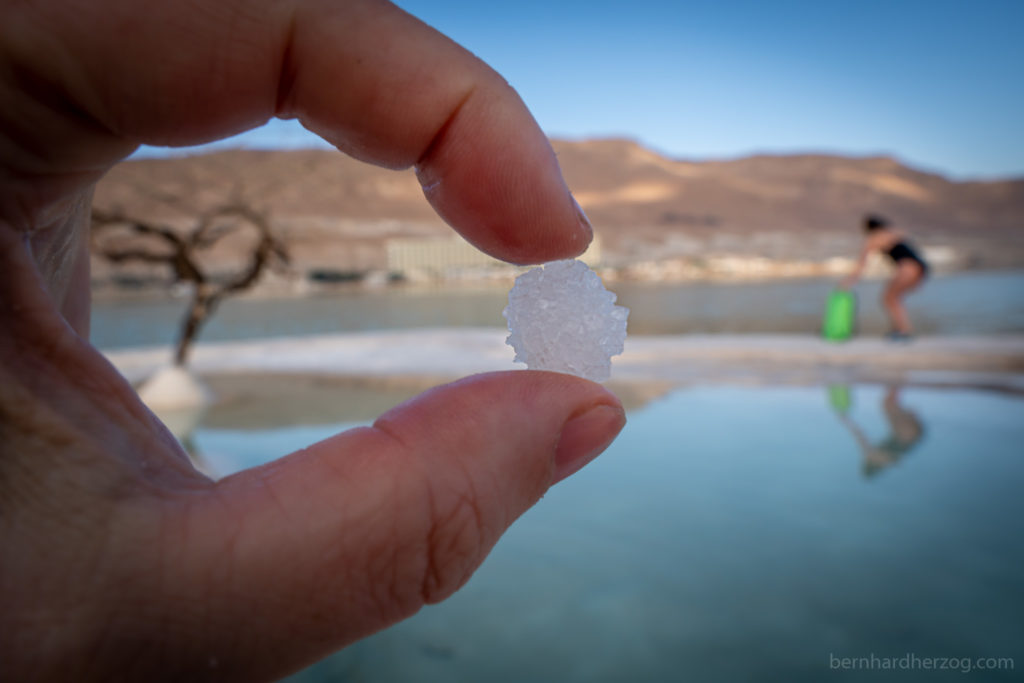 The best swimming technique in the dead sea is to sit down and slowly lean back, then swim backwards using your arms. Swimming breaststroke is difficult because it is hard to get the feet under water and if the salty water get's into your eyes and mouth in can get quite dangerous if you panic. But if you use the bag as a kind of pillow it works very well. Also if you have open wounds the salt water can burn on your skin.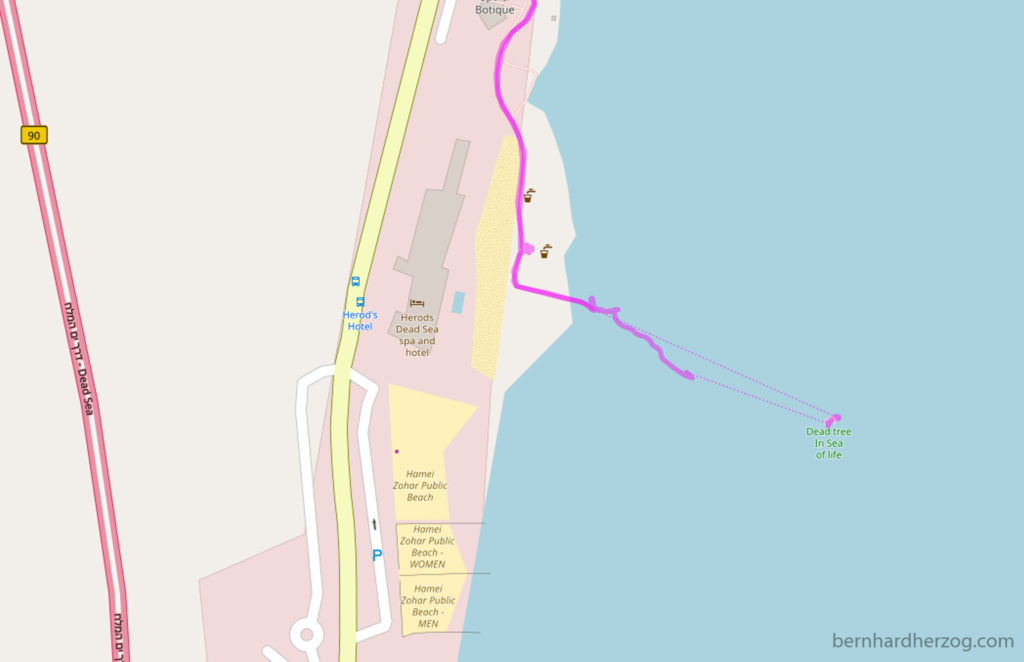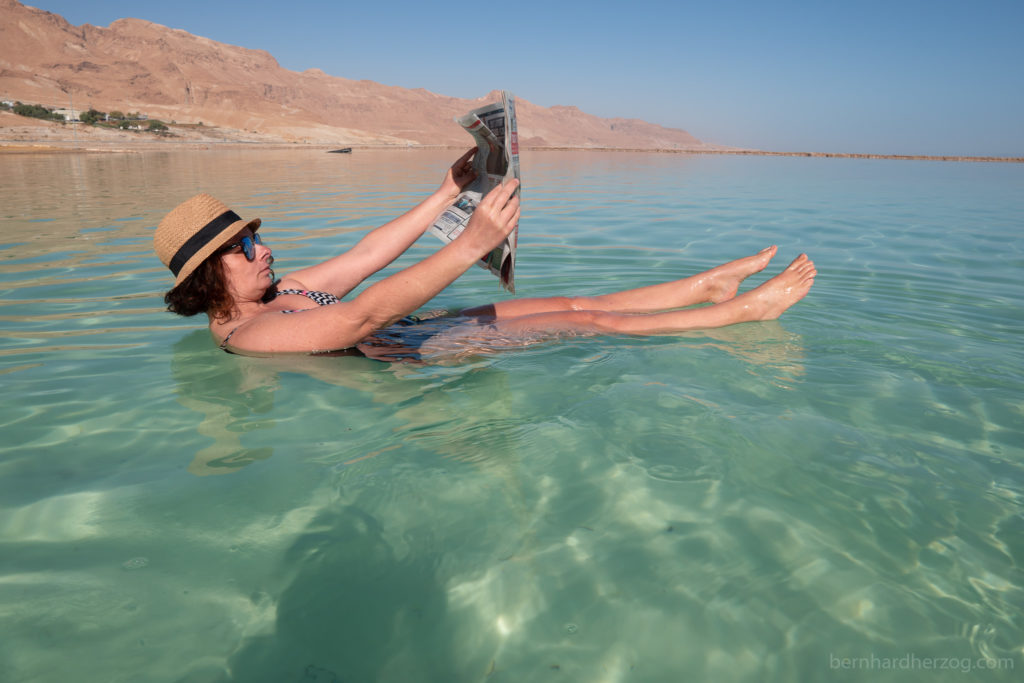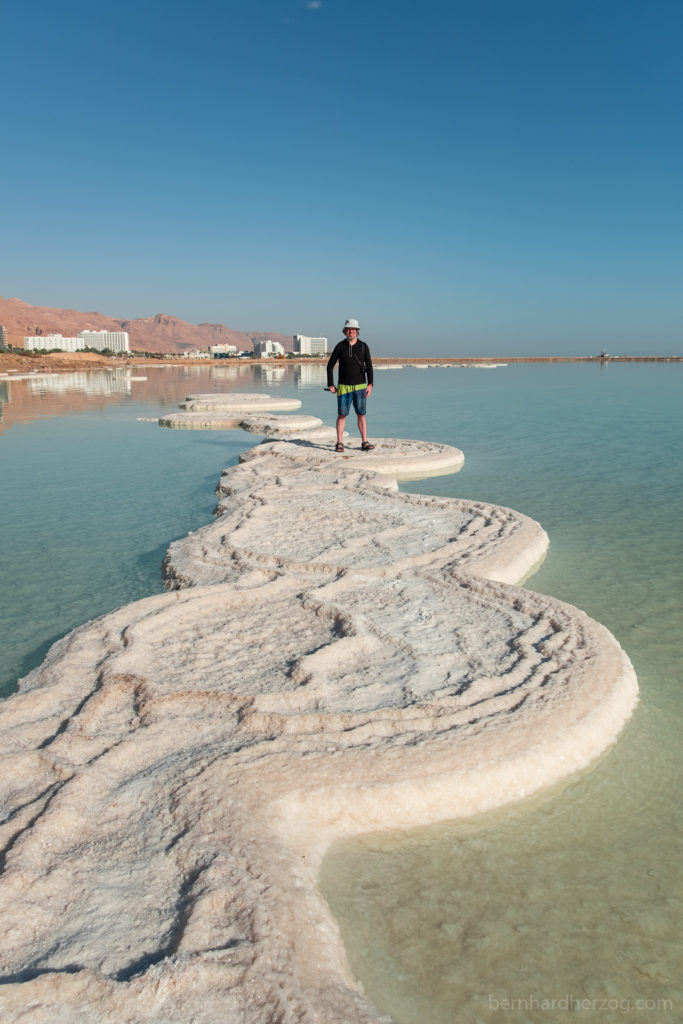 Masada
Masada is a historic site above the dead sea. The bus stops there. Also there are lockers to put your bigger luggage which was important for us because we wanted to continue to Jerusalem afterwards.
There is a cable car going up. Before entering the cable car you can see a film about the history of the site. About the history I am careful when I am in Israel because I can never be sure if Israelis (or Arabs) tell their own interpretation of history and try to proof that they have the right to be there. So I take everything with a grain of salt (figuratively and at the Dead Sea literally 😉 ).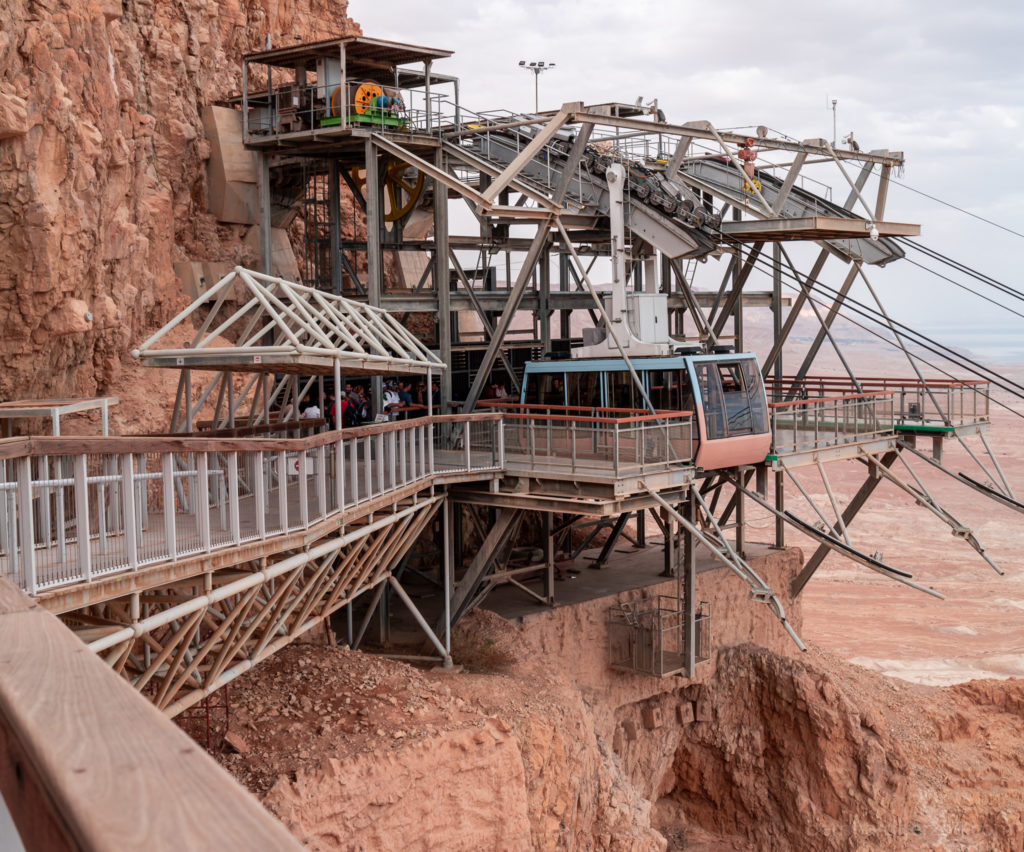 We decided to use the cable car just to go up and to walk down. In summer I would not recommend to walk up because of the heat.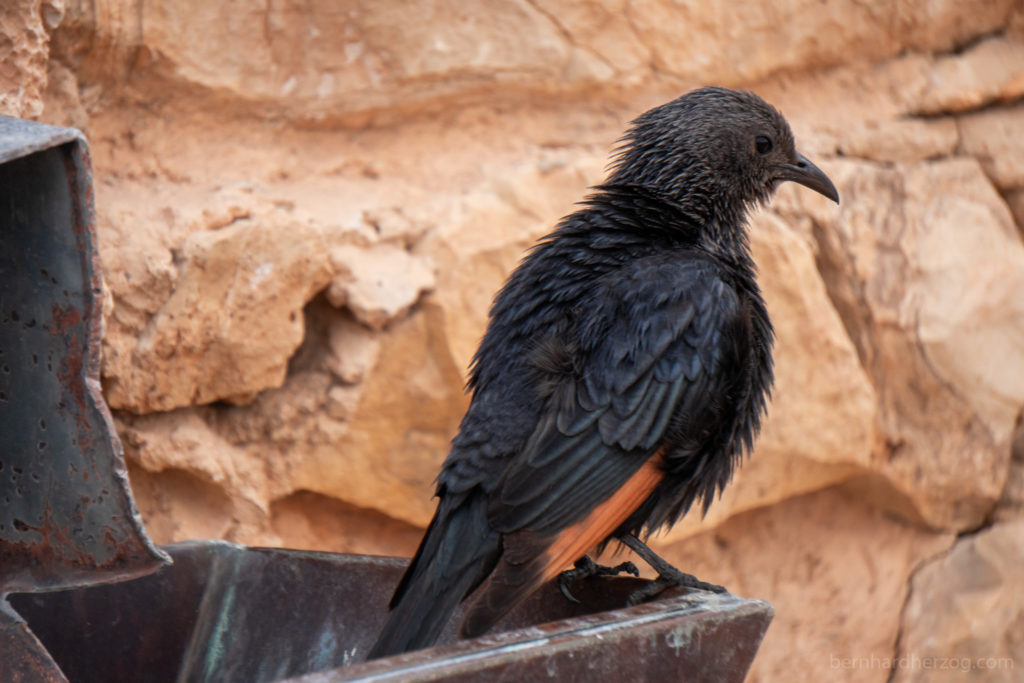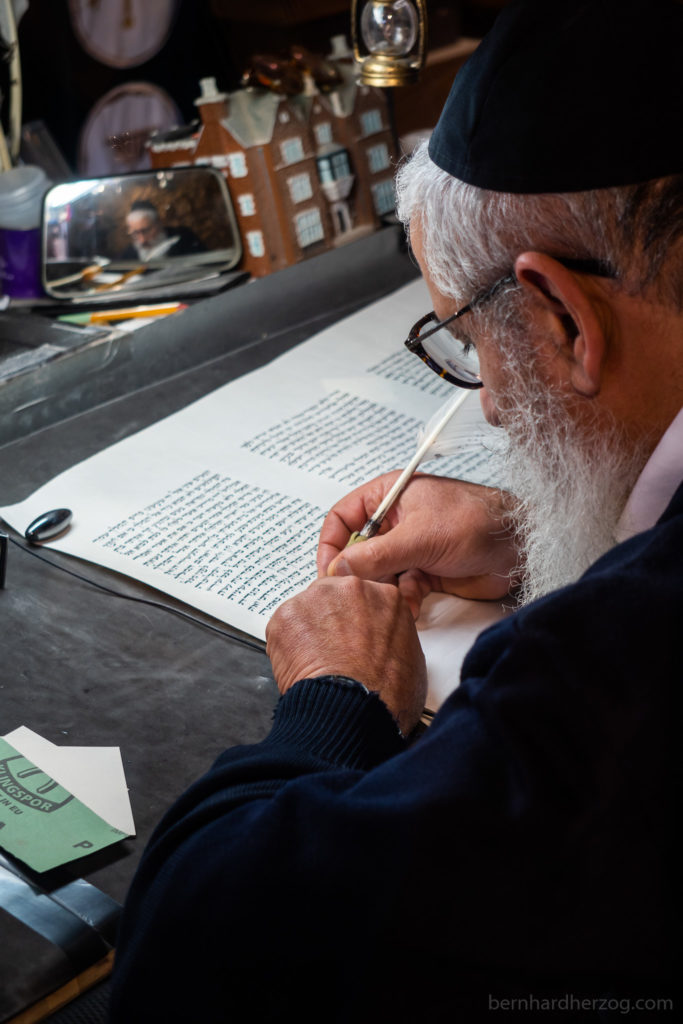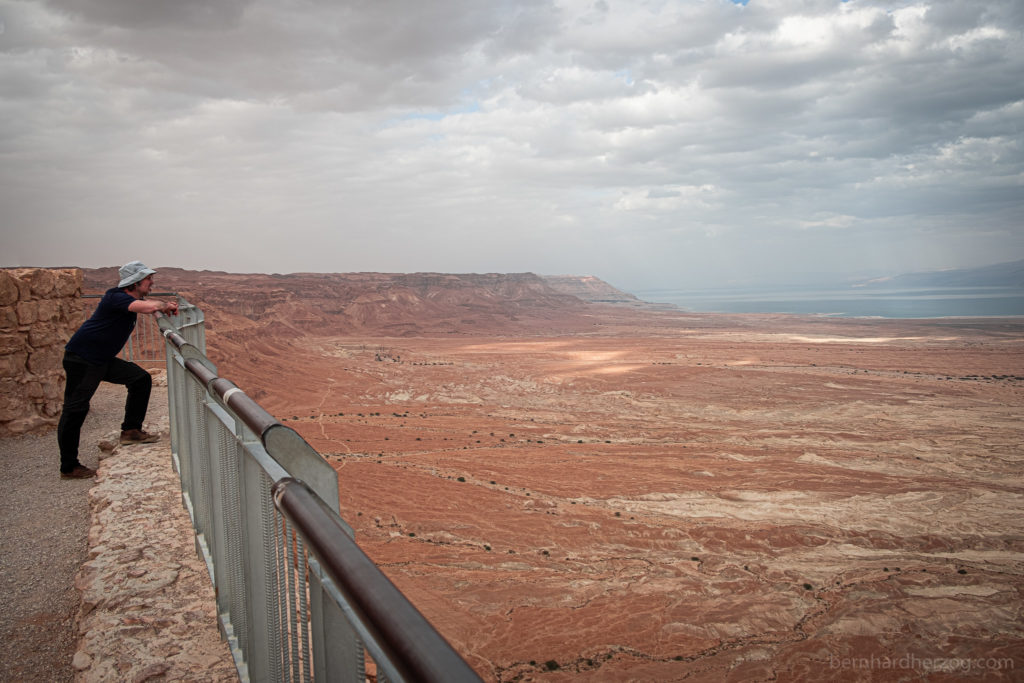 3. Jerusalem
The bus from Eilat to the Dead Sea continues to Jerusalem. It goes through the West Bank so it would have been possible to visit Jericho if we would have exited at Almog junction. But we decided to stay in Jerusalem and visit Jericho as a day trip so that we don't have to carry all of our luggage every day.
In Jerusalem there are many Orthodox Jews and they are more separated from arabic people. The main tourist attraction is the old town. It is a very important place for pilgrims from all major Abrahamic religions. The old town has 4 quarters:
the Muslim Quarter,
the Christian Quarter,
the Armenian Quarter and
the Jewish Quarter
Usually you will enter the old town from Damascus gate and be in the Muslim quarter first. It is beautiful but you also will see some Israeli flags and get a taste of the conflict that is going on about who owns Jerusalem.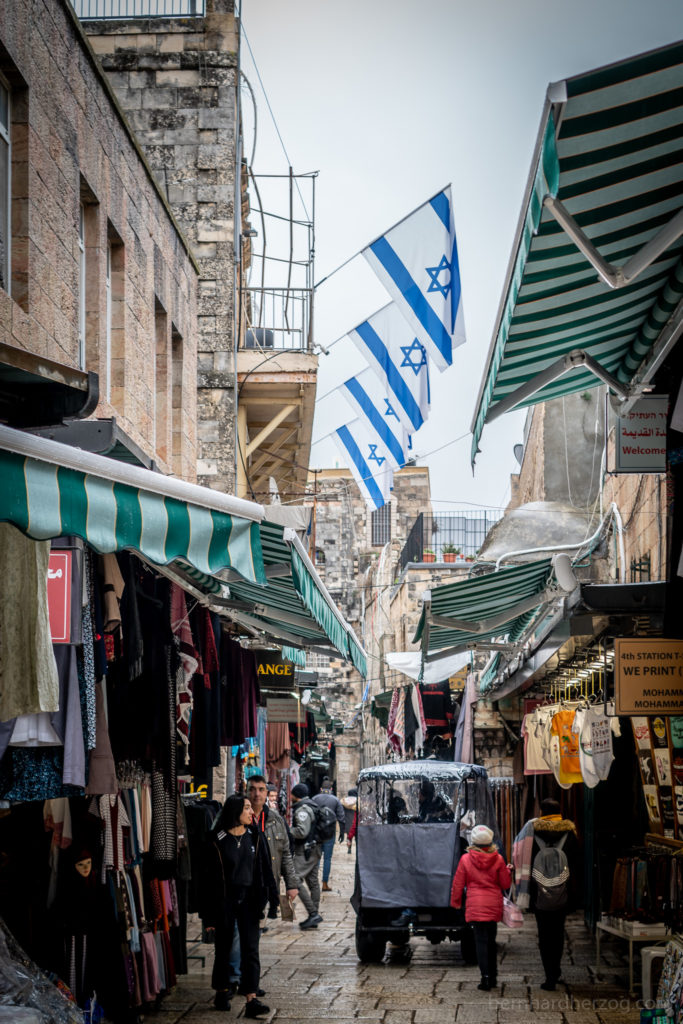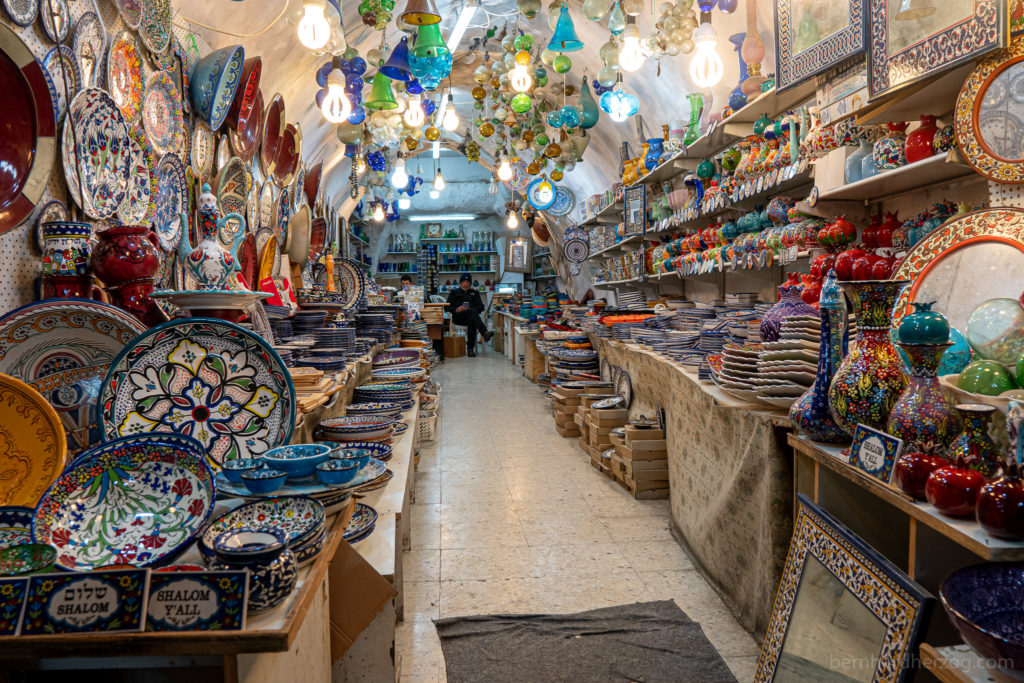 The main attraction in the old town is the Western Wall where Jews come to pray.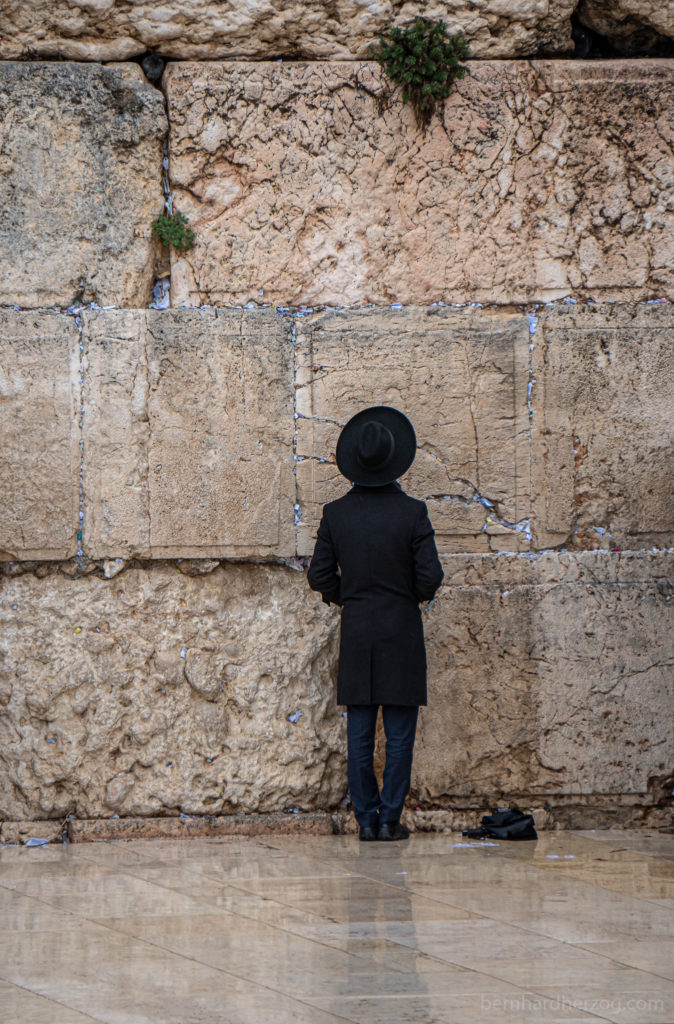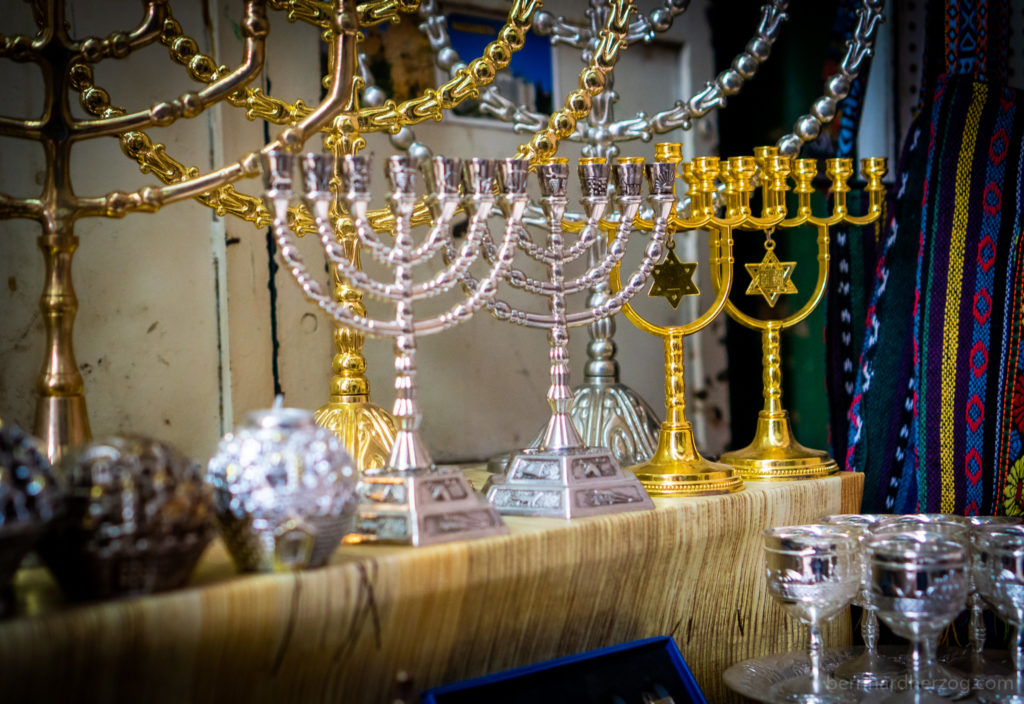 For the muslims the most important sight is the Al-Aqsa Mosque which is right above the Western Wall. Unfortunately for tourists not of the muslim religion it is only accessible from Dung Gate and we where too late when we went there. Security is very high around the Western Wall and it takes a lot of time to get through this area, also because of the many tourists and pilgrims.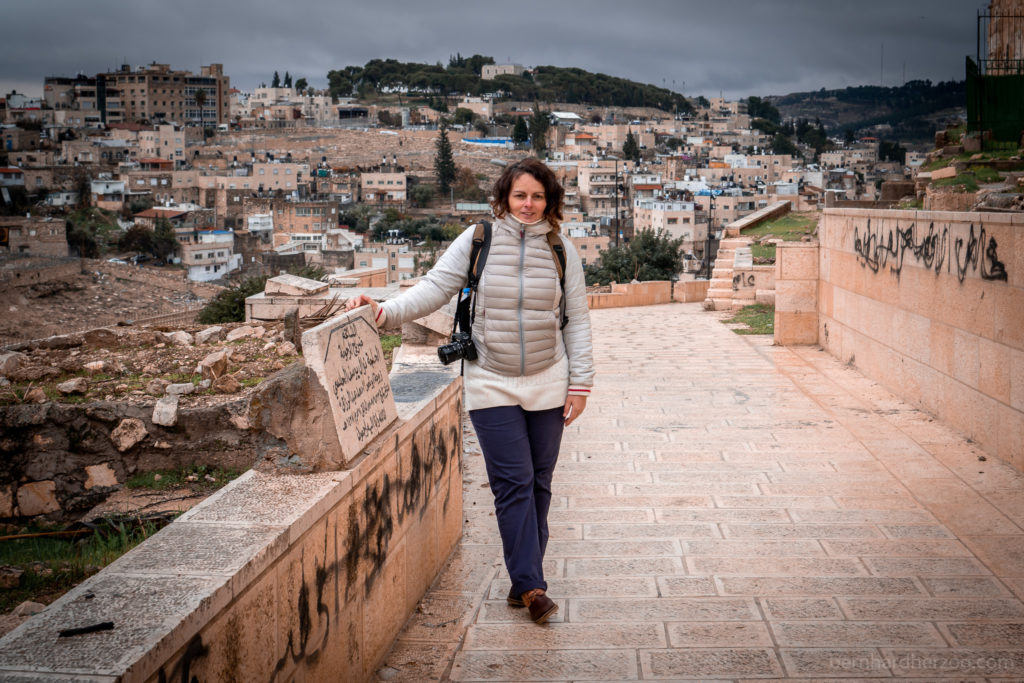 For Christians there is the Church of the Holy Sepulchre. It is much easier to go there because there are no security controls. You will see pilgrims carrying a cross through the old town and the Via Dolorosa to the church.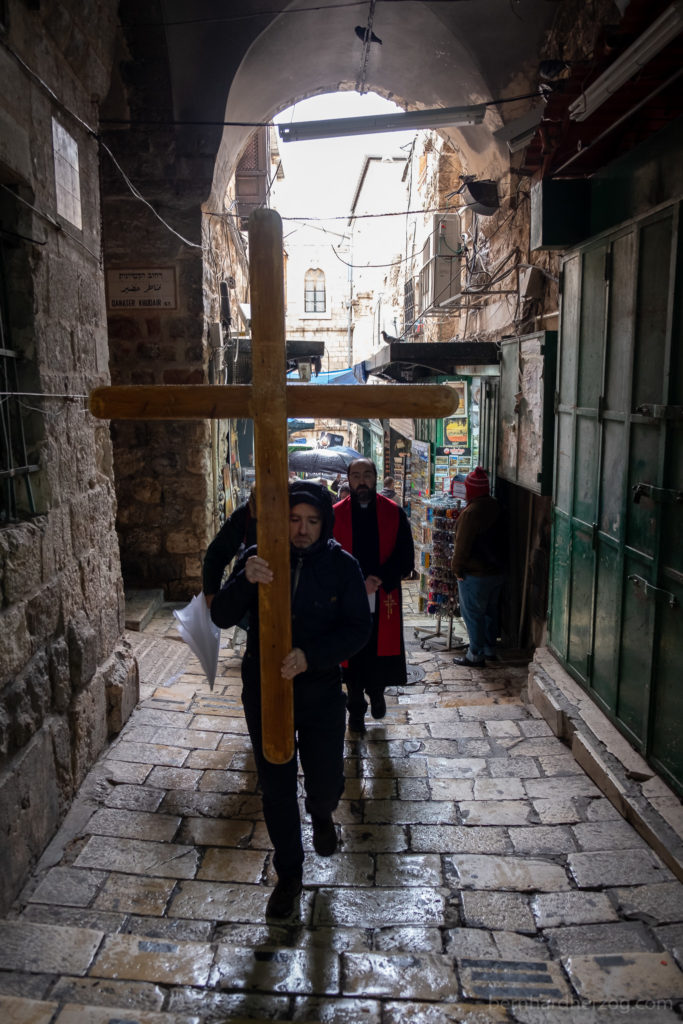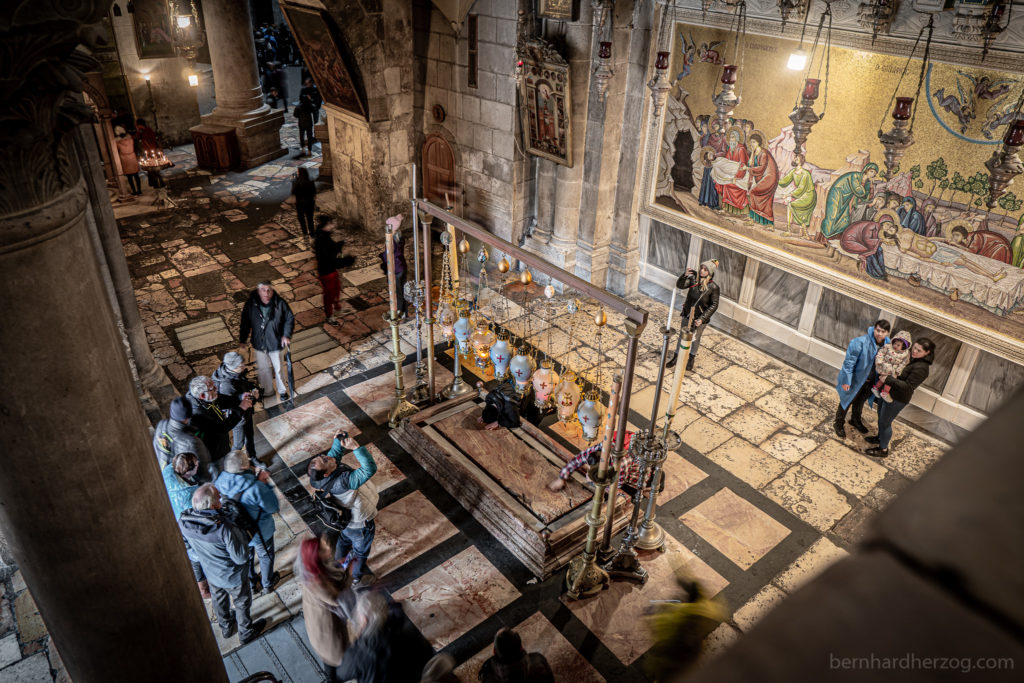 We stayed near Yehuda Market. This place was crazy with young jewish people having fun (before Shabbat?).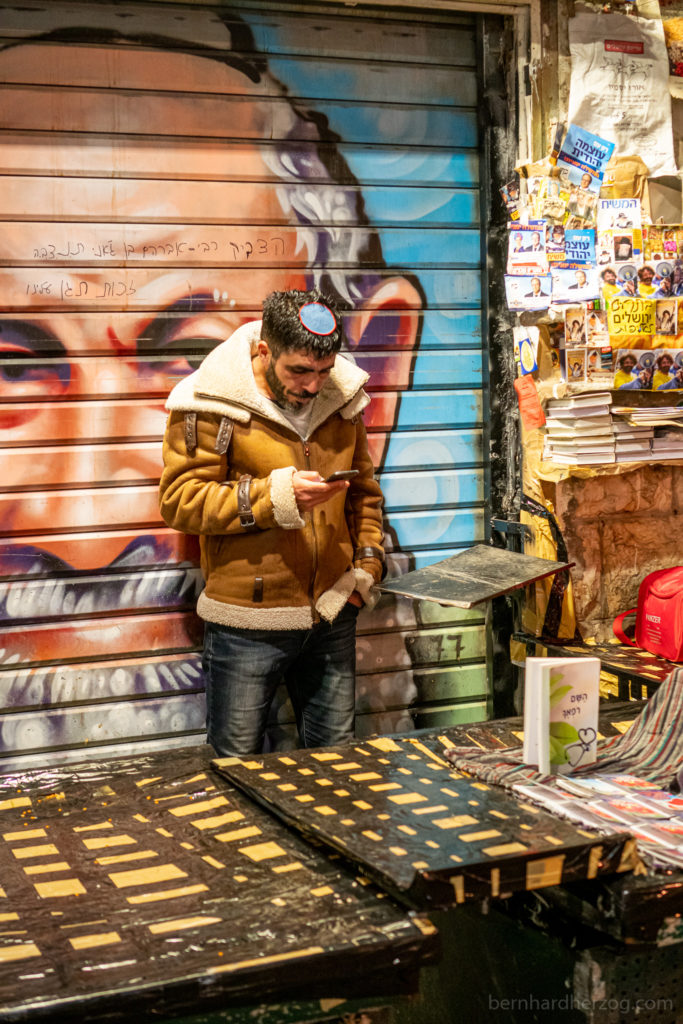 It is very common in Israel to see young people carrying their gun. Men have to serve 3 years and women 2 years in the army. They always have to carry their weapon and never leave it out of sight.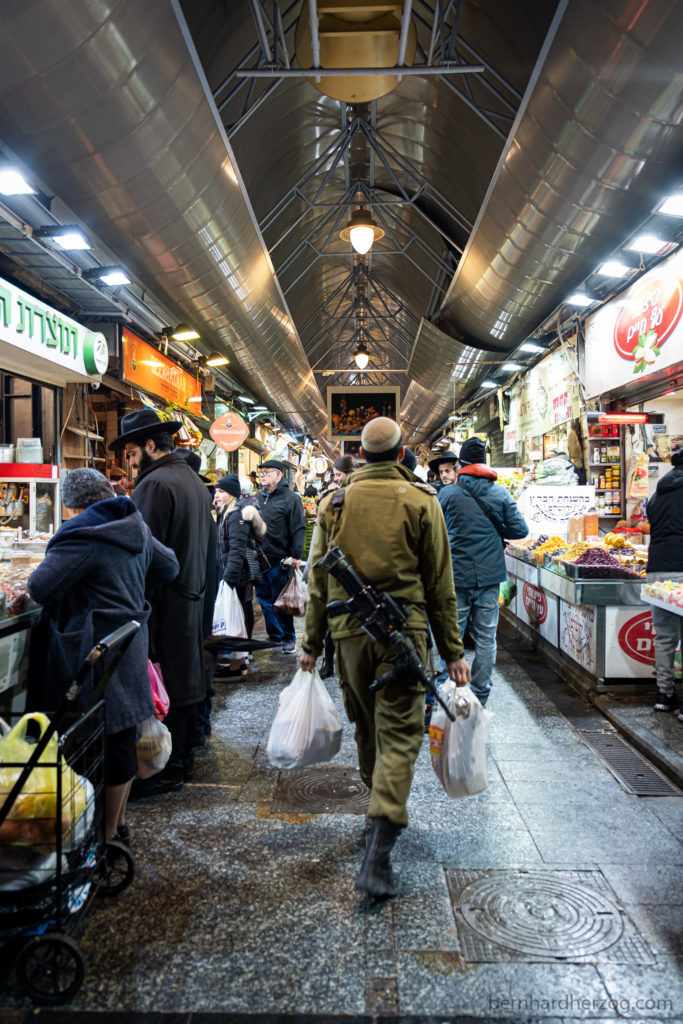 4. Jericho
Jericho is a Palestinian city in the West Bank. It has beautiful Greek Orthodox Monasteries up in the mountains.
To go there I think the best way is to go with a bus to Bethany (Ezariya) from the Arab Bus Station near Damascus gate as described on Wikitravel. It is not the one that is near the tram, it is another one, ask a local on how to get there.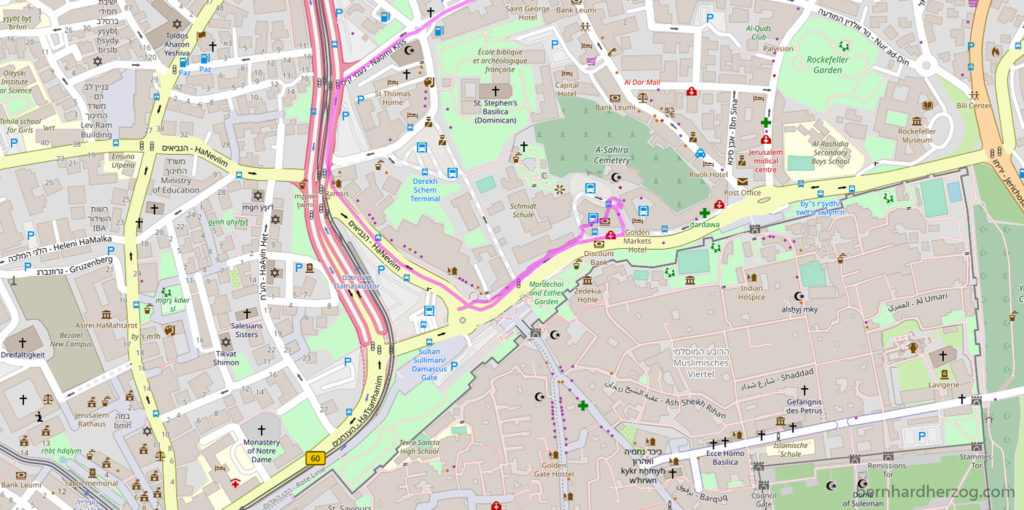 From Bethany you can take a shared taxi to Jericho which was 12 Shekel for one person (for 20 Shekel per person he drove us to the cable car which is a little bit too much I think). There was no passport control for us when we went there which was nice.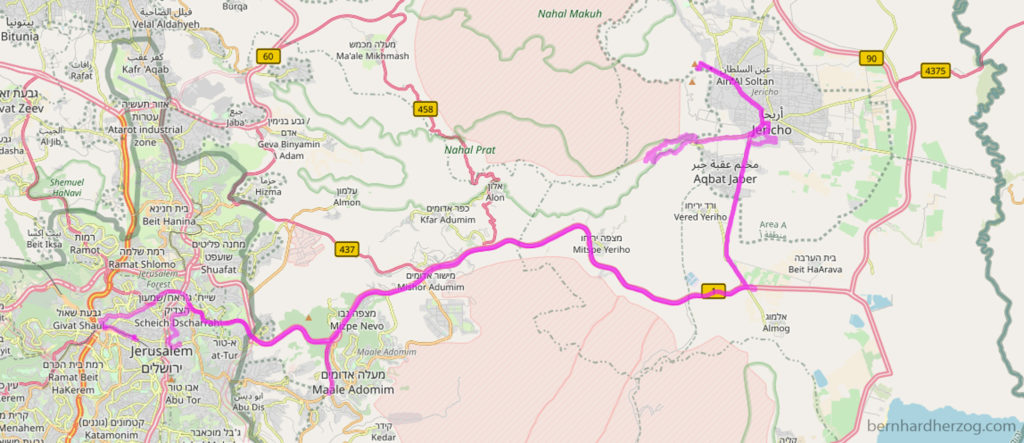 You could also go to Ramallah or Betlehem first but this would be an unnecessary detour. The best thing you can do is to tell the bus driver that you plan to go to Jericho ("Arīḥā"). He stops before Bethany where the Sherut are already waiting and shouting "Arīḥā".
To get out from Jericho to Jerusalm I think the easiest way is to go to the shared taxis in the city center. Ask them to take you to Almog junction where you can wait for the Israeli buses coming from the Dead Sea and going to Jerusalem. First they asked us for 15 Shekel per person because the Sherut was empty but it was a very short ride and when I complained they gave us back 5 Shekel per person.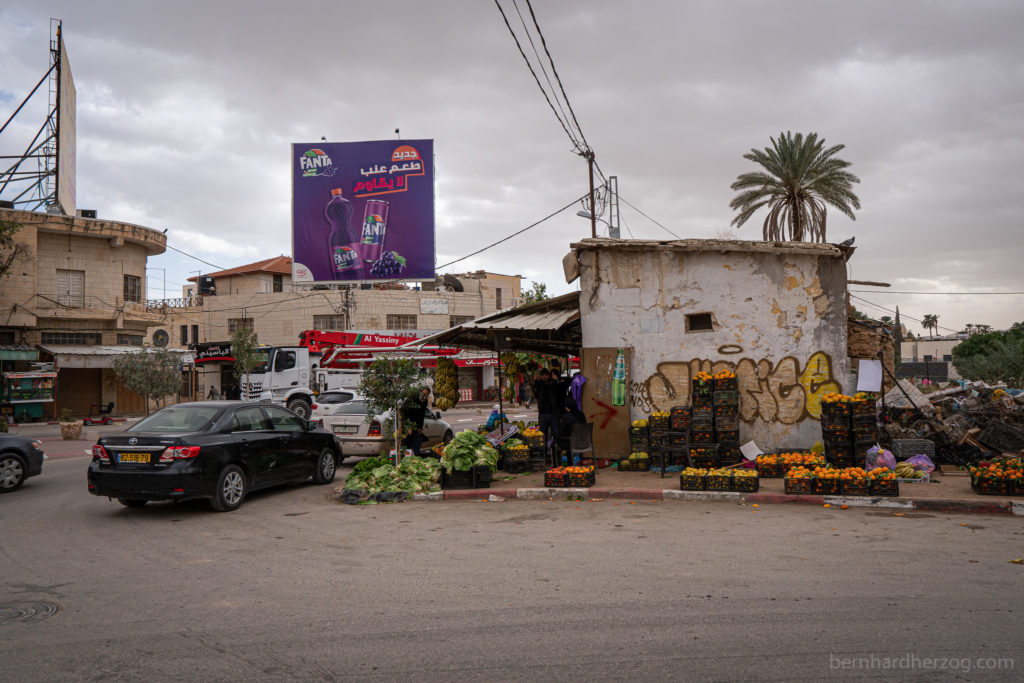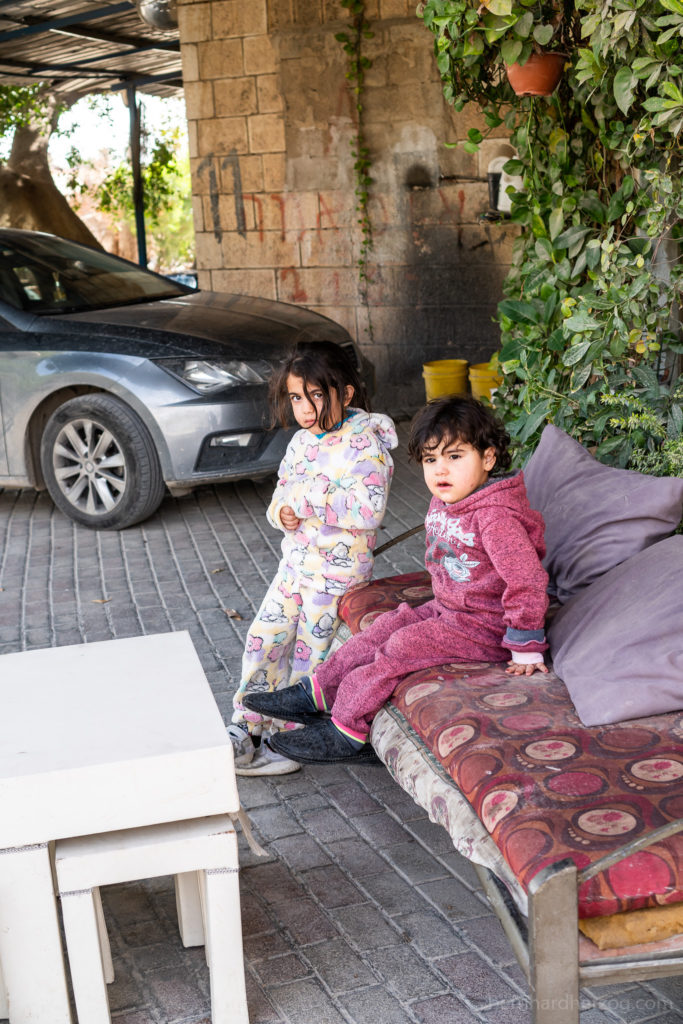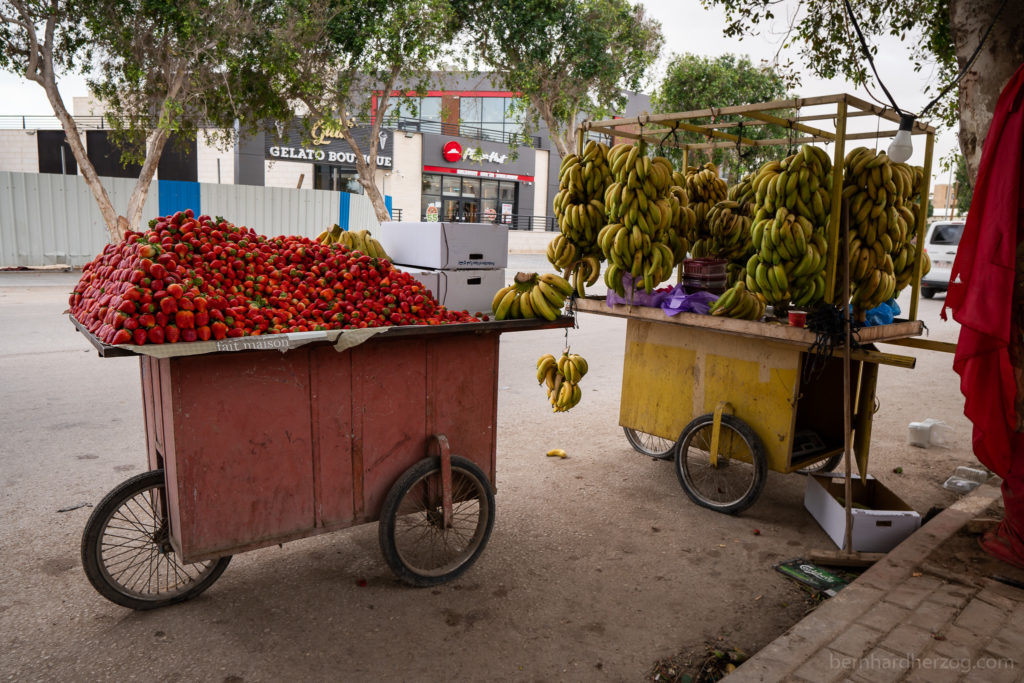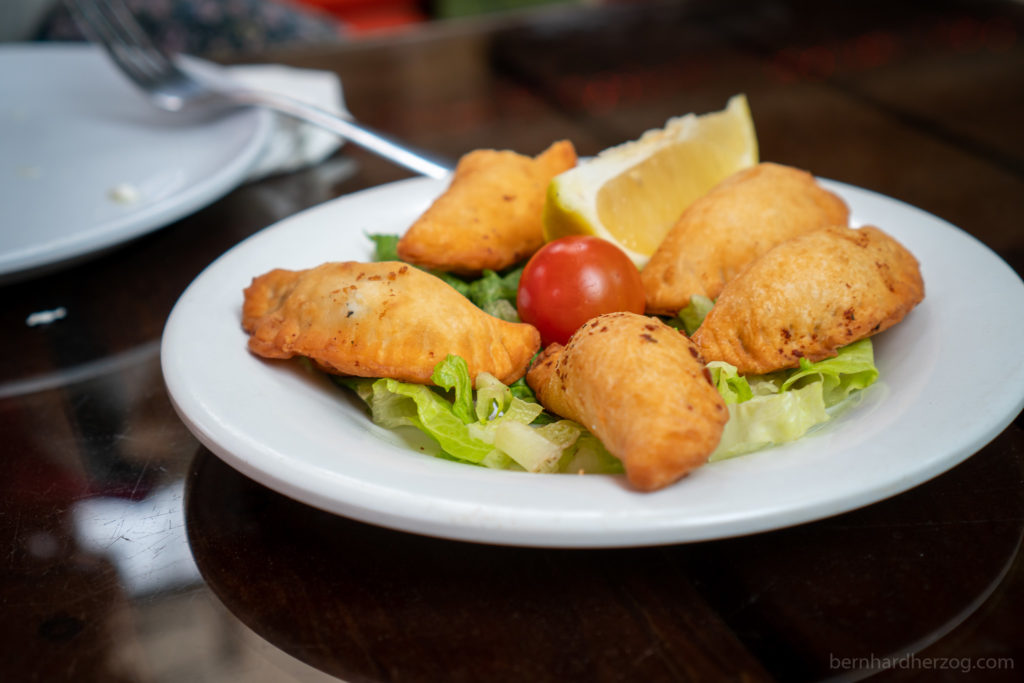 St. George Monastery
This sight is a ca. 1 hour hike to go there and I think the most beautiful place in Jericho. We just made the mistake to first go to the cable car and the Mount of Temptation so we did not have so much time anymore. You will usually get lots of offers of people wanting to drive you there for "ridiculous" prices but the hike is much more beautiful.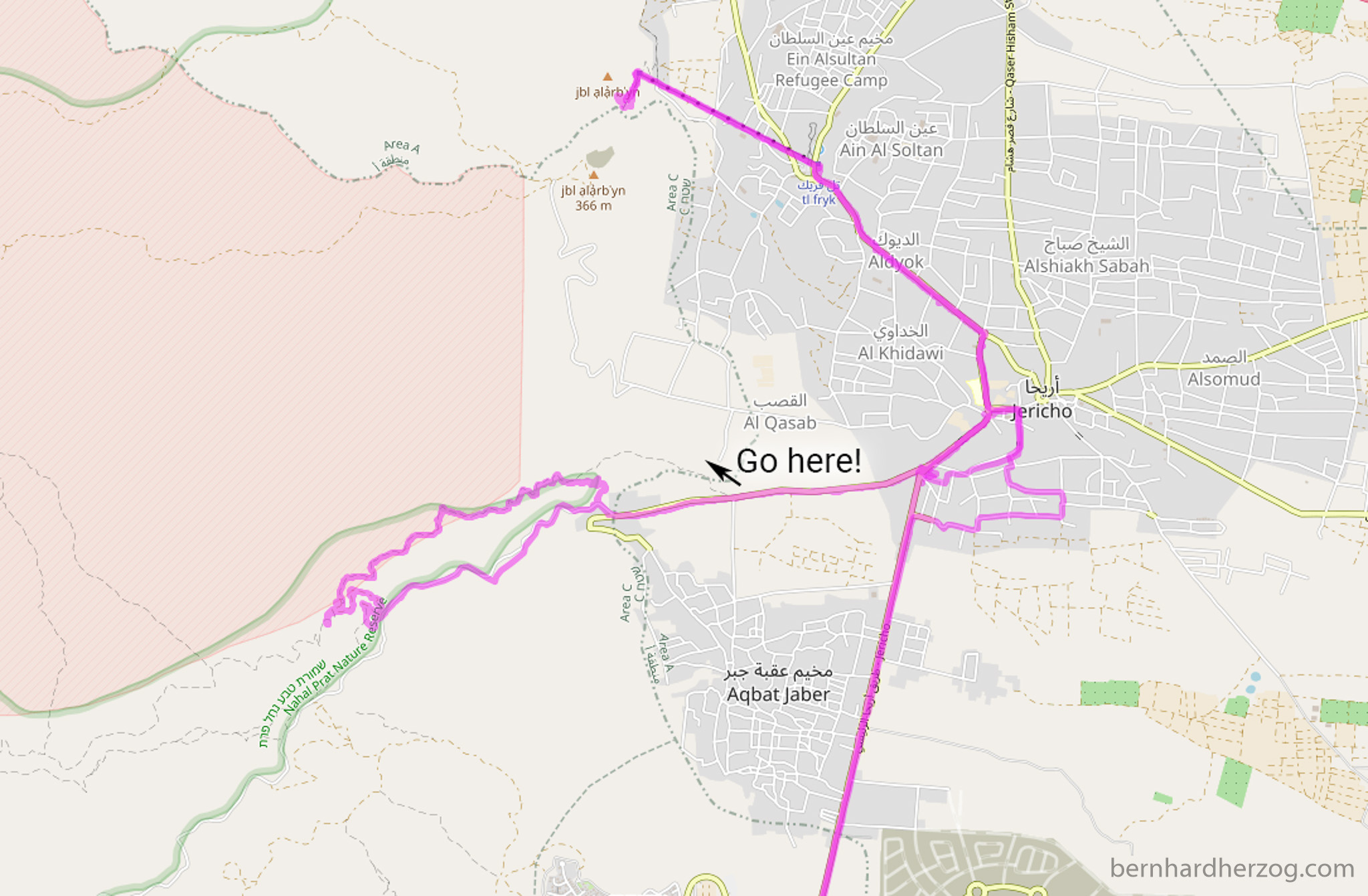 To go to the hiking path to St. George's Monastery you should not go all the way to the settlement at Wadi Qelt as we did but instead turn right at the sign that says "Herod's Palace". There is a beautiful hiking path on the right side of the valley.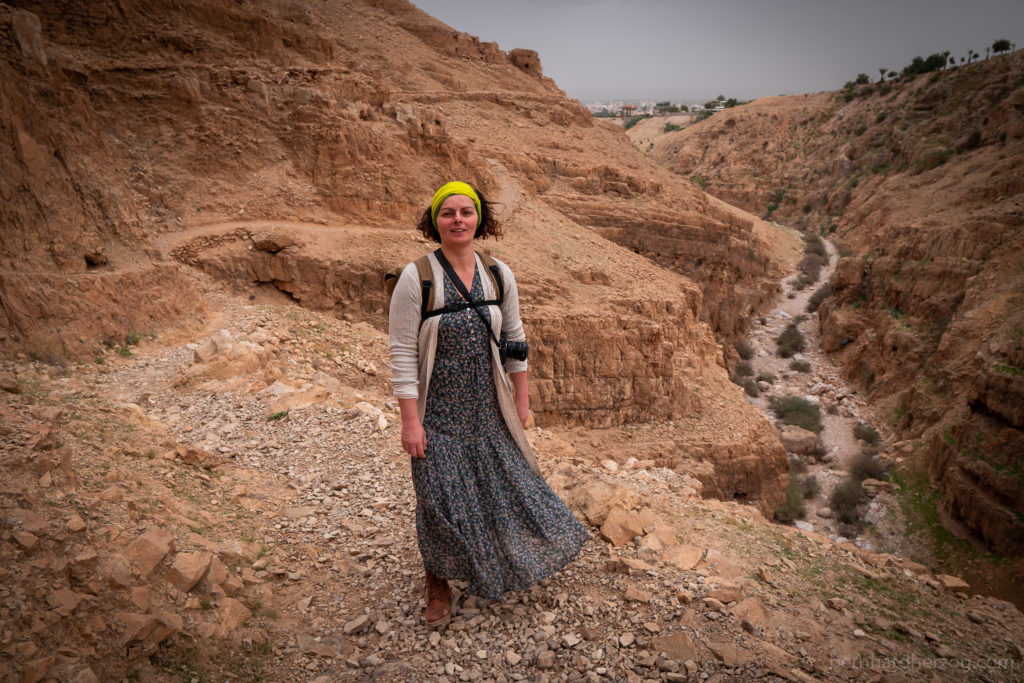 In the middle you will pass by a Hermitage until you arrive at the monastery.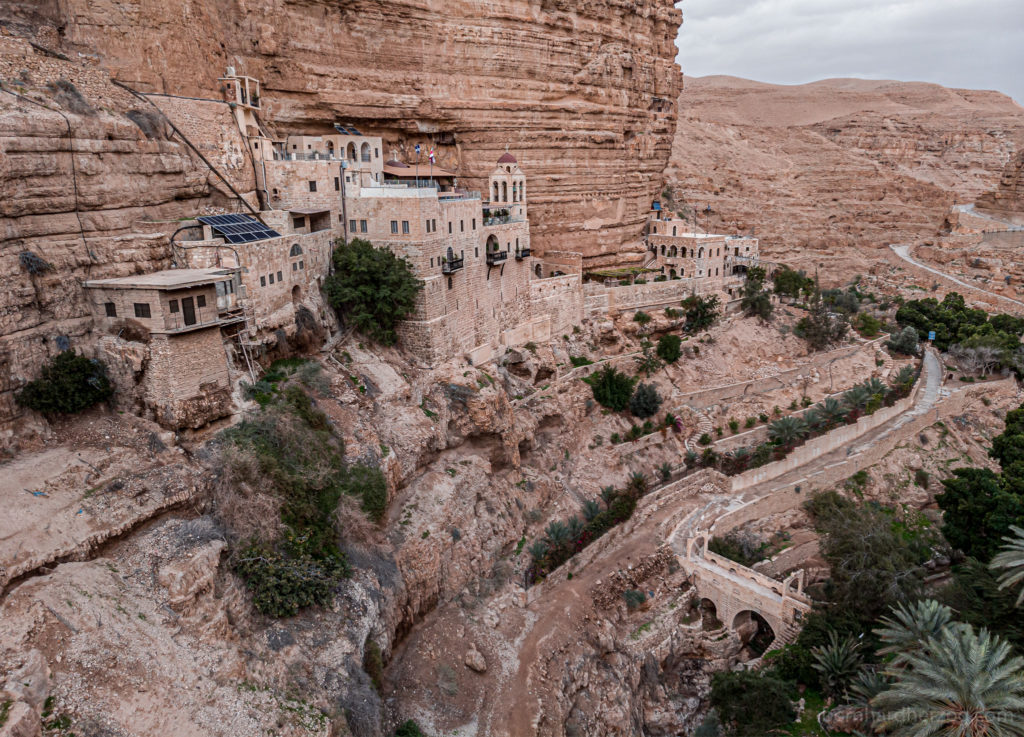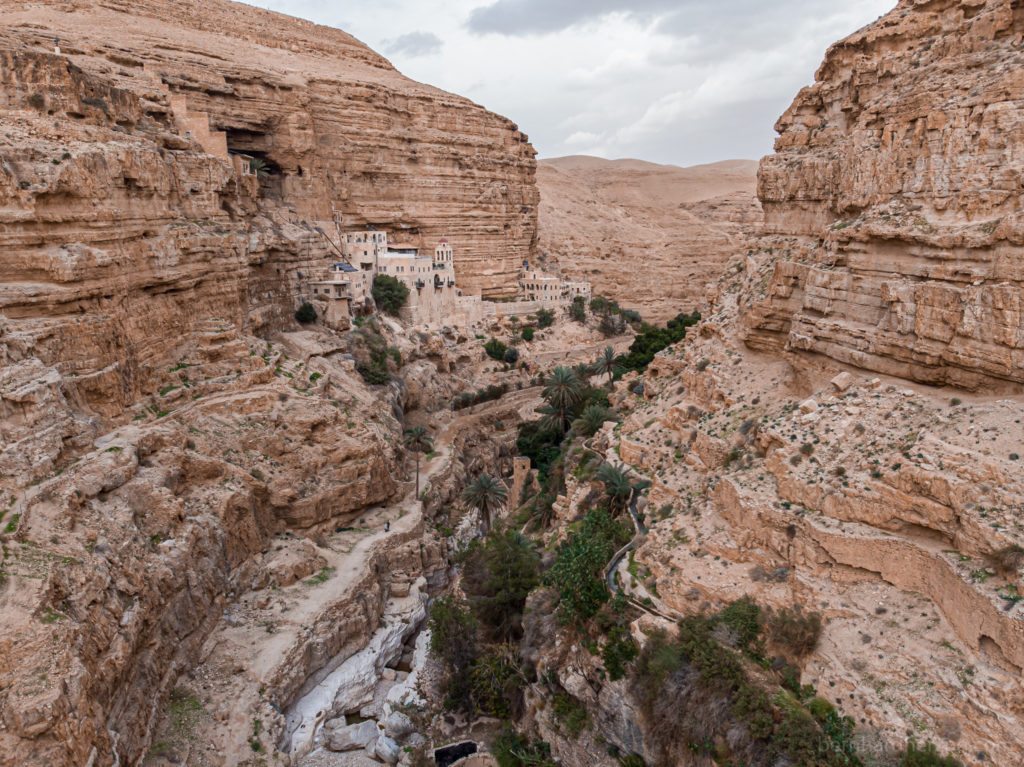 We went back up to the road and hitchhiked which worked well (the first car stopped and nobody killed us).
You will see lots of fences in this area I think this is because this is the border to "Area C" in the West Bank (Jericho is "Area A"). This area is also home to Israeli Settlers. The settlements are considered illegal in the international community. We actually saw some Jews near the viewpoint to St. George's monastery (they had Kippas).
Mount of Temptation
This monastery is much easier to access because of the cable car (which was built by an Austrian-Swiss company) and therefore there are more tourists and pilgrims there.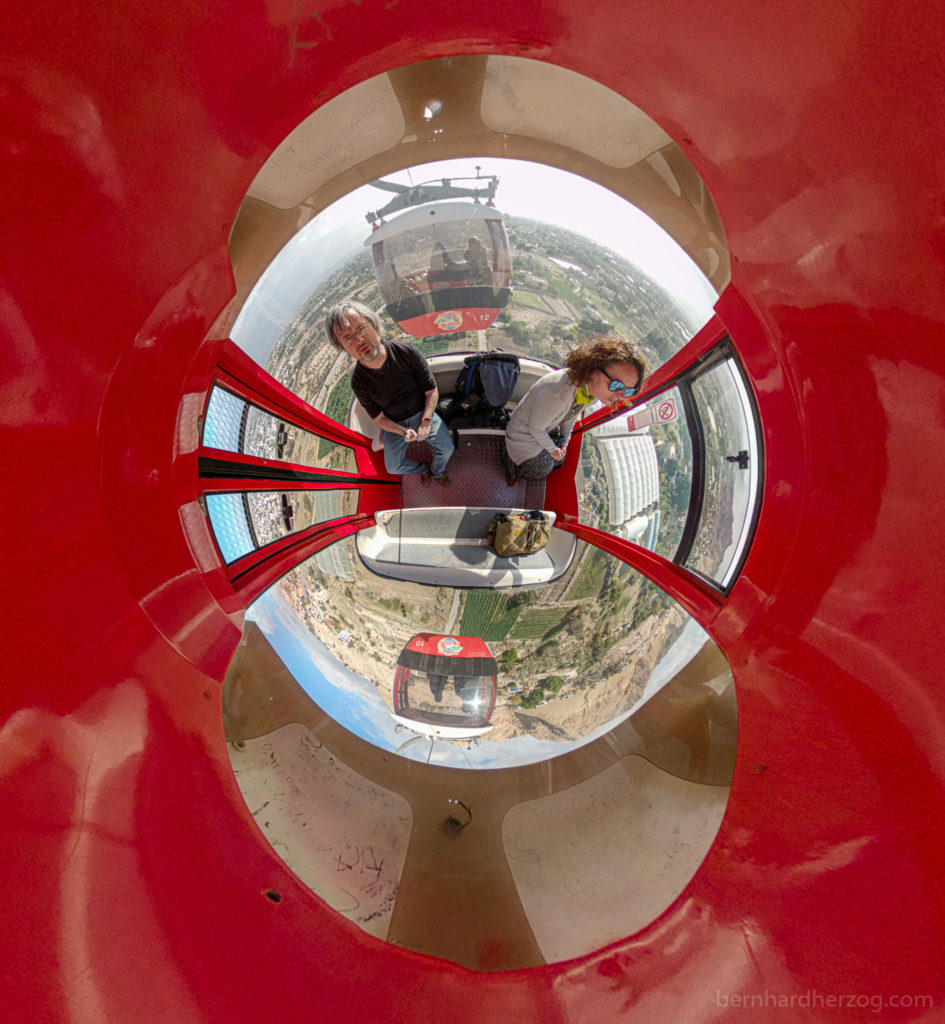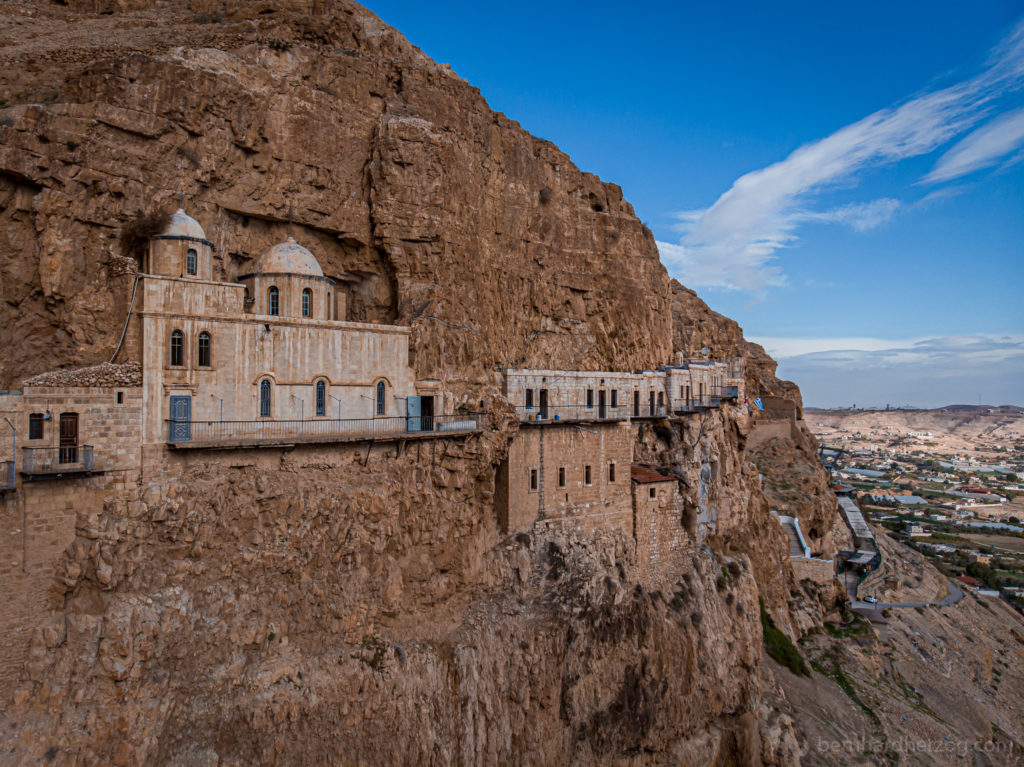 When we went there there was a big group of pilgrims from Ethiopia. This was amazing to see.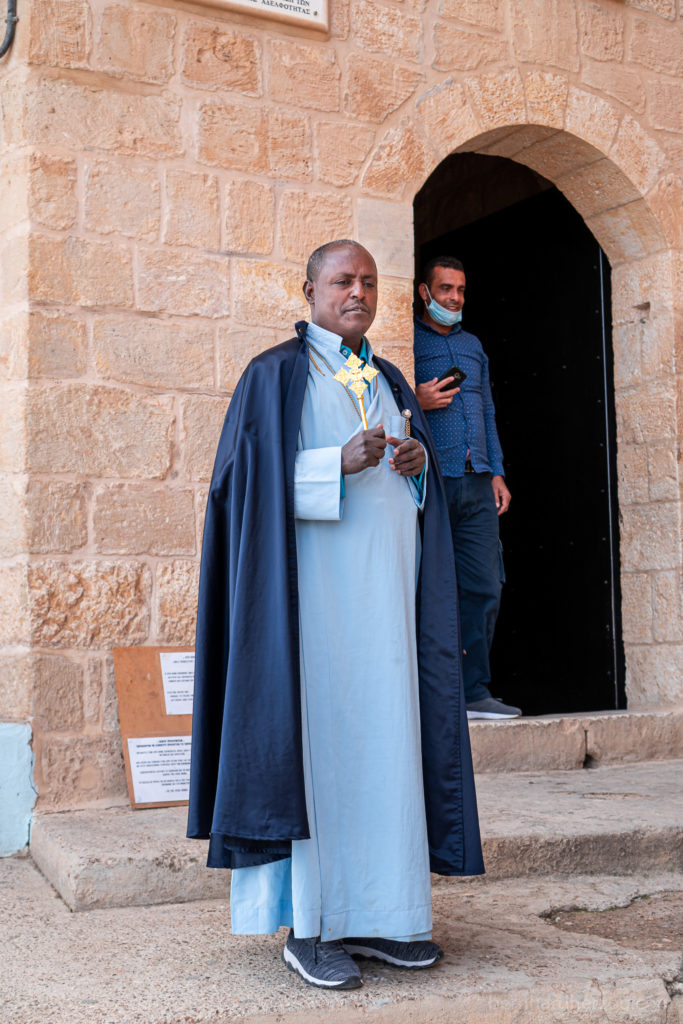 5. Tel Aviv
We went to Tel Aviv with the bus. This is not a long ride, ca. 1,5 hours. We had to take the bus because it was Friday. I would strongly recommend you to take the train if possible because the bus arrives at a very ugly bus station which is very difficult to navigate. But for us it was actually better to go with the bus because it was nearer to the old town of Jaffa (aka Yafo) where we stayed.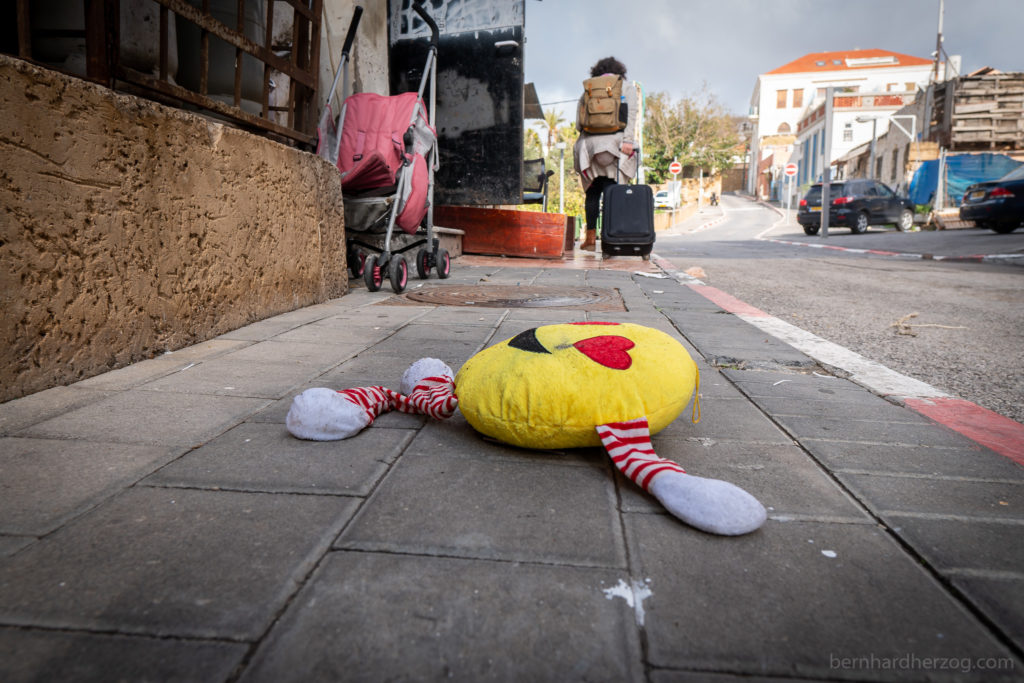 Tel Aviv is a much more open minded city than Jerusalem. You will see people of different colors and religions everywhere. It is also welcoming to LGBT i.e. at the beach near the Hilton Hotel.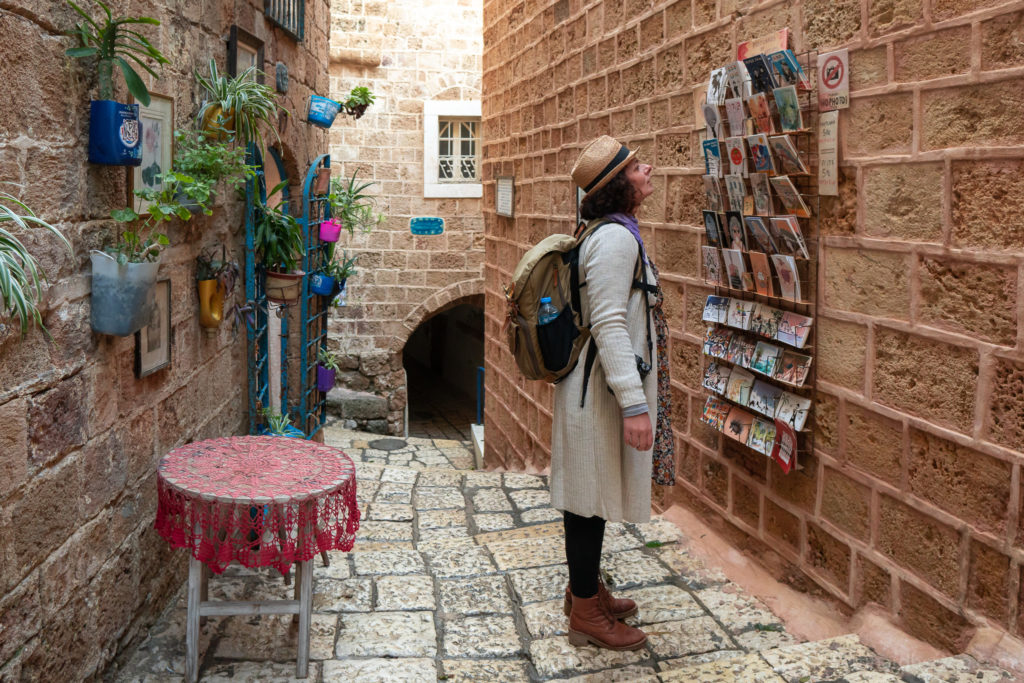 Jaffa old port
Jaffa is an ancient port city out of which Tel Aviv has now grown. Historically it was Arabic.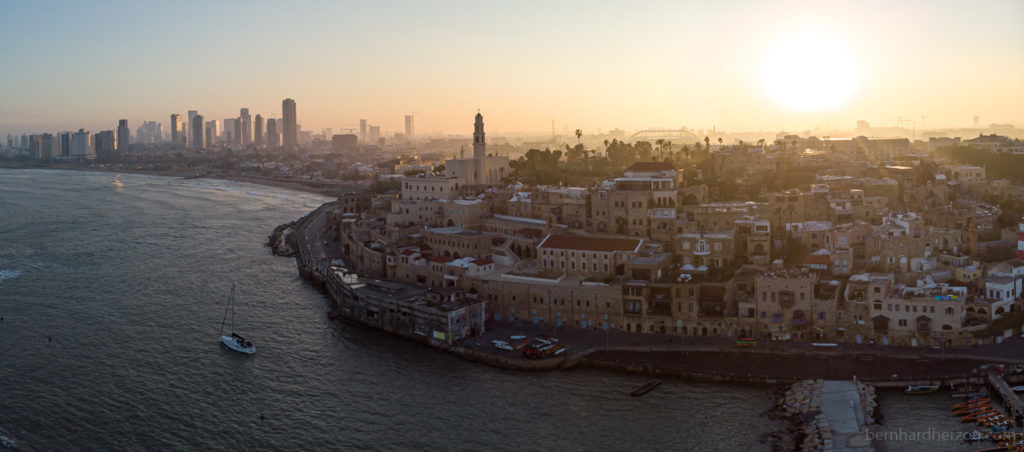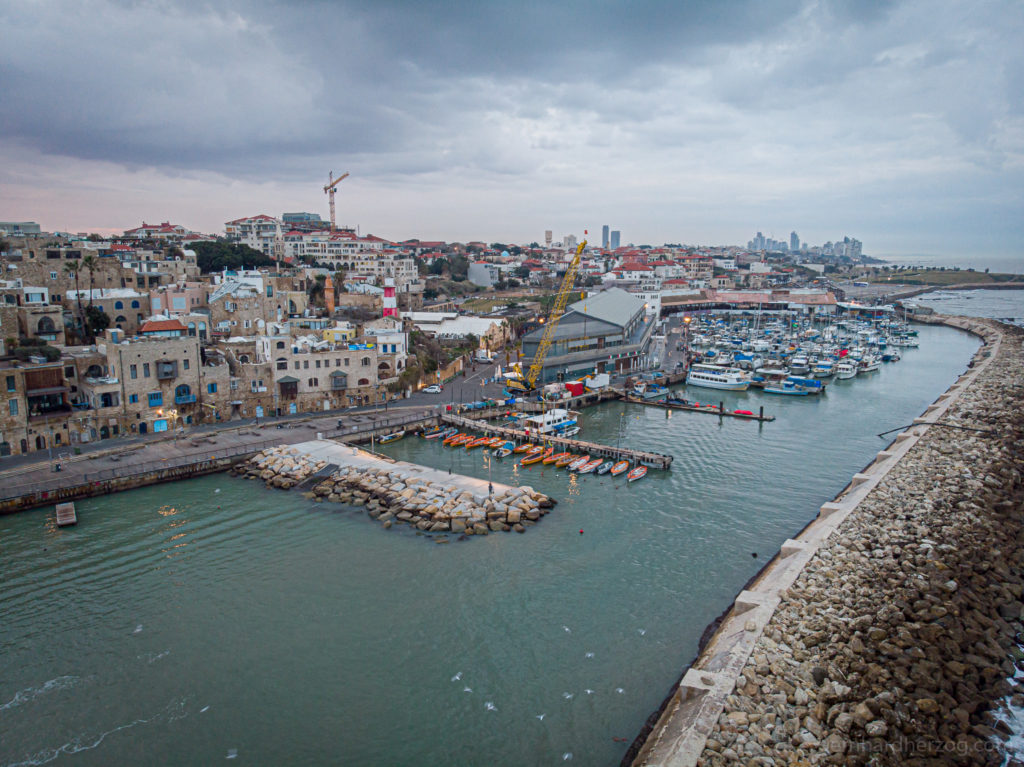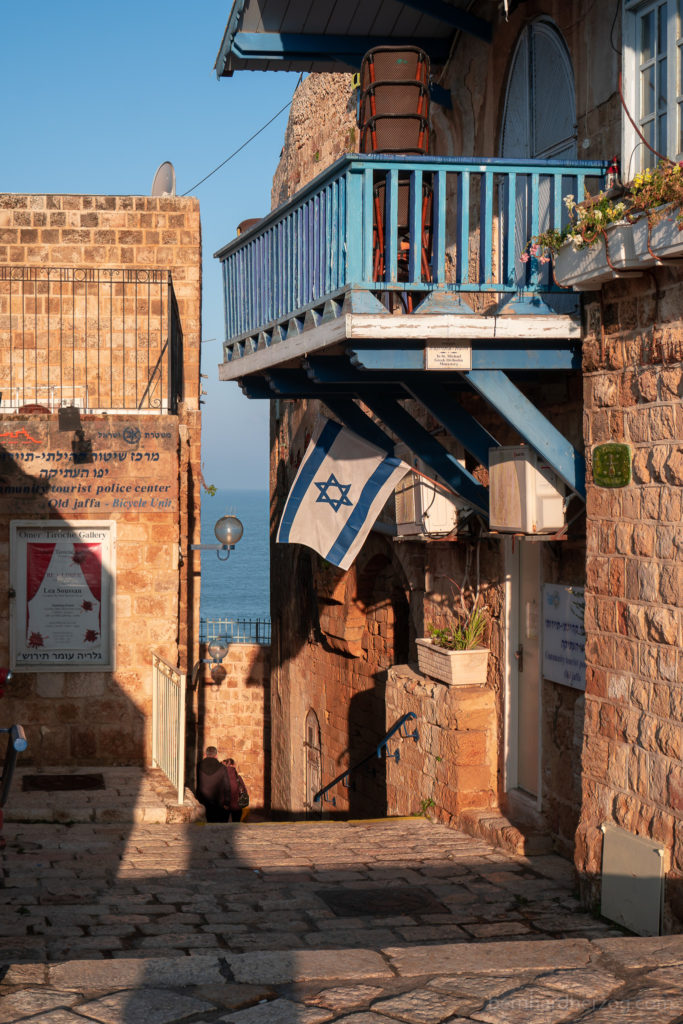 The port itself is very beautiful and has some nice (and of course expensive) fish restaurants. Even the Fish & Chips place is expensive (at least the fish is very fresh there). There is also an ice cream / crepes parlor.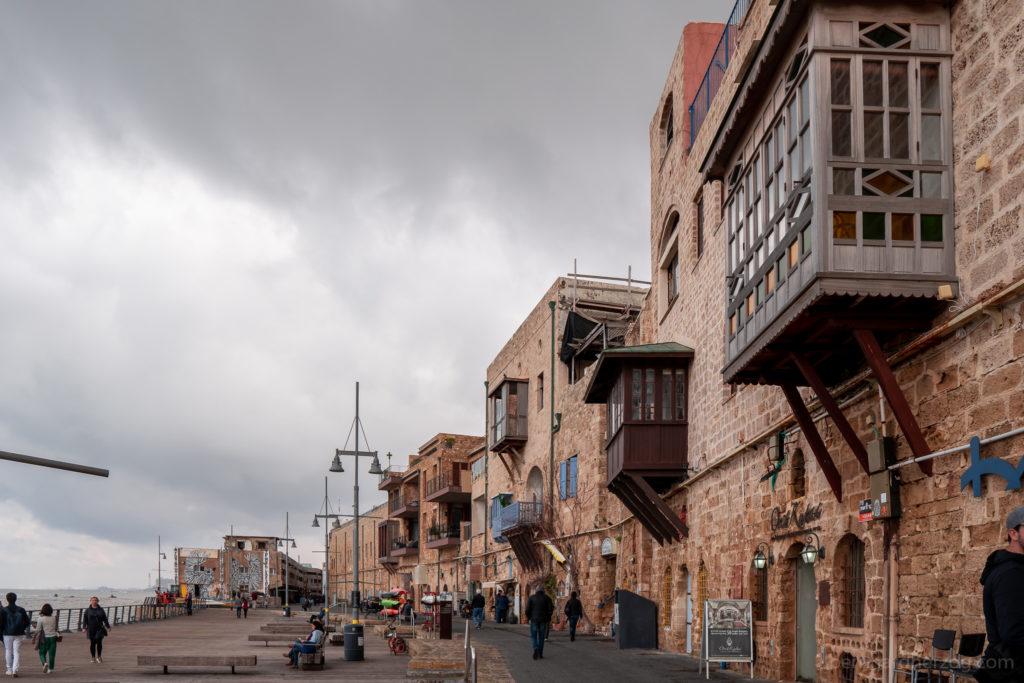 Beach Promenade
There are many nice places and corners in Tel Aviv to see, but in the end Tel Aviv is all about the beach and the seemingly endless beach promenade.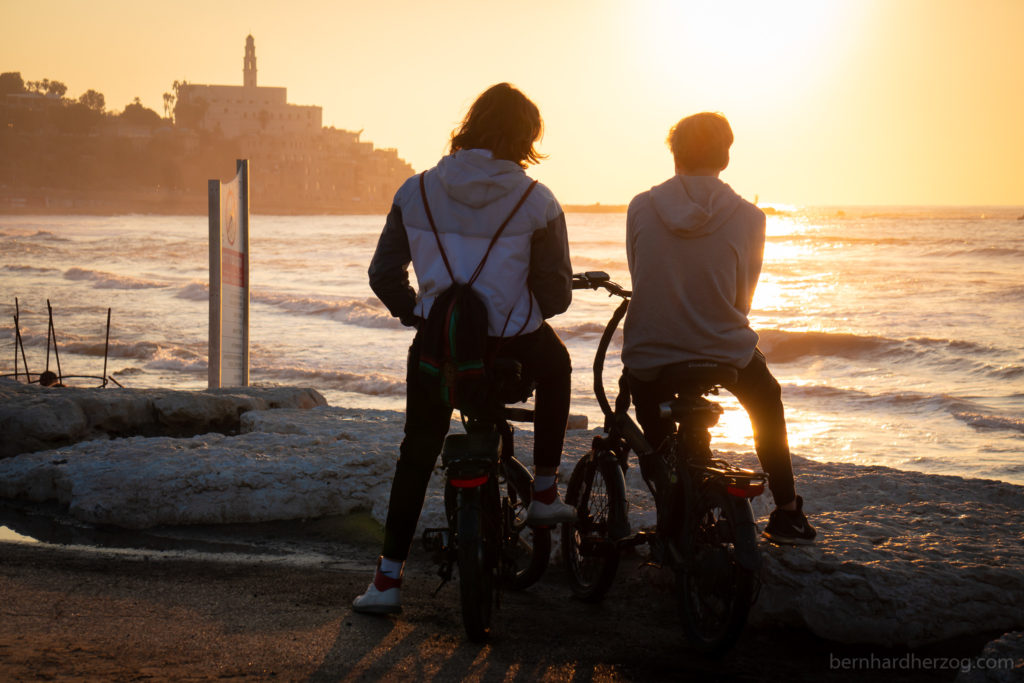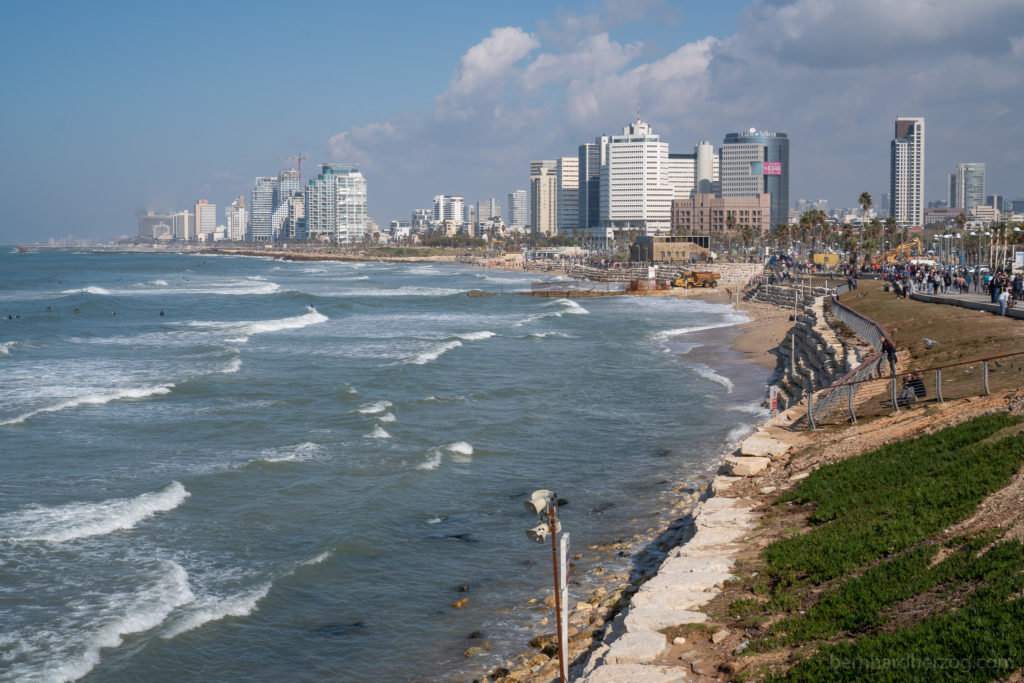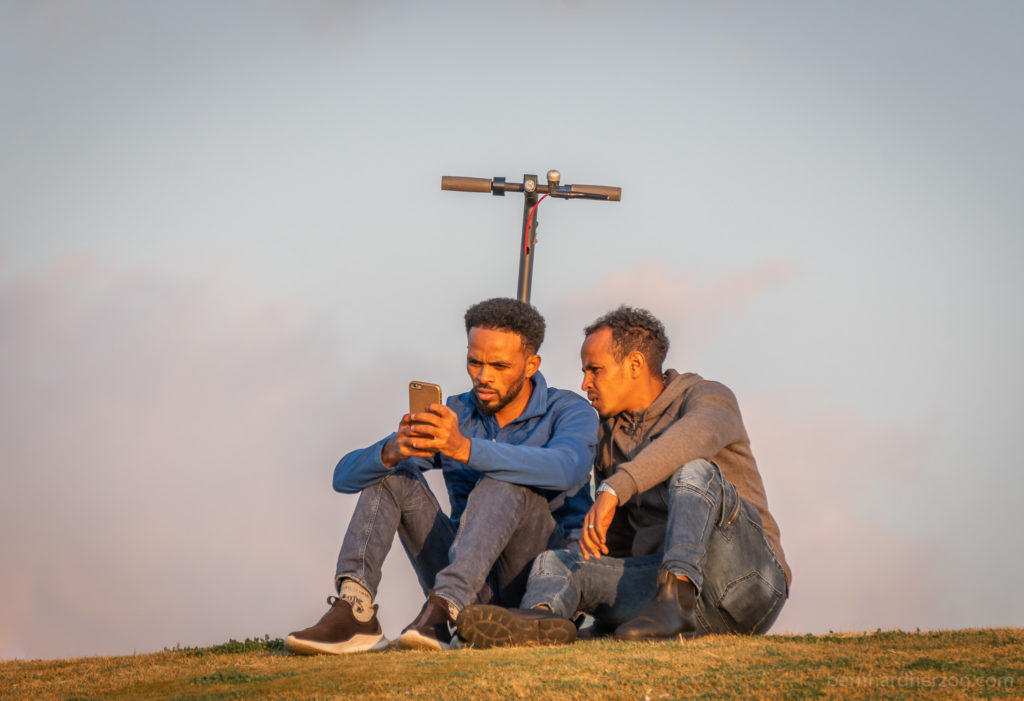 In the evening I recommend you to go to Charles Clore Park. Near the "Harp the Sea and the Quiet Wind" sculpture people meet up with their drums to play and dance which is a very special experience.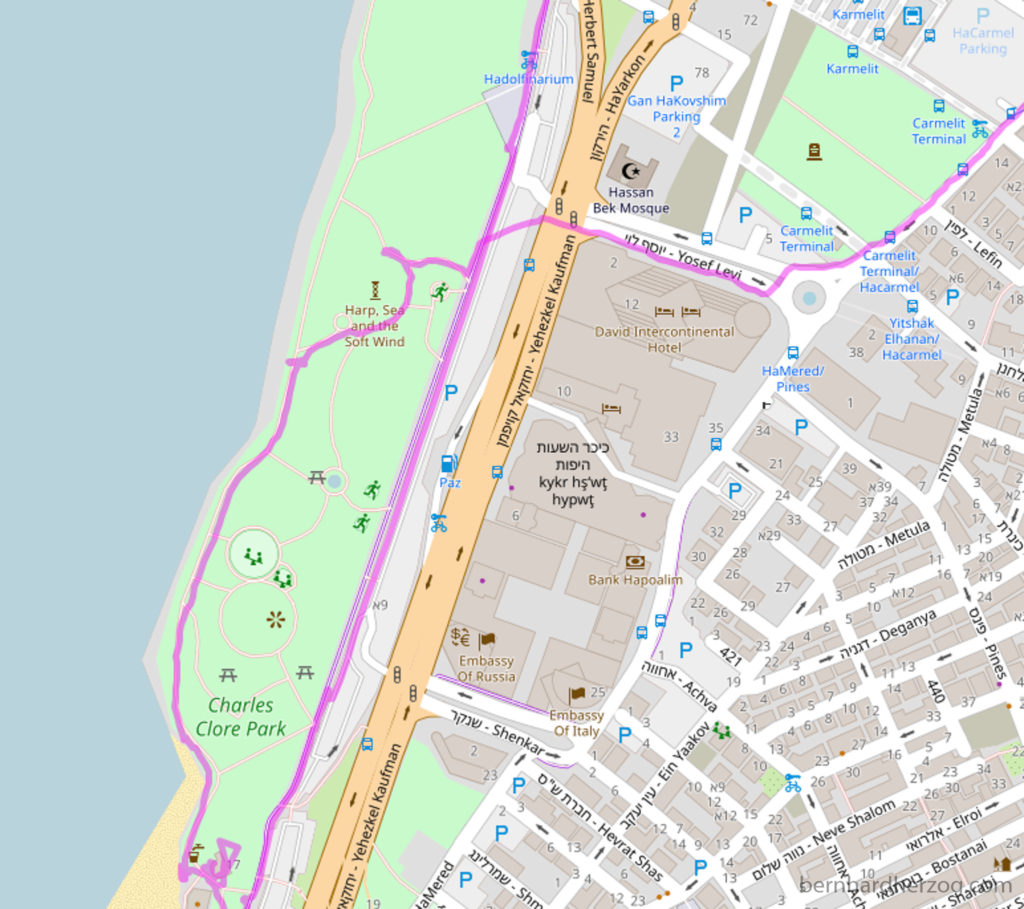 Tel Aviv is one of the first cities that had electric scooter from Lime, Bird, Wind, etc. There is no better way to enjoy the beach promenade than from a scooter. You will see two people sharing one scooter to save money because they are not cheap but this is not recommended esp. if you are carrying a backpack.
There are many interesting hotels and buildings along the beach promenade.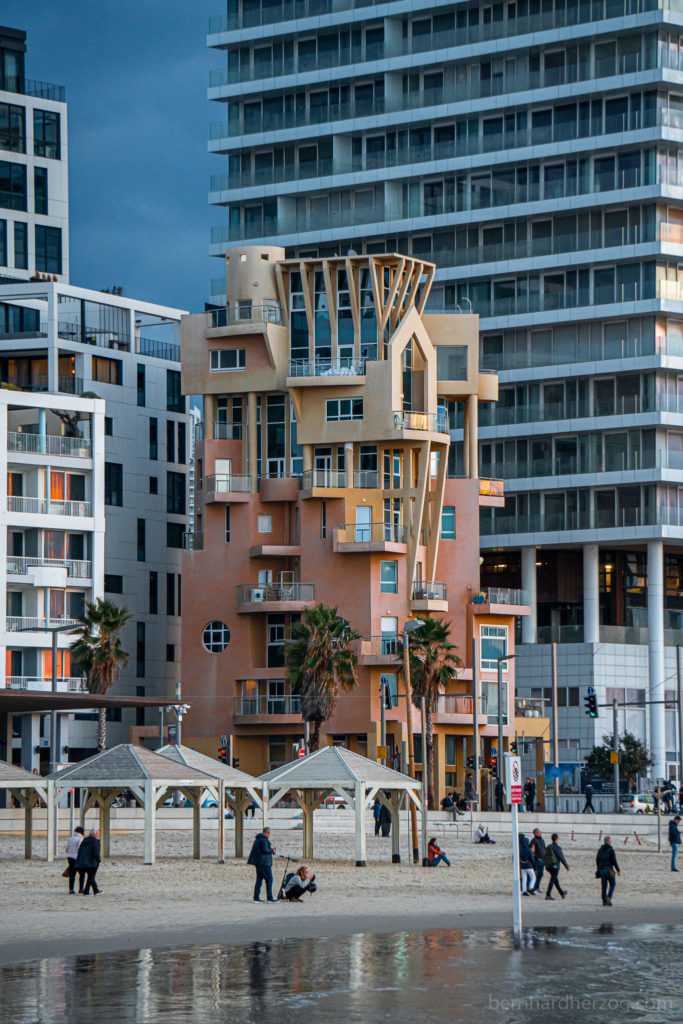 Tel Aviv is known for Bauhaus architecture. So I also recommend to visit parts of Tel Aviv beside the beach – if you have time of course, because usually traffic is crazy and buses are delayed.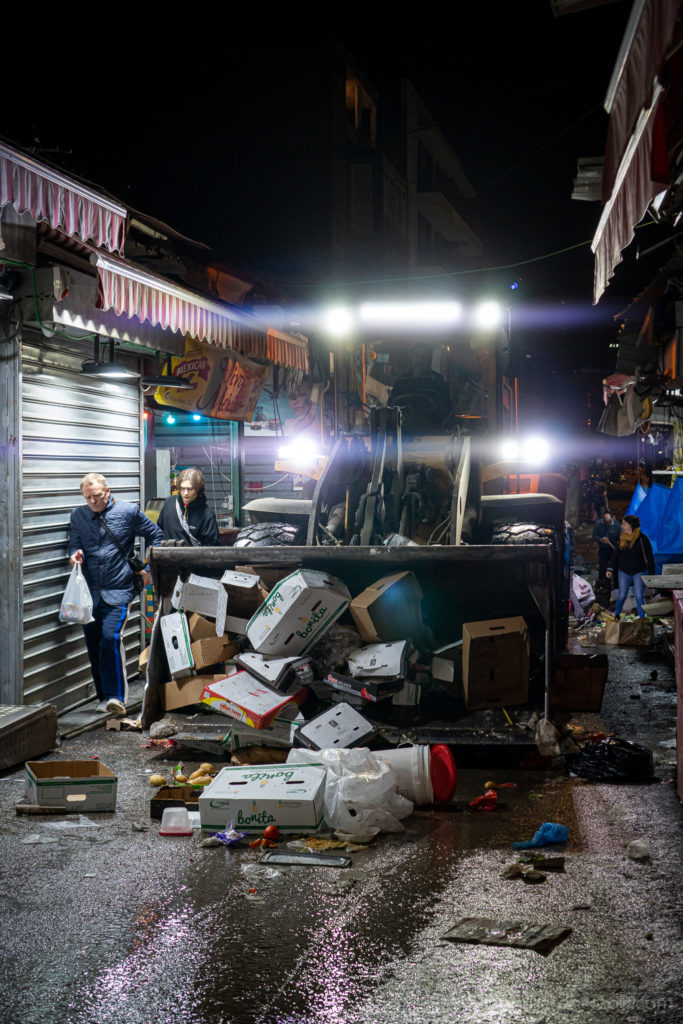 Flea Market
The flea market is a major tourist attraction in the Jaffa area. There is a part that has a roof but this is not really a flea market, it is more tailored for tourists because the vendors will be very aggressive to sell their stuff at a high price.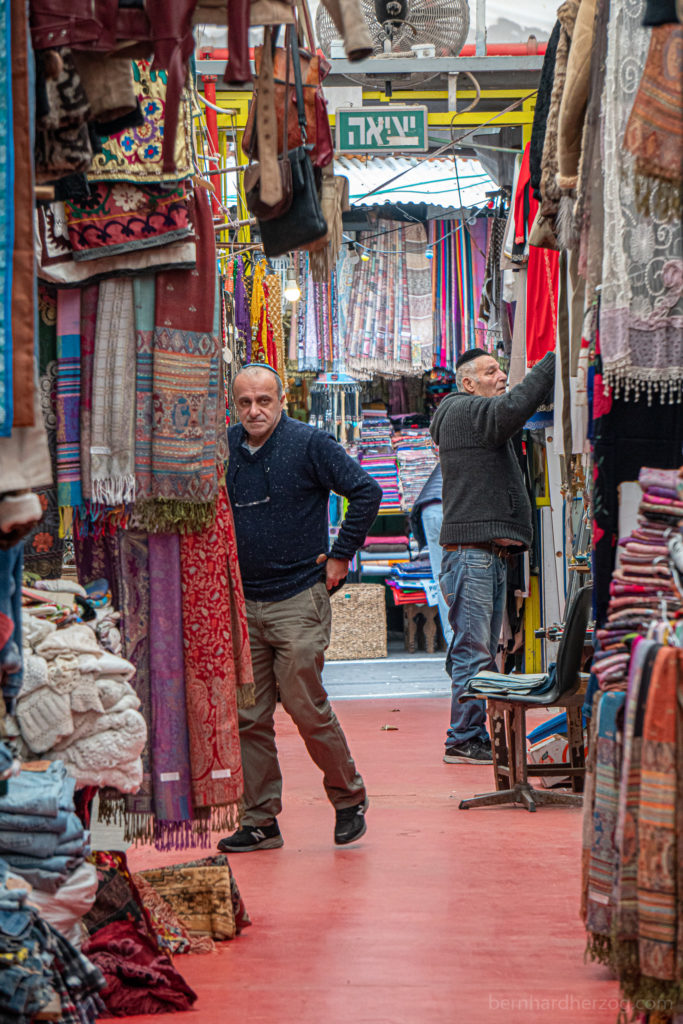 The real flea market is nearby and open air and in the morning you will see many locals going there for shopping.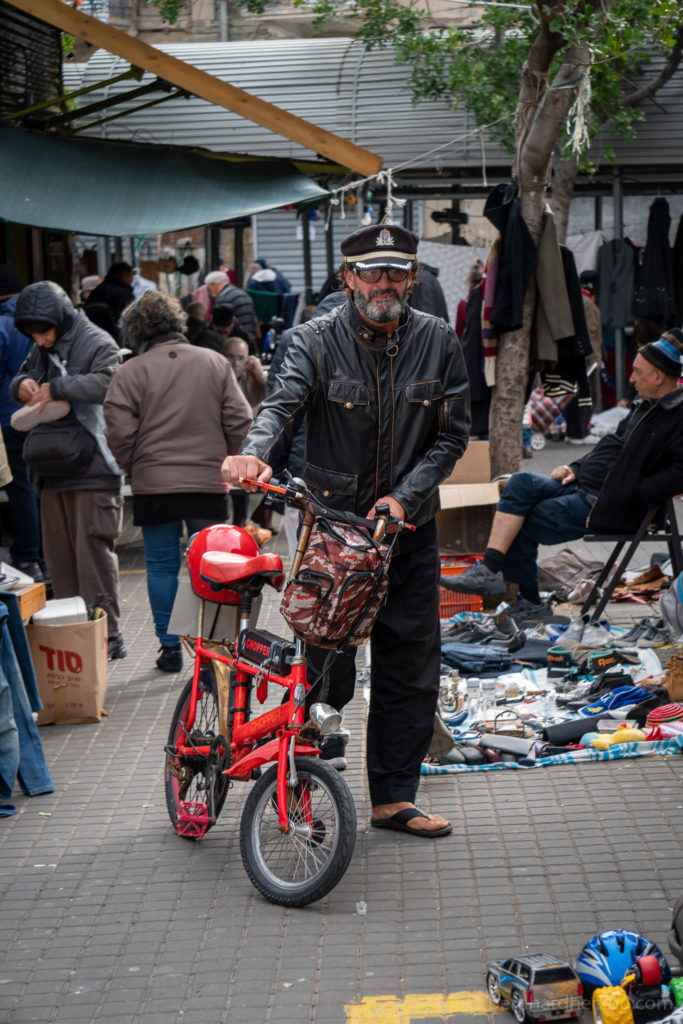 Jaffa beach (Givat Aliya Beach)
If you want to see how the beaches looked like some time ago you can visit Jaffa beach which is near a park. There is also the Tel Aviv Muslim Cemetery.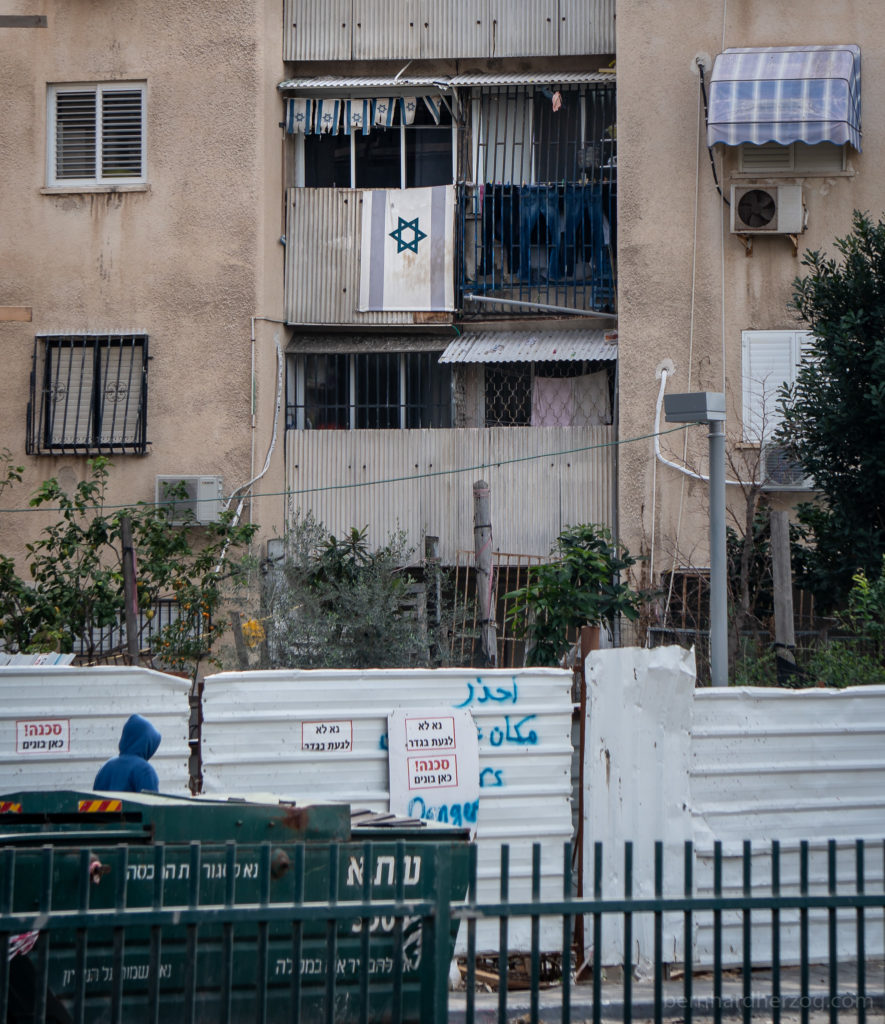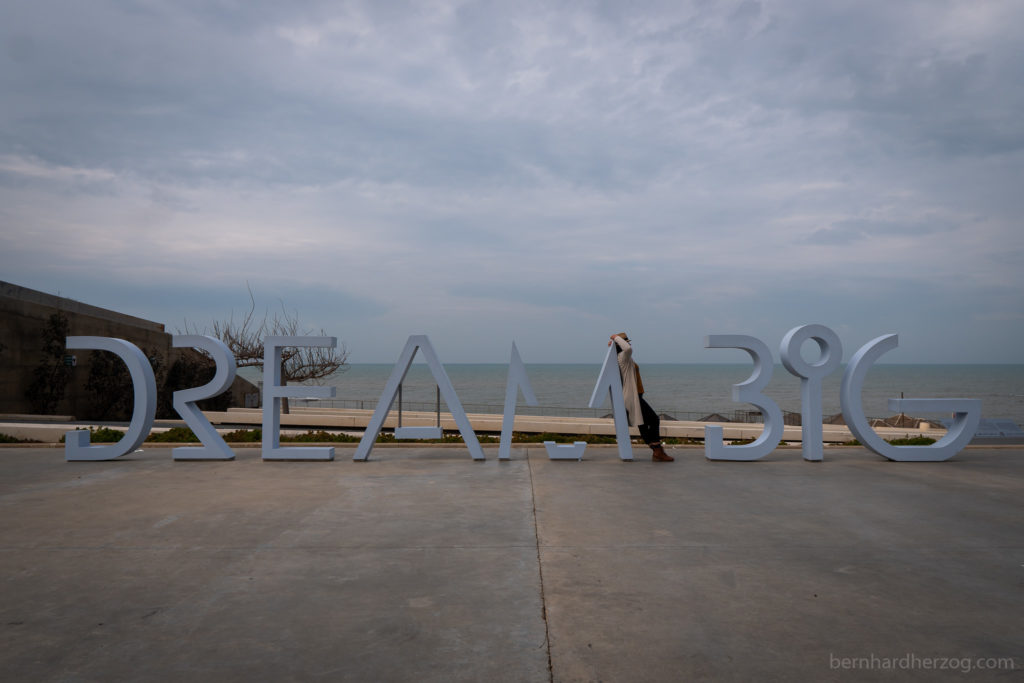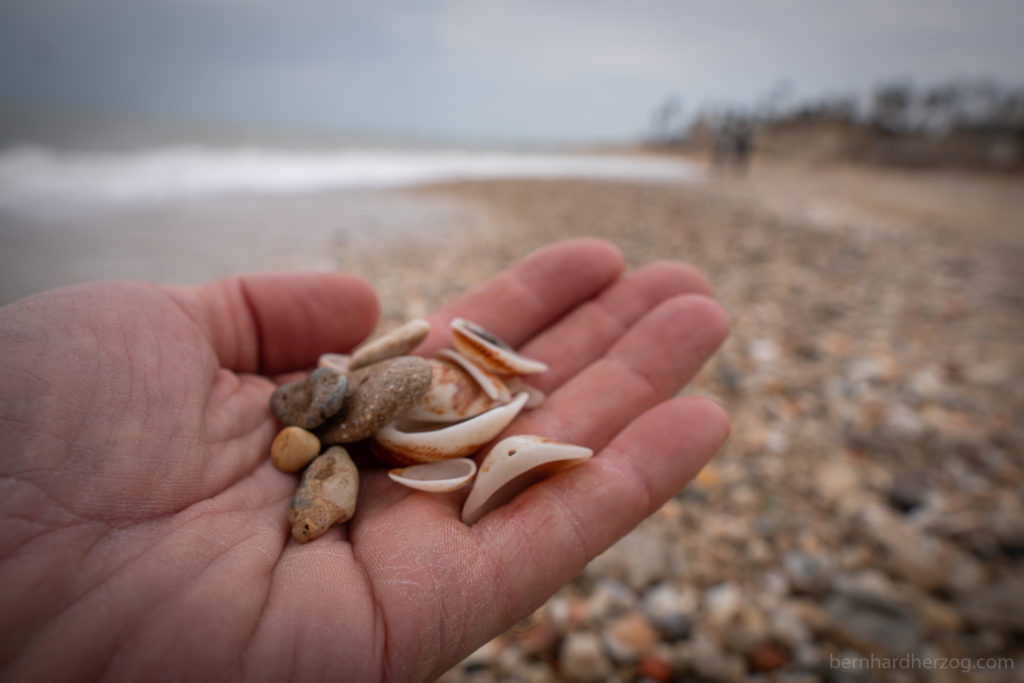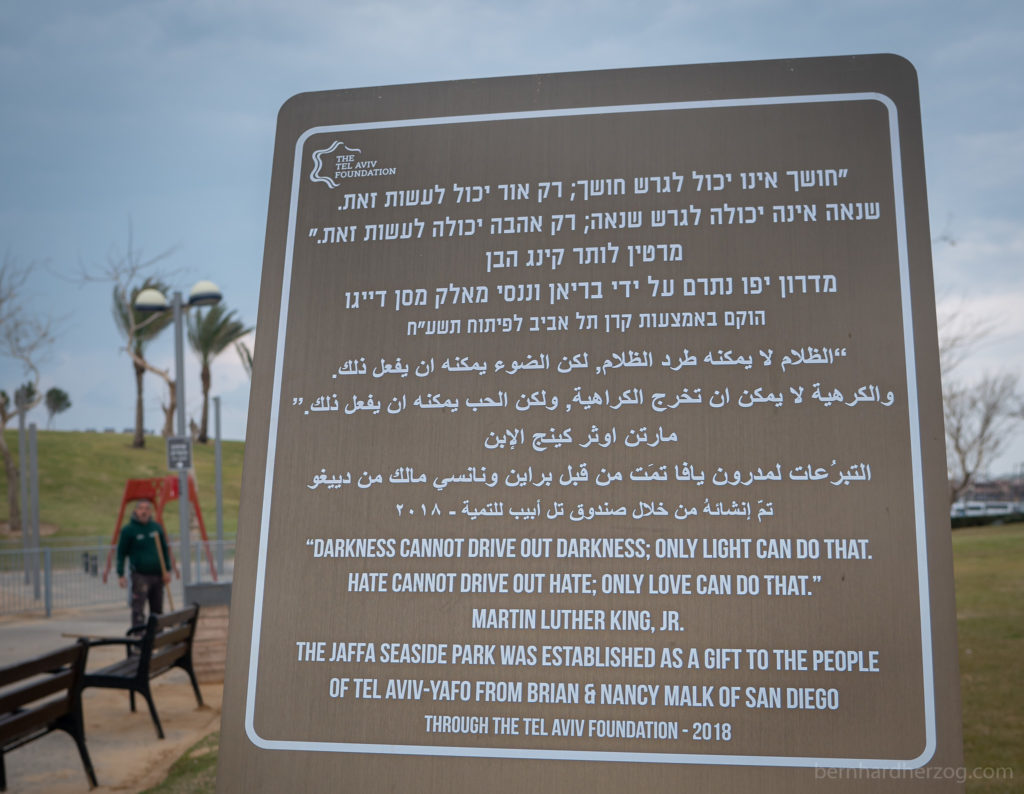 Flying out from Tel Aviv
The airport can be reached from Tel Aviv using a train. Just make sure that you have time to get to the airport because traffic in Tel Aviv can be crazy. Also many flights leave from Terminal 1 which is an older terminal. To get there you have to take a shuttle bus which is usually packed with people so be careful that you can actually enter before putting the luggage in the luggage department.
There are many stories about security taking a lot of time at the airport but it was not so much of a problem for us. You have to show the slip you have received when you entered the country and receive another slip for leaving the country. You are also questioned if you bring any souvenirs or how long you are together with your girlfriend and stuff like that, I guess it is to check if you are hiding something.
You can change money after the security but you will have to pay a commission. There is a big duty free shop where you can buy souvenirs (all prices are in Dollar).
What we did not see
We only visited the southern part of Israel to escape the European Winter but of course there are also areas in the north that are worth visiting. Also we did not have time to visit Bethlehem, if you are a religious person this might be important for you.
Bethlehem which is in Palestine territory – important for Christians
Haifa with beaches and a nice cable car
Nazareth, the childhood home of Jesus
Golan Heights – maybe dangerous?
Sea of Galilee
Jordan – Petra
Egypt – Pyramids and Sharm El Sheikh
Conclusion
Our trip was very diverse and I think this is what makes Israel an interesting tourist destination. You have almost everything: beaches, modern cities, deserts, the dead sea and tasty food (Hummus for example).
It might also be important for you to go there if you are member of an Abrahamic religion. It is interesting to visit Israel to better understand the conflicts that exist in this region. It is very difficult to understand it if you have never been there.
The biggest problem for tourists is that everything in Israel is so expensive, especially at the Dead Sea. But it is also possible to have cheap food sometimes for example buying Hummus for take away etc.
After returning from Israel I begin to appreciate Austrian food prices and I think it is actually a good cure for me as a greedy person because I thought everything in Austria is so expensive. Also that people of different religion can live together without killing each other is something to appreciate in Austria.
I think Israel is a very interesting place to visit and I highly recommend to go there if you have the chance.
What do you think about Isreal? Have you been there or are you planning a visit? Please let me know in the comments and don't hesitate to ask if you have any question!
Recommended camera equipment for photo, video & travelling (AMAZON):
Sony a6600 Sony a6400 (cheaper) Sony a6100 (Budget-Option for 4K) Sigma 16mm 1.4 Sony 35mm 1.8 Samyang 12mm 2.0 Feelworld Master MA7 Smaller monitor Rode VideoMicro Rode Wiress Go II Mini Tripod Travel Tripod Small LED-Light Light #1 (powerful) Light #2 (Bi-Color) Softbox for this light Light tent/box DJI Osmo Action GoPro 9 GoPro MAX Invisible Selfie Stick Mavic Mini 2 drone Mavic Air 2
for photo and video:
Fuji XT-4 Fuji Telezoom Entry level camera (Canon)
*Affiliate Links. From everything you buy I will receive a small kickback that helps me maintain my channel. THANK YOU for your support!