Today I have the pleasure to show you an RGB light, the Moman MLX-RGB. Moman sent it to me for testing. Before I had a bi-color light from Moman and I wanted to see what else I can do with an RGB light. I will show you the examples first so you can replicate them if you want. And afterwards the specific features and advantages of this RGB light.
Video
Full Review:
Unboxing Video:
10 creative ideas for using an RGB light
The 10 examples I will show you now are for both stills and videos. I will concentrate on the RGB mode of the light. The Moman MLX-RGB also has a bi-color mode. Check out my review of the Moman ML-3D light for examples for this. Later I will do a comparison of the lights.
1. As a background light
My main use of the RGB light will be as a background light. I can give the background a certain color and therefore create depth in the shots by using a cool color.
I would typically use a complementary color to my skin tone which is teal or blue.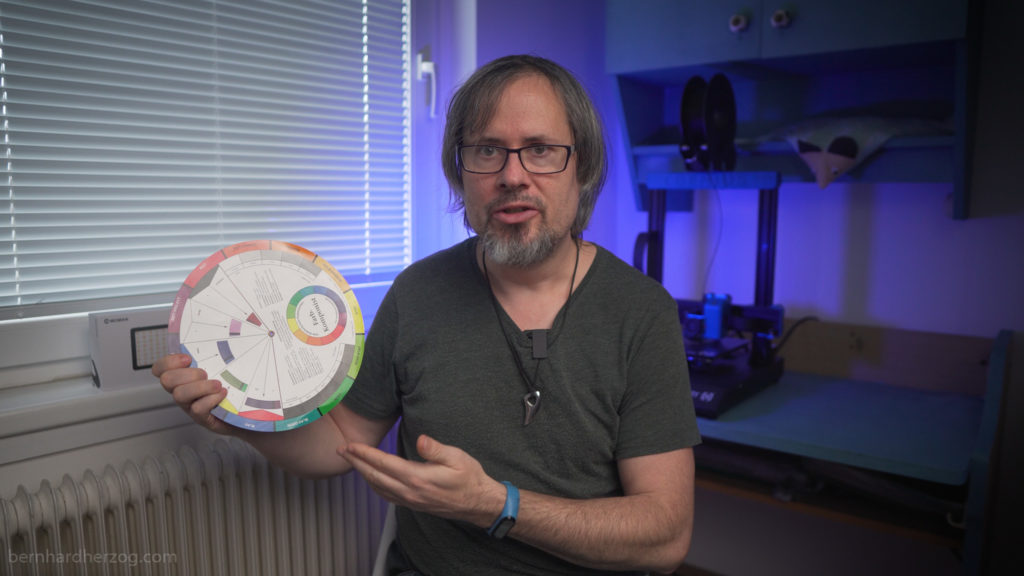 2. As an accent light
I also plan to use the light as an accent light. For example I have a 3d printer and I can put the light behind the printer.
3. As a hair light
A small light is ideal as a hair light. I can put it behind the subject to separate it from the background.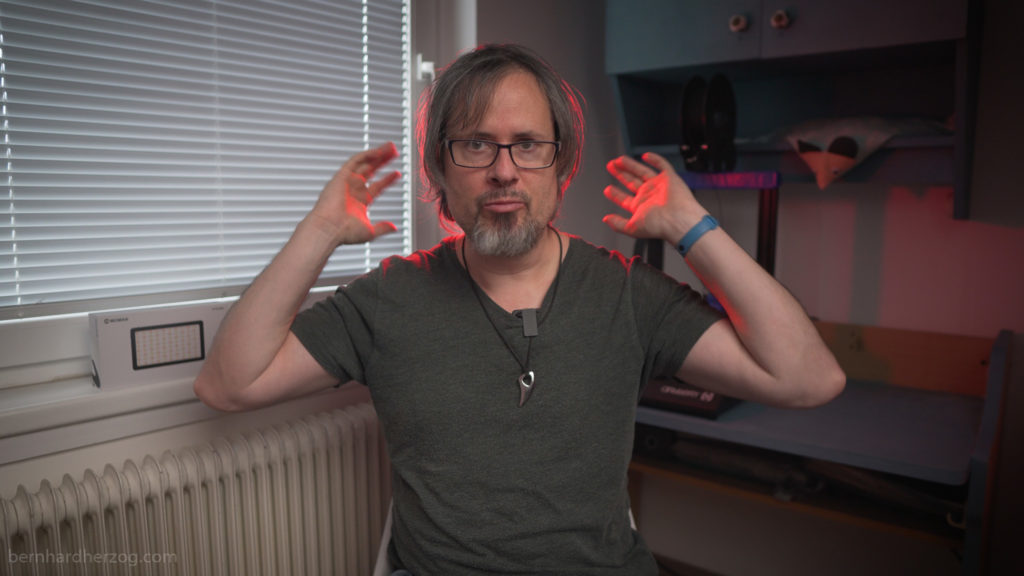 Using an RGB light I can have a hair light with a twist by changing it to an interesting color.
4. Red-Green Color Contrast
I could also use it to light one side of my face with red and the other with blue but I only have one RGB light unfortunately 😉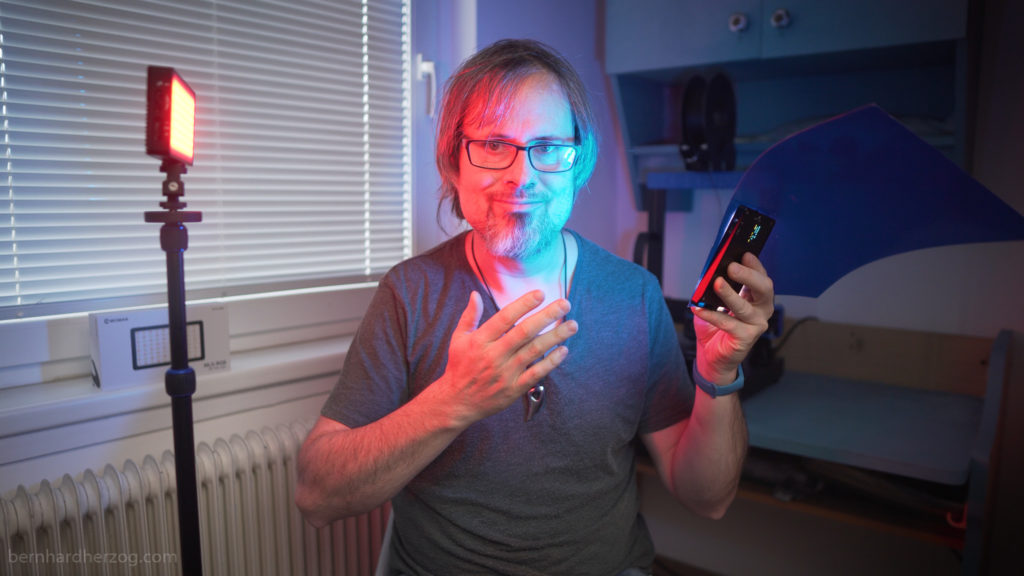 5. For light painting
Another fun idea is to use it for light painting. Normally I would have only one color but with the RGB light using the effect mode I can paint in all colors of the rainbow.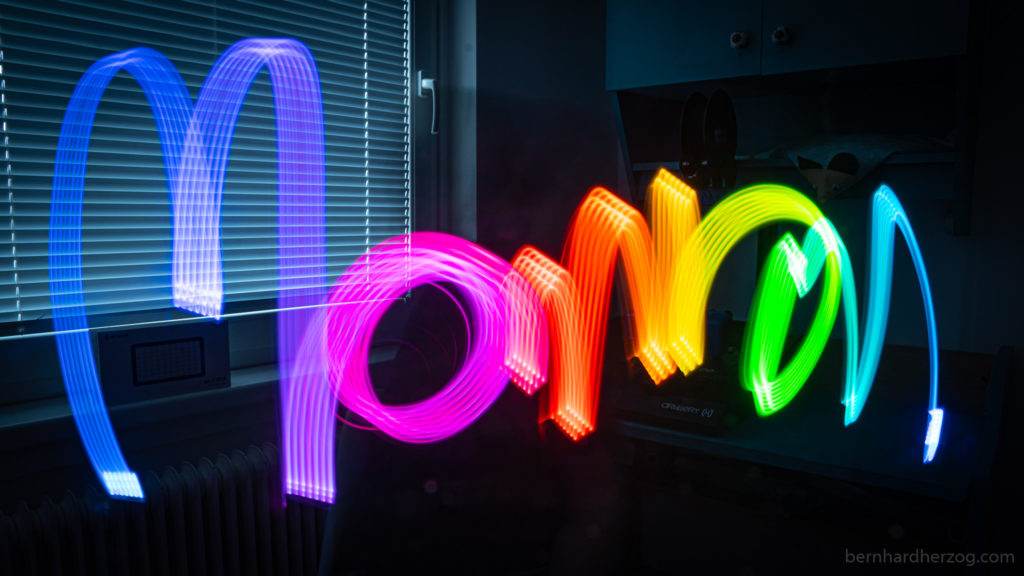 For this I need to set the camera to long exposure or bulb mode. Then I move the light to paint a name and this looks really cool with many colors of course.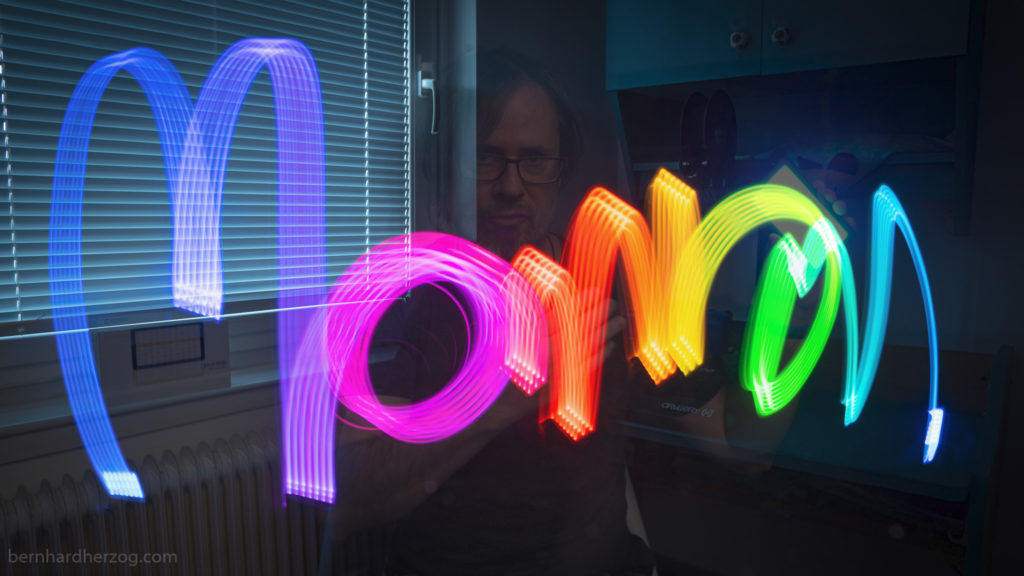 You can also use the light to paint an object or even light up a bigger object like a car or house:
6. To put it into practical lights
One common practice to use a practical light in the background, i.e. a normal household lamp. This creates a cosy atmosphere.
Now with the RGB light you can simply put it inside this lamp and it will appear to be a normal light.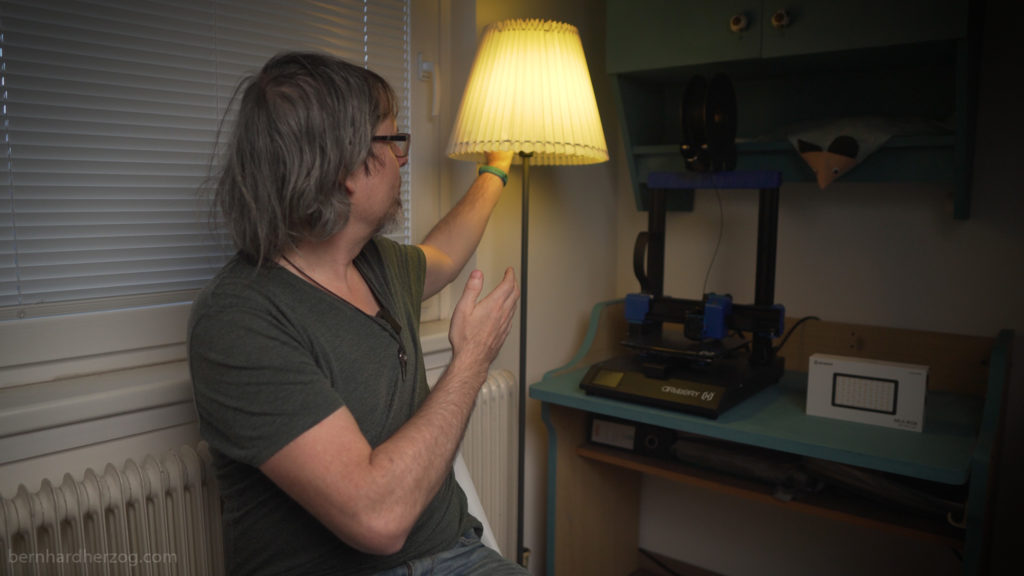 But now you can change it to any color and also dim it easily so it is not too strong. This is usually not possible with normal light fixtures.
The Moman light has a strong magnet so if the light is metallic you can even stick it there which leads me to the next point.
7. Put it in the fridge
Because the light is so small you can put it into places you normally could not put a light.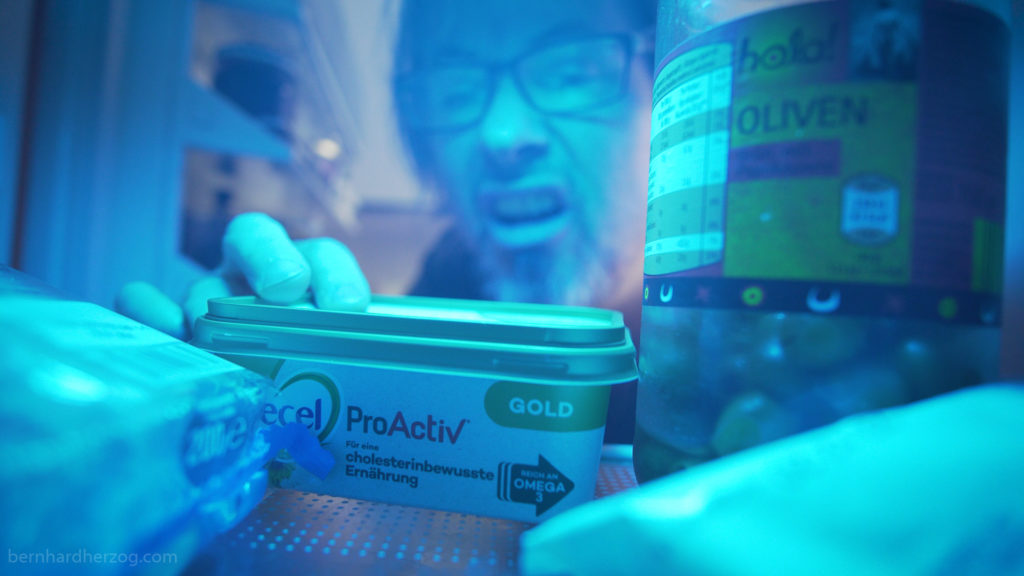 Here I have put it into a fridge for example, a cool color looks great.
8. Treasure Chest
Or here I have it in a treasure chest, then I would use a golden tone like when you have found a sparkling treasure.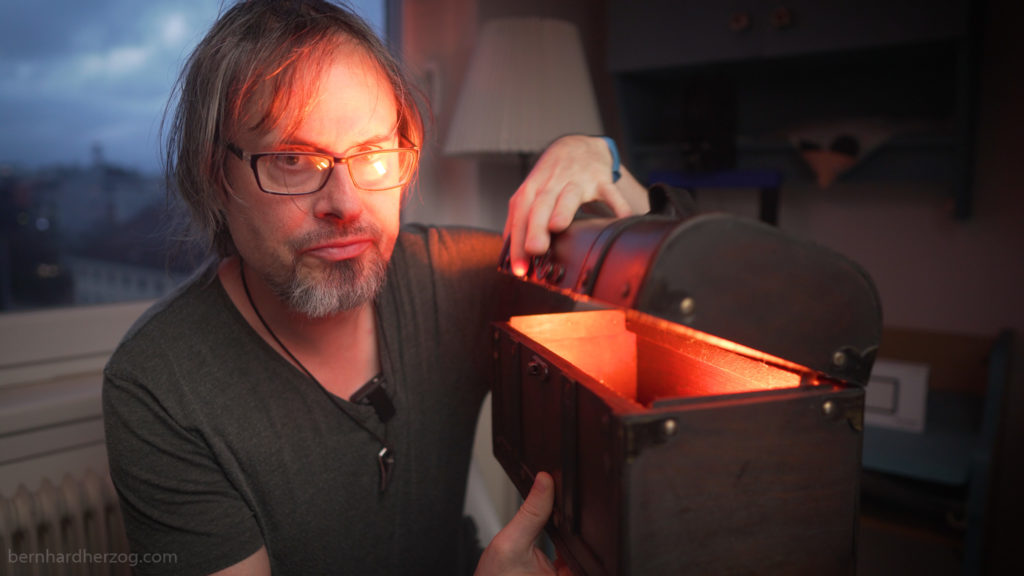 9. Storage Rack
Or here I used the magnet to stick the light to a storage rack.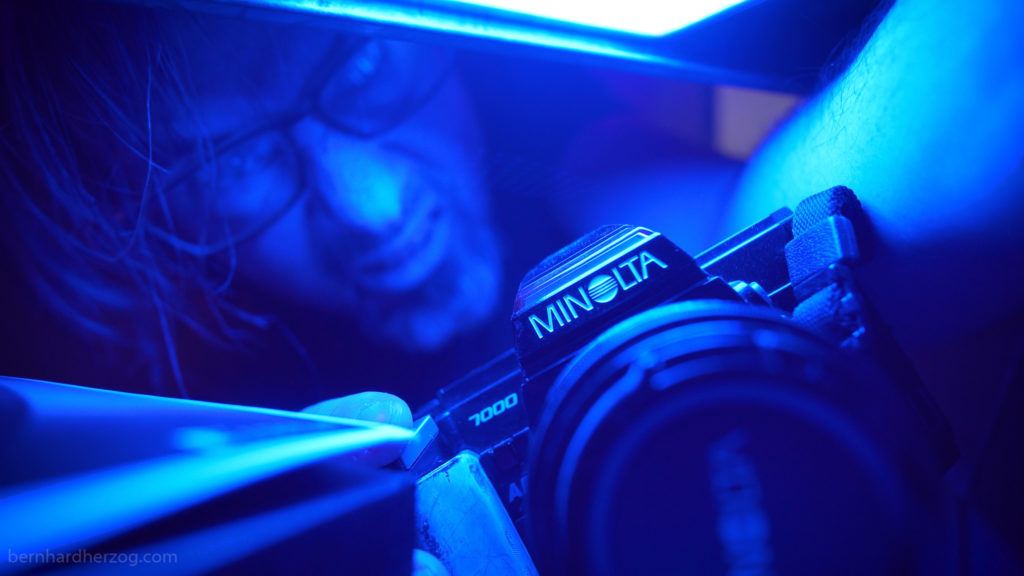 10. Fridge Magnet
The light works great as a fridge magnet because the magnet is very strong. So it is always readily available when I need it!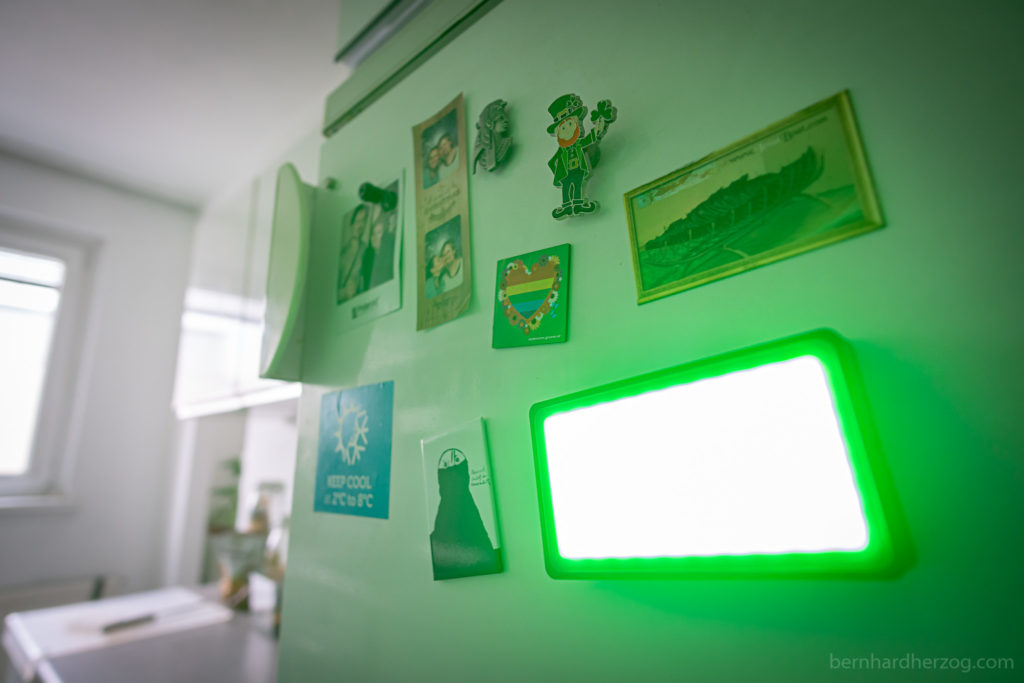 Moman MLX-RGB @ momanx.com Moman MLX-RGB @ amazon.de Moman MLX-RGB @ amazon.co.uk Moman MLX-RGB @ amazon.fr
Moman MLX-RGB Unboxing
ASMR Unboxing (turn on sound): click here
Here you can see the packaging of the light: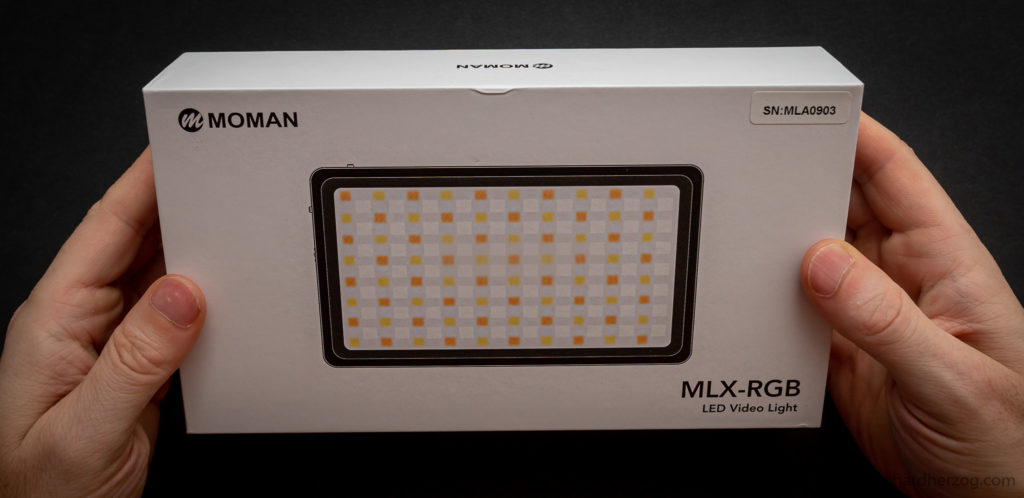 The light has a color mode, then a mode for a single color (white to yellow) and then a scene mode with 3 different lighting effects.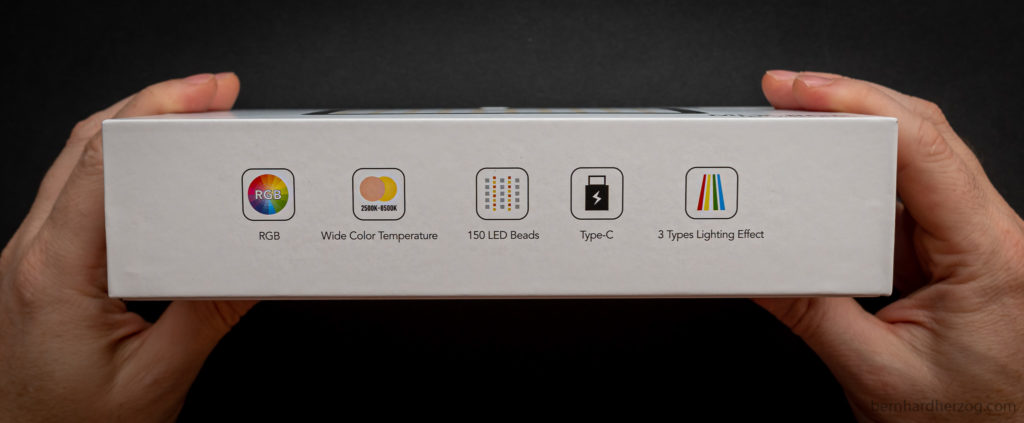 And here you see the technical data: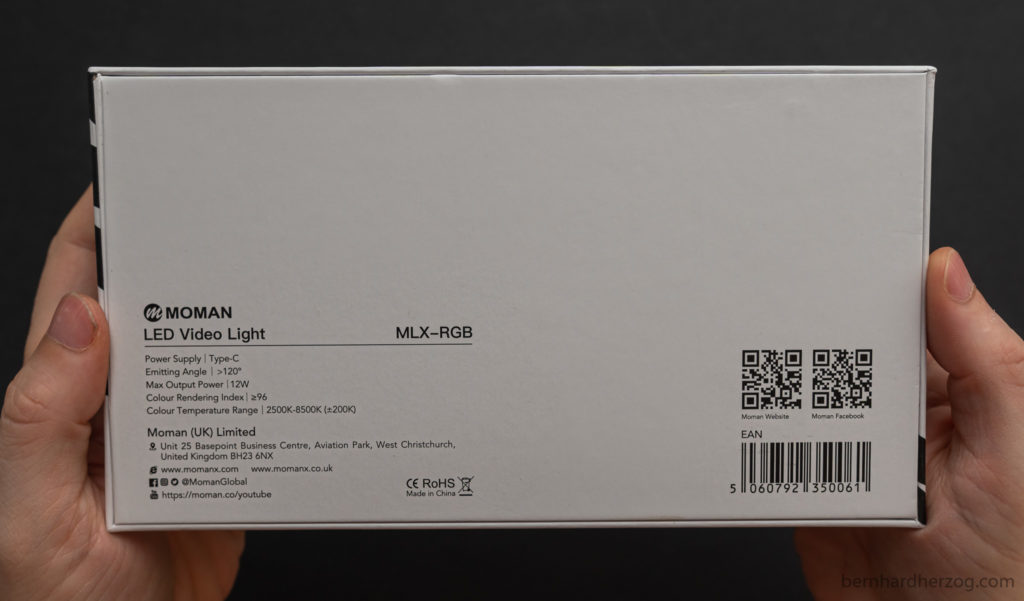 Here you can see what is in the package: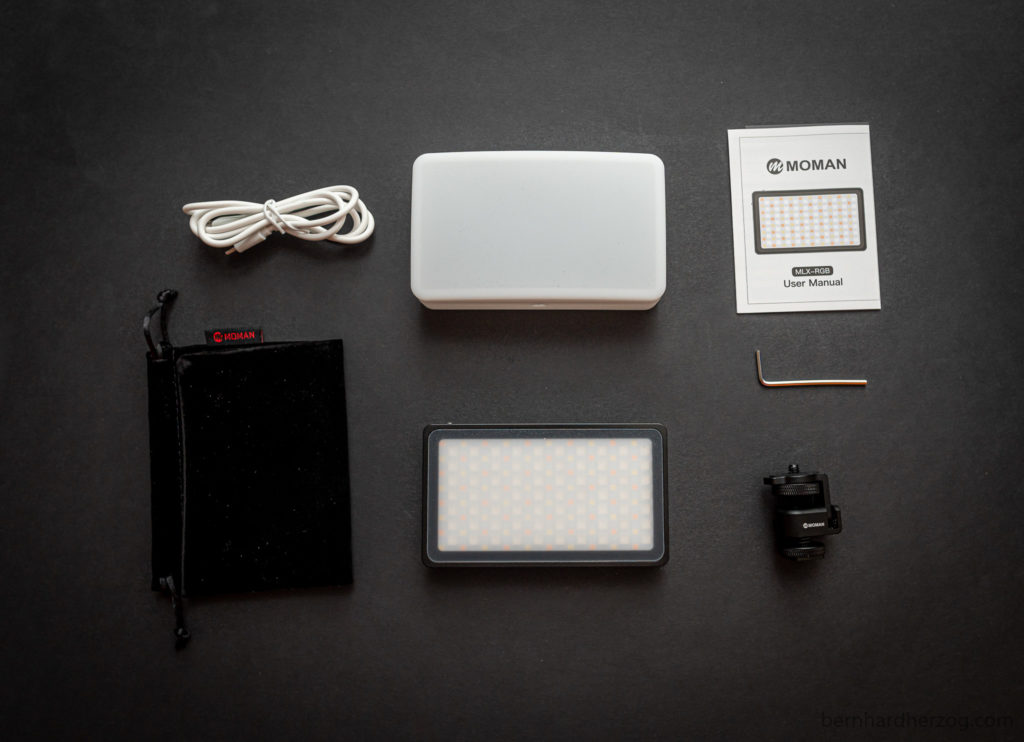 I have the version with a diffusor because it helps to soften the light (more on this later).
You can use the mini cold shoe adapter to put the light on your camera and use it for example when you are vlogging in the night to light up your face. You can angle it however you want which I like.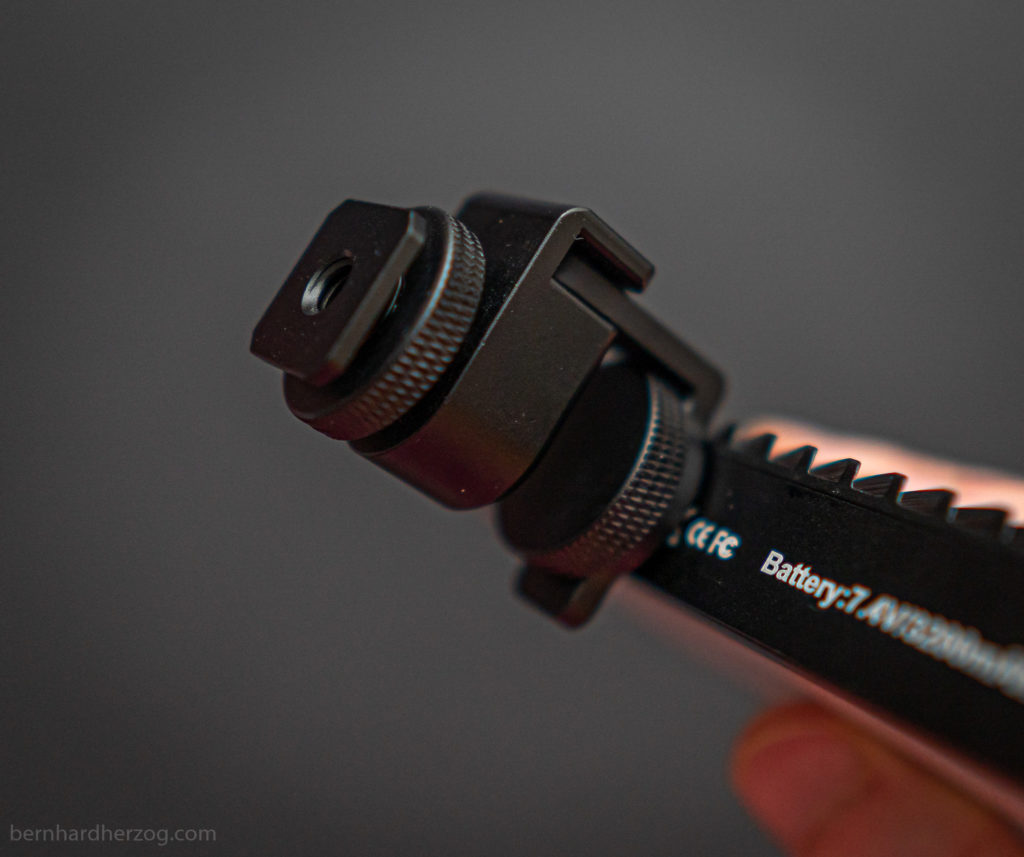 This light has a very strong magnet, you could stick it to your fridge so it is readily available (as I have done in the creative ideas chapter) or put it under your car for an interesting effect.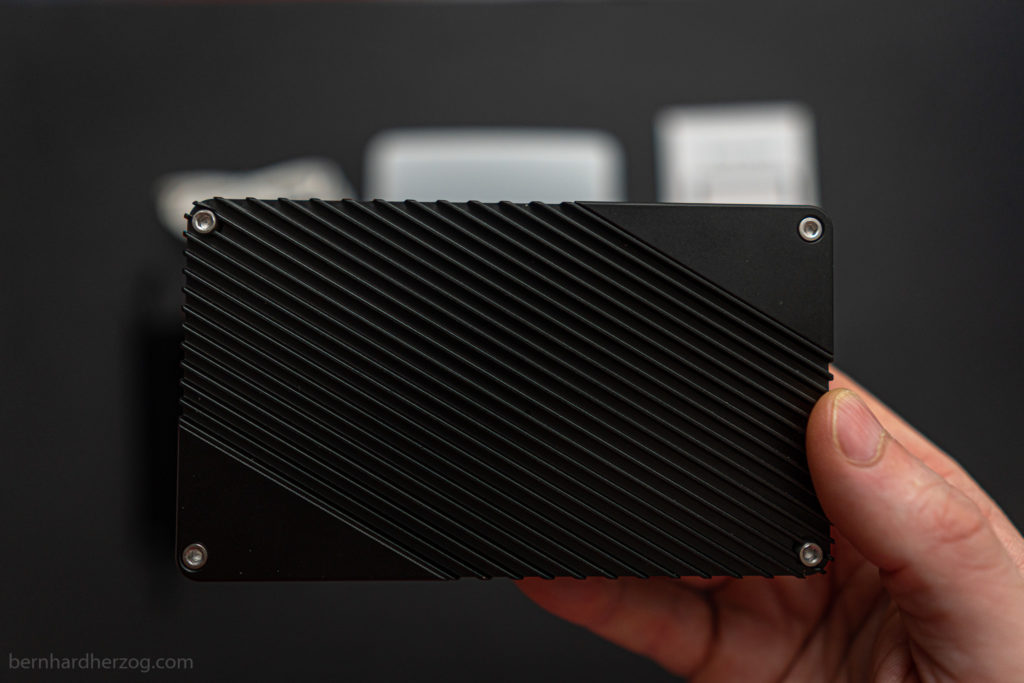 Moman MLX-RGB @ momanx.com Moman MLX-RGB @ amazon.de Moman MLX-RGB @ amazon.co.uk Moman MLX-RGB @ amazon.fr
Controlling the light
There are some buttons and dials to control the light on the top and on the side of the light. I really appreciate that there are so many controls because there are lights with just one wheel and a button for everything and these lights are much more difficult to use.
For turning the light on there is a button on the top. There is also a small display on top (this is IMO a feature of this light, other lights have the display on the back).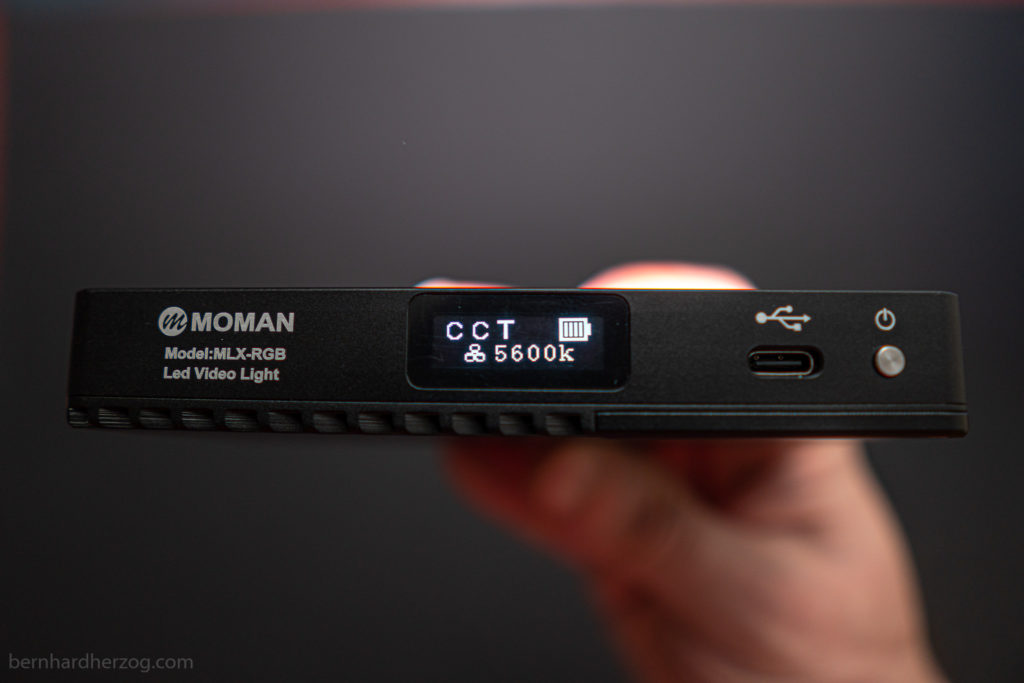 On the Side you change the mode by pressing the "SET"-Button.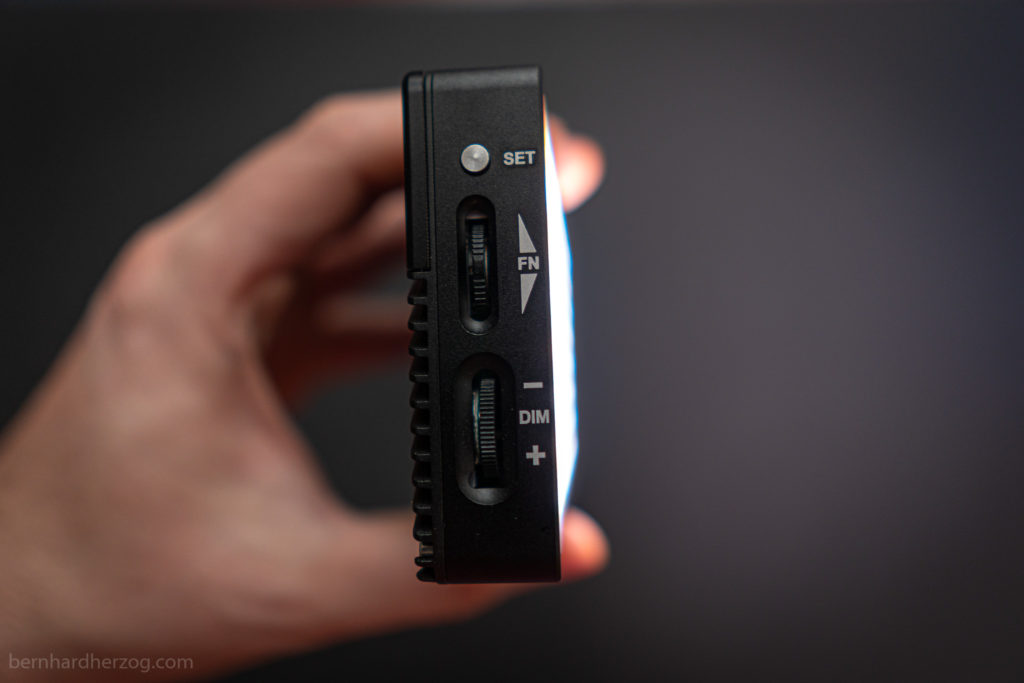 There are three modes:
CCT Mode = Correlated Color Temperature
HSI = Hue Saturation Intensity
Scene Mode
The CCT Mode is basically if you just want to have a white (daylight) or more yellow light (tungsten), for example to light your subject.
The HSI Mode is using the RGB LEDs, for example I used this to put it as an accent light in the background.
There are two dials on the side. The lower one is to change the brightness. The upper dial is to change the color or the scene (in scene mode). It can be pressed, for example to change from setting the Hue to setting the Saturation in HSI mode or to change the sub-mode when you are in scene mode.
BTW: If you are not sure which number correlates to which color it is relatively easy. Because it is an RGB light you will have a 360 degree spectrum from Red to Green and Blue. In between are the colors that are a mixture (yellow, cyan, purple).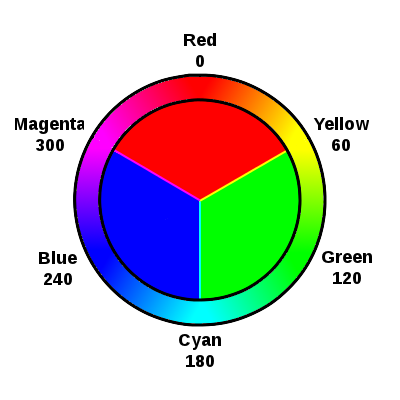 Moman MLX-RGB @ momanx.com Moman MLX-RGB @ amazon.de Moman MLX-RGB @ amazon.co.uk Moman MLX-RGB @ amazon.fr
Using the Diffusor
The diffusor is important because the LEDs have a space in between and if you put the light very close the shadow has like "steps" or "facets" because of this. This is typical for LED lights.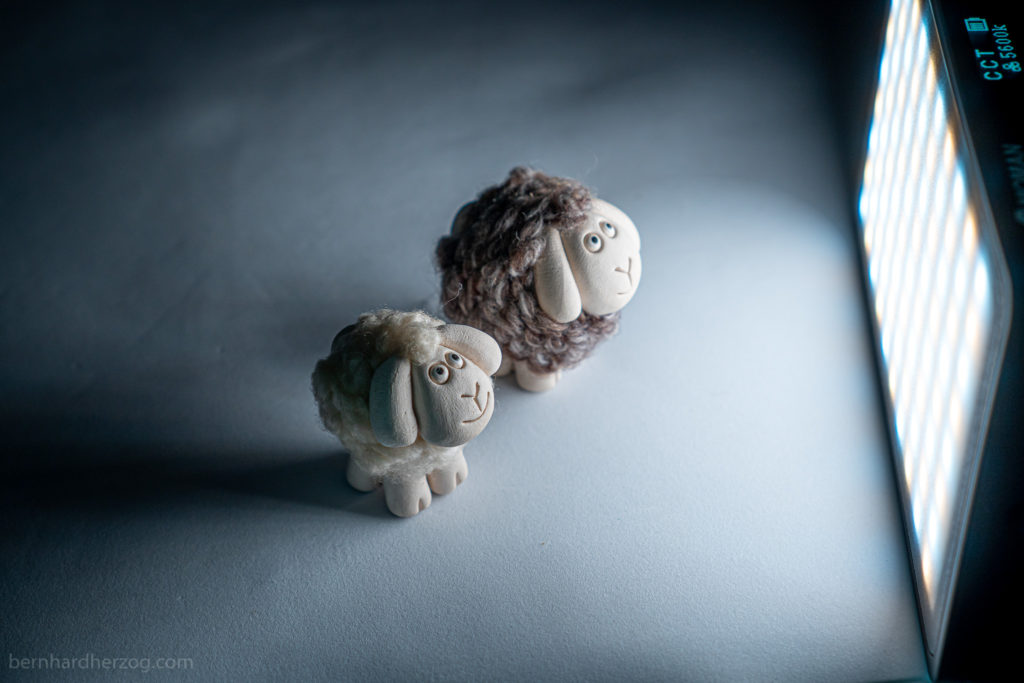 The frosted glass in front of the LEDs helps already to diffuse it.
The additional diffusor makes the shadow even more soft and gradual.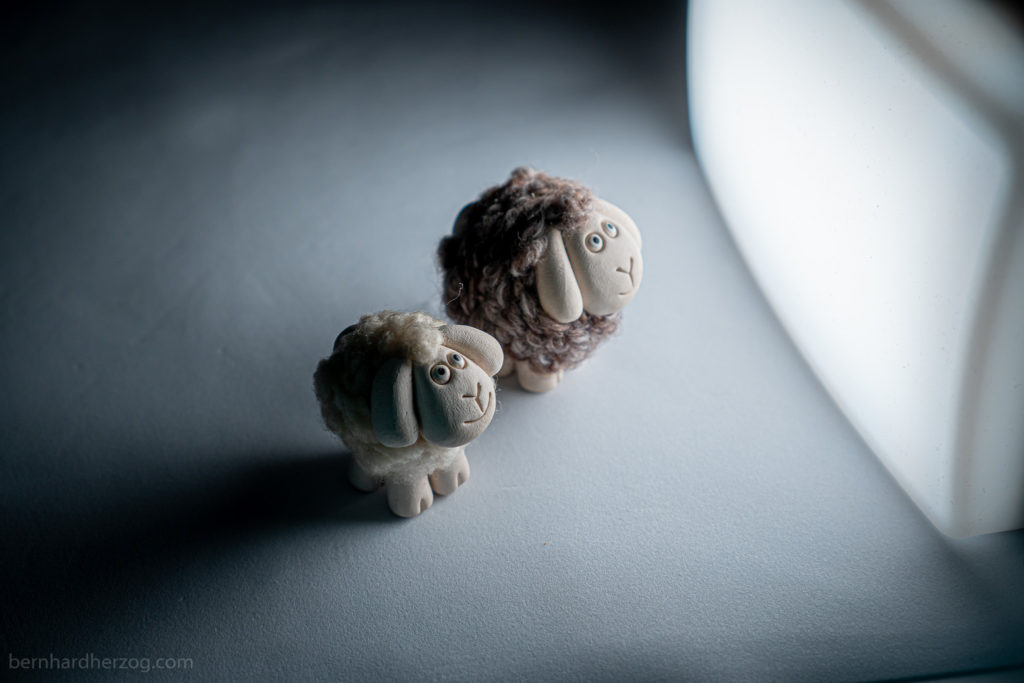 If you want to create an even softer light you have basically two options. Then you can even use the light as a very soft key light without any hard shadows.
One option is to bounce light using a reflector or a sheet of paper.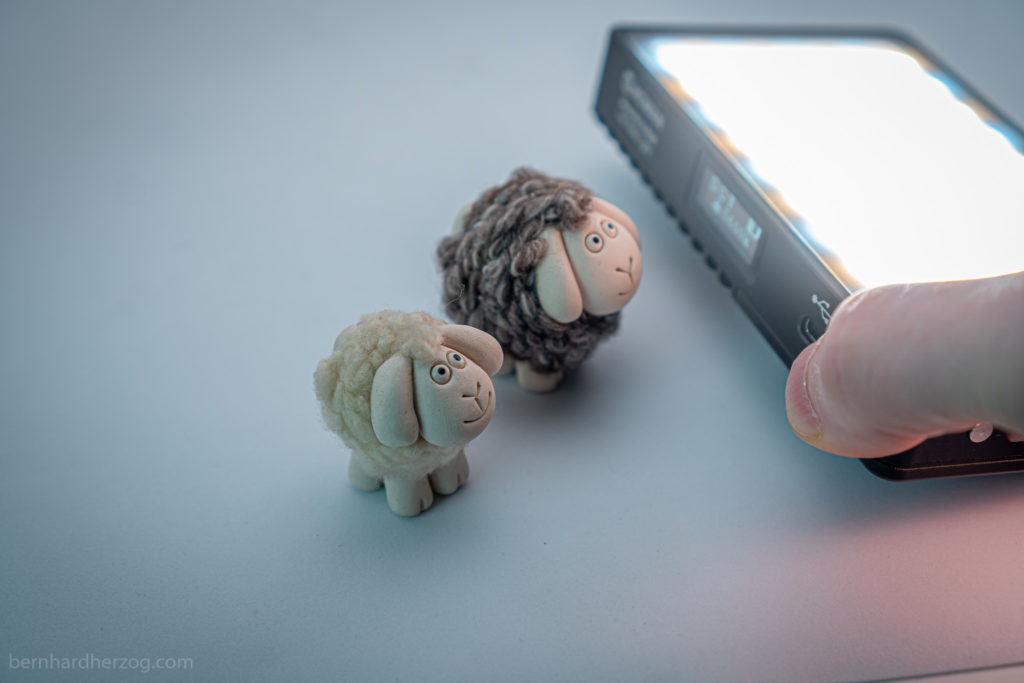 Or you put the light into a bigger softbox.
Moman MLX-RGB @ momanx.com Moman MLX-RGB @ amazon.de Moman MLX-RGB @ amazon.co.uk Moman MLX-RGB @ amazon.fr
Review & Comparison
Moman sells a lot of lights and it's easy to get lost in the choices. Here is a quick overview why I specifically chose this light (beside being an RGB light):
150 LEDs, 12W Output (some lights have only 130 LEDs and are not so bright)
more lightweight (300g)
Quick Charge 3.0 (charges the light in just 2 hours)
Display on Top
This light has
70 RGB LEDs
40 cool white LEDs
40 yellow LEDs
Not all LEDs are used at the same time, for example in CCT mode only the cool white and yellow LEDs are used.
Here are other light choices from Moman:
Moman ML3-D: bi-color, 96 LEDs, nice and small
Moman ML6-DC: bi-color, 180 LEDs, most LEDs for single color
Moman ML6-RC: "color" version of ML6-DC, 130 LEDs
Moman ML9-RGB: RGB, 150 LEDs, 370g, display on the back
Moman MLX-RGB: RGB, 150 LEDs, 300g, display on top
So if you just need a strong light and don't care about RGB you can choose the ML6-DC for example, because all LEDs are used to create a single color (depending on the color temperature you select of course).
MLX-RGB: momanx.com amazon.de amazon.co.uk amazon.fr
ML3-D: amazon.com amazon.de amazon.co.uk amazon.fr
ML6-DC (mistake in my video, I recommend this light if you don't need RGB but a powerful light): momanx amazon.de amazon.co.uk amazon.fr
ML6-RC: amazon.com amazon.de amazon.co.uk amazon.fr
ML9-RGB amazon.com amazon.de amazon.co.uk amazon.fr
Conclusion
All in all I am really happy with the Moman MLX-RGB. Finally I have a light with RGB colors. My main use will be to use it as a background light and it will make my scenes look much more professional.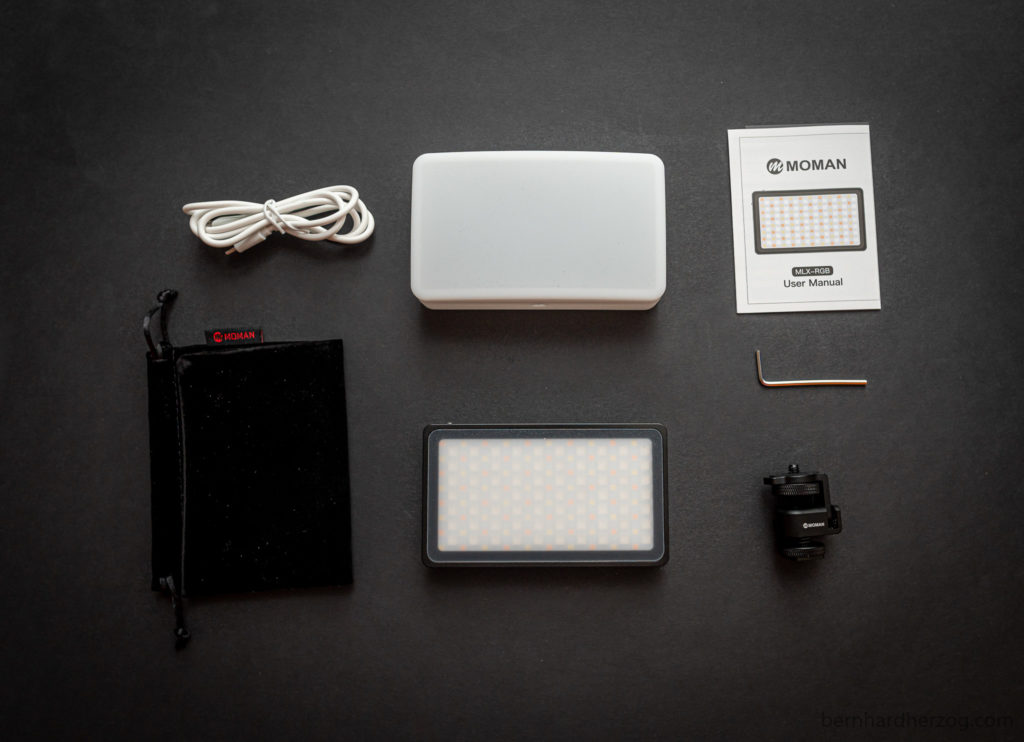 I hope this was helpful and I CU in my next article! Bye!!!
If you have any question or comment please don't hesitate to post below.
Moman MLX-RGB @ Moman Moman MLX-RGB @ amazon.de Moman MLX-RGB @ amazon.co.uk Moman MLX-RGB @ amazon.fr
Recommended camera equipment for photo, video & travelling (AMAZON):
Sony a6600 Sony a6400 (cheaper) Sony a6100 (Budget-Option for 4K) Sigma 16mm 1.4 Sony 35mm 1.8 Samyang 12mm 2.0 Feelworld Master MA7 Smaller monitor Rode VideoMicro Rode Wiress Go II Mini Tripod Travel Tripod Small LED-Light Light #1 (powerful) Light #2 (Bi-Color) Softbox for this light Light tent/box DJI Osmo Action GoPro 9 GoPro MAX Invisible Selfie Stick Mavic Mini 2 drone Mavic Air 2
for photo and video:
Fuji XT-4 Fuji Telezoom Entry level camera (Canon)
*Affiliate Links. From everything you buy I will receive a small kickback that helps me maintain my channel. THANK YOU for your support!