Today I want to review the Aqua Marina Breeze Stand up Paddle Board. The board is not too big and 4 inches (10 cm) thick so it is well suited for smaller people (children/women).
The board comes with a simple bag, a pump and the fins. The bag is adjustable and not a closed backpack but instead it is folded around the board so the size is adjustable. The size with everything inside (also the paddle) is ca. 32 inches x 19 inches (82cm x 47cm).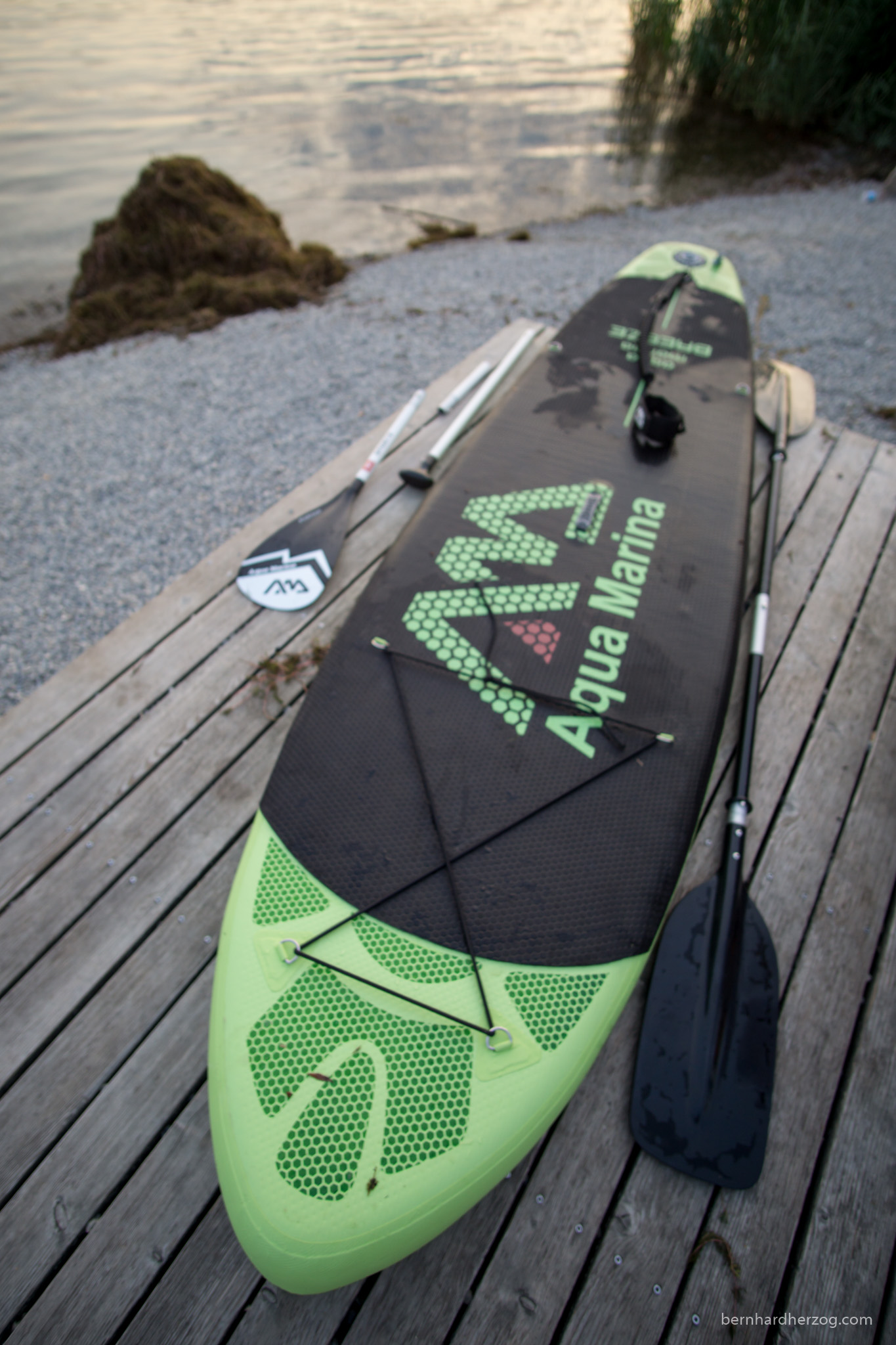 Because the board is not too large it is perfect for travelling and the bag can be used as a backpack to carry the board. For example we used it to transport the bag while cycling. It can get heavy for longer distances, so at least the pump and the paddle should be carried on the bike rack for example.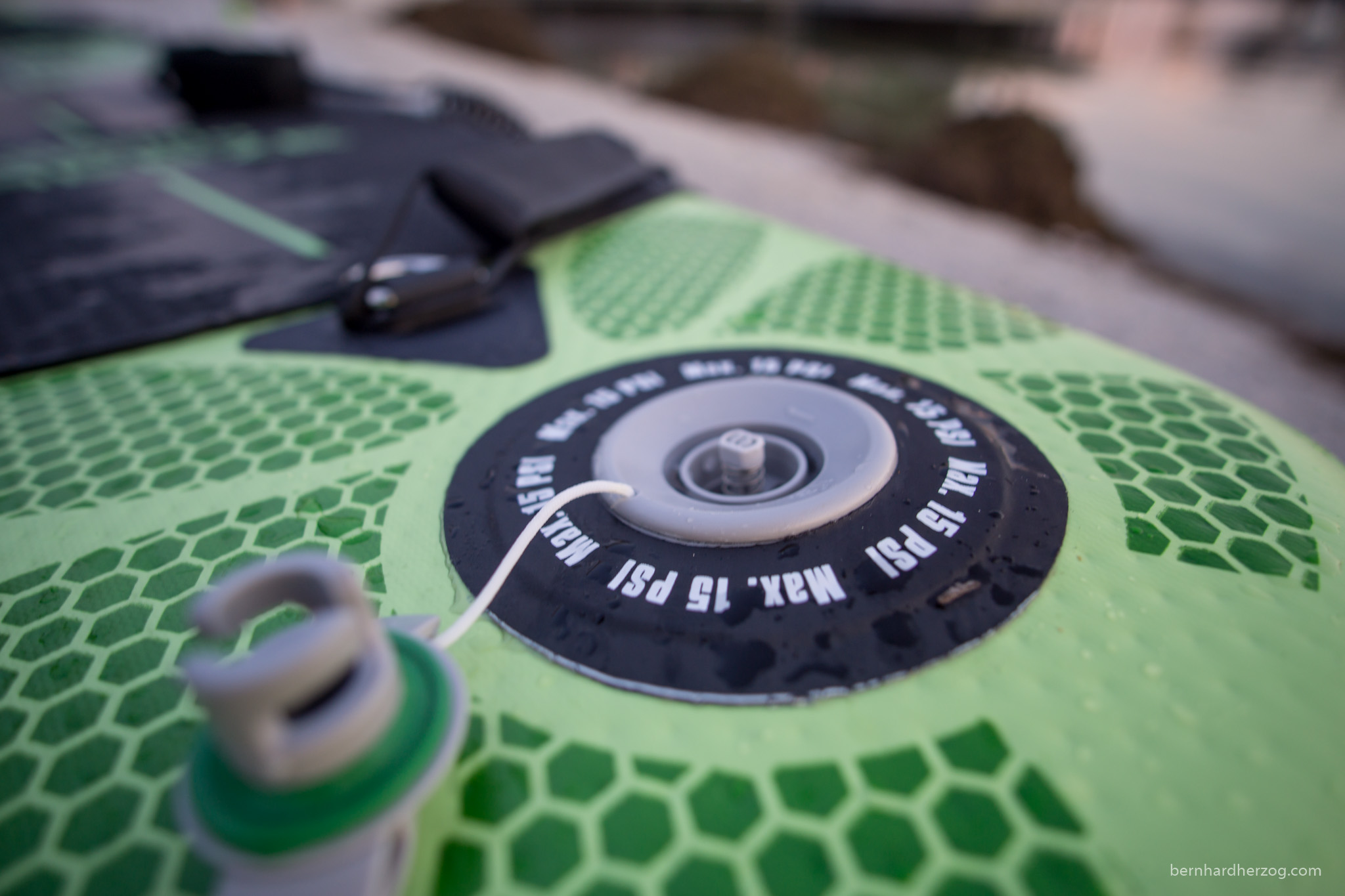 Inflating the board takes just 5 minutes.
The board can be bought without a paddle or with a paddle and the leash. There is a 3 pieces simple paddle which is not adjustable (only the middle part can be left out). For taller people it is better to buy a paddle which is fully adjustable but be aware that it might take more space in your bag.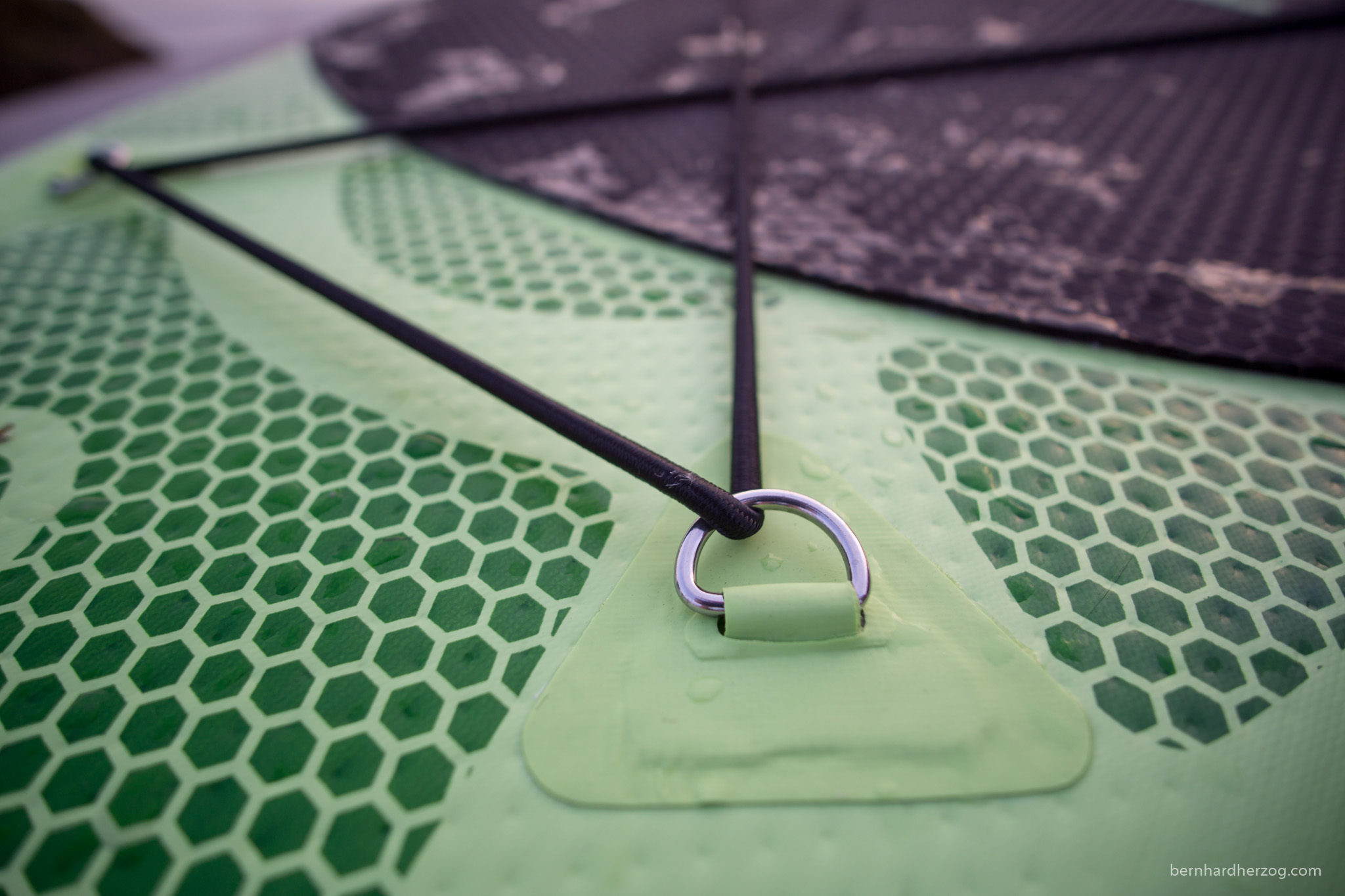 Pros:
+ small and lightweight, perfect for travel
+ high quality double wall material
+ the rubber area on the top almost spans the whole board
+ has extra D-Rings to attach seat etc.
+ design
+ quick to inflate and deflate

Cons:
– not well suited for taller/heavier people or for two people, will get wobbly then
– heavier people will have feet in the water
– pump is big
Please use the links below to buy the board. It is no extra cost for you and I will receive a small kickback from anything you buy helping me finance my reviews:
Buy @ amazon.de
Buy @ Amazon
Recommended camera equipment for photo, video & travelling (AMAZON):
Sony a6600 Sony a6400 (cheaper) Sony a6100 (Budget-Option for 4K) Sigma 16mm 1.4 Sony 35mm 1.8 Samyang 12mm 2.0 Feelworld Master MA7 Smaller monitor Rode VideoMicro Rode Wiress Go II Mini Tripod Travel Tripod Small LED-Light Light #1 (powerful) Light #2 (Bi-Color) Softbox for this light Light tent/box DJI Osmo Action GoPro 9 GoPro MAX Invisible Selfie Stick Mavic Mini 2 drone Mavic Air 2
for photo and video:
Fuji XT-4 Fuji Telezoom Entry level camera (Canon)
*Affiliate Links. From everything you buy I will receive a small kickback that helps me maintain my channel. THANK YOU for your support!