As the last leg of our trip we went to Skiathos. This island is smaller than Skopelos and very touristic. But this has advantages, too, i.e. there are all amenities (food etc.) available.

We took the ferry from Skopelos Town. We did not have to go to Glossa this time. But we had to wait for a long time, the ferry was late. Actually we were lucky, because the next day there was a strike of the ferries in Greece.
We arrived in the evening and checked out the main pedestrian road. It has many shops and fast food restaurants. Very convenient and also more lively than in Skopelos.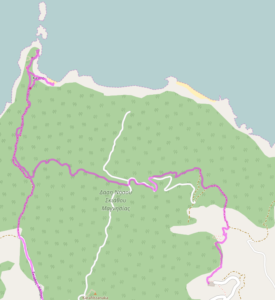 The next day it was cloudy so we went for a hike from Monastery Evangelistrias to Kastro. We took the small red bus to the monastery for 2 Euros starting at 9am from the bus station near the new harbour. A hiking book is available to buy but since we were there for just 1 day we decided to try on our own. The author of the book has marked a lot of paths on the island but to know what the numbers mean the book is required. But we managed to do it anyways. The path is very nice and highly recommended. It goes from Moni Evaggelistrias to Moni Agiou Charalampous and then it is possible to go to Kastro.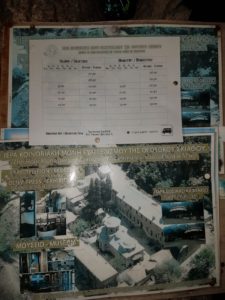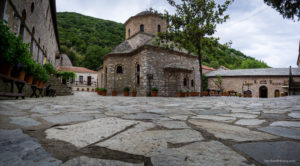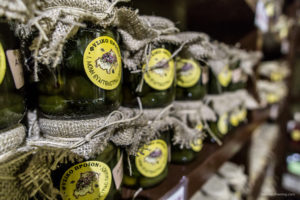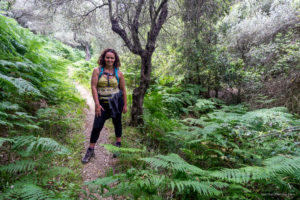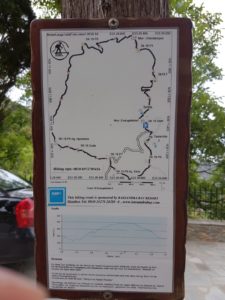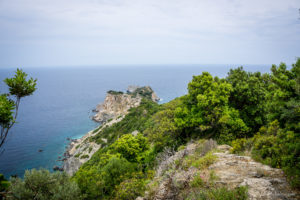 Kastro is a fortress against pirates and the old main town of Skiathos. It is a very nice place without entry fees sporting great views. At the nearby Kastro beach there is a cool bar which they made to look like a pirates nest. The path going there is an old donkey path. Before the beach there was a poor donkey on a leash, he almost slipped because the meadow he had to stand on was steep.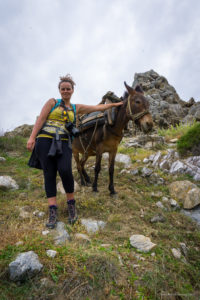 To go up again was strenous, some people went with their car almost all the way down. Unfortunately at first we did not find someone to take us but later on the main road a couple stopped and brought us to the main road on the other side of the island again. From there we took the bus to Koukounaries beach. This bus goes very regular, another nice thing about a touristic place. The beach is maybe the most well known of the island because of the golden sand. In summer it is packed with people though, when we were there not so many.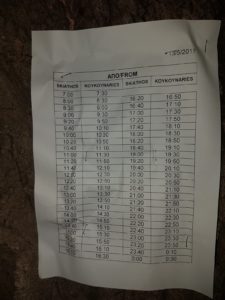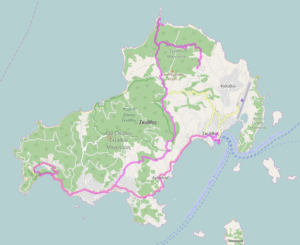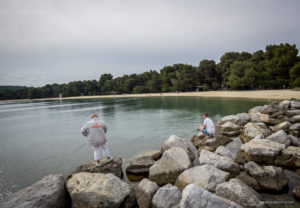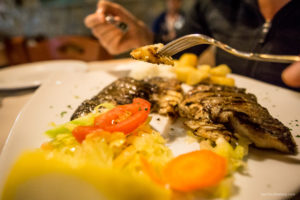 Back in Skiathos we visited the old harbour and Bourtzi island. We tried to find a restaurant which is not so touristic but it was impossible. This is the other side of being touristic, everywhere we went lots of waiters came to us to get us into their restaurant. This was annoying. We ended up in a restaurant which looked nice and was not at the harbour, but it was still touristic. I guess the waiter was very bored. For example he told me he will bring me green tea (probably he saw that I have a backpack) but then another waiter brought me yellow tea. But the fish was ok more or less, but expensive… well why should I complain, it was our last day 😉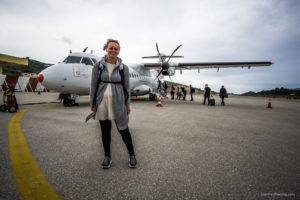 On the next day we had our flight to Athens. Again we were lucky because there was a 4 hour strike of the traffic controllers in Greece. Lucky because our flight was just starting earlier, it was not cancelled. BTW our host in Skiathos told us she could call a taxi for us but it would cost 20 Euros. Just for 2km! So we went by foot along the harbour and it was not much of a problem. But if someone has more luggage it can be…
Skiathos is a nice place and we had a great time. But a place being so touristic has pros and cons. In general I prefer places in Greece where there are more locals and where someone can go through the streets without being pestered by waiters etc. In Skiathos in front of any venue there was someone standing and trying to lure the people inside…
Recommended camera equipment for photo, video & travelling (AMAZON):
Sony a6600 Sony a6400 (cheaper) Sony a6100 (Budget-Option for 4K) Sigma 16mm 1.4 Sony 35mm 1.8 Samyang 12mm 2.0 Feelworld Master MA7 Smaller monitor Rode VideoMicro Rode Wiress Go II Mini Tripod Travel Tripod Small LED-Light Light #1 (powerful) Light #2 (Bi-Color) Softbox for this light Light tent/box DJI Osmo Action GoPro 9 GoPro MAX Invisible Selfie Stick Mavic Mini 2 drone Mavic Air 2
for photo and video:
Fuji XT-4 Fuji Telezoom Entry level camera (Canon)
*Affiliate Links. From everything you buy I will receive a small kickback that helps me maintain my channel. THANK YOU for your support!