Our trip to Gibraltar was really a memorable one. What you can do there: Hiking on the impressive rock with a view to Morocco, study the interesting history of this british enclave, do duty free shopping and see (not feed) the monkeys. Maybe things will change when Great Britain leaves the EU because of the Brexit. In this guide I want to give you tips about accommodation, food and what to see. Please read on.
My photo/video equipment
I was using a Sony a6500 but nowadays I would buy an a6600 for travelling (because of the selfie screen that is good for vlogging). Note I have a drone listed but it is impossible to fly a drone in Gibraltar (only with a special permit). Here is a list of my equipment:
GoPro 8 (amazon.de)
GoPro 8 (amazon.com)
GoPro 8 (amazon.co.uk)
Sony a6600 with kit lens (amazon.de)
Sony a6600 with kit lens (amazon.com)
Sony a6600 with kit lens (amazon.co.uk)
Sigma 16mm (amazon.de)
Sigma 16mm (amazon.com)Sigma 16mm (amazon.co.uk)
Sony 35mm (amazon.de)
Sony 35mm (amazon.com)
Sony 35mm (amazon.co.uk)
DJI Mavic Air(amazon.de)
DJI Mavic Air (amazon.com)
DJI Mavic Air (amazon.co.uk)
About Gibraltar
Gibraltar is in the south of Spain and part of Great Britain. Many Spanish people go there everyday for work or to refuel because it is cheaper there.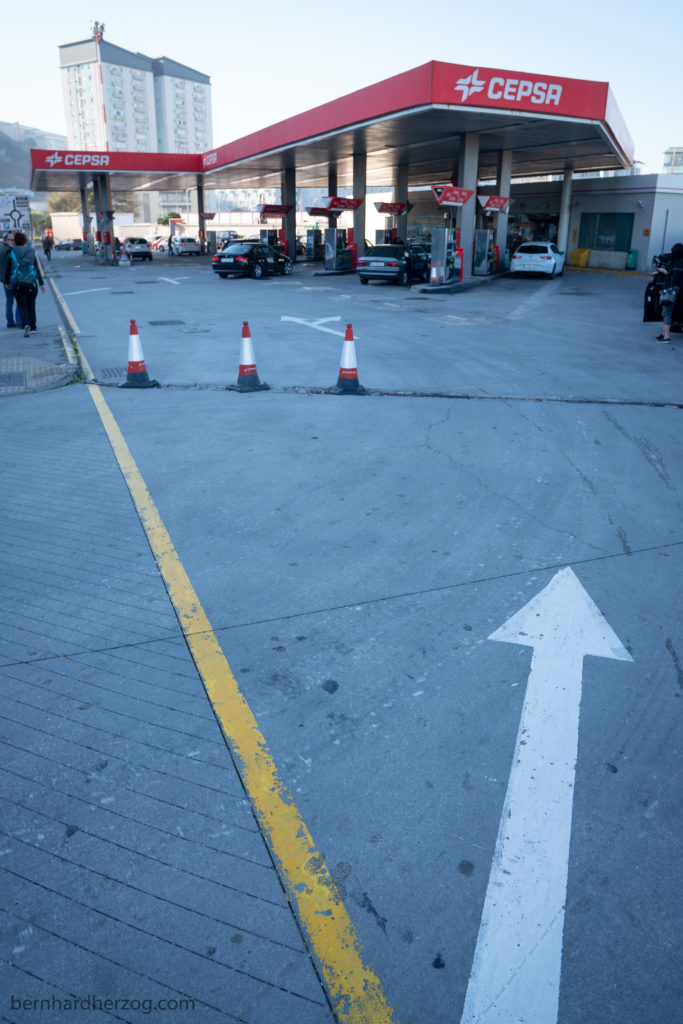 Because of the Brexit things could change and life could get more difficult for the Spanish people. The south of Spain (Andalusia) including the border city of La Línea de la Concepción is the poorest part of Spain.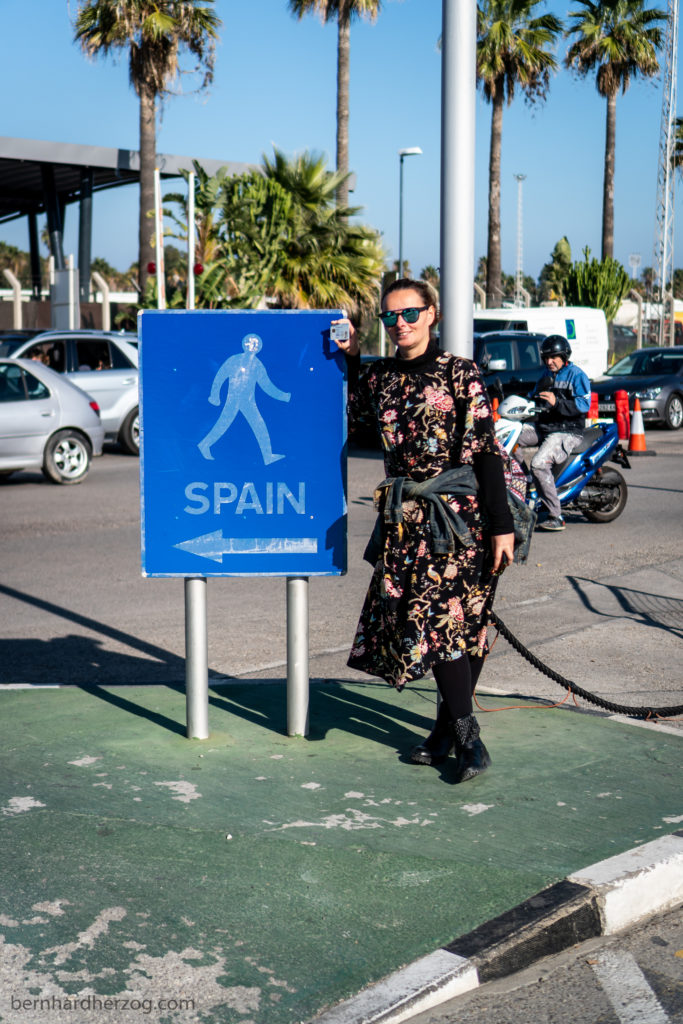 Being part of Great Britain is what makes Gibraltar very special, you could say it is a "colony". But it is funny because Spain also has some oversea territories like Ceuta and the Canary islands. So it would not be fair if Spain would ask to get this area back. 😉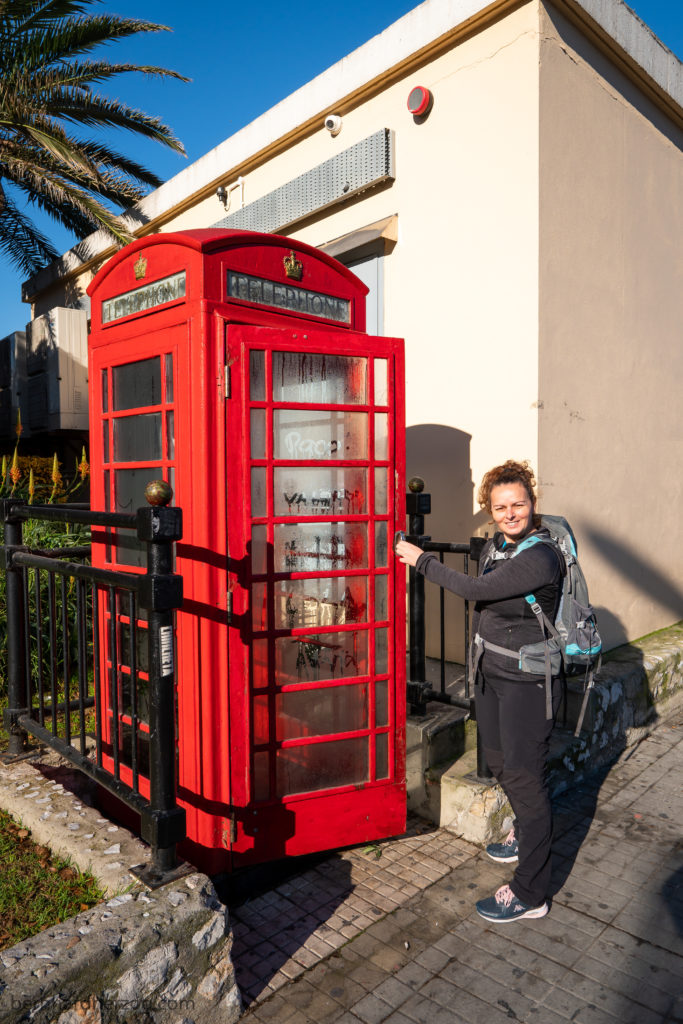 Best time to visit
You can visit Gibraltar the whole year because of the mild climate.
If you want to go swimming on the beach it is better you don't go there in winter. But if you prefer to go hiking it is better to do this in Winter, because it can get really hot in Summer.
Just be aware that the rock is often circumvented by fog. We were lucky on our first day but if you are not maybe the whole rock is covered in a cloud which can be very disappointing.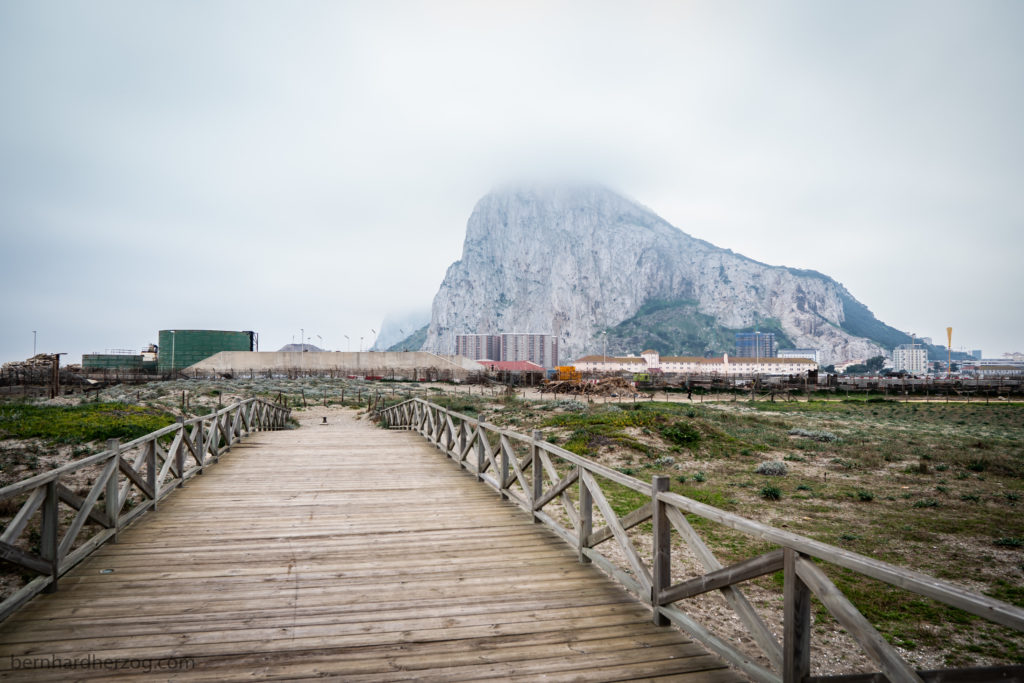 Getting there
To go to Gibraltar you actually have to cross the airport runway right after the border. This is very interesting, there is a traffic light and if a plane is landing you have to wait.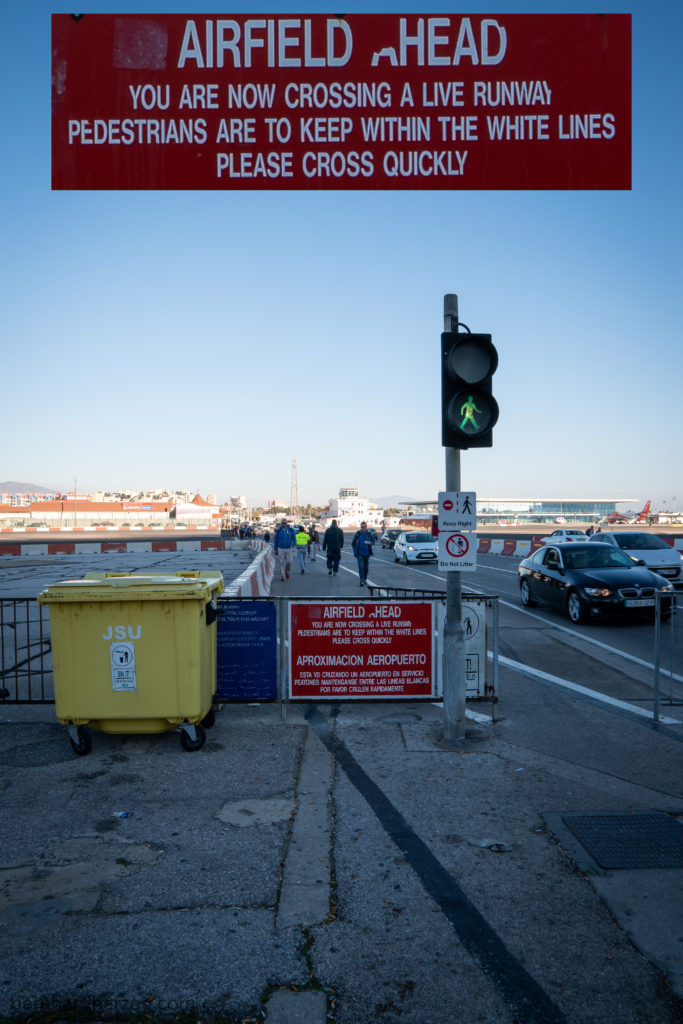 You can go with your car to Gibraltar but to go to the rock you have to have a British license plate.
I thinks the best bet is to leave your car in Spain (if you come from there) and use public transportation which works very well. Just be aware not to leave any valuables in the car because this is dangerous in Andalusia and esp. in La Línea.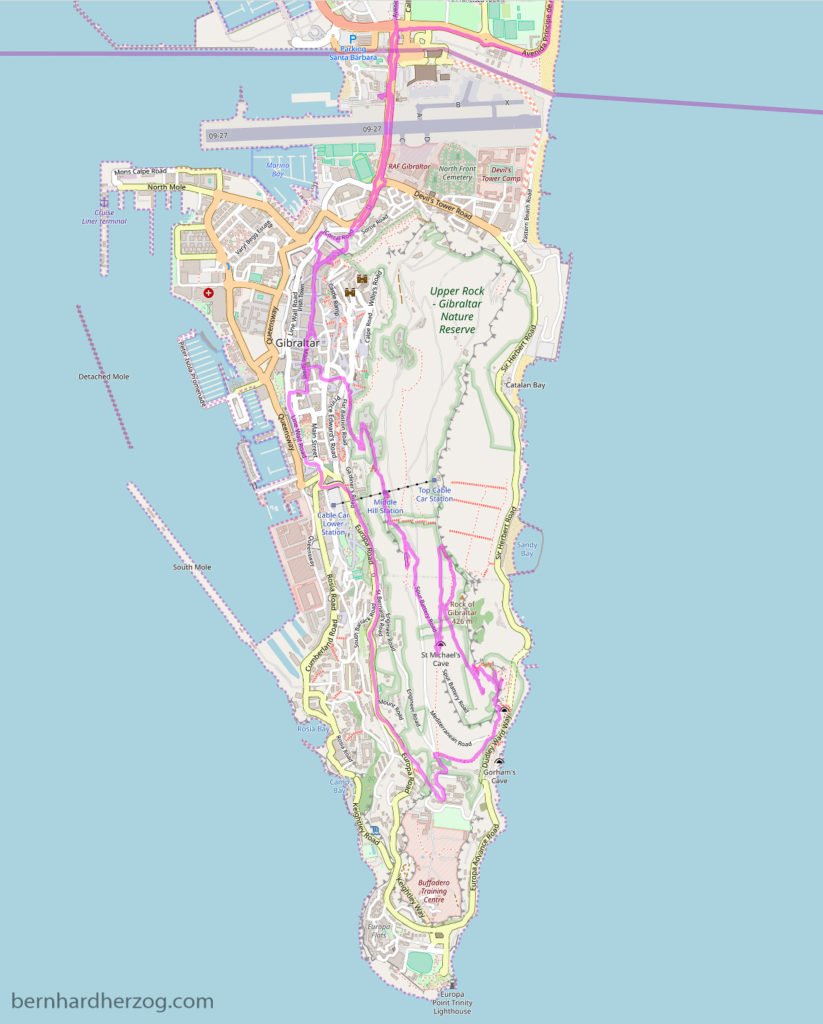 There is a bus stop right after the border and you can use this bus to cross the airport runway and to go to the bus terminal.
Note that the company that runs the buses from the terminal to the northern tip of Gibraltar is a different one than the one running the buses from the border to the terminal. You have to buy separate tickets.
For the first trip from the border you can buy a return ticket or a single ticket. For the second trip (from the bus terminal to the north) you can buy a single or a day ticket. But if you just want to go to the main street you just need the first bus.
Local currency
You can pay with Euros but it is better to change to Pound Sterlings to have better prices.
We had actually some Pounds left from the Bank of Ireland and we were able to change them to British Pounds at a money exchange bureau in the main street.
Be careful in the shops to ask to get the change in British Pounds and not in Gibraltar Pounds, because changing back the latter outside of Gibraltar is more difficult.
You can also pay with Pounds in La Línea.
Accommodation
We came from Malaga and staid in La Línea de la Concepción. It is much cheaper to stay there than in Gibraltar.
From there we were actually able to walk to the border. The beach was also near (but it was too cold to swim to Gibraltar 😉 ).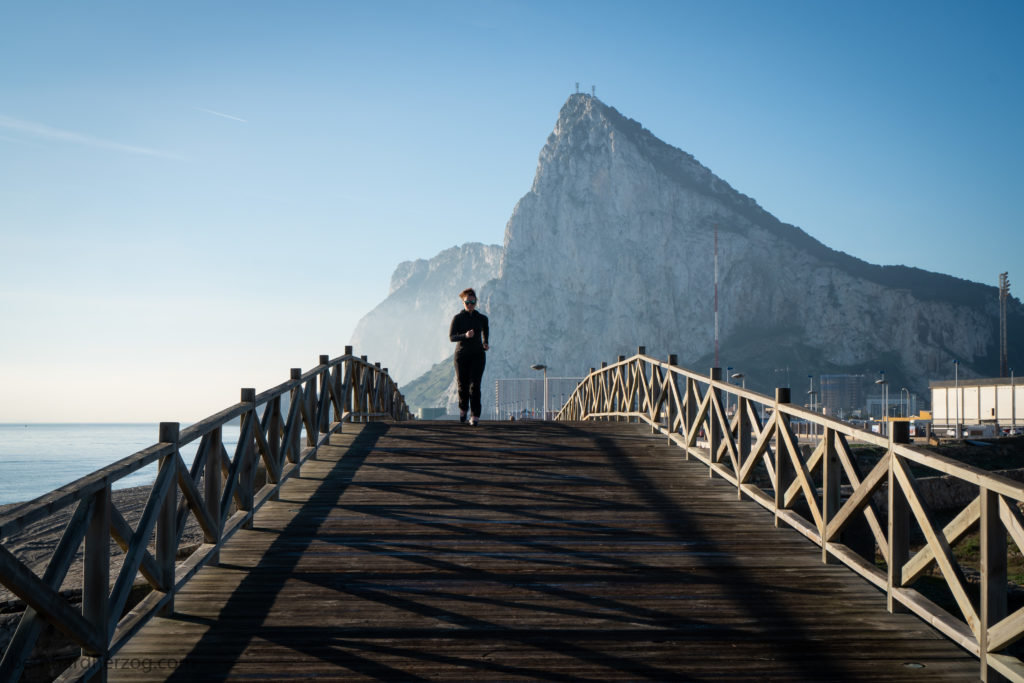 You can find an accommodation using the form below and support our free travel guide at no extra cost for you:
(function(d, sc, u) {
var s = d.createElement(sc), p = d.getElementsByTagName(sc)[0];
s.type = 'text/javascript';
s.async = true;
s.src = u + '?v=' + (+new Date());
p.parentNode.insertBefore(s,p);
})(document, 'script', '//aff.bstatic.com/static/affiliate_base/js/flexiproduct.js');
Eat
When you arrive with the bus you will go to Grand Casemates Square first which is right next to the bus terminal. This is where the main street begins with all the duty free shops.
There are many restaurants there but they are more expensive. We went to a side street and found an Indian Take-Away (Mumtaz) where you can also sit inside. The food was very reasonable priced. A hidden gem.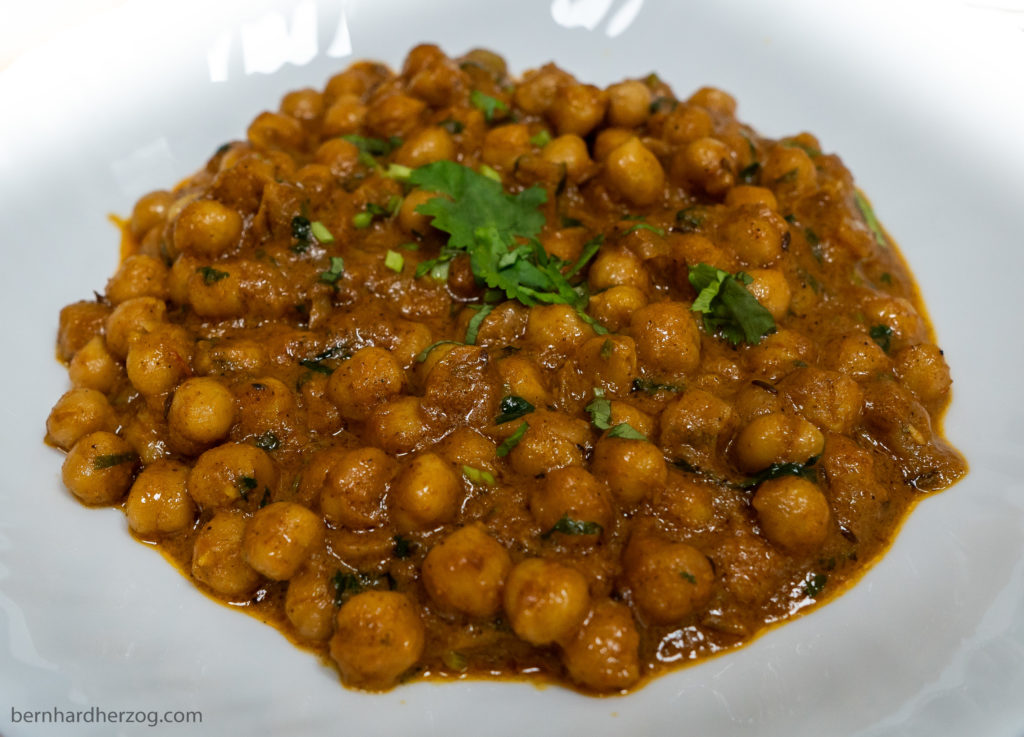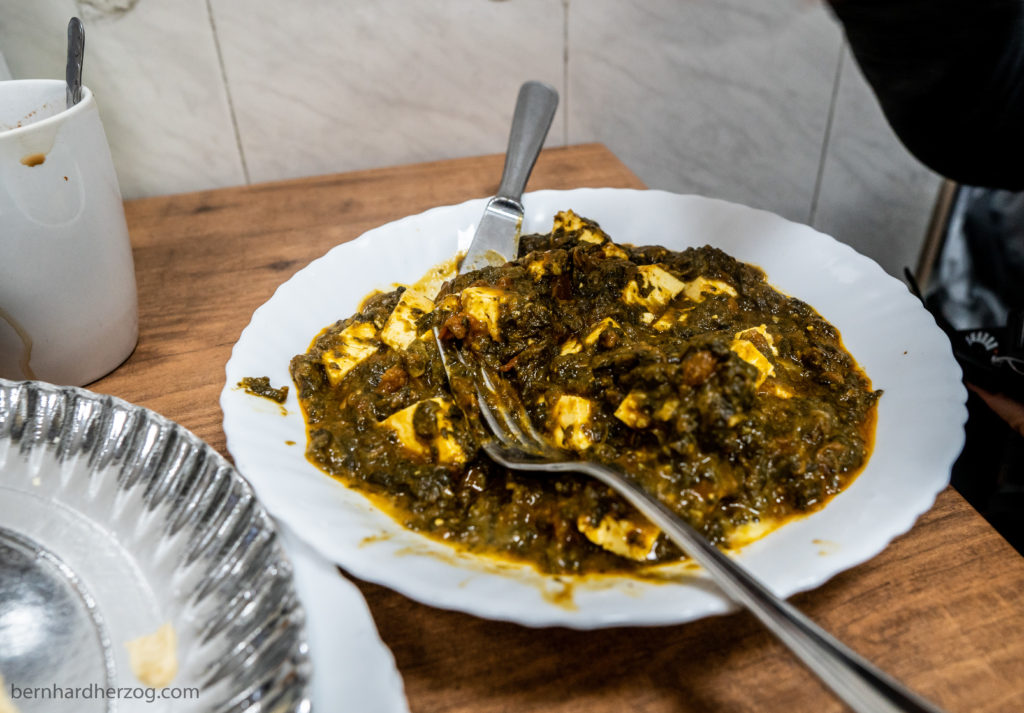 We liked the food so much that we went there again on the next day to spend all the Pounds we had left.
Top 6 things to do
1. Go to upper rock
The upper rock really dominates Gibraltar and it is obvious that it is very interesting to visit this area, esp. because of the military history of this place.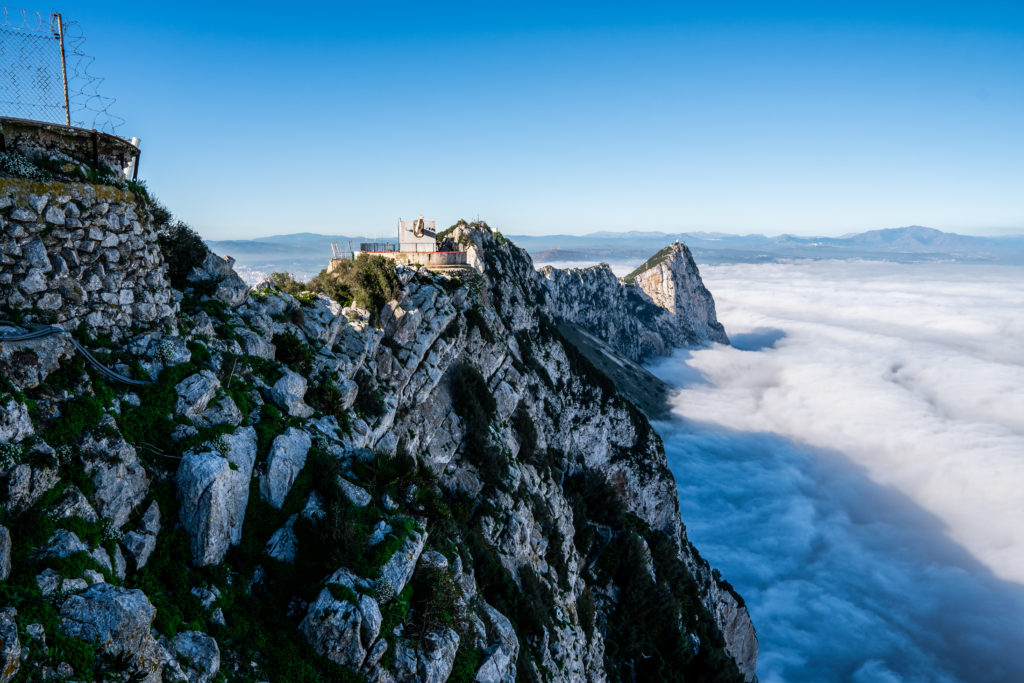 To go up I recommend you take the cable car. We actually went up in the north using the Mediterranean Steps starting at Jews' Gate. I would not do that again because I had a lot cameras and this was hard. You can go down this way. (not recommended for small children because of the monkeys, see below)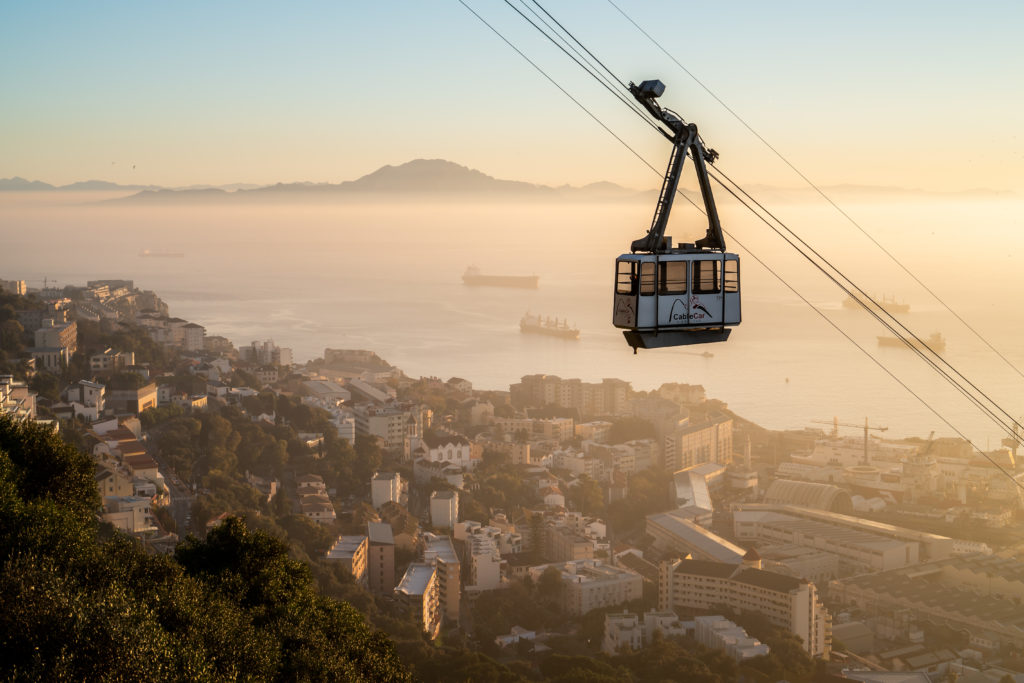 From up the rock you have an amazing panoramic view to the city and you can see the ships passing by. You can also see Algeciras in Spain (another very poor city of Spain).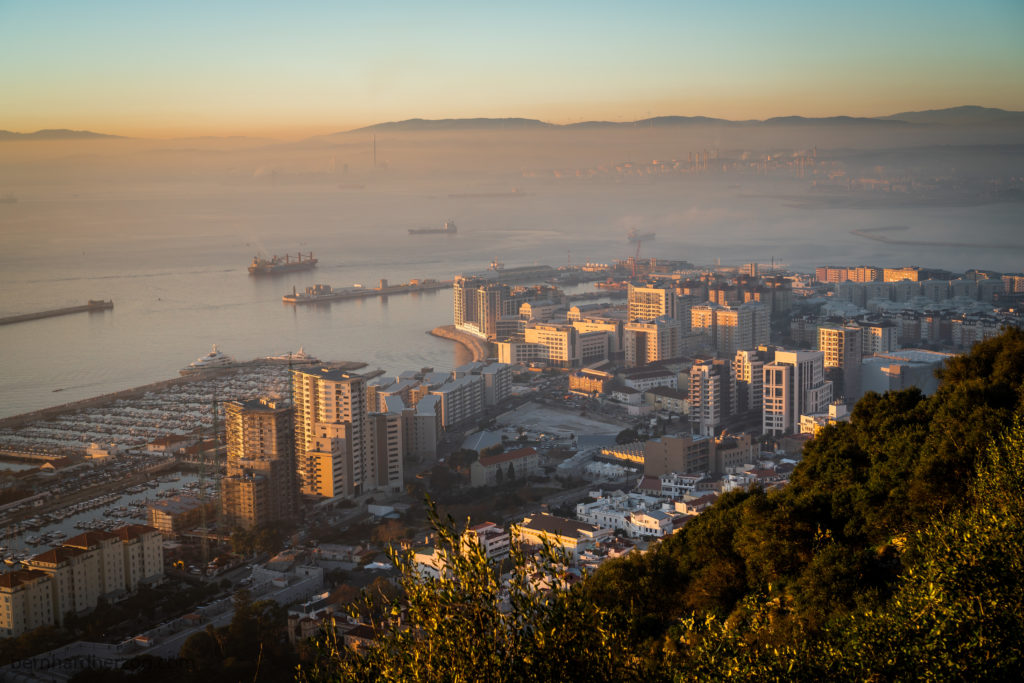 2. Mediterranean Steps
I recommend you to visit the Mediterranean Steps but go up only if you don't carry much weight. Otherwise I recommend going down (if you don't have knee problems).
The view down and to Morocco (Africa) is breath-taking (if you are not out of breath from hiking up). You can also see the Mosque and the lighthouse on the northern tip of Gibraltar.
One "problem" you might run into is that there are a lot of monkeys at one point.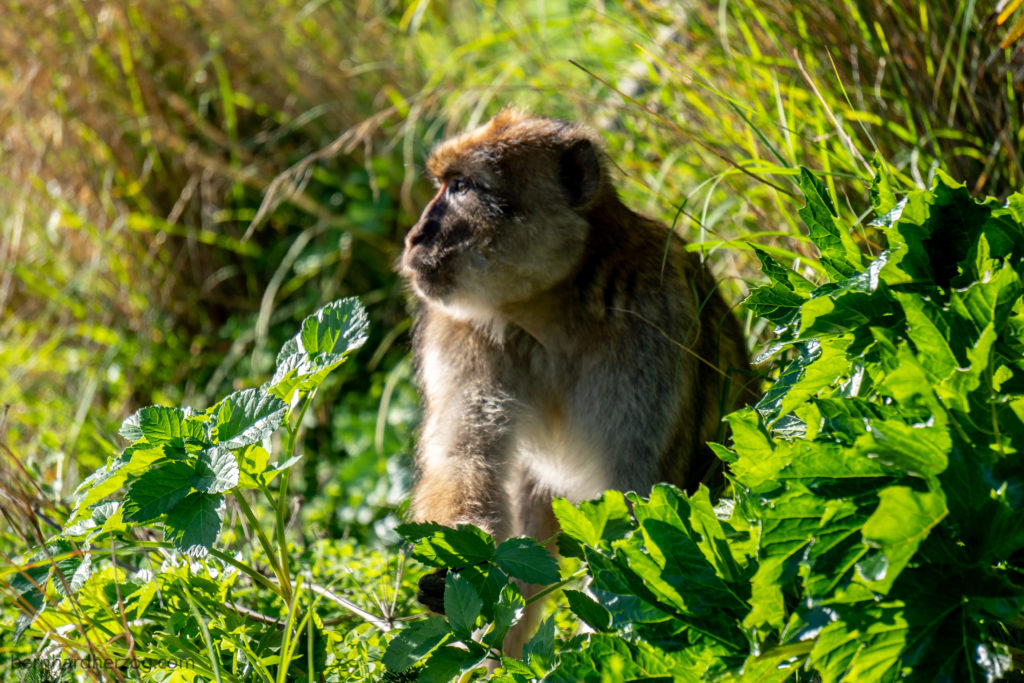 Don't make the same mistake like me to open you bag. Actually I wanted to get out my camera but they were getting very agressive.
Then you have to sacrifice some of your food to get them distracted. Actually I already had a stone in my hand but throwing it would have made them even more agressive (and call for their peers). Maybe they were intimidated.
Actually you SHOULD NOT feed them it is forbidden and they would get used to it which is not good.
3. (Don't feed) the monkeys
This is a place where monkeys roam freely. It is a huge tourist attraction, esp. at Apes Den.
It is forbidden to feed them as I said before.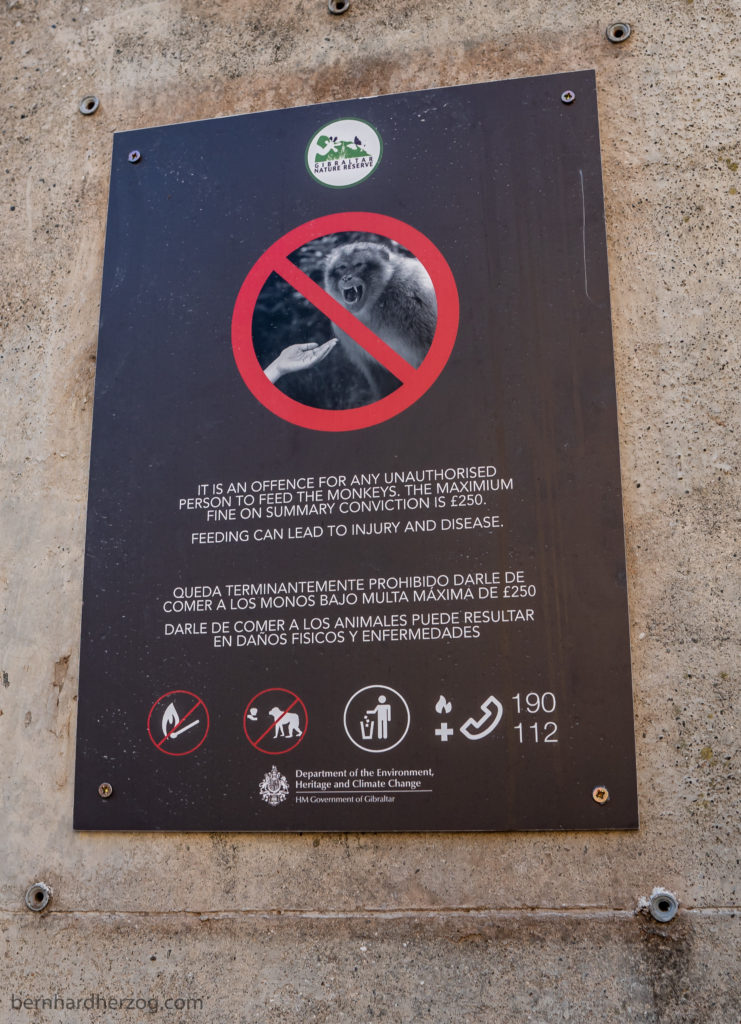 Some are little bit agressive so be careful. They usually send the more agressive ones off to a zoo somewhere in Scotland.
4. Visit St. Michael's Cave
This cave is really beautiful. There is a big space where they play concerts inside.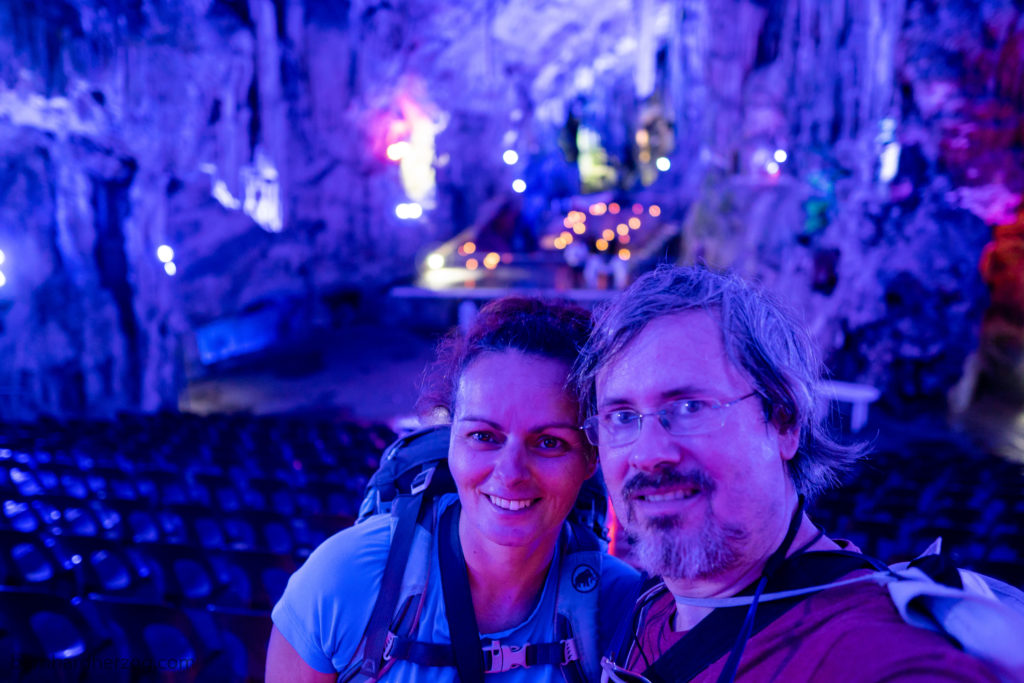 Note that you have to pay an entrance fee when you enter the upper rock area. You can get a ticket just for hiking around or another ticket which includes the main attractions.
We also visited O'Hara's Battery, the Skywalk, Apes Den and Windsor bridge. Fun fact: You should not go on the bridge if there is a monkey on it (there is a sign) 😉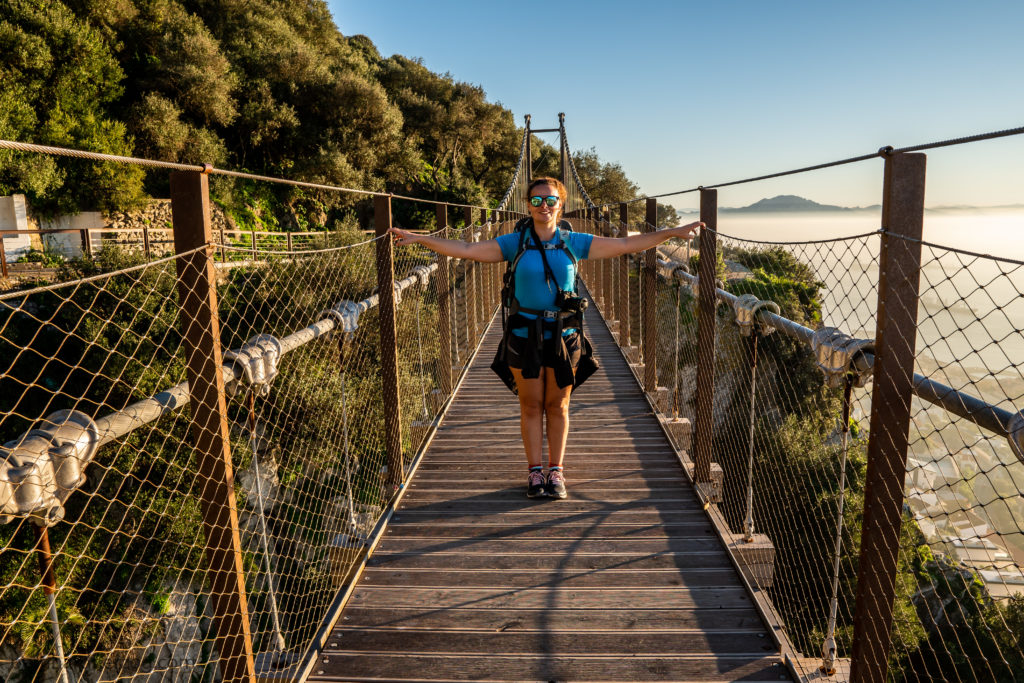 We would have liked to visit the Moorish Castle and the WW-II Tunnels as well, but unfortunately we ran out of time (needed too much time going up the steps).
5. Go shopping in the main street
Well you can spend a lot of money in the main street on jewelry and stuff.
Note: There are not many supermarkets in Gibraltar. The biggest one is Morrisons but it is hard to go there if you are not going by car, it is not in the center. There is a great supermarket right at the border (Eroski).
6. Visit the lighthouse and the mosque in the north
The bus that goes to the cable car eventually leads to the northern tip of Gibraltar. There is nice lighthouse and a great view to Morocco from there. This is what makes this place special.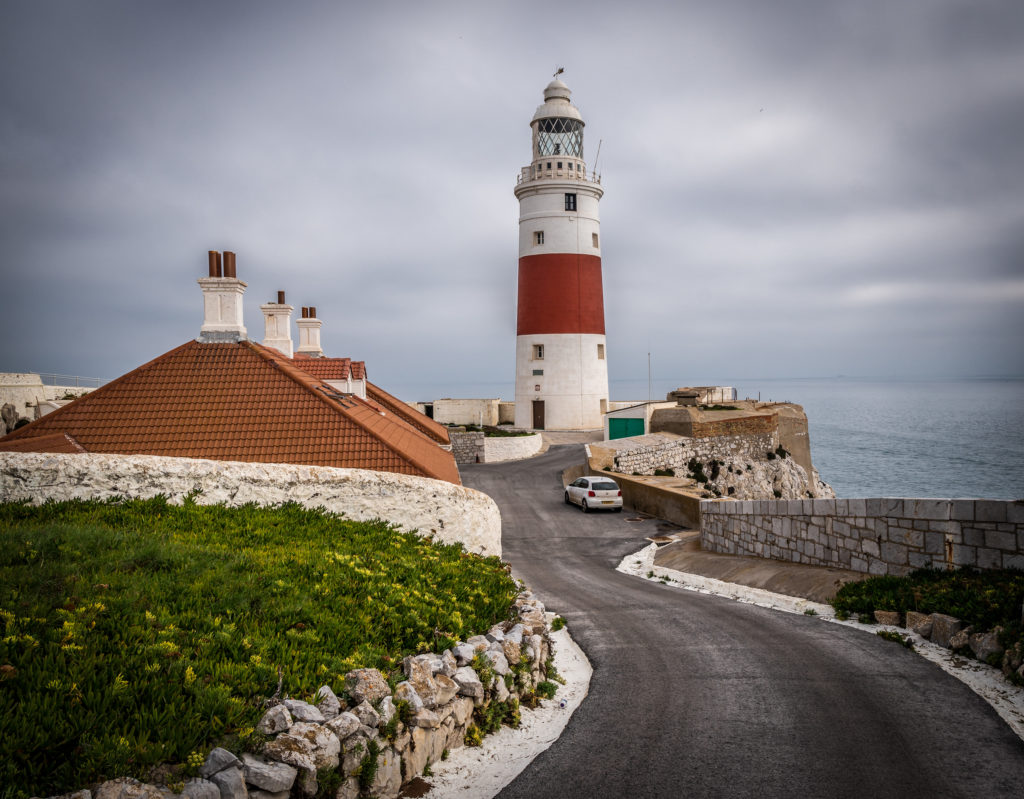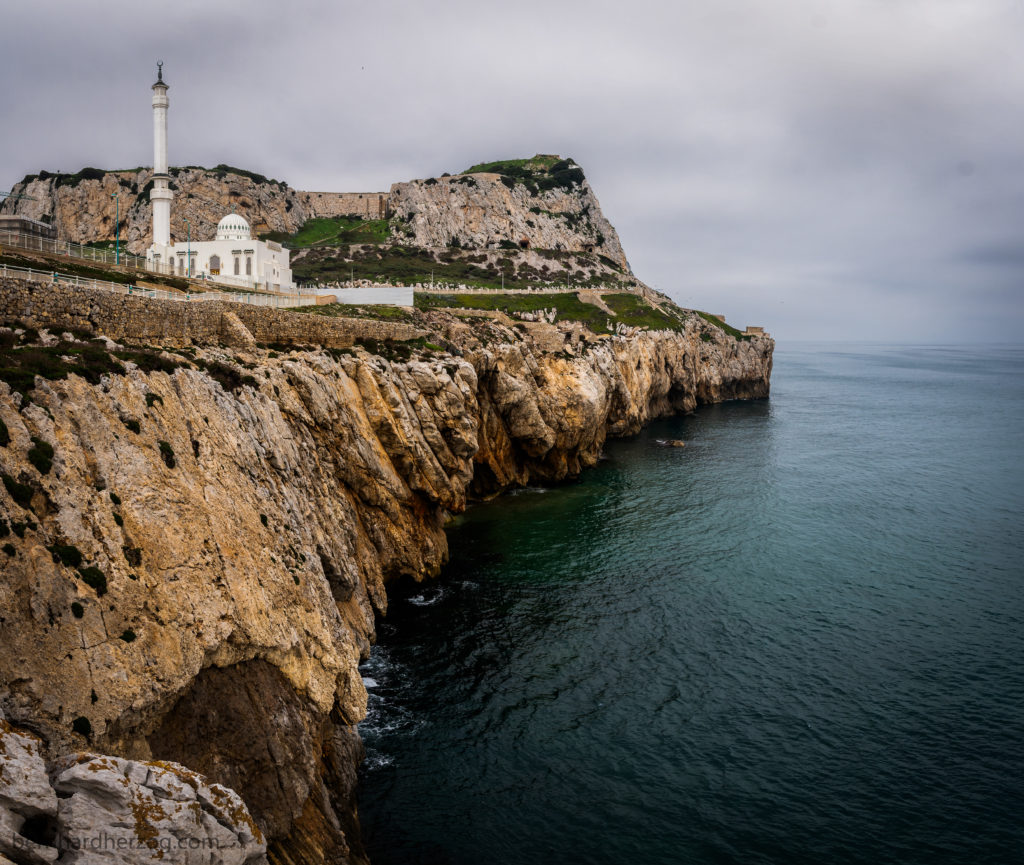 Ethical statement
When visiting Gibraltar from La Línea de la Concepción you will see the difference between poor and rich. This raises some ethical questions. Also that many refugees come from Africa to Algeciras is interesting. We got a different view on the Brexit and also understood better why people in Andalusia might have to become criminals to make their living.
Conclusion
Gibraltar is a really interesting place, beginning with that you have to enter it crossing an airport runway and also because it belongs to Great Britain. We really enjoyed our visit. The upper rock is also beautiful because of the nature and has a lot of history. And don't forget the monkeys. (We will not forget them because they stole a chocolate from Patricia's bag.)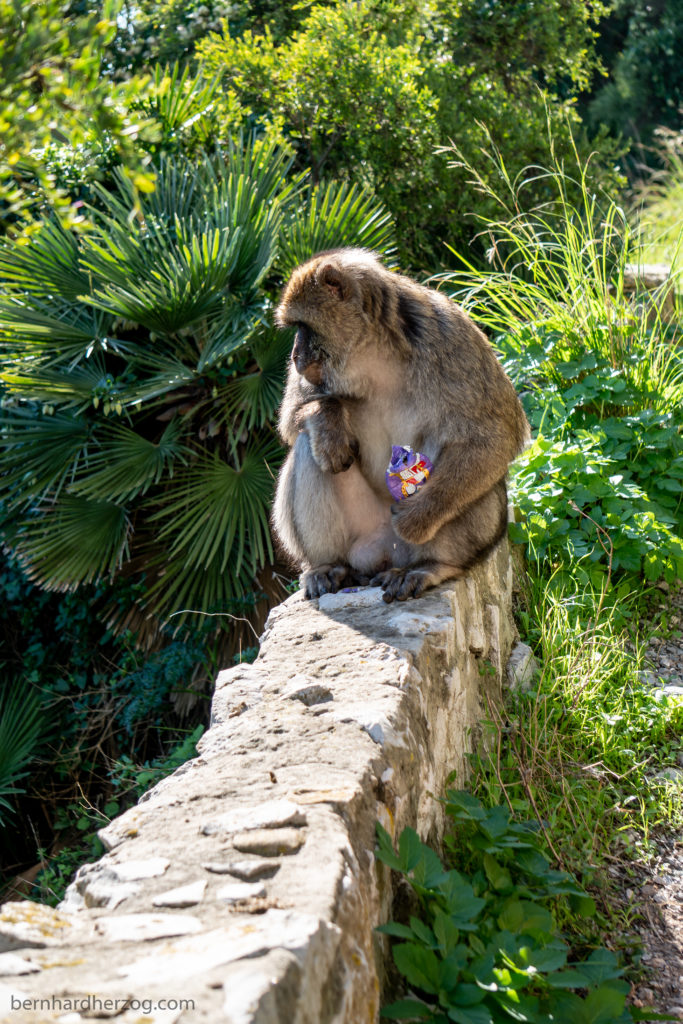 What do you think about Gibraltar? Did you visit it already or are you planning your stay? Please post in the comments below! Also if you have any question or comment don't hesitate.
Please support our free guide by booking your accommodation through booking.com at no extra cost for you using the form below. THANK YOU!
(function(d, sc, u) {
var s = d.createElement(sc), p = d.getElementsByTagName(sc)[0];
s.type = 'text/javascript';
s.async = true;
s.src = u + '?v=' + (+new Date());
p.parentNode.insertBefore(s,p);
})(document, 'script', '//aff.bstatic.com/static/affiliate_base/js/flexiproduct.js');
Here you can rent a car for your trip from our partners at Rentalcars.com. We used it to rent a car at Malaga airport: Rentalcars.com Car Hire – Search, Compare & Save
Recommended camera equipment for photo, video & travelling (AMAZON):
Sony a6600 Sony a6400 (cheaper) Sony a6100 (Budget-Option for 4K) Sigma 16mm 1.4 Sony 35mm 1.8 Samyang 12mm 2.0 Feelworld Master MA7 Smaller monitor Rode VideoMicro Rode Wiress Go II Mini Tripod Travel Tripod Small LED-Light Light #1 (powerful) Light #2 (Bi-Color) Softbox for this light Light tent/box DJI Osmo Action GoPro 9 GoPro MAX Invisible Selfie Stick Mavic Mini 2 drone Mavic Air 2
for photo and video:
Fuji XT-4 Fuji Telezoom Entry level camera (Canon)
*Affiliate Links. From everything you buy I will receive a small kickback that helps me maintain my channel. THANK YOU for your support!