Coming from Meteora with the train we had to make a stop in Volos to wait for the ferry to Skopelos on the next day.

The stop in the city was welcome to have a break after two days of hiking in Meteora. I also knew that Volos would be a good opportunity to have a glimpse of authentic greek life because it is not a touristic city.
First we went to buy our ferry tickets. There was a ticket shop opposite to the passenger ferry harbour.
In Volos there should be cheaper and better restaurant options (less touristic) than on the islands, that we knew and we wanted to take this opportunity. This happened to be true. We went to the tourist office which is a big building a little bit off the train station and the harbour. On the way there we passed by a square with some restaurants where only locals seemed to eat.
So after visiting the tourist info we went to this square to eat. They had recommended to us to eat at the harbour, but I think this is more touristic. We asked about the square and they told us that these are Ouzeries/Tsipouradikos. It is traditional to have a drink (Tsipouro) accompanied by appetizers to it. We just ordered from the menue without the booze and it was really delicious and cheap seafood. Highly recommended (just be a little bit brave to take a seat between all these locals).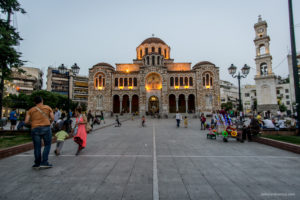 Next we went alongside the harbour until we came to a bigger beach. This is quite a walk but it was not so bad there, just some small cobble stones. After we went more into the city and came to a big orthodox church. There were many children playing there, very nice to see how locals live. After we went in a street parallel to the harbour with many delicious eating places and had crepes there.
On the next morning we took the ferry to Skopelos. Read on to see what we did there.
Recommended camera equipment for photo, video & travelling (AMAZON):
Sony a6600 Sony a6400 (cheaper) Sony a6100 (Budget-Option for 4K) Sigma 16mm 1.4 Sony 35mm 1.8 Samyang 12mm 2.0 Feelworld Master MA7 Smaller monitor Rode VideoMicro Rode Wiress Go II Mini Tripod Travel Tripod Small LED-Light Light #1 (powerful) Light #2 (Bi-Color) Softbox for this light Light tent/box DJI Osmo Action GoPro 9 GoPro MAX Invisible Selfie Stick Mavic Mini 2 drone Mavic Air 2
for photo and video:
Fuji XT-4 Fuji Telezoom Entry level camera (Canon)
*Affiliate Links. From everything you buy I will receive a small kickback that helps me maintain my channel. THANK YOU for your support!