My Fiido D4S 20 inch foldable e-bike does not come with any suspension (neither in the front nor on the seatpost). This is why I had a rough ride esp. for medium to long distances (and off-road of course). I could install a suspension, but I wanted to keep the bike lightweight for travel. That's why I tried the Schwalbe balloon tyres as one of my most important upgrades. They should give me a more comfy ride (when inflated to 2 bars), converting my bike almost into a fat-bike. Please read on to see how I installed them (on an e-bike with a hub motor) and about the advantages and disadvantages! (Hier gibt es diesen Blogpost auf deutsch 🇩🇪…)
About the Big Ben Plus Balloon Tires
Here you can see the tires already installed: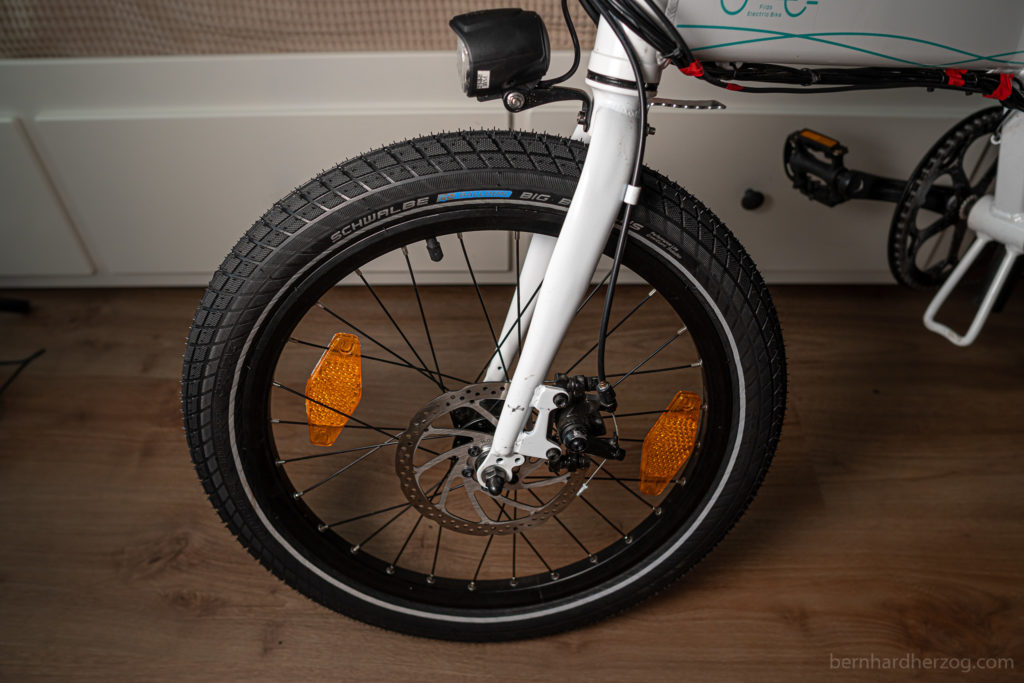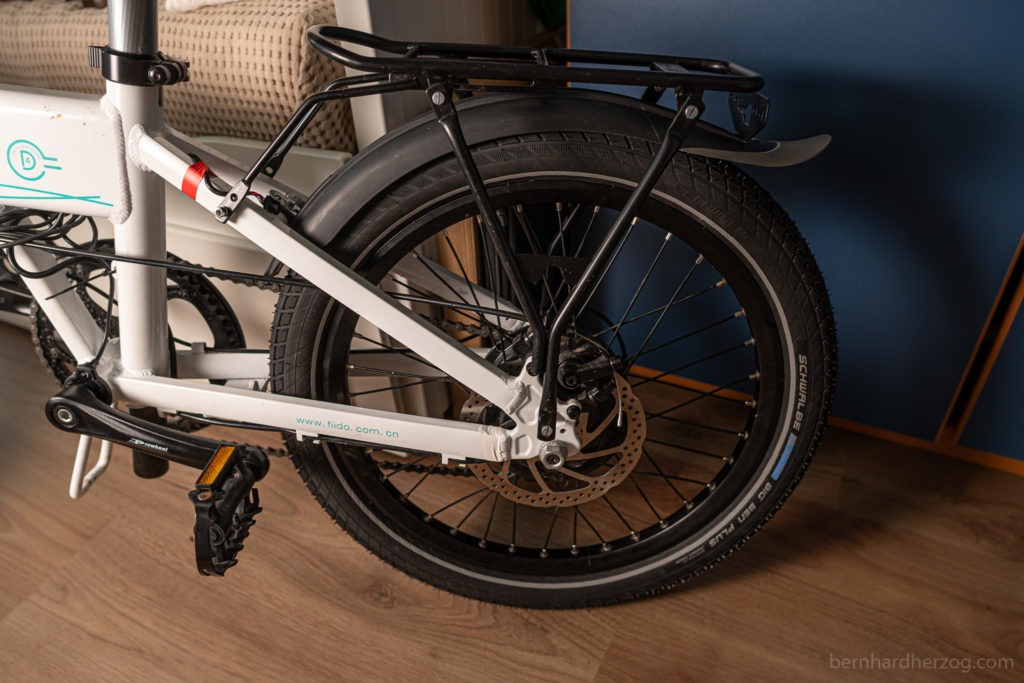 As you can see because of the bigger size the tires are a more tight fit in the frame. So you have to check if your (e-)bike can accomodate them.
For my Fiido D4S they were a perfect fit. One thing to note is that any imbalance of the wheel (i.e. if it is not centered perfectly from the factory which it usually is not) will be exaggerated, i.e. more visible. For me it was working though…
Installation of the front tire
The installation in the front of my Fiido D4 was straightforward. I used a 15mm wrench to open the mount (the D4S does not have a quick release, maybe a good thing).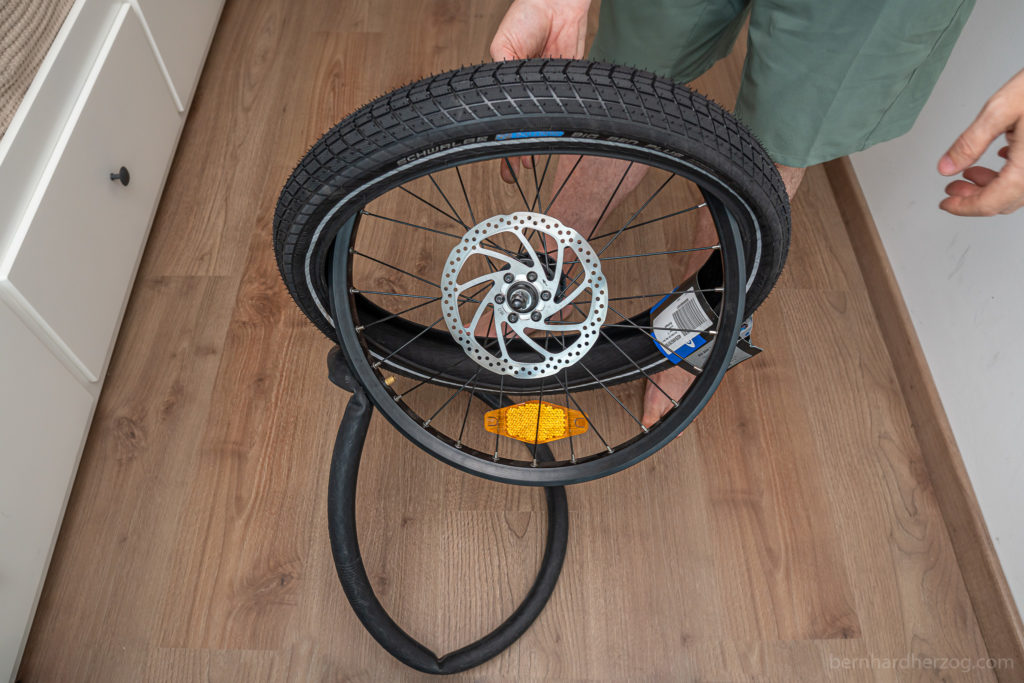 Installation of the rear wheel (on a hub motor e-bike)
In the rear it was a different story because my Fiido D4S does not have a plug at the motor. Maybe you are more lucky with your bike…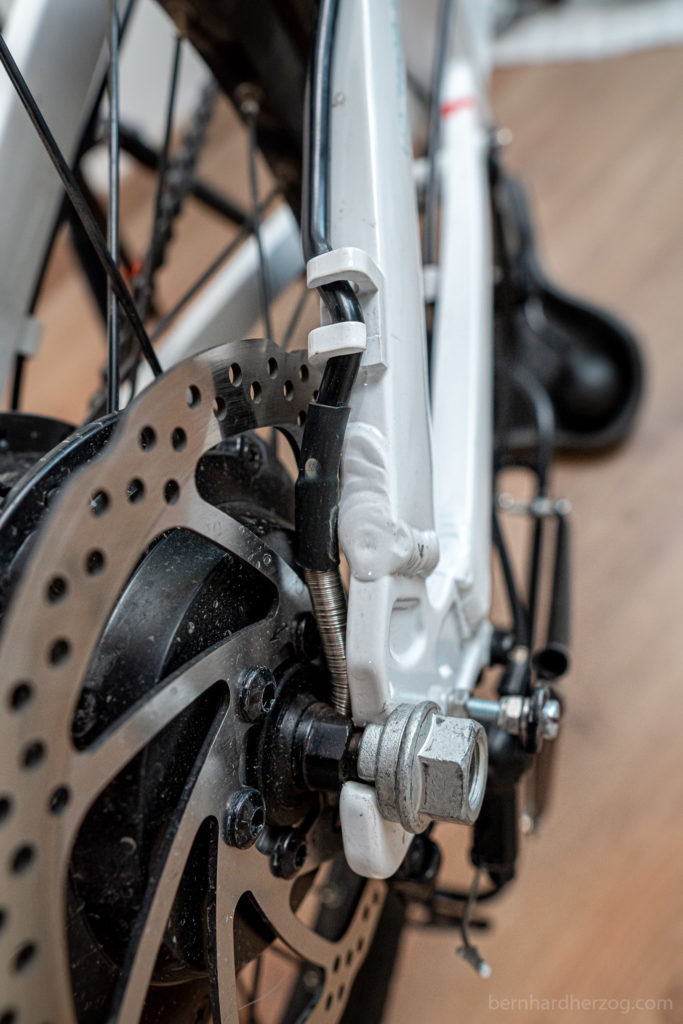 So to remove the wheel I first tried to create slack in the motor cable by opening the cable tie and untying the cable from the frame: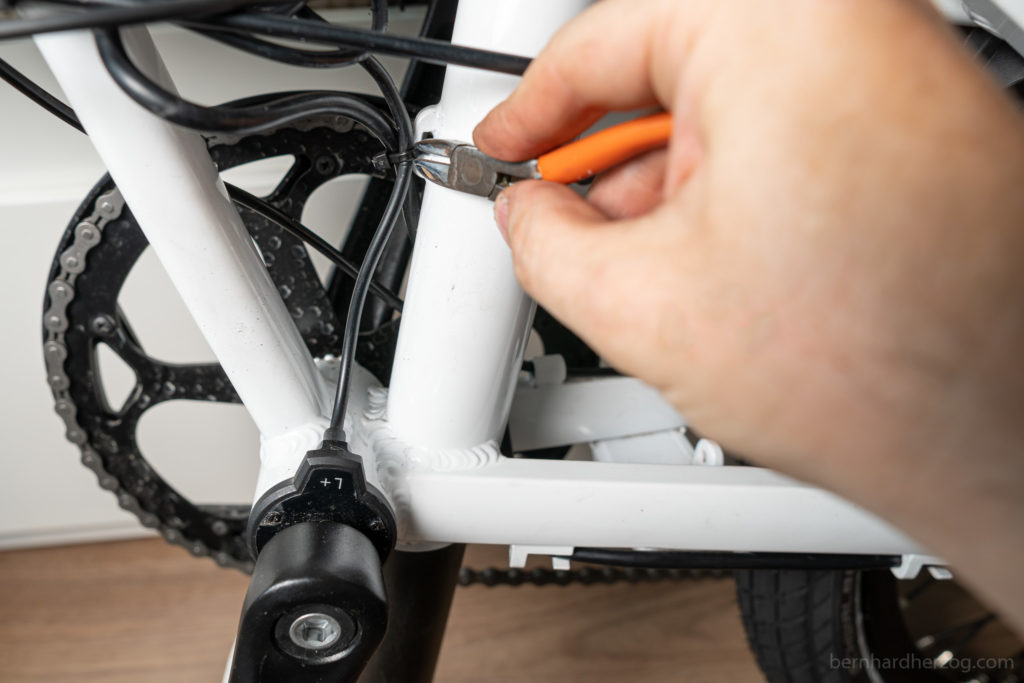 I also pulled the cable out of the controller department. This worked for me because it was already opened. Ideally I would have unplugged the cable from the controller so I could free the wheel from the bike, which would have made everything much easier…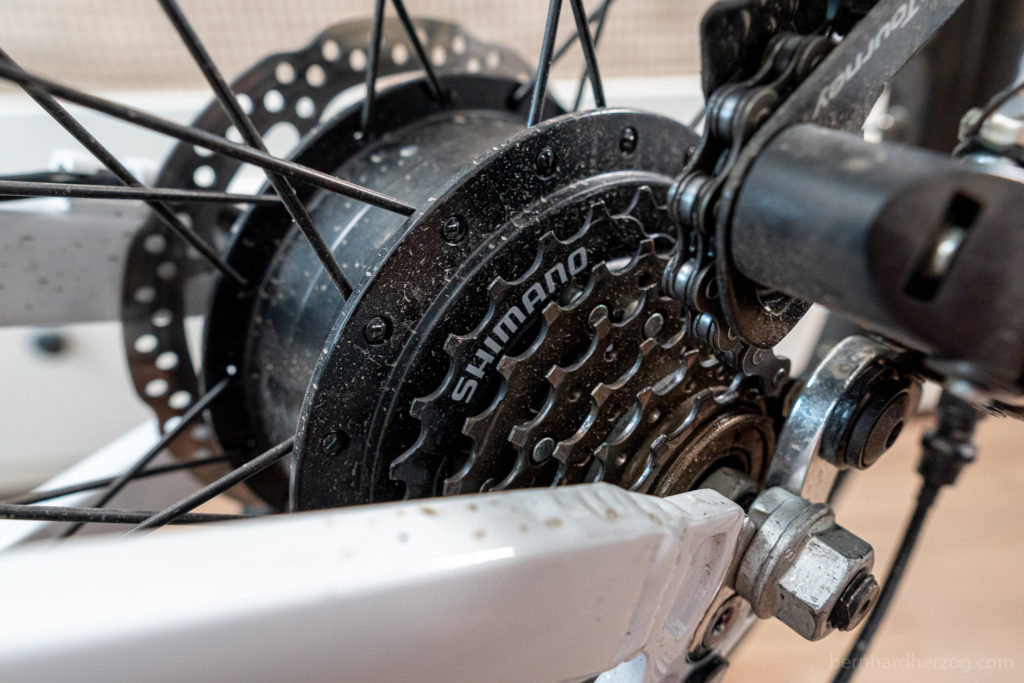 I took out the rear wheel using an 19mm wrench (actually I measured 18mm but 19 worked for me). Be careful not to damage the motor cable!
Fenders (+comparison with Big Apple)
The tires fit perfectly… only problem I am having right now is that I cannot fit the fenders in the front. I could cut the fender so that they don't go under the fork, but I am hesitant right now. In the back it is much more important anyways! (obviously it did work for other people so maybe I have to try again…)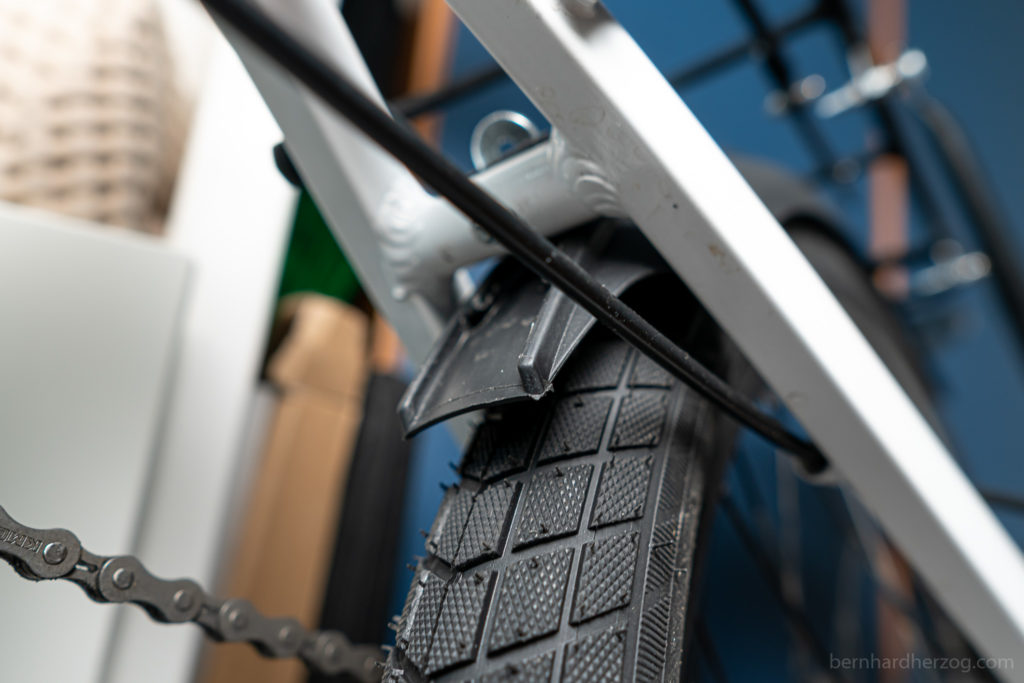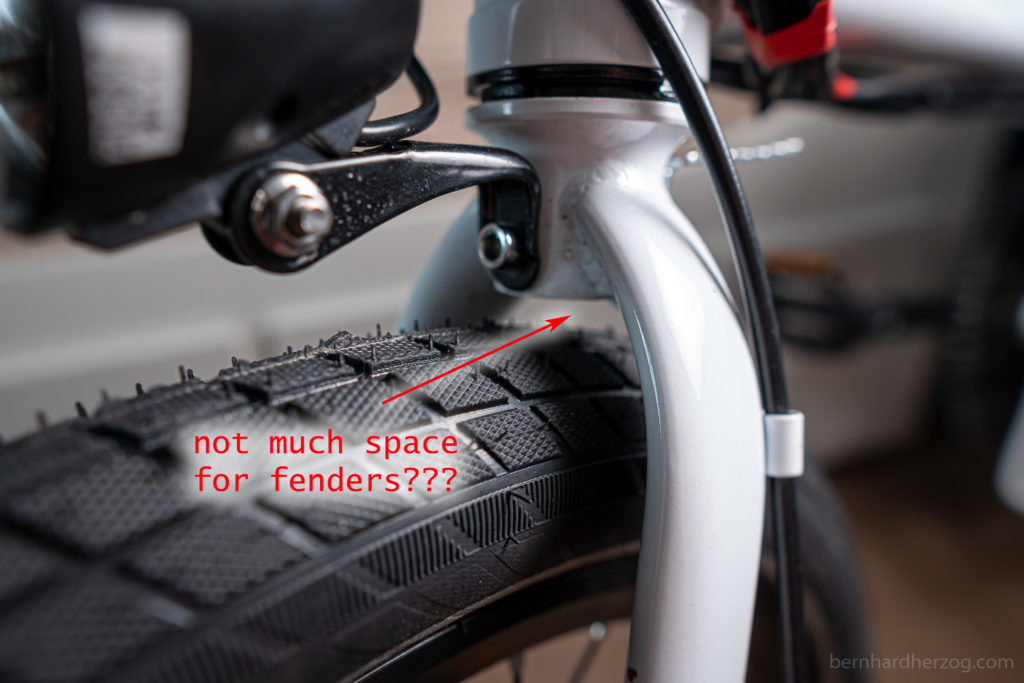 One "solution" is to use the Big Apple tires which are a little bit smaller (the ones withouth the plus). According to Hans-Peter Coerper they fit under most mudguards. Of course this is a little bit of a compromise:
Schwalbe Big Apple Perf, RaceGuard 55-406 – Skin (Amazon)
Conclusion (+comparison with Marathon Plus)
First of all I want to say that your requirements might differ from mine. For me it was a top priority that I have a more comfy ride on an e-bike without putting a heavy suspension and this totally worked out for me (at 2 bars which is the minimum pressure, 4 bars would be the maximimum).
If you want to have the absolute minimum of rolling resistance and the highest top speed (or already have some kind of suspension on your bike), then you might want to use a higher pressure. Or choose other tires (like Schwalbe Marathon Plus). But I already updated the controller of my bike to a stronger one and the bike is too fast already anyways (almost hit a child when testing the tires for the first time) 😉
Anyways for me when I tested the tires I can still get more than 32 km/h which is actually still too fast to use it legally on the roads in my country. BTW I noticed if I pump the tires to 2 bars they actually already feel very hard when I try to use my fingers to feel the pressure (also because of the puncture protection)!
Advantages:
softer ride
cool looks
tires have a reflective strip (no need for spoke reflectors)
Big Ben Plus model is rated until 50 km/h (ideal for e-bikes)
Disadvantages:
more rolling resistance (but still better than the cheap CST stock tires of my D4S)
little bit more weight: stock tire is 0,63kg, Schwalbe Big Ben Plus 0,68kg, Schwalbe Marathon Plus 0,73g (but still better than any kind of suspension)
little bit louder (maybe you like it)
So all in all I am very happy and can highly recommend the Schwalbe Balloon tires.
You might also need new tubes and I think I will also need a better pump with a good pressure gauge (Toplink Joeblow Sport was recommended to me). Because with the finger test I have no chance to accurately know when I have hit the 2 bars minimum pressure. I will link everything below!
Schwalbe Big Ben Plus 55-406 (Amazon) Schwalbe Big Ben Plus 55-406 (amazon.co.uk) Schwalbe Big Ben Plus 55-406 (amazon.de) Schwalbe Big Ben Plus 55-406 (amazon.fr) Inner Tubes (Amazon, look for 20×2,15′) Schwalbe Marathon Plus 47-406 / 20×1.75 (amazon.de) Schwalbe Big Apple Perf, RaceGuard 55-406 – Skin (Amazon) Toplink Joeblow Sport Pump (Amazon)
Recommended camera equipment for photo, video & travelling (AMAZON):
Sony a6600 Sony a6400 (cheaper) Sony a6100 (Budget-Option for 4K) Sigma 16mm 1.4 Sony 35mm 1.8 Samyang 12mm 2.0 Feelworld Master MA7 Smaller monitor Rode VideoMicro Rode Wiress Go II Mini Tripod Travel Tripod Small LED-Light Light #1 (powerful) Light #2 (Bi-Color) Softbox for this light Light tent/box DJI Osmo Action GoPro 9 GoPro MAX Invisible Selfie Stick Mavic Mini 2 drone Mavic Air 2
for photo and video:
Fuji XT-4 Fuji Telezoom Entry level camera (Canon)
*Affiliate Links. From everything you buy I will receive a small kickback that helps me maintain my channel. THANK YOU for your support!