Skopelos is part of the Sporades, located near the east coast of Greece and half-way between Thessaloniki and Athens. The big island next to Skiathos is well known from the Mamma Mia film (with Abba music). We went to Skopelos from Volos with the ferry, but there is also an airport on Skiathos.

The ferry passed by Skiathos and we arrived in Glossa/Loutraki. We were surprised that there was a free bus waiting in the harbour which went to Skopelos village, where we had our accomodation.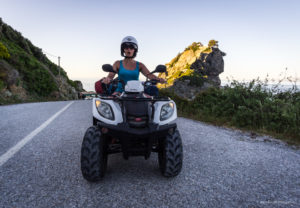 On the next day we rented a quad (ATV). It was 25 Euros for 24 hours for the smaller version. I think this was not cheap, but the guy at Motor Tours was so nice that we did not fancy to ask at other shops for a cheaper price.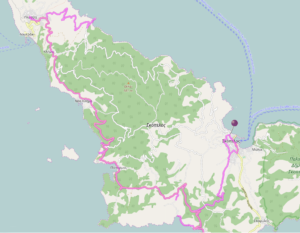 We visited the whole island. We went to some beaches at the west coast and later back to Glossa to eat and in the evening to the Mamma Mia Rock.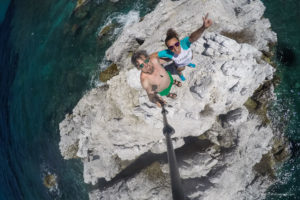 Here is a list of the beaches that we visited.
1. Limnonari: Very nice beach, little bit remote with extra road to go there, has some stone banks in the water so easy to go in (just be careful because of small sea urchins)
2. Milia: Has a nice rock to climb, also rock banks to step on, sand/small gravel?
3. Kastani: Good beach for sleeping, sand/small gravel?
4. Stafilos: Very nice beach with a scenic cliffs part to the right (second day with the bus), small gravel
Beautiful Glossa is much smaller than Skopelos village. It is not right next to the harbour but up on the hill (I would not recommend staying there for sleeping). The restaurant was good but also touristic and expensive. It has a great view to the harbour though.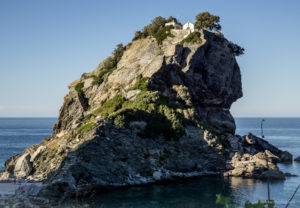 Mamma Mia Rock (Agios Ioannis) is a spectacular place. It is possible to swim (rocks) but I think it is better to do it there in summer.
On the second day we used the bus from the harbour to go to Stafilos beach. It was very cheap and just a 5 minutes trip. There is a nudist beach next to it but it was not so nice (many broken trees there) and also it had not much shade. With Stafilos the best part was to the right when you go down. There was one place with shade and there is sand and also the cliff for climbing.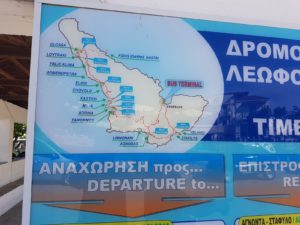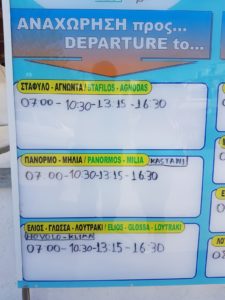 In May there were not so many people at the beach, in Limnonari there was actually nobody in the morning. But in summer there are many people so we were glad to go there in spring. Just the water was a little bit cold for longer swimming.
Comparing Skopelos to Skiathos I first thought Skopelos is more for older people and Skiathos more for younger people. But now I think Skopelos is a little bit less touristic.
Recommended camera equipment for photo, video & travelling (AMAZON):
Sony a6600 Sony a6400 (cheaper) Sony a6100 (Budget-Option for 4K) Sigma 16mm 1.4 Sony 35mm 1.8 Samyang 12mm 2.0 Feelworld Master MA7 Smaller monitor Rode VideoMicro Rode Wiress Go II Mini Tripod Travel Tripod Small LED-Light Light #1 (powerful) Light #2 (Bi-Color) Softbox for this light Light tent/box DJI Osmo Action GoPro 9 GoPro MAX Invisible Selfie Stick Mavic Mini 2 drone Mavic Air 2
for photo and video:
Fuji XT-4 Fuji Telezoom Entry level camera (Canon)
*Affiliate Links. From everything you buy I will receive a small kickback that helps me maintain my channel. THANK YOU for your support!